KYIV, Ukraine — Kyiv is a deadly sequel to Home Alone. What do I mean by that? If you try to get into this city to invade it — front door, back door, second-floor window — you are fucked.
I have a military mind, even kind of an invader's mind, so when I look at the defenses that the people in this city have erected, I think, "How would I raid this or take this down?"
My answer is: I don't think you would.
Picture driving into Seattle, except the last 4 miles of Interstate 5, every offramp is a bunker, every 300 yards on the side has a bunker and every 100 feet, there's a serpentine maze of homemade "hedgehogs" — the welded steel obstacles and spikes that will stop or ruin the tires or treads of any vehicle short of a full main battle tank. They're everywhere.
At every intersection, you can see that bunkers and fighting positions have established interlocking sectors of fire for any approach. Everything has been fortified and any kind of official building is entrenched.
There's a famous battle in World War II called Monte Cassino, in which an outnumbered German force held off a massive Allied army for four months around a small town and a shattered abbey on a hilltop by turning every building, every pile of bricks, every patch of diggable dirt, into a fighting position.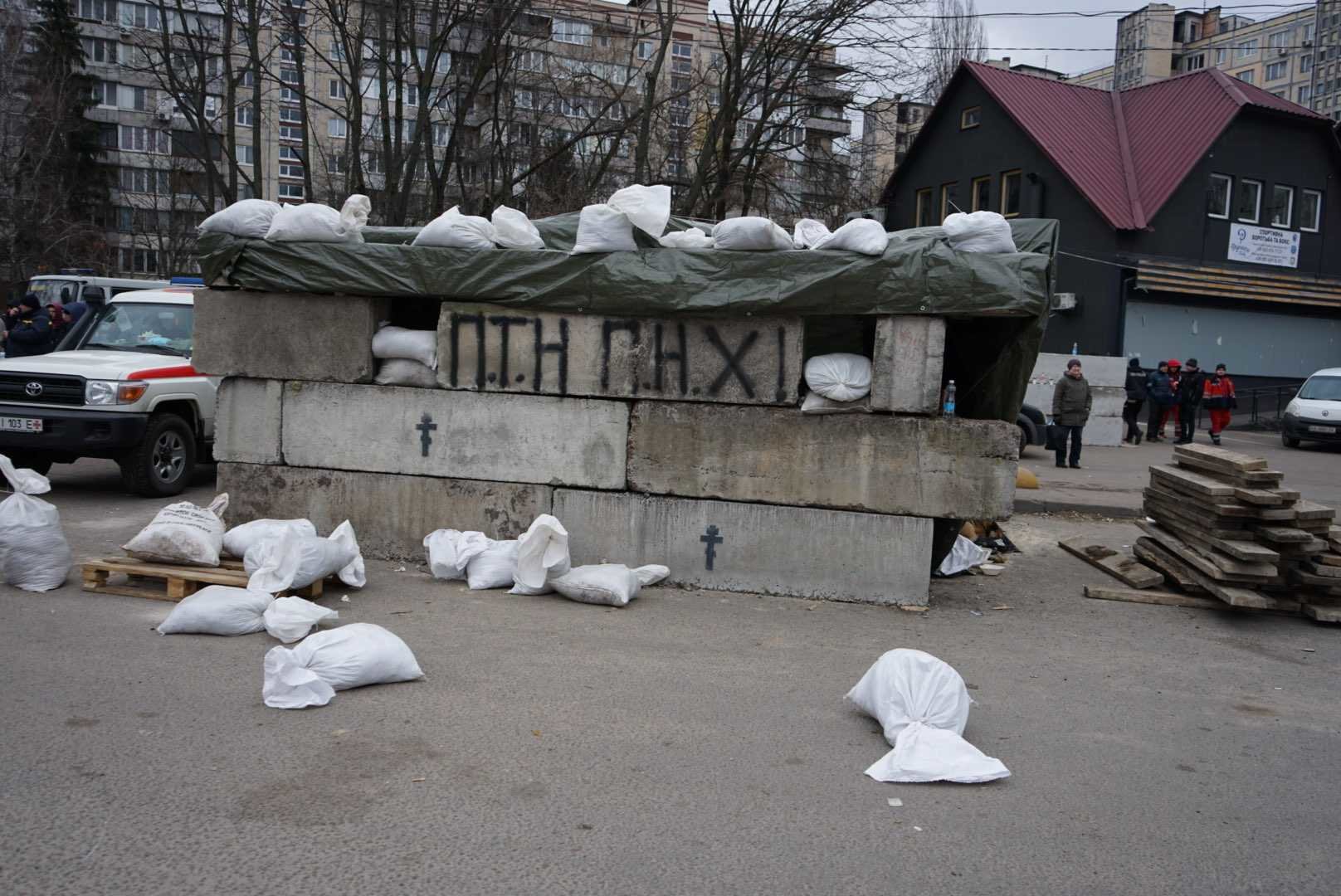 Kyiv looks like a city-sized Monte Cassino. I saw one position today that had started as a giant pile of dirt but was now covered in manhole covers. The Ukrainians here are constantly improving their positions. It's impressive.
Everywhere you go, somebody is watching. We've been walking or stopping for pictures, and I won't see anybody watching us, but then some dudes will pop out, at the ready. "Who are you? Where are you going?"
And that's just the stuff I'm seeing at ground level. If I floated a drone, I cannot imagine what I'd see on these rooftops, or in the windows of a fifth- or sixth-story floor of these old Soviet buildings, which are built tough as fuck.
We haven't seen anything bigger than small arms — rifles, some rocket-propelled grenades. But that's all you really need for these urban environments. We've seen some DShK machine guns and old Soviet BMPs, but we assume the Javelins and other bigger arms are staged somewhere, not in plain sight.
But there are Molotov cocktails by the thousands. They've crates stashed away, mostly made from liter beer bottles. If a tank gets through the bunkers, you hit it with a couple RPGs and rain Molotovs — now you have a roadblock.
Then there's the dirt.
Any area in this city that was not covered in cement is now trenches. Whether it's used or not, it's all there.
I cannot foresee a scenario where any armed force could penetrate this place. That includes if the US decided to invade Kyiv. It wouldn't fucking happen. The only way to do it is to encircle and siege.
As for the people, the entire city is on the fucking job.
They're all dressed warm and have a very robust supply chain. People are making food and running it out to fighters on the front lines. The logistic trains are intact and their morale is fucking great. Everyone here is down for the cause.
It feels like post-9/11 New York City if everyone there had started immediately prepping for a ground assault.
The only thing you don't see is kids. The kids, and a lot of old people, are gone.
As for the weapons and soldiers, as you get closer to the front, soldiers have good, modern, fully kitted-out gear.
Back in Lviv, you'd see some of the territorial guards, who are older or obviously less well trained, they might have an AK-style weapon, but it looked like it was made in 1976.
Here around Kyiv, you see those territorial guard guys manning checkpoints, but when you get into the peripheral where the fighting is, you see brand-ass-new AKs with the rails, optics, Crye-style uniforms, built-in kneepads — real soldiers.
Even the workers at our hotel, they are not necessarily going to fight but they think of staying as being loyal to their country and making the country work, being steadfast. They're like, "This is my fucking home, I'm not going to run away."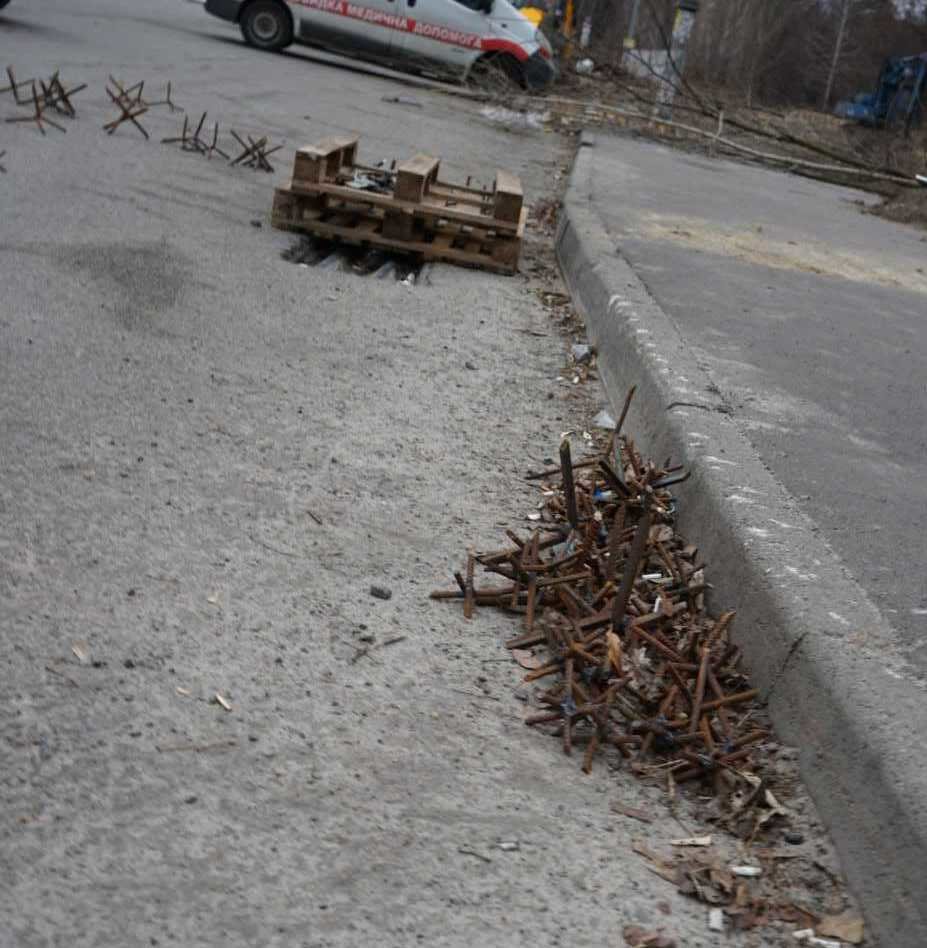 Nobody here is spooked — it's a calculated vigilance. They're going to question everything.
We were able to interview the police chief of the state of Kyiv.
In his opinion, the Russians are expecting a counteroffensive. "They are starting to dig in," he said, improving their positions and doing it among civilians to prevent a Ukrainian counteroffensive.
They're going to settle in and start lobbying artillery into Kyiv. That's their model in Chechnya, and in Syria.
He also told us a group of civilian buses had been headed out on a negotiated route to evacuate women, children, and wounded, but a Russian tank fired toward them and turned them back.
There are open grocery stores outside the city center, but none of the cafes or restaurants are open. There's power and water and internet. Everybody's shades are drawn at all times, like a World War II blackout, but people are still driving with white lights at night.
I'm impressed. I keep thinking, How the fuck did they do all this? They started with hasty obstacles and tactics, and have been constantly improving their position. If the Russian army wants to play Joe Pesci here, the Ukrainians are ready for another Home Alone sequel.
---
This story is compiled from Denman's on-site dispatches and further reporting by Coffee or Die military editor Matt White.
Read Next: