KYIV, Ukraine — Should the rosary go under or over the body armor vest? After trying both options, Archimandrite Makariy settles on under. That way the wooden cross won't get in the way of his Kalashnikov, he reasons.
With the assistance of a nearby soldier, Makariy, who is the governor of St. Theodosius Monastery in central Kyiv, adjusts his body armor vest so that it sits correctly over his gray robe. He slaps over the vest's front armor plate for good measure and asks the soldier, "Will it stop a bullet?"
"It should," the soldier says.
"Glory to God," Makariy replies.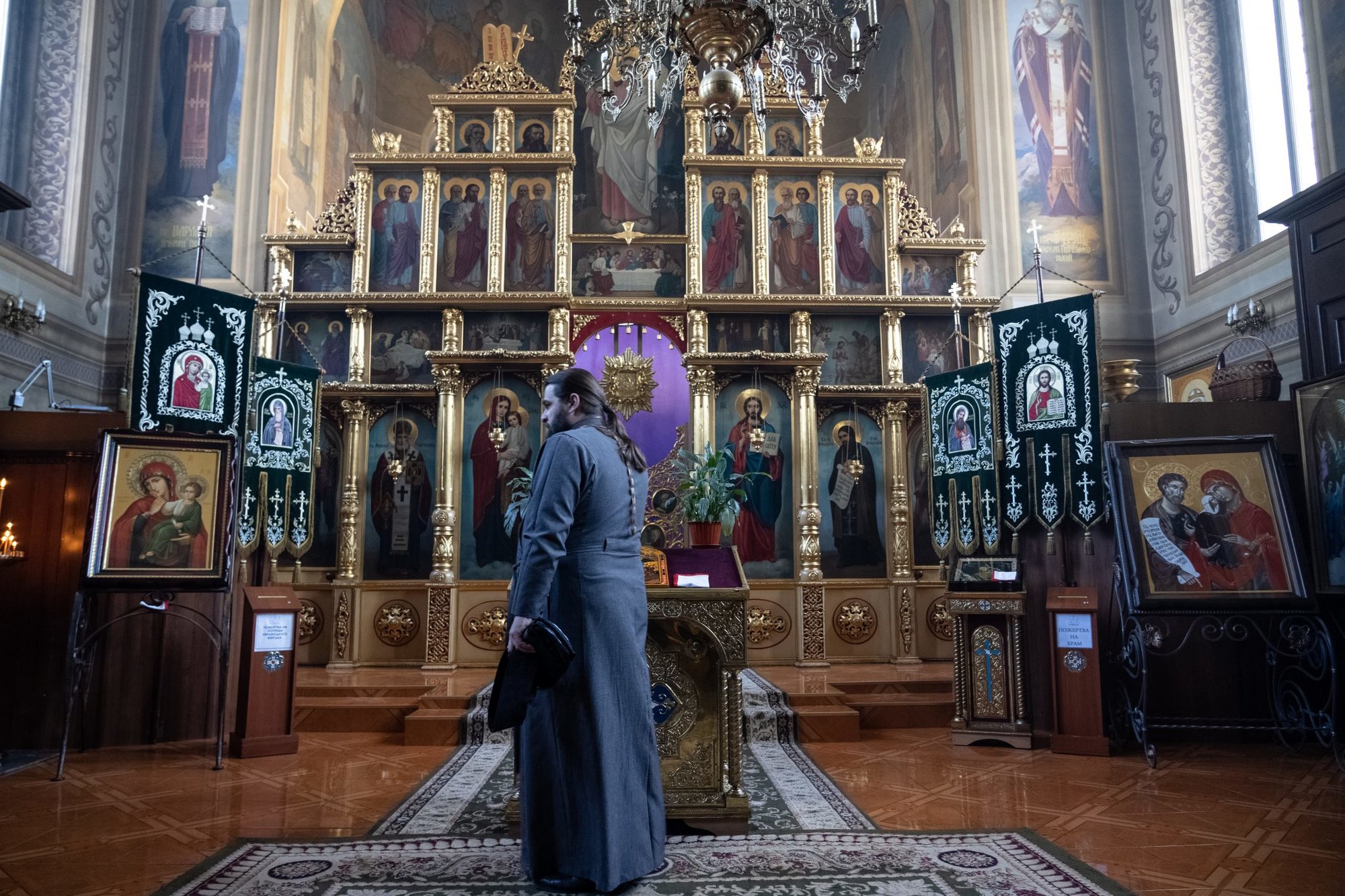 Into the monastery's sunlight-filled courtyard rolls a steady drumbeat of shelling from the front lines to the east of Kyiv. The war's relentless presence seems particularly offensive at this place of peace and prayer, which dates back to the 11th century. Located on a rise above the Dnipro River, the compound's main church is now flanked by sandbag barriers and camouflage netting. The life of worship and study that once existed within the monastery's walls has given way to daily combat training and weapons cleaning sessions.
Makariy and eight other members of his clergy have taken an oath to take up arms and defend their church, should Russian forces enter Kyiv. With the exception of Makariy, many of the monastery's monks now wear military uniforms rather than robes. They have helmets on their heads and body armor vests over their chests and rifles in their hands.
"We are ready to fight against the aggressor," Makariy tells this correspondent during a visit to St. Theodosius Monastery on Sunday, March 20.
Makariy's long beard and piercing eyes add gravitas to his charismatic and commanding demeanor. Even so, his frequent smiles and lighthearted jokes ease the bite of the serious topics he discusses. For Makariy, the logic of warfare is simple. "If we have a problem, we must remove it," he says. "The Russian army is now the problem, and we will defeat it."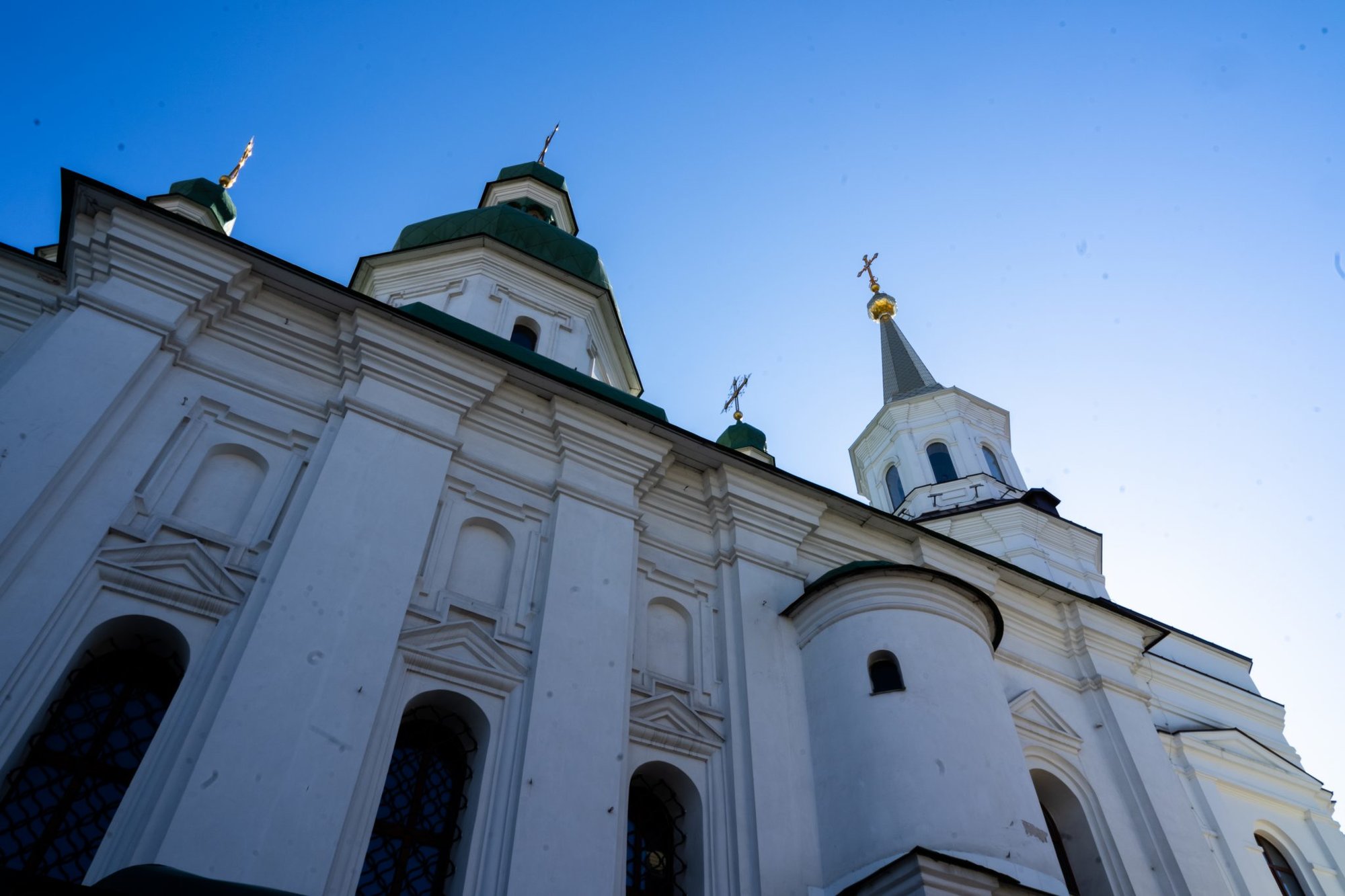 In Makariy's estimation, there is no contradiction between his religious vows and taking up arms. He says it is a "personal choice," which he takes freely and "without any anger." As for the personal consequences he may face, Makariy says that he will be barred from participating in church ceremonies for three years for each life he takes.
"I gave up the possibility of having a wife and a family to be a monk," Makariy says. "I'm prepared to give up much more in order to protect my church."
St. Theodosius Monastery was badly damaged by combat during the Russian Revolution and World War II. It's all been repaired, but within the courtyard several photos on display show the monastery with varying degrees of damage from those other wars: a reminder of Ukraine's violent past, the perennial nature of war and peace, and mankind's tragic inability to learn from the lessons offered.
Amid the background din of not-too-distant shelling, Makariy stands back and observes the photos and says, "We have no desire to go to another place and fight. But if the Russians come here, we will defend our monastery."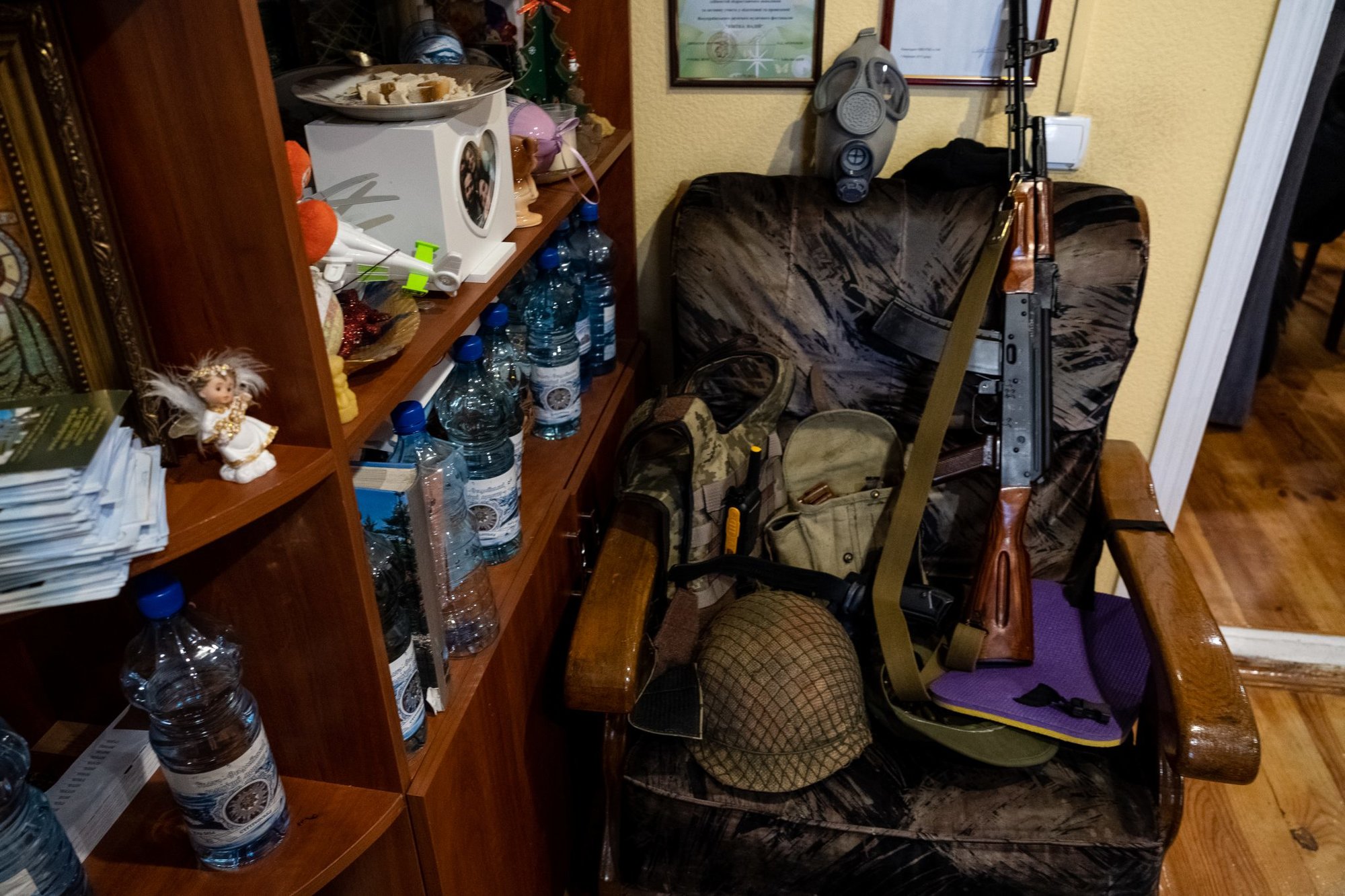 Inside the monastery is a head-spinning mix of religion and war. Kalashnikovs are propped up against walls upon which paintings of the Virgin Mary and Jesus hang. Grenades sit on shelves beside rosaries. Kneepads and body armor and military patches are spread out on a table beside Orthodox icons. Within Makariy's office, a stacked pile of military gear on a chair includes an assault rifle, body armor vest, helmet, ammunition pouch, and a gas mask.
Makariy lays out a spread of sweets on a table and bids this correspondent to take a seat. He pours a cup of coffee and then unscrews the cap on a bottle of whiskey.
"It's wartime," Makariy says with an encouraging smile.
I accept the offer and enjoy the fortified coffee.
On the table between us, a small bowl holding the spoons for stirring our coffees also contains a handful of bullets. I motion to the bullets and Makariy replies, "You never know when it might start."
Makariy, for his part, does not display despair or sadness when discussing his decision to take up arms. He gladly shows this correspondent videos of his fellow monks cleaning their weapons, as well as the ceremony in which they took an oath, pledging to fight.
"Throughout history, many monks have gone to war," Makariy says. "This is simply our time, and our responsibility."
Makariy also has the support of a detachment of Kyiv's territorial defense soldiers, who have been sent to help defend the monastery. For several weeks, the soldiers have fortified the compound and organized military training drills for the monks.
A former middle school teacher from the embattled Kyiv suburb of Irpin, Stas Fedorov is among those prepared to defend St. Theodosius Monastery. After evacuating his family during the war's opening days, Fedorov joined Kyiv's Territorial Defense Forces. Twelve days into the war, he was assigned to the monastery.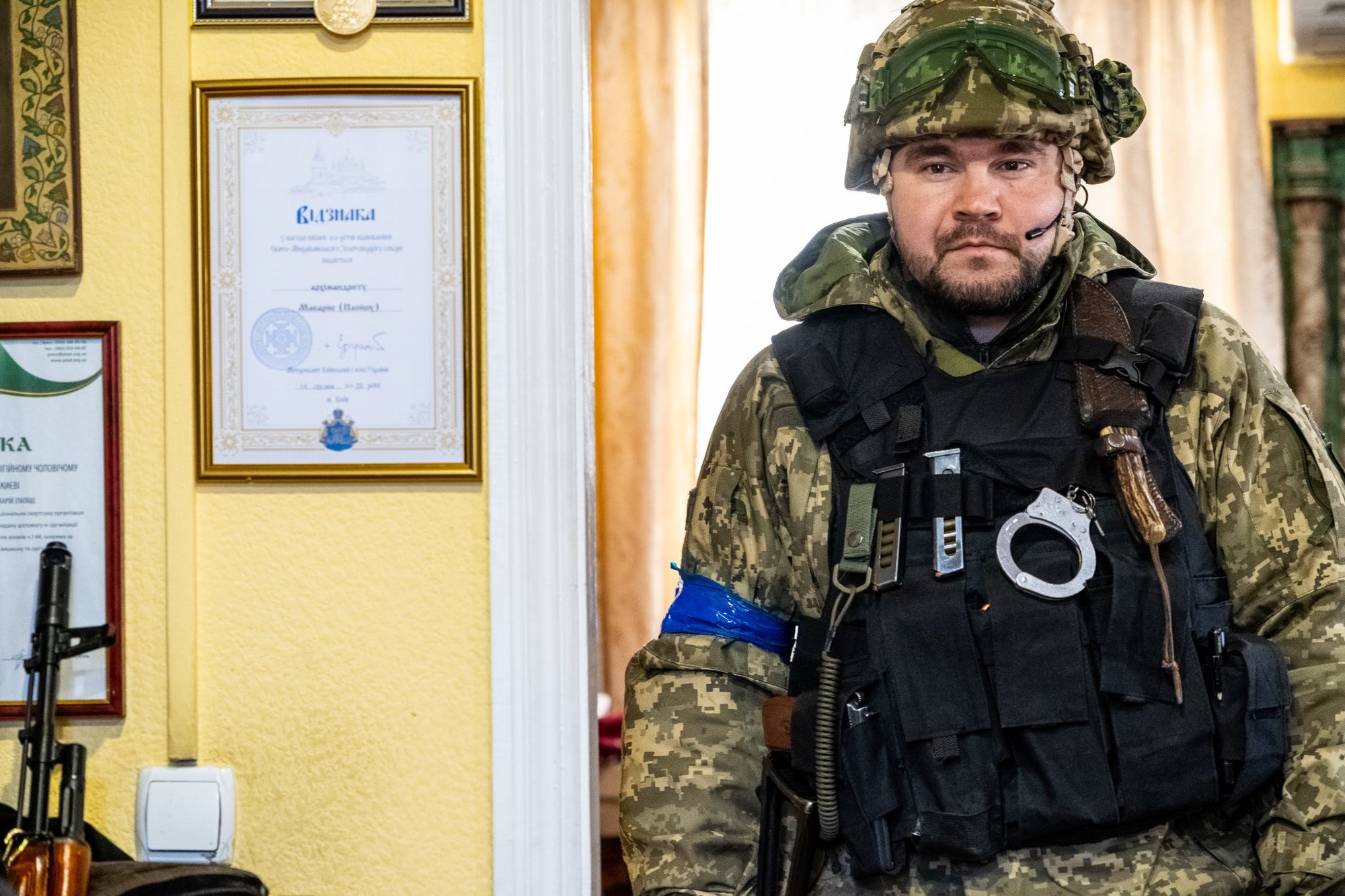 "Our mission is to protect Makariy, and to protect the monastery," Fedorov said, adding: "Makariy is a very good man, a very clever man. And he's probably a target for the Russians."
In January 2019, the Ecumenical Patriarchate of Constantinople, historically the guiding body of the global Orthodox Church, granted the Ukrainian Orthodox Church full independence, or autocephaly, removing it from control of the Russian Orthodox Church in Moscow. St. Theodosius Monastery belongs to the independent Ukrainian Orthodox Church.
"The Moscow churches are silent," Makariy says of Ukrainian churches still controlled by the Moscow Patriarchate. "But we are a symbol of Ukrainian independence. We say that every Ukrainian has a right to take up arms and defend their country. We say that Ukrainians should fight back."
Inside the monastery's main church, Makariy offers a quick prayer and then leads the way up the bell tower. The stairway's walls are covered by a mural depicting various generations of Ukrainian warriors — Makariy identifies a patch of blank wall where paintings will one day go to immortalize the warriors of this war.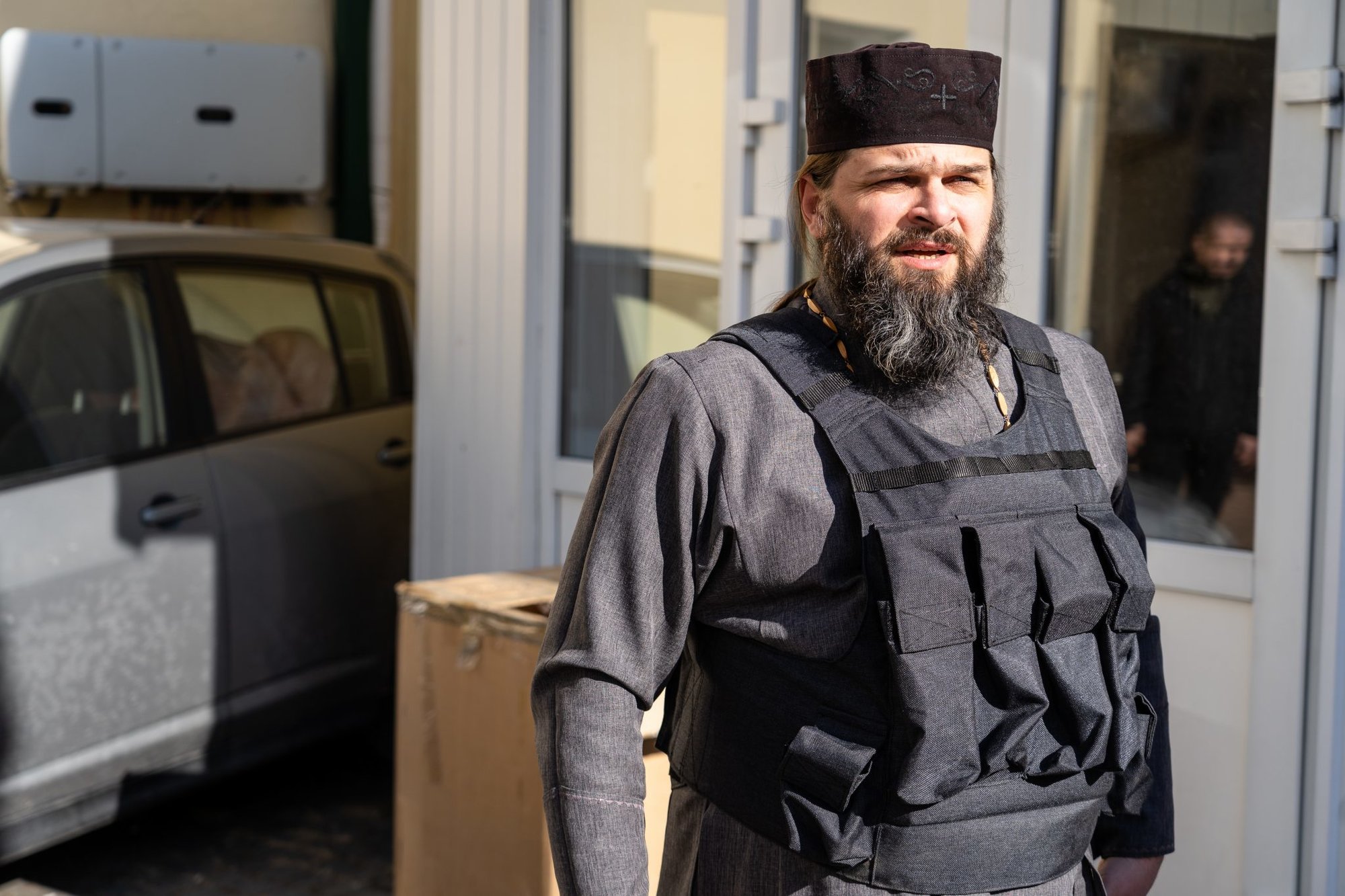 A separate spiral staircase leads to the top of the bell tower. The day is clear and from the bell tower's height it's possible to see quite a way toward the front lines of Russia's invasion on the opposite side of the Dnipro River. The silence that has descended over Kyiv since the full-scale war began also makes it easy to hear the steady pulse of shelling from those not-too-distant front lines.
Makariy reaches up, rings one of the bells, and smiles. He then looks into the distance, toward the war, and the smile fades from his face. His eyes narrow as he focuses on something far away. We stand there a moment in silence until I ask, "Can you ever forgive Russia?"
After a long pause, Makariy answers: "We have so much pain. Our children and our women are being murdered by the Russian army. After we take care of this Russian problem, then can we talk about forgiveness."
"But not yet," he adds. "Not yet."
Read Next: