The Los Angeles Sheriff's Department swore in a new member of the force Wednesday. He stood at attention — as all very good boys do in formal moments — though it wasn't clear if he had to raise a paw for an oath.
Satoshi, or Toshi for short, is a black Labrador and the department's first electronic detection K9.
Though K9s trained to sniff out narcotics or explosives are common in law enforcement, electronic detection is a new specialty. Toshi is one of only 50 electronic detection dogs, or ED K9s, currently in service in the world, according to Todd Jordan, the owner and founder of Jordan Detection K-9.
The dogs are trained to find, via scent, objects that most humans do not even realize have smells: electronic devices, like memory cards, computers, phones, and other devices used in digital crimes.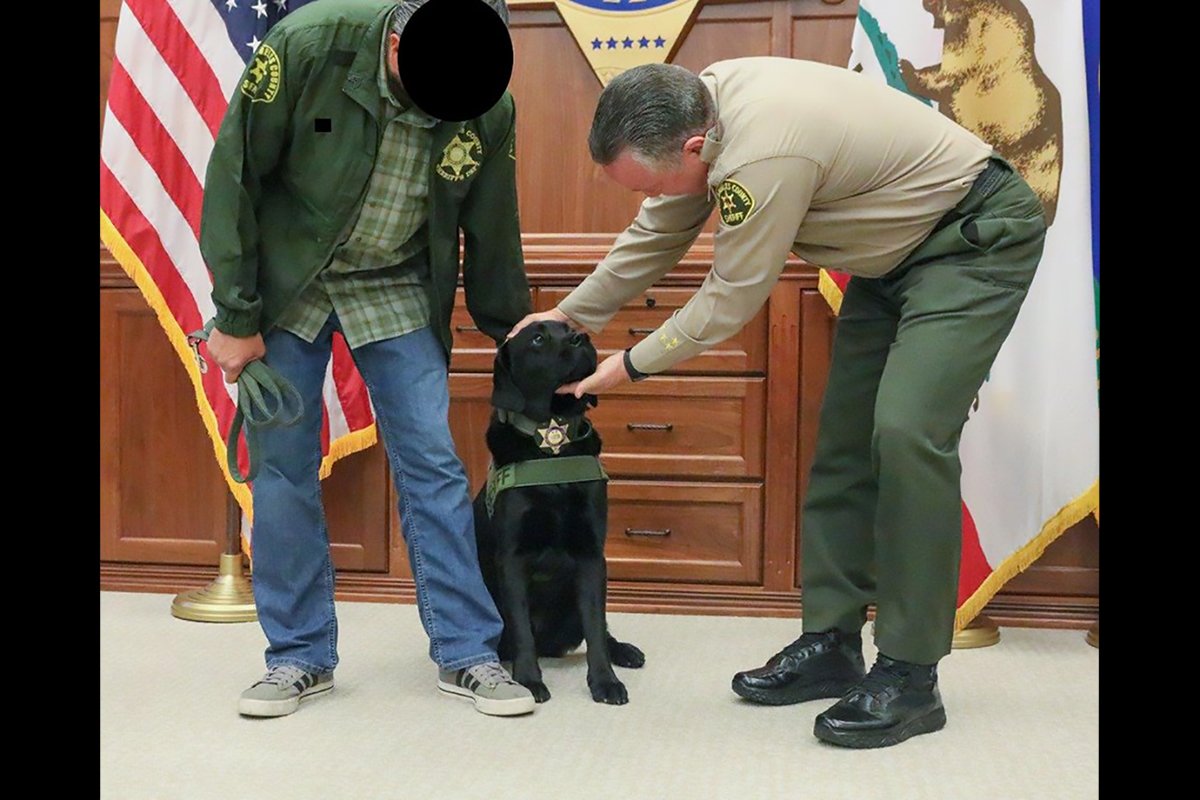 A well-trained dog can find a micro SD card hidden inside a home's heating and ventilation piping. That skill turned out to be key in the 2015 case against Jared Fogle, the man who rose to fame as the pounds-shedding spokesperson for Subway but who was charged with child pornography distribution and repeatedly engaging in commercial sex acts with minors. An electronics dog found a memory card Fogle had tried to hide that contained the illegal materials.
Coffee or Die Magazine spoke with Los Angeles Sheriff's Department Sgt. Peter Hish, Toshi's handler and the deputy responsible for bringing Toshi into the sheriff's department.
Hish, who has spent 23 years with the LASD after a stint in the Army, now runs the Emerging Cyber Crime team, which falls under LASD's Fraud and Cyber Crimes Bureau. While investigating digital crimes, Hish wondered why LASD didn't have the K9s.
"I'm looking at these dogs across the country with what they're doing. And I knew that this is Los Angeles, this is a big place, there's a lot of things going on here, and we don't have one," Hish told Coffee or Die. "Why?"
Toshi arrived after a year and a half of paperwork.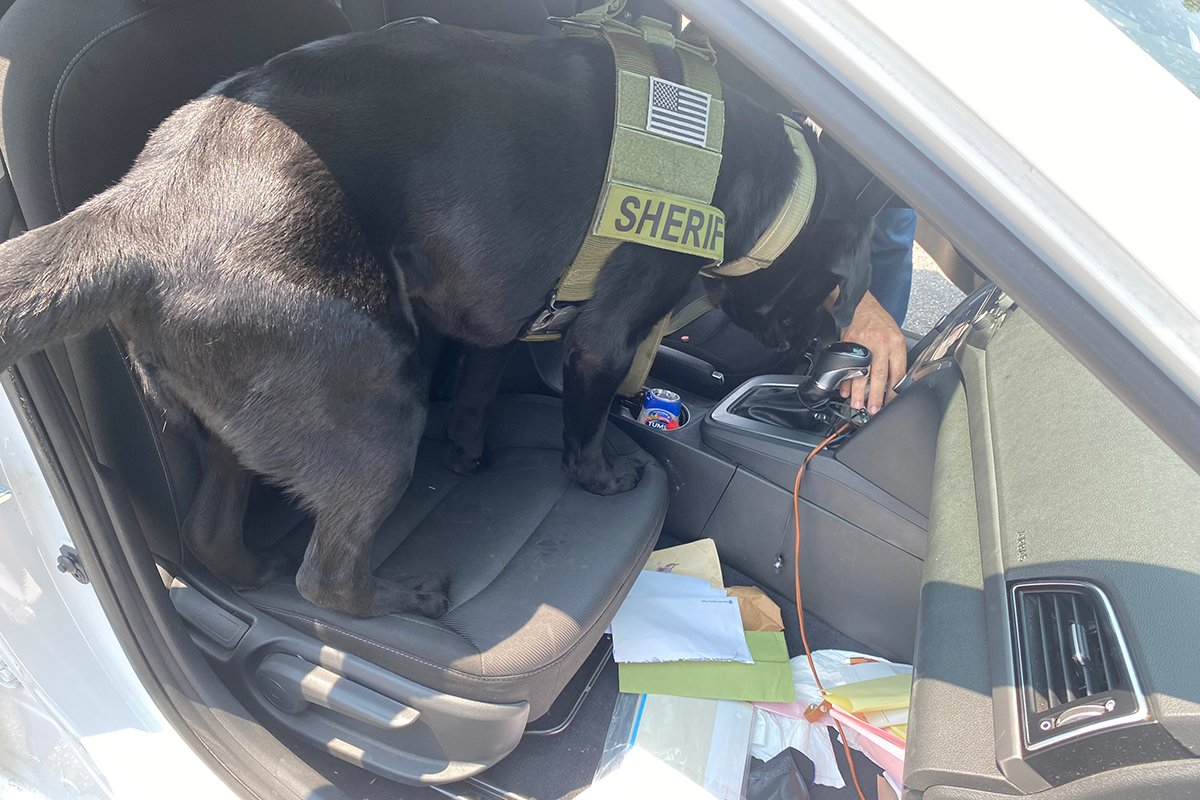 ED K9s do not come cheap. Initial training runs about $11,000, according to Jordan. That price tag doesn't include all the traveling costs, dog food, equipment, and other necessary items, Jordan said. To cover the cost, Hish got a grant from Operation Underground Railroad, a nonprofit that tracks child porn and sex smuggling globally.
"Aside from law enforcement investigating cases, [Toshi's] interaction with the community and building bridges with law enforcement could ease that strain that we see across the country right now," Hish said. "I thought that this might be a good opportunity to just add another thing to our department that the citizens of the county would love. People love animals."
Hish and Toshi attended an introductory two-week course run by Jordan in June, working together to build both the skills of electronic detection and the teamwork a handler and K9 need. Hish noticed right away that Toshi did not act like most police K9s, who tend to be all business.
"When I met Satoshi, I could tell right away that he was trained differently. He was very social," Hish said. "Having that kind of a personality, along with his skill of detecting electronics, is a very unique blend in a police K9."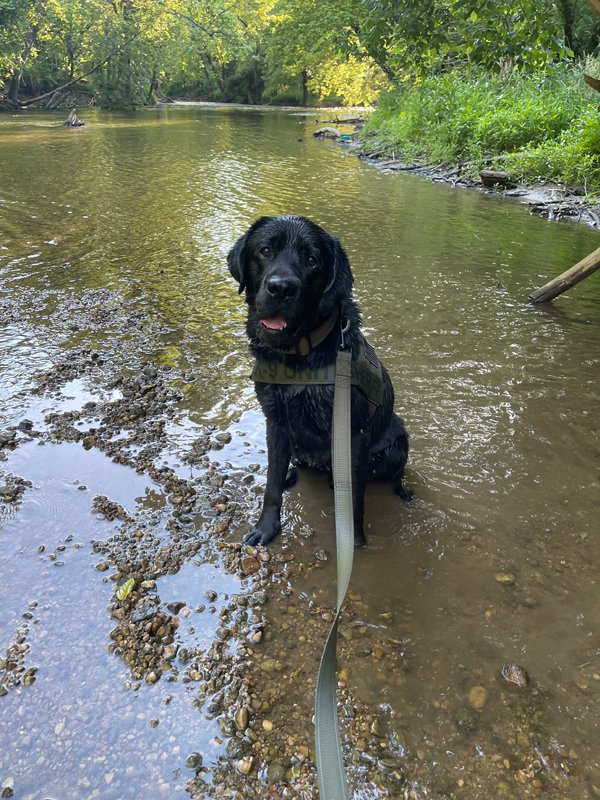 Most ED dogs that Jordan trains have failed more traditional service dog training, either as police K9s or civilian service dogs. In some cases, the dogs were fully qualified but didn't bond with the person they were matched with. These K9s retain the different commands they were originally taught and can utilize them as ED dogs.
"I first met him on the first day, and since then, our bond grew pretty quick," Hish said. "We bonded extremely fast [while] going through that training, which was excellent."
The only problem was Toshi's original name: Bear.
Only one electronic detection dog can have that name, and Bear had been the K9 that broke the case against Fogle.
So what to call a dog trained to solve digital crime?
Hish's detectives suggested Satoshi for Satoshi Nakamoto — the probably false name of the man who is credited — at least in internet mythology — with inventing Bitcoin, the system of online currency that has become ubiquitous in the digital criminal world.
Toshi took to his name immediately, Hish said. The duo knocked out the two-week training and responded to their first operational call on Thursday. Hish said Toshi blew him away on his first day on the job.
"I can tell you that he's a game changer," Hish said. "Not only in the world of child exploitation — he's a game changer in every crime, because we're seeing more and more that when a crime is committed, there oftentimes is digital evidence that can be hidden from us. It's there. We just can't find it."
Read Next: