On Sunday, a Los Angeles Police Department (LAPD) officer was shot after an exchange of gunfire during a confrontation with an armed man inside a Ralphs grocery store near the intersection of Devonshire Street and Balboa Boulevard in Granada Hills, California, according to the LAPD HQ Twitter account.
Around 6:30 p.m. on Sunday, LAPD officers responded to a 911 call at the Ralphs supermarket after reports of an erratic individual who fell through the ceiling of the grocery store and onto a freezer case. While officers were on their way to the location, they were updated that the man was armed with a gun.
A portion of the incident was caught on video recorded by a bystander by the name of Peter Genovese. Genovese can be heard saying, "Get out of the store dude, I need to go shopping," right before additional officers arrived on scene.
A Ralphs employee told KTLA that the man had fallen through the roof and smelled of alcohol. "He definitely smelled like alcohol, and then he pulled a gun on anyone who would talk to him," said the employee, who gave his name as Brad. "So my manager came out, called police."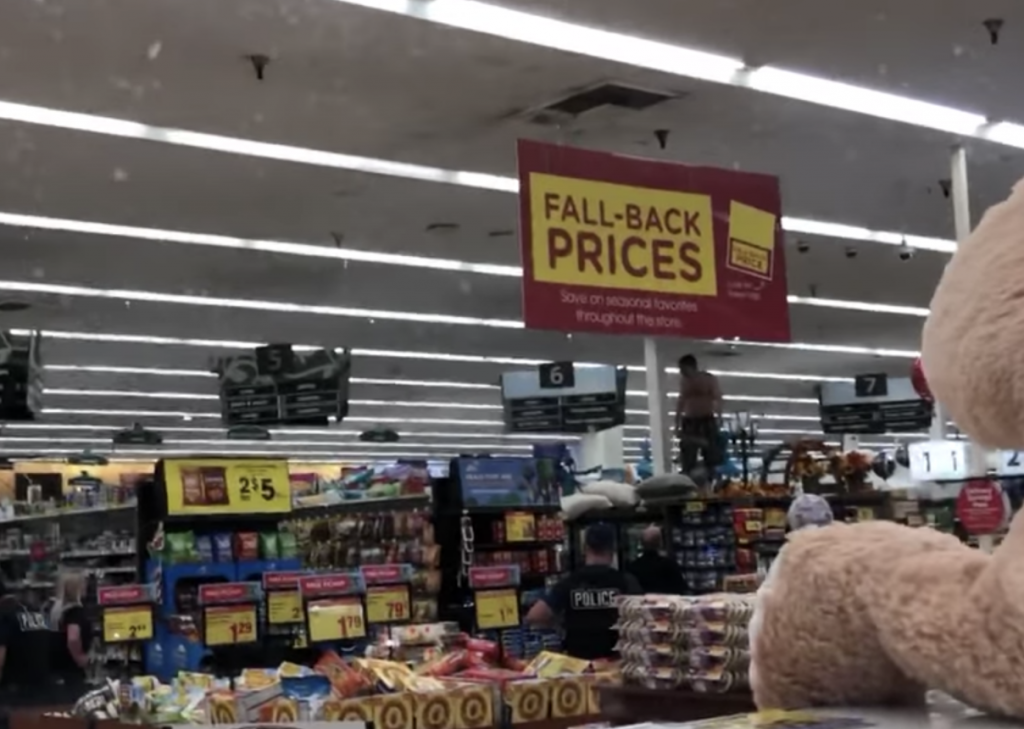 When LAPD officers arrived, the initial contact with the individual resulted in an exchange of gunfire between police and the man. One officer was hit by the gunfire; the gunshot wound is said to be non-life-threatening. The man then fled to a nearby gas station, according to ABC7 News.
The gunman was pursued by officers on scene and surrendered shortly after, according to the LAPD. He was transported to a local hospital for evaluation.
LAPD Chief of Police Michel Moore tweeted on Monday that the officer had been discharged from the hospital and has stitches on the hand.
The incident is currently under investigation, according to the LAPD. Information on charges, the identity of the wounded officer and the suspected gunman, and events leading up to the incident were not released at the time of publication. The LAPD responded to Coffee or Die Magazine's request for more information via phone and said that due to its involvement in election-related incidents, information regarding this incident will be delayed.