Gunfire, an auto accident, and an apparent heart attack killed five law enforcement officers nationwide in the first half of March.
That brings the total number of cops and correctional officers killed while on duty to 75 so far in 2022, according to the Officer Down Memorial Page.
At the same point last year, 118 law enforcement officers had died while on duty.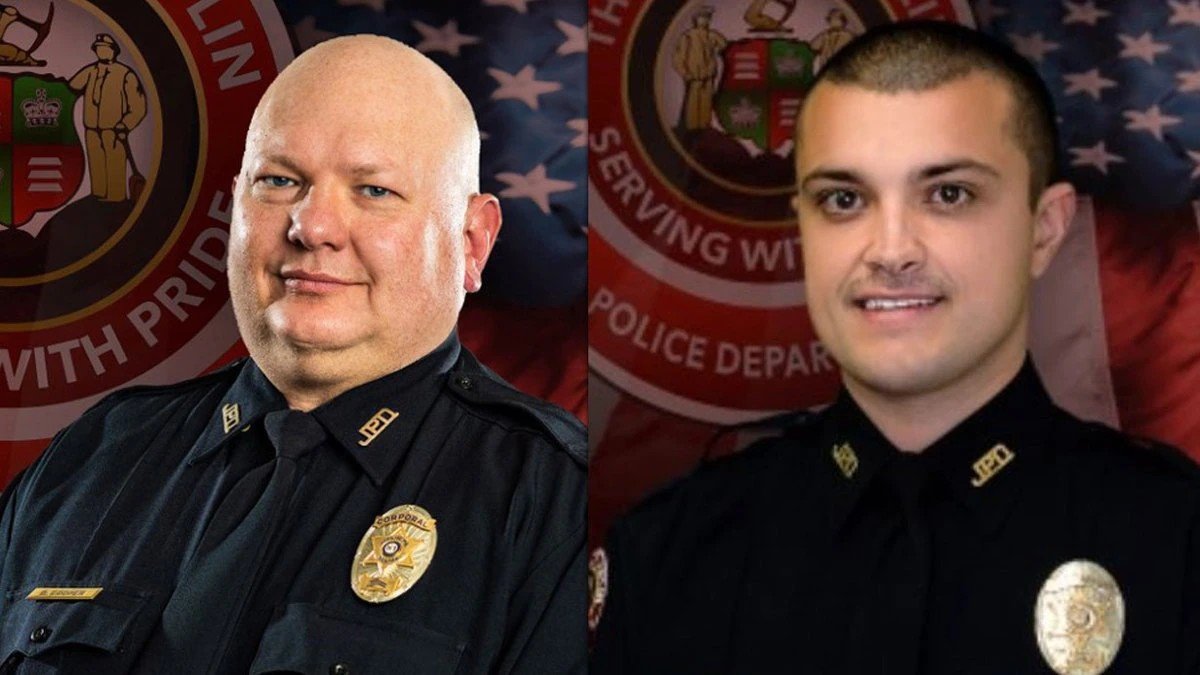 Benjamin Lee 'Coop' Cooper and Jake Alexander Reed
Joplin, Missouri, Mayor Ryan Stanley told reporters that one of his citizens, Anthony R. Felix, shot to death Joplin police Officer Jake Reed, 27, and Cpl. Ben Cooper, 46, during a March 8 confrontation outside a local mall.
Authorities said Reed and Cooper had responded at 1:32 p.m. that day to a disturbance call at the Northpark Crossing shopping center. When they tried to take the 40-year-old career criminal into custody, he opened fire, critically wounding both officers.
Felix then stole one of the officers' service pistols and a patrol car, detectives said. He continued firing at pursuing cruisers until he crashed the stolen car near the intersection of East 9th Street and Connecticut Avenue, where he was chased on foot to a residential neighborhood in central Joplin.
Arriving in his police cruiser, Officer Rick Hirshey tried to box Felix in, but the ex-con fired a round through the cop's windshield, striking his face, authorities said.
That's when Joplin police Capt. William Davis bolted from his covered position and shot and killed Felix, according to the department.
All three of the officers Felix shot were taken to local hospitals. Cooper died from his injuries later that day. Reed died Friday, March 11. Hirshey underwent multiple surgeries and was released Wednesday.
Davis remains on administrative leave, per department policy. The Joplin Police Department employs 110 sworn officers and 53 administrative personnel.
"Police credit Davis for his actions and said other officers or citizens could have been killed without his response," a department release stated.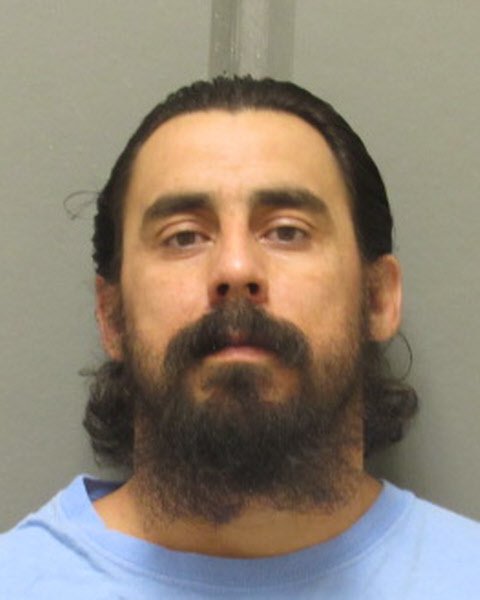 "We lift up our officer currently fighting for his life and his family," said Mayor Stanley during a March 9 press conference. "We lift up the officer that was injured responding to the threat, running into harm's way, and his family. We lift up our officers that responded and addressed the threat while they knew that their brothers were fighting for their lives. We lift up the officer and his family that will have to live with the responsibility of taking another's life. While heroic and justified, at the same time is hard. We lift up the police chief and his team for professionally leading while their hearts are broken."
A 19-year veteran of law enforcement, Cooper joined the Joplin Police in 2003 following eight years in the US Army. He left Joplin after a short stint there to serve as a Montezuma County Sheriff's deputy in Colorado until 2013. That's when he returned to rejoin the Joplin force.
During a Tuesday memorial service at Missouri Southern State University's Leggett and Platt Center, the Rev. John Newberry lauded Cooper's lifetime of service to God, country, and the public.
"He heard a call from the citizens," Newberry said. "They need police officers. He joined the fraternity of the police departments to serve the citizens of this country."
Joplin Police Officer Randy Black told mourners that Cooper, his friend for nearly two decades, was "rock solid."
"I wasn't very prepared for this, and, 19 years, it's hard to know what … we've got so many stories," Black said. "And again, very few of them are G-rated. So, I just love my buddy and I'm going to miss him."
Cooper's obituary also described the deceased officer as an avid outdoorsman who loved fishing and hunting with a bow.
Benjamin Lee "Coop" Cooper was born July 26, 1975, in Tulsa, Oklahoma, to Steven Cooper and Joyce Cooper (née Peterson).
Cooper is survived by his parents; wife, Roxy (née Ebbs); two daughters, Tiffany Boyer and Ashley Cooper; and his sister, Robyn Jensen.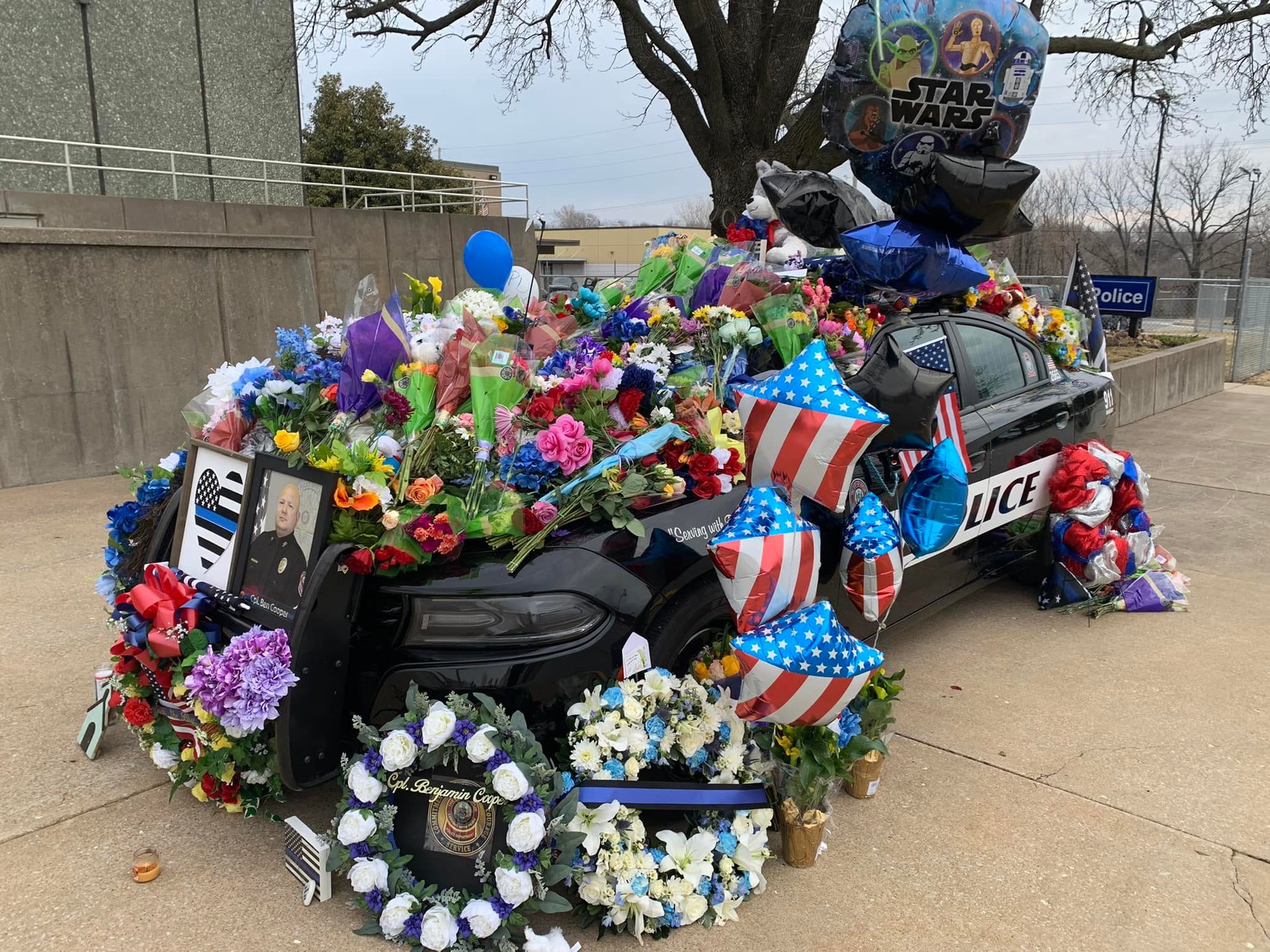 Reed began his career with the Joplin Police Department in 2017 and was a member of the Patrol Division when he was killed, according to the department. He was a registered organ donor and his family said plans are underway to "bring life to people needing organ transplants."
"We are so proud, so thankful and forever in debt for his service to this community. We are honored to have served with Jake," police officials said in a prepared statement.
Jake Alexander Reed was born Dec. 9, 1994, in Pleasanton, California, to Robert Reed and Melissa Reed (née Burelli).
Reed grew up in Bentonville, Arkansas. He attended Missouri Southern State University, where he obtained a Bachelor of Science degree in Criminal Justice Administration and an Associate of Science degree in Law Enforcement. He joined the Joplin Police Department after his 2017 graduation, according to his obituary.
The obituary describes Reed as a "genuinely awesome guy."
He is survived by his parents; wife, Bayley (née Strella); brother, Sam; and sister, Paige Bittle.
Reed's funeral is slated for March 18 at Missouri Southern State University's Leggett and Platt Center.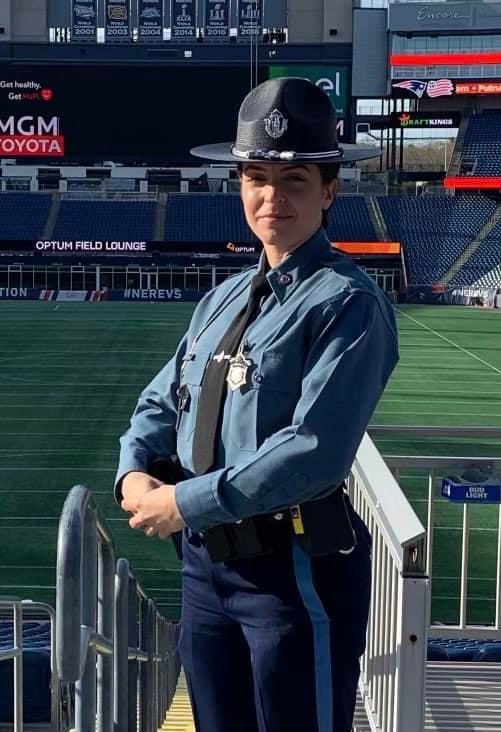 Tamar Anoush Bucci
Massachusetts State Police Trooper Tamar Bucci, 34, died March 4 at Massachusetts General Hospital in Boston, shortly after a gasoline tanker truck slammed into her patrol vehicle, authorities said.
Bucci activated her emergency lighting on her Ford Interceptor SUV around 11:45 p.m., March 3, so that she could assist a stopped motorist. While she veered the SUV to the shoulder of Interstate 93 near Exit 27 in Stoneham, a tanker operated by the PJ Murphy Co. and carrying 10,000 gallons of gasoline crashed into her vehicle, state police indicated.
State police Superintendent Col. Christopher Mason told reporters on March 4 that the "force of the impact pushed her cruiser, a marked Ford Interceptor SUV with its emergency blue lights activated, off the road."
Two passersby tugged Bucci from her crushed cruiser, and a Stoneham police officer began first aid until emergency medical services arrived. Bucci succumbed to her injuries after she was transported to the hospital.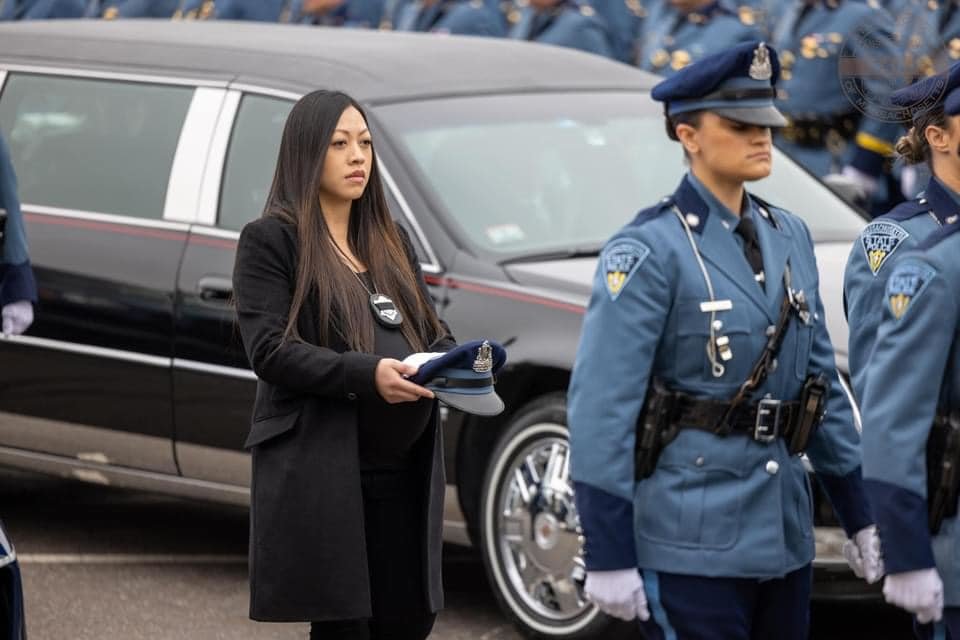 "Late last night, on a stretch of road that she protected every night during the midnight shift, Trooper Bucci gave her life in the act of trying to help another person in distress," Mason said.
Bucci became the 22nd trooper to be killed in the line of duty in Massachusetts. The woman in the disabled vehicle Bucci was trying to aid was transported to a local hospital for evaluation and released.
The driver of the tanker truck, an unidentified Methuen man, was not injured and has not been charged. But Mason said the state's Registry of Motor Vehicles suspended the man's driver's license and commercial license on March 4.
State Police investigators assigned to Troop A and the Massachusetts State Police's Collision Analysis and Reconstruction Section, Crime Scene Services Section, Commercial Vehicle Enforcement Section, and State Police Detective Unit for Middlesex County are probing the accident.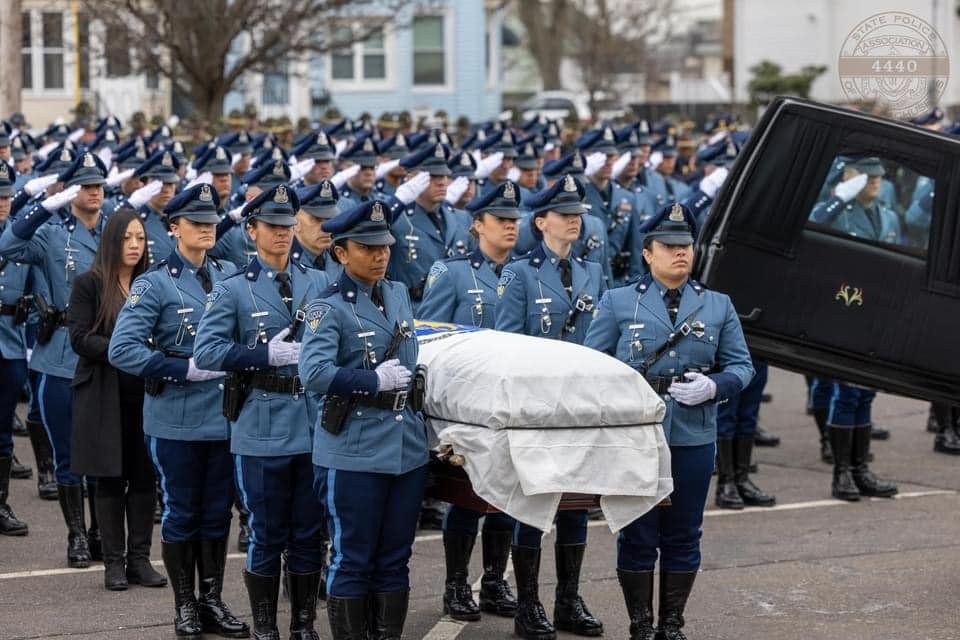 Before pursuing a law enforcement career, Bucci worked as a security guard at the Encore Casino and as a personal trainer.
When Bucci entered the State Police Academy, she was a part of the first class where women were not required to cut their hair. But she chopped off 15 inches of her locks after the first week, her obituary states, adding "anyone that knew Tamar knew this was a huge sacrifice."
"It was at this point that her family knew nothing was going to stop her from becoming a Massachusetts State Trooper," her obituary reads.
Bucci served with the Massachusetts State Police for two years and was assigned to the Medford Barracks.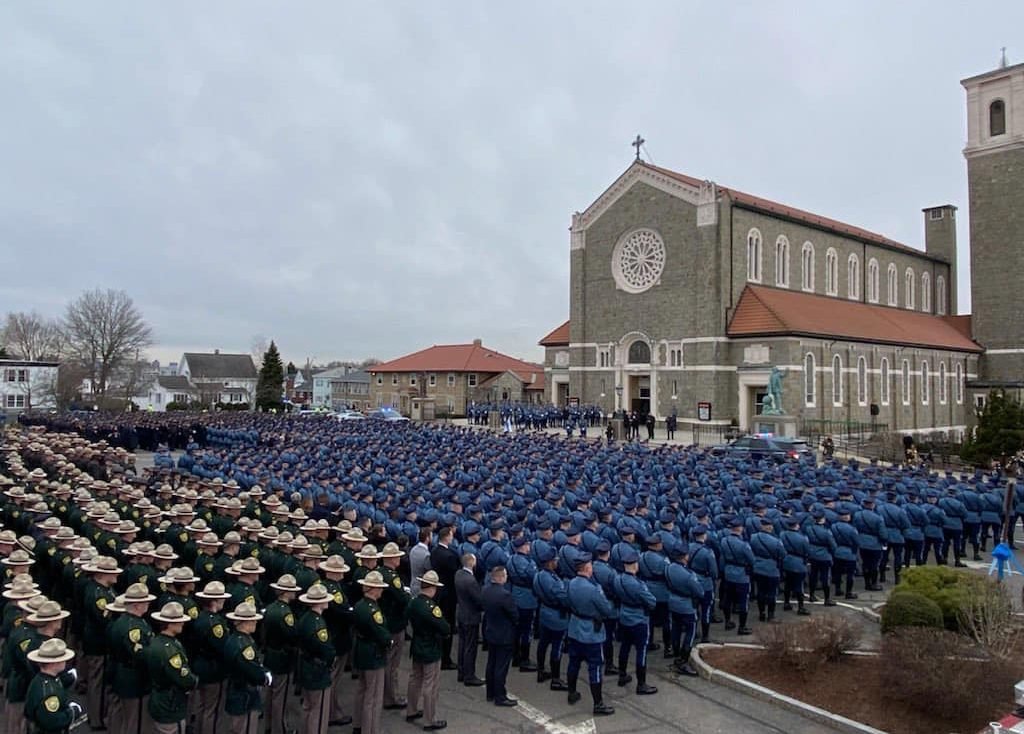 "There is no one that could give this meaning as much justice as Tamar and there is no greater act of sacrifice than to give one's life for another," her obituary reads.
Her funeral service took place March 9 in St. Anthony of Padua Church in Revere. Her stepfather, Jim Burditt, told mourners that she's "now protecting all of us from above, and I am confident that we will continue to feel her presence here on Earth."
A community walk was held on March 8 to honor her sacrifice.
Bucci was born March 2, 1988, in Melrose, Massachusetts, to Maral and Anthony Bucci. She was raised in Andover. She's survived by her parents and her sisters, Talena Lange and Karissa Holmes.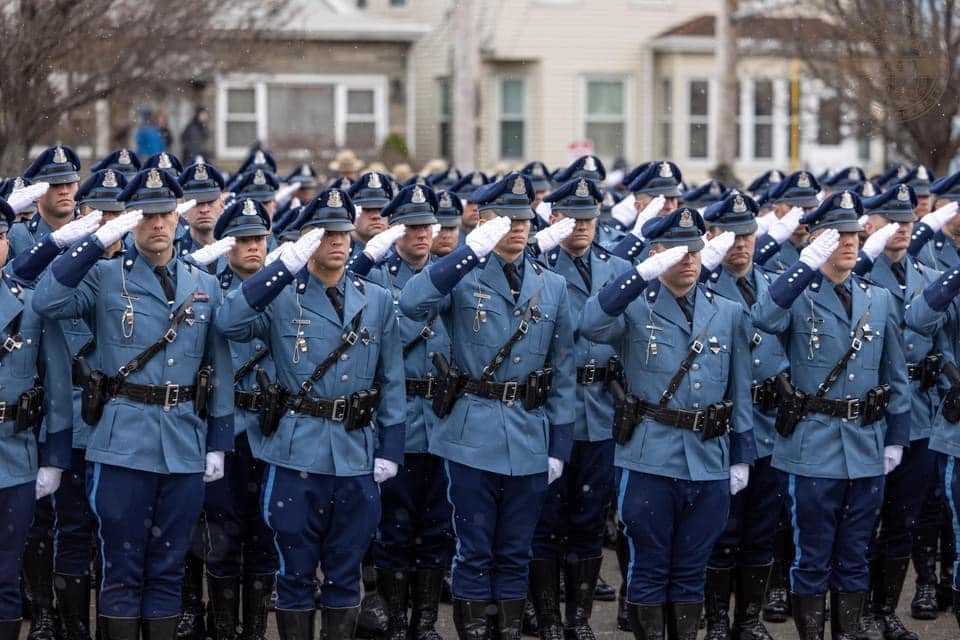 Freddie Wilson
Detroit Public Schools Community District Police Officer Freddie Wilson died Thursday at a local hospital, hours after collapsing at the scene of a large fight near Henry Ford High School.
Multiple officers responded to the brawl that broke out near the intersection of Vaughan Avenue and Trojan Street. Wilson collapsed as the officers dispersed the crowd and he began walking back to this patrol vehicle. Fellow officers immediately rendered aid, and he was transported to a local hospital, where he died a short time later.
Wilson's cause of death has not been determined. Surveillance video failed to capture the fight, which erupted around 3:30 p.m. Thursday, officials said.
In a prepared statement, Detroit Public Schools Community District Superintendent Nikolai Vitti said he and his board were "saddened by the sudden death" of Wilson, who had spent two decades serving the district.
"We are actively investigating the incident and request that everyone wait to pass judgment regarding the incident and his cause of death until an investigation is complete," Vitti cautioned. "It already appears as if misinformation is being reported."
In 2018, the ex-boyfriend of Wilson's niece shot and killed her, two other relatives, and Wilson's wife, Patricia. He also wounded Wilson, who escaped with a wounded leg and called emergency dispatchers. Detroit police officers surrounded the house, but the ex-boyfriend ended the standoff by killing himself.
Wilson's funeral arrangements are pending.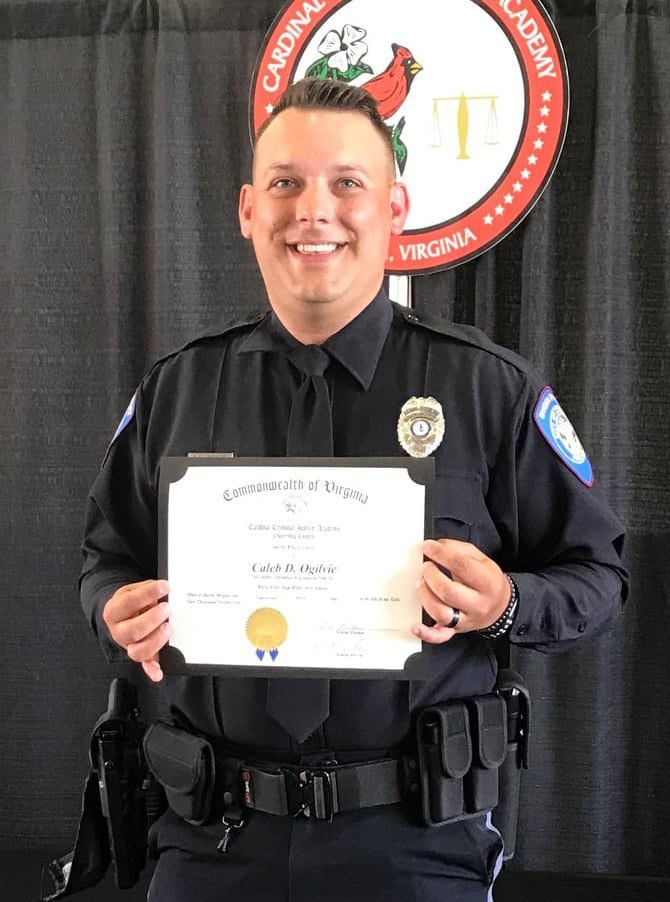 Caleb D. Ogilvie
Gunfire outside a Virginia convenience store on March 14 killed Covington Division of Police Officer Caleb Ogilvie, 35.
Dispatched to investigate an afternoon domestic disturbance at the Covington Farm & Fuel, Ogilvie and other officers arrived outside the shop to discover an erratic man who had just killed a male relative, 64-year-old Randall Lee Paxton, authorities said.
A shootout erupted between officers and the pistol-toting man, who was later identified by Virginia State Police as 42-year-old Toney S. Poulston Jr. Both Ogilvie and Poulston died in the gunfire.
Virginia State Police investigators continue to probe the incident.
Virginia Gov. Glenn Youngkin took to social media Tuesday to say Ogilvie's death "serves as a reminder that law enforcement officers risk their lives every day. Our thoughts and prayers are with the family of the fallen officer during this difficult time."
In a prepared statement, Covington Chief of Police Christopher Smith said Ogilvie became the first officer in his department killed while on duty, adding that his death was a tragedy neither the community nor the chief "ever thought would happen here."
Ogilvie served nine years in the US Marine Corps as a combat engineer on active duty and as a reservist. He joined the Covington force less than a year ago, after graduating from the Cardinal Criminal Justice Academy, Smith stated.
Ogilvie previously served as an emergency medical technician in Roanoke.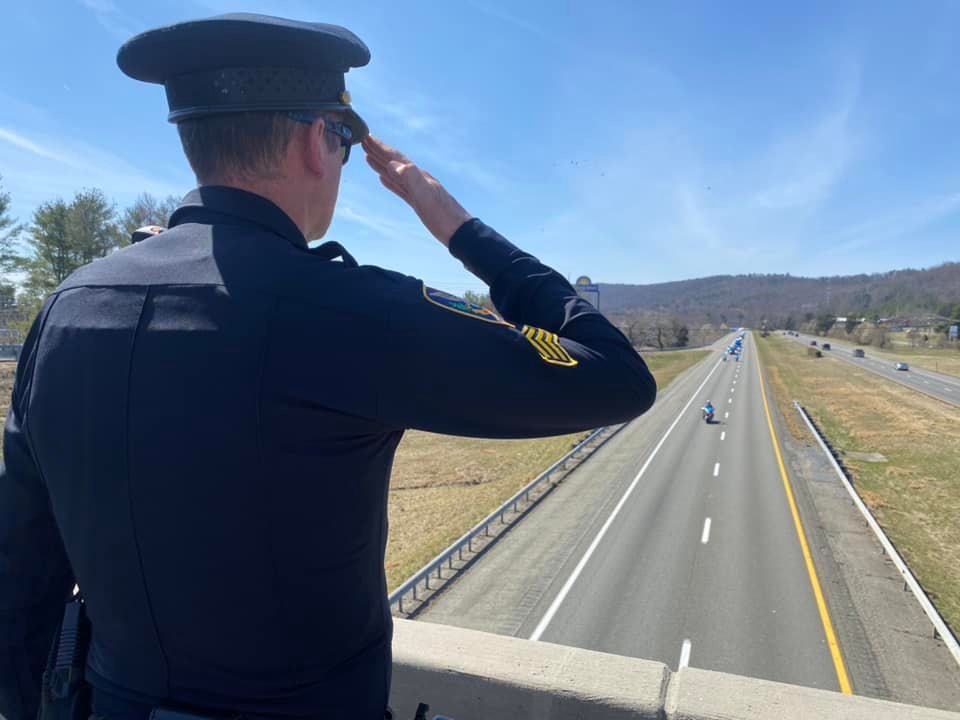 "His engaging personality, dedication to serving others, and great sense of humor quickly endeared him to his Covington Police family and our community," Smith said.
Ogilvie is survived by his wife and their four young children.
A Tuesday afternoon procession from the medical examiner's office in Roanoke took Ogilvie's body to Nicely Funeral Home in Clifton Forge.
Ogilvie's funeral arrangements are pending.
Read Next: