The country's oldest living World War II veteran celebrated his 112th birthday Sunday with a street parade outside his home in New Orleans.
Lawrence Brooks was born Sept. 12, 1909, in Norwood, Louisiana. He was drafted by the United States Army in 1940 and served in the predominantly African American 91st Engineer Battalion after Pearl Harbor, according to the Department of Veterans Affairs. Brooks deployed to Australia, then Papua New Guinea, and the Philippines.
The National WWII Museum organized Sunday's birthday party.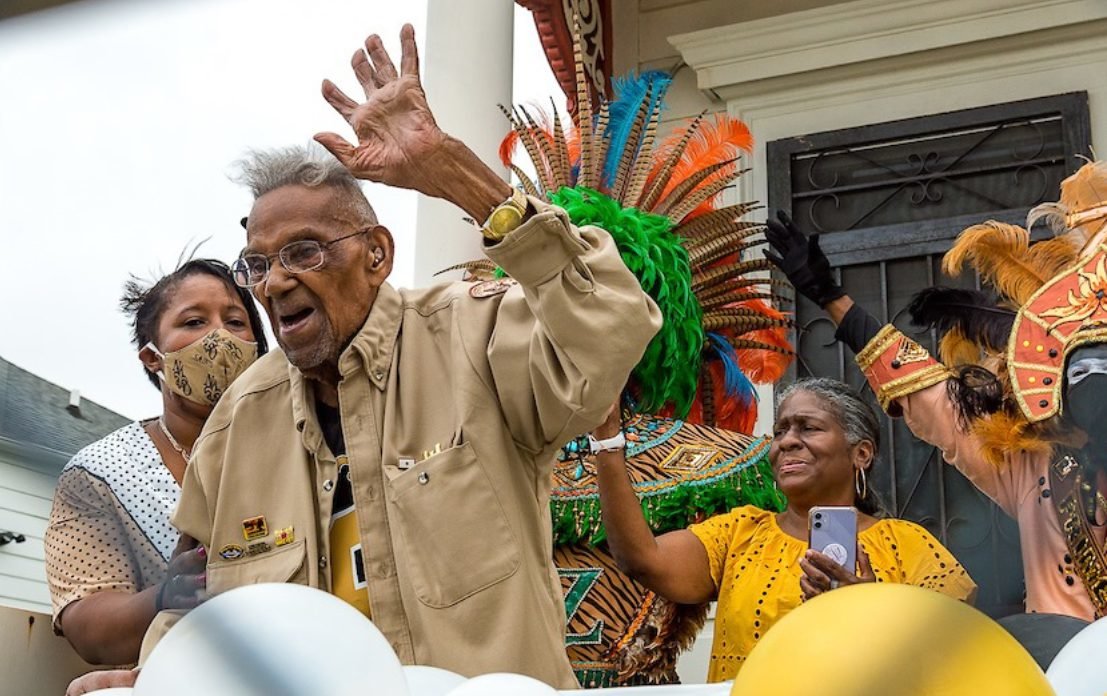 In a video from WDSU-TV, Brooks can be seen waving at well-wishers from his porch, wearing a New Orleans Saints jersey and flanked by family members. The Victory Belles vocal trio serenaded him with 1940s hits such as "You Are My Sunshine." Before long, it was an all-out street party in front of the veteran's house, with a collection of local musicians playing lively jazz while spectators clapped and danced along.
"We all love Mr. Brooks," Peter Crean, vice president of education and access for the museum told WDSU. "He represents a generation that helped save the world."
Louisiana Gov. John Bel Edwards tweeted out a photo with Brooks, and he thanked the veteran for his service: "Happy 112th birthday to Mr. Lawrence Brooks, America's oldest living World War II veteran and a proud Louisianan. Mr. Brooks, the entire state of Louisiana thanks you for your service and we all wish you a joyous birthday." Deputy Secretary of Veterans Affairs Donald Remy also visited Brooks in the week before his birthday, WDSU reported.
Brooks offered this advice for others: "Serve God and be nice to people."
Read Next: