The recruits of Lima Company, 3rd Recruit Training Battalion, Marine Corps Recruit Depot San Diego, woke to pitch black in the chilly, damp air of Camp Pendleton's Edson Range early Thursday morning.
Red-lens flashlights held between their teeth illuminated rucksacks as the exhausted and aching recruits packed their gear and prepared for a grueling trek to the top of the Reaper, a 700-foot hill notorious among "Hollywood Marines" (those who attend boot camp on the West Coast) as the final gut check for recruits before they can finally claim the title "United States Marine."
With battered bodies and blistered feet, the nearly 400 recruits of "Lethal" Lima steeled themselves for one last push.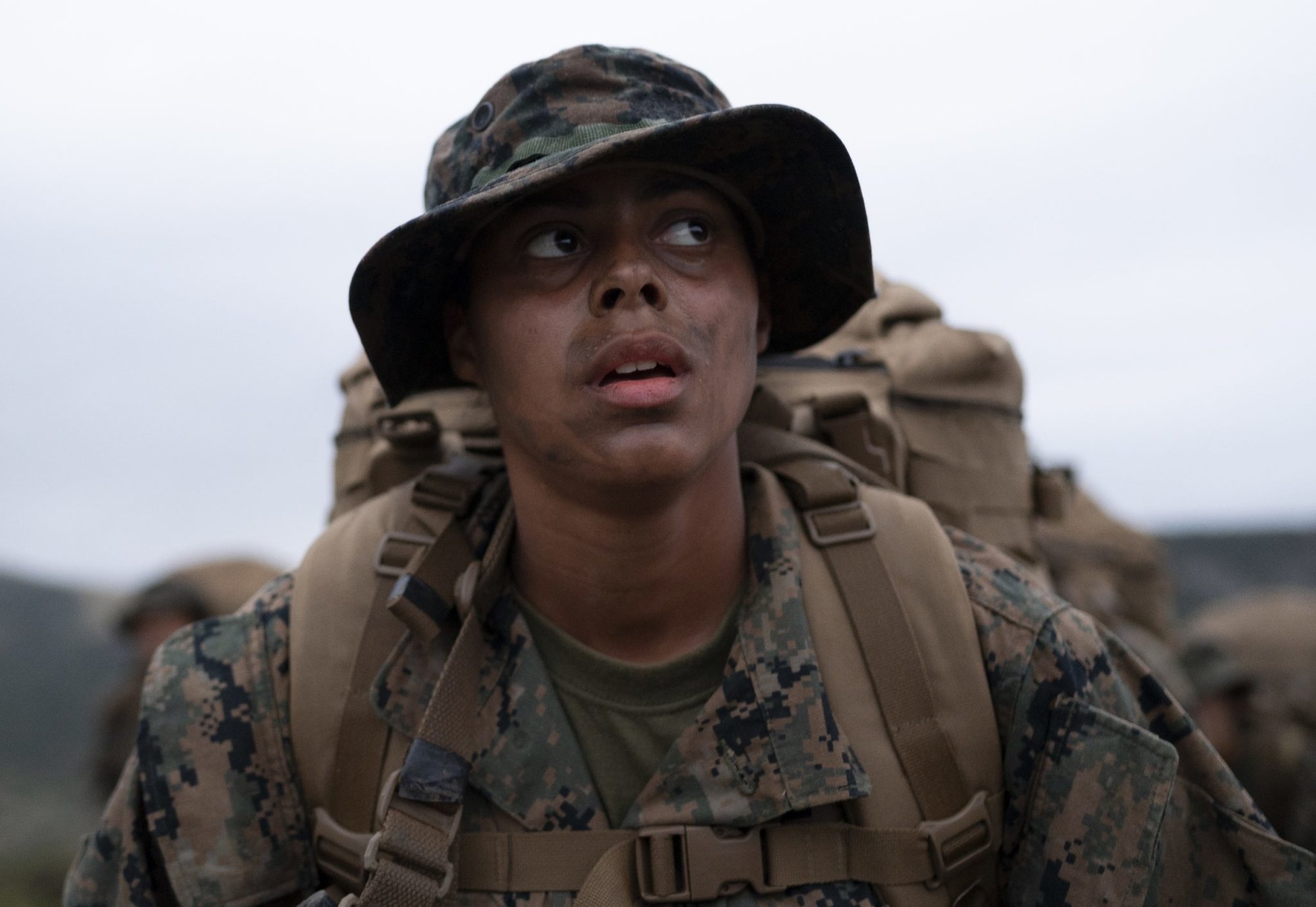 "I feel exhausted," one recruit told Coffee or Die Magazine Wednesday afternoon. "I've never done this much physical activity in my entire life."
Another recruit beamed excitedly as she described her Crucible experience Wednesday after pugil-stick training: "You never think it's going to end because when you walk that long and you've been up that long, it's like, nothing's going to end."
After completing a nighttime assault course at the end of a punishing second day of the Crucible Wednesday, many recruits were approaching their physical and mental limits.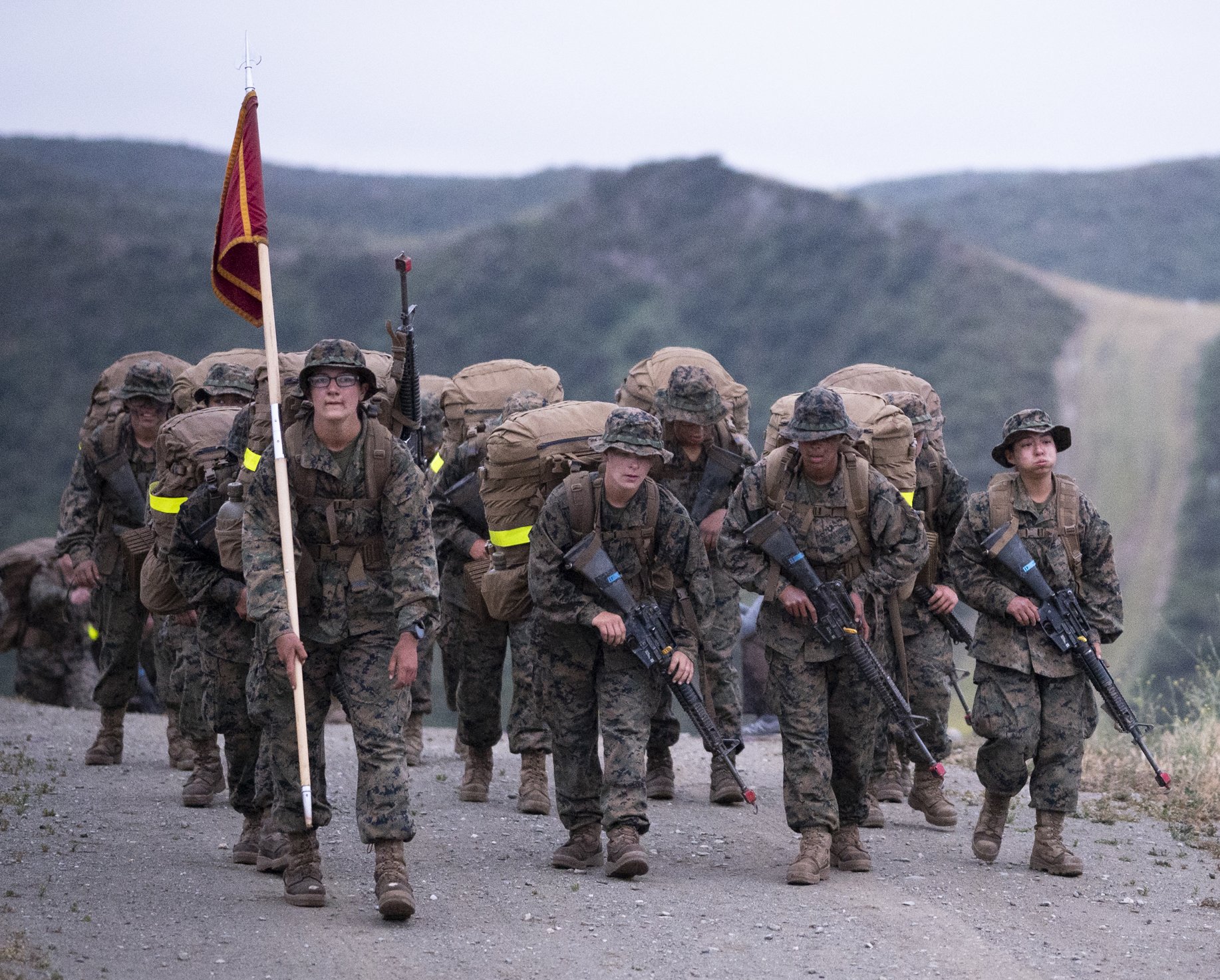 At 4 a.m. Thursday, the recruits of Lethal Lima were just a few hours away from the Crucible's end when they hoisted roughly 40-pound packs onto their backs and stepped off toward destiny, their hearts set on making history at the top of the Reaper.
Lima Company are the first West Coast-trained recruits to ever celebrate the life-defining moment of earning the title "Marines" as brothers and sisters.
After training alongside five male platoons for 10 weeks, the women of Platoon 3241 led Lima Company's ascent to the top of the Reaper.
"It's hard, but it'll be the happiest moment of our lives," one recruit told the woman to her left as the platoon paused briefly on the hill, breathing heavily.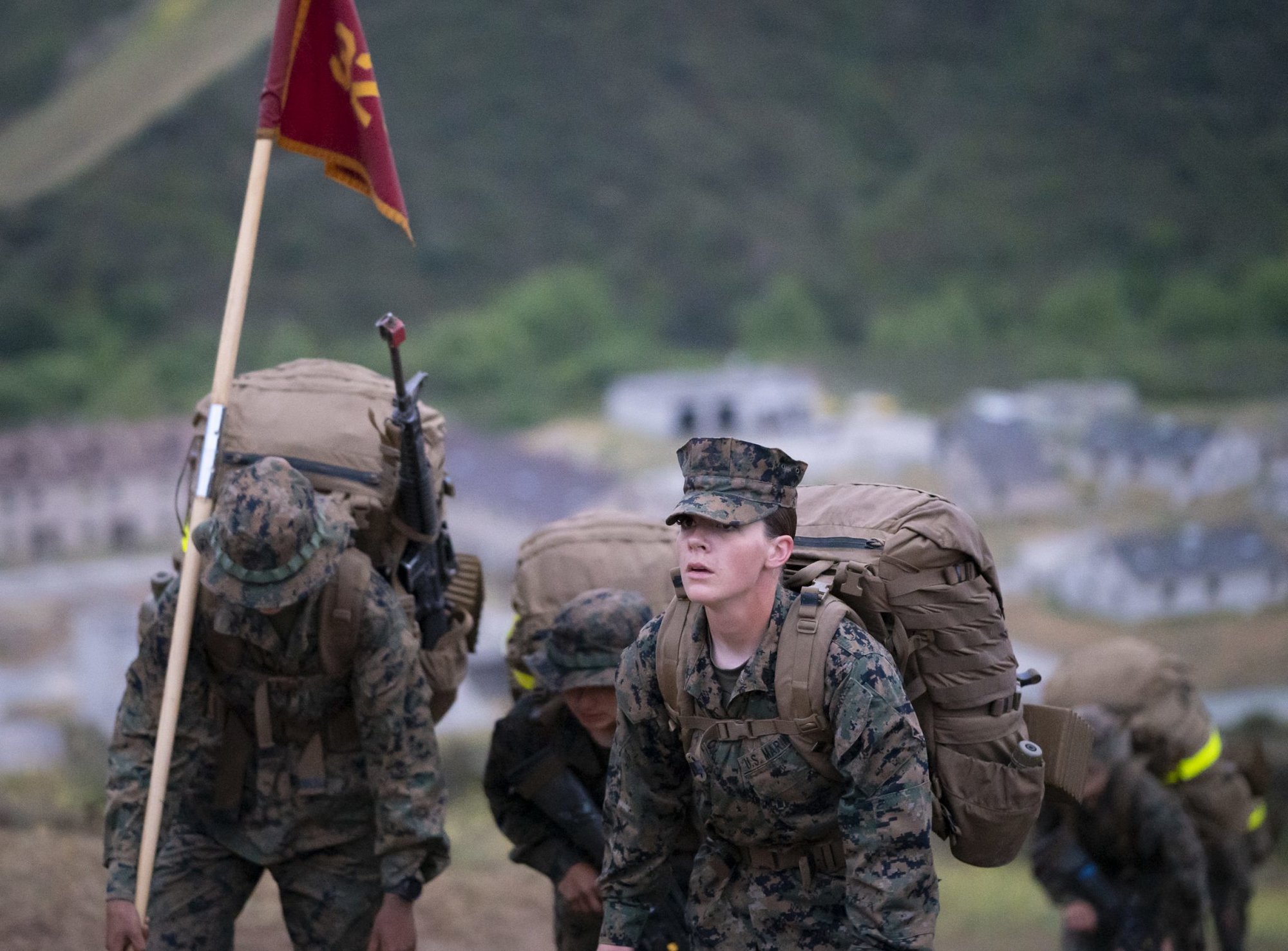 Platoon 3241's drill instructors encouraged, pushed, and pulled recruits up the Reaper, rolling out every tool in their arsenal of ways to motivate a recruit to push past what she perceives as her limits.
Just over two hours into the hike, the recruits reached the bottom of the final crest. With a thunderous yell, they summoned a final burst of energy and surged up the hill.
Grimaces and tears turned to smiles and laughter. Drill instructors placed the Eagle, Globe, and Anchor — the Marine Corps emblem — into outstretched palms and gave the recruits the title they had worked so hard to achieve: Marine.
Josephine Imperial cried as her father, Sgt. Maj. Nicholas Imperial, greeted her after she received her emblem.
"Welcome to the family, Pfc. Imperial," the sergeant major said, eliciting a laugh from his daughter.
Imperial told Coffee or Die she was already extremely close with her father, but his presence the moment she became a Marine connected them even more.
Familial support and motivation has been key for many of the new Marines, including Raymie Auldridge, who credited her grandfather and brother — both Army veterans — with her drive to serve.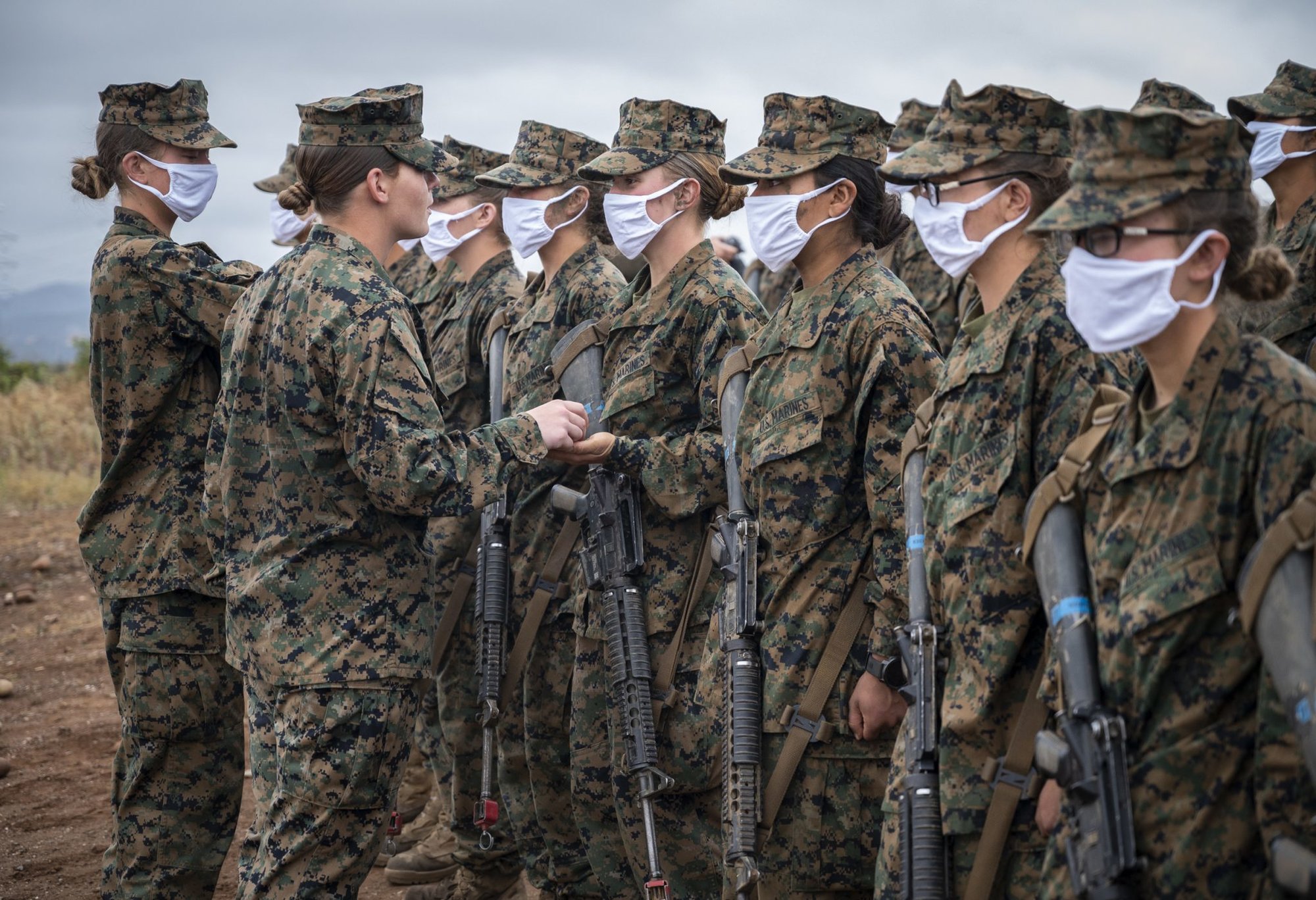 "Look who it is," Staff Sgt. Amber Staroscik said, facing Auldridge to press an EGA into her palm. "Who braved the Reaper with two broken legs?"
"This recruit, ma'am."
"This recruit, or this Marine?" Staroscik said with a motherly calm.
"This Marine, ma'am," she replied, tears of pride coming on harder.
"Two fractured femurs — all the way up the Reaper, all the way through the Crucible — and before you even knew it, probably the CFT (Combat Fitness Test) and a couple hikes. You have probably overcome more physical adversity than most recruits should. But you're here, right?"
"Yes, staff sergeant," Auldridge replied confidently with a quiver of emotion, an overwhelming sense of pride and achievement reflected in the glint of her tears.
"Be proud of yourself because I know I am. I am proud of you. Look at me, Auldridge."
Her weeping eyes turned upward and locked with Staroscik's.
"I am proud of you. Congratulations."
"Thank you, staff sergeant," she said, her voice faltering.
Staroscik addressed the new Marines afterward.
"Right now is the one moment that you're going to have to cling to for the rest of your career," Staroscik said. "You did something that's never been done before."
"Aye, aye, staff sergeant," the platoon answered.
"You're a part of Marine Corps history."
Auldridge said of her piece of history, "It felt like a dream that I've been trying to reach, and now I'm here."
Read Next: Female Recruits Make History, Stepping Onto Yellow Footprints at All-Male Boot Camp in San Diego