These are the nights that they hit us," said Specialist Nathaniel Zimmerman, a young and energetic cavalry scout known affectionately as "Zim" by his fellow soldiers. "When it's overcast and there's not a high breeze or anything like that, they love it. The overcast makes it so you can't see them, and the low wind won't blow the rockets off target."
He was on guard duty at K1, an American compound at an Iraqi base outside the city of Kirkuk, Iraq. It was a cool and foggy night in March. Zimmerman and Private Immri Charles, a son of Haitian immigrants turned American soldier, looked out from their tower beyond the walls as fire from oil fields in the distance lit up the fog and clouds with an eerie orange glow. Kirkuk is one of the most oil-rich regions of the country, which has simultaneously fueled both economic growth and political violence as competing factions fight over control of the crude beneath the ground. Recently, plummeting oil prices have only further complicated Iraq's political landscape.
While Zimmerman and Charles deployed to Iraq with a mission to help local forces fight ISIS, the faction they were most concerned with that night were Iranian-backed elements of the Popular Mobilization Forces (PMF), a loose collection of Iraqi militias that formed in 2014 to fight against ISIS. Iranian-backed PMF faction Kataib Hezbollah attacked K1 on Dec. 27, 2019, with a volley of 31 rockets, killing one American and setting off a major confrontation that brought the United States and Iran to the brink of all-out war.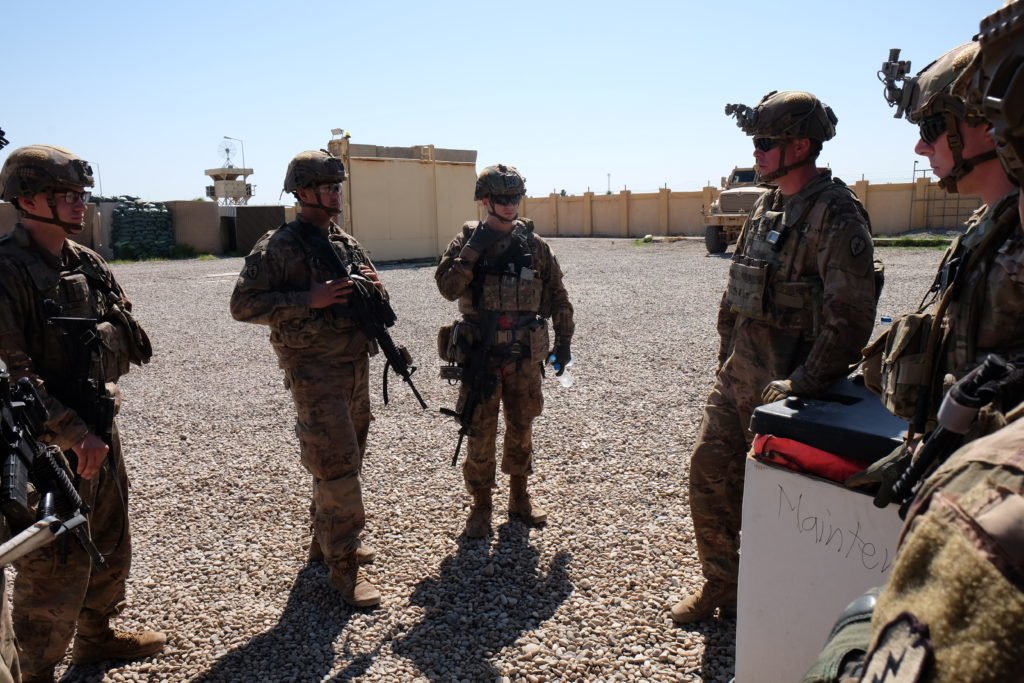 Tensions have remained high even as the global COVID-19 pandemic upends all aspects of modern life. But that night was peaceful. A chorus of frogs echoed in the distance. Throughout the night the soldiers spotted bats, foxes, and other critters making their way through the darkness — all seemingly unfazed by the humans and their wars.
"Hey Zim, you're seeing this right?" Charles asked. A green laser strobe shone into the sky in the distance. It was coming from the direction of a PMF compound. The soldiers wondered if it could be some sort of signalling device and reported it to higher ups on their radio. "You never know what to expect out here anymore," Zimmerman said looking out into the night. The green strobe pierced the night sky several more times, but there was no attack.
Zimmerman and Charles ended their shift and handed their tower off to another pair of soldiers for the overnight shift. The soldiers were counting down the days until the end of their time at K1. Their unit, the 5-1 Cavalry Squadron, was packing up to leave the compound and hand it over to the Iraqis by the end of the month. They were hoping for a drama-free transfer and to leave before any other major confrontations broke out. Coffee or Die was on the ground with them during their last month as they were preparing to leave the base and reflecting on their deployment.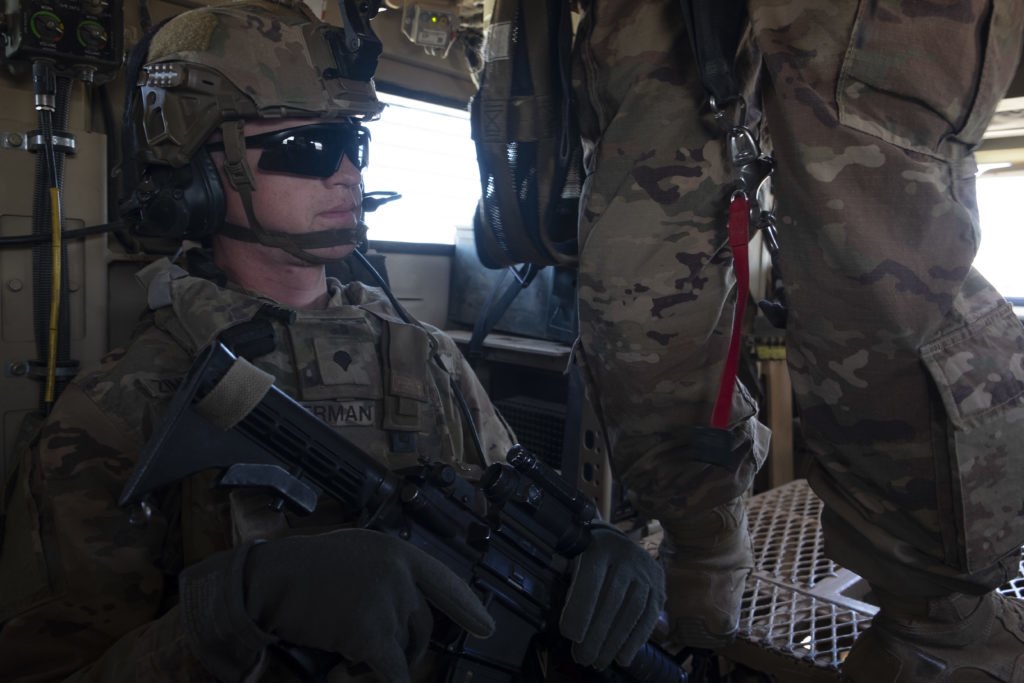 It's time to go," said Command Sergeant Major Jacob Stockdill. A bear of a man, Stockdill first deployed here in 2004 and had several deployments since. After a long career fighting America's wars, he intends for this deployment to be his last. "At a certain point you have to cut the cord," Stockdill said in reference to the Iraqi forces continuing the fight against ISIS.
The American compound at K1 was bordered both by troops from the Iraqi Counter Terror Service (ICTS) and the Iraqi Federal Police — better known as Fed Pol. K1 belonged to the Iraqis, and the Americans needed their permission to leave the base to conduct operations — a far cry from the days of Operation Iraqi Freedom when U.S. troops controlled the roads.
When he talked about his numerous deployments to Iraq over the years, Stockdill's mixed feelings were evident. He expressed frustration with the seemingly endemic corruption of Iraq's government and the stubbornness of the insurgency, but his affection for many of the Iraqis he has met over the years — both soldiers and civilians — and his appreciation for their history was equally evident. "One of the biggest mistakes people make out here is thinking Iraqis are stupid," Stockdill said. "This place is the Cradle of Civilization."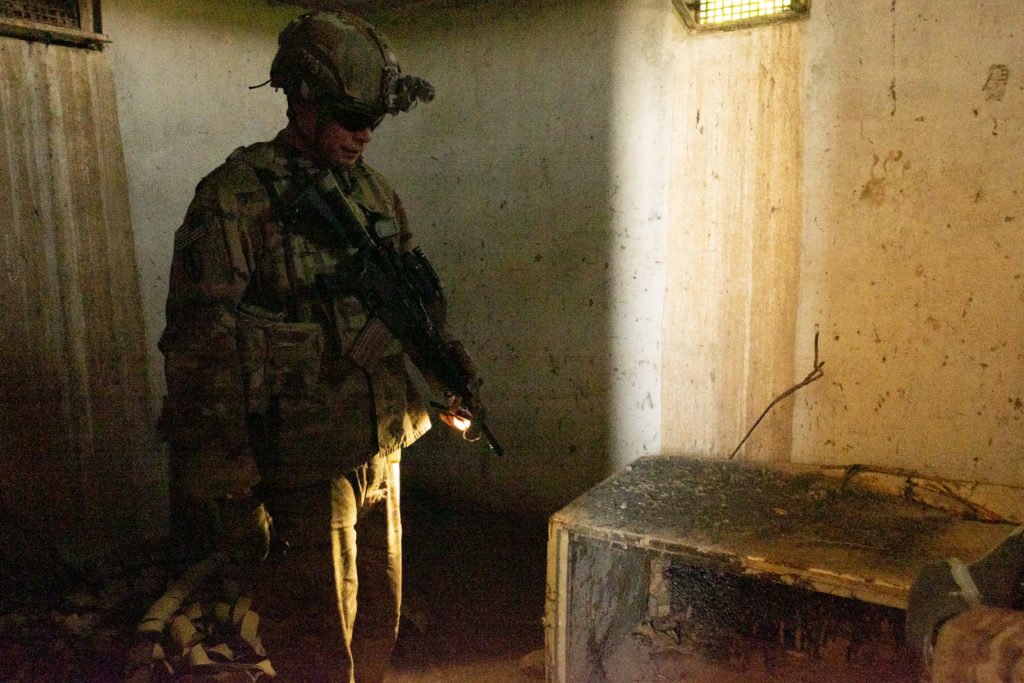 K1 has a long history of its own. The base was once a compound for an oil company. American troops across the country typically live out of tents and trailers as they operate coalition compounds in Iraqi bases, but the American compound in K1 had several pre-built structures that they've turned into billets and offices. They've also added several concrete "T-Walls," Hesco barriers, and sandbags to reinforce the base.
The American compound had a bazaar with Kurdish restaurants, barber shops, and convenience stores. Local contractors handled the soldiers' waste and did their laundry. One of the shops was run by a Kurd named Mohamed Mohamed that the troops knew affectionately as "Moe." Moe has several relatives in the U.S., and the wall next to his cash register was adorned with plaques of appreciation from American forces going as far back as 2010. Stockdill noted that Moe, despite being illiterate in the written word, is fluent in multiple languages and opines that he was probably one of the smartest people on the base.
Outside the chow hall and squadron headquarters was a garden courtyard with fruit-bearing olive trees. "No one takes care of it, it just kind of grows this way," one soldier said. In addition to oil riches, Kirkuk has fertile soil and is one of Iraq's bread baskets — beyond the walls, the fields turn vibrant shades of green.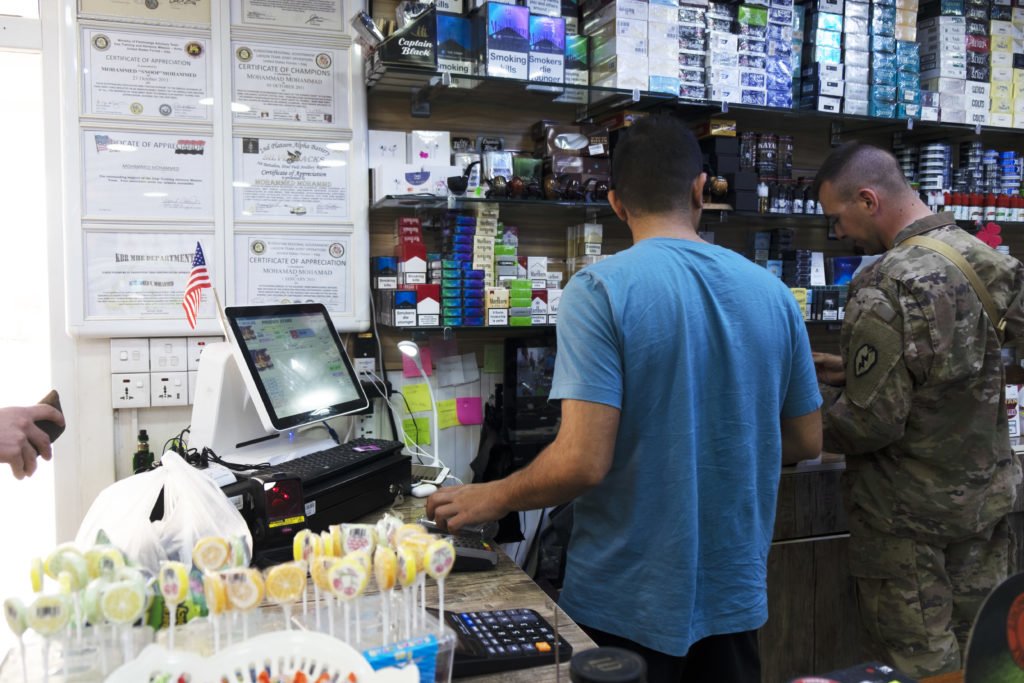 "It could be worse. We could be getting blown up every day," joked First Lieutenant Logan Briggs, a logistics officer. He said that before arriving he'd heard the location was remote and expected a sparse, dusty patrol base instead of a well-built facility. The blossoming flowers and green fields have been another surprise. "When we got here [in August] it was all sand and dead looking. Now there's green shit everywhere," Briggs said. "Kind of took me by surprise — I didn't think anything could grow here."
However, K1 is at times a challenge to operate out of — one of the main reasons the Americans had long planned to leave the base to consolidate forces elsewhere. It's a relatively small installation that's off the beaten path. Despite that it has a runway, coalition planes rarely — if ever — used it. Instead, the coalition sent helicopters to the base a few times a week. Except when it didn't.
Lighting and rainstorms, windy days, and other intense weather patterns meant regular cancellations of flights carrying supplies and personnel. "I think if you were to ask which areas are most important to the fight against ISIS, most people would tell you this is one of them," said Stockdill. "But the weather just kills us out here." Soldiers who went to the base for temporary duties frequently got stranded for weeks, while those who left often had a hard time returning. As a result, the base frequently experienced logistical bottlenecks. Soldiers called it "The Curse of K1."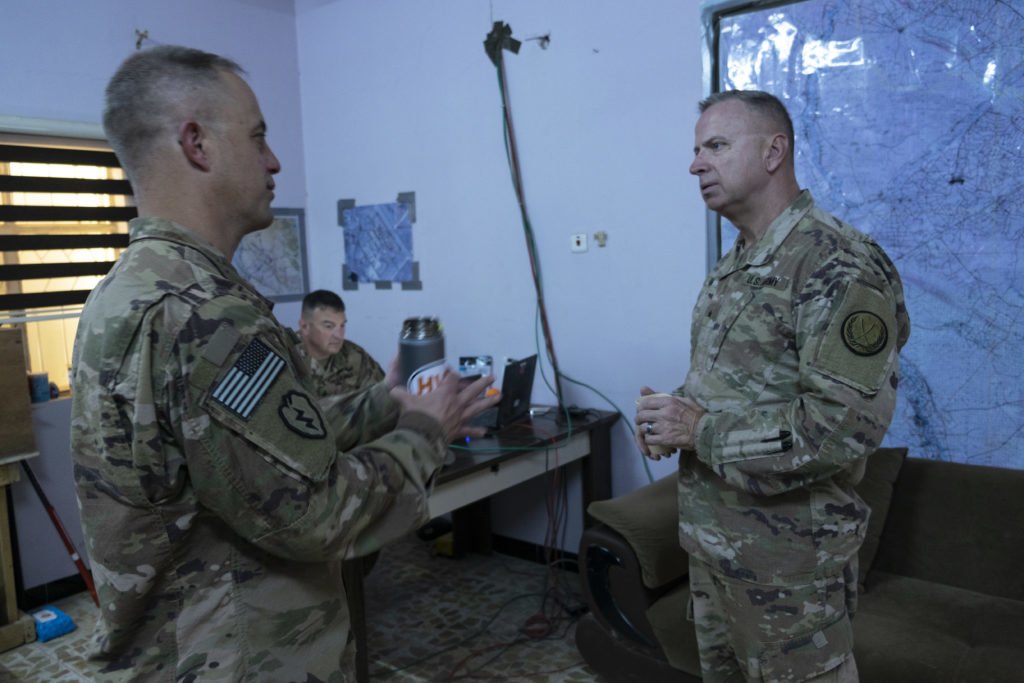 "This has probably been one of the most professionally challenging deployments of my career," said squadron commander Lieutenant Colonel Aaron Mock. His squadron is part of the Alaska-based 1st Stryker Brigade of the 25th Infantry Division — the "Arctic Wolves." When the Arctic Wolves deployed to Iraq and Syria, they were told to expect a straightforward deployment — ISIS had lost all of its physical territory, and the plan was to help Iraqi troops and the Kurdish-led Syrian Democratic Forces with mop up and stability operations while the Coalition slowly repositioned its forces and dialed back.
But in October 2019, Turkey launched an invasion of Northeast Syria as American troops made hasty and unplanned withdrawal from the region — only to return again to guard oil fields. The fighting displaced thousands of Syrian civilians and allowed ISIS prisoners to escape and other militants to regroup. Rampant unemployment and corruption in Iraq led youths to take to the street in a massive revolutionary protest movement across the country. By November, Kataib Hezbollah began launching rockets at American positions across Iraq. After New Year's, militiamen stormed the American embassy, the U.S. assassinated a top Iranian general, and ballistic missiles hit an American base. Then COVID-19 entered the equation.
Mock speaks reflectively, comparing it to other deployments around the globe from fighting to peacekeeping and how he had to draw on all of his experiences here. He said that he's basically living every off-the-wall scenario that he ever encountered in various training environments — except that he has to deal with all of them simultaneously.
"It's a challenging environment to be in, and it's changing every day," he said. "It's definitely not the deployment I expected." Mock stressed that while his troops were leaving K1, the plan was not for American troops to leave Iraq. The fight against ISIS wasn't over. "It's a repositioning, not a reduction."
A big part of 5-1's mission was providing support for elite U.S. Navy SEALs as they tracked ISIS. When the scouts arrived at K1, they found the SEALs standoffish. Several soldiers said that the paratroopers who had run the compound before the scouts arrived had an antagonistic relationship with the SEALs. It didn't help that many of the scouts also admitted they found some of the SEALs to be hard to work with, often citing them as arrogant and entitled.
Mock and other leaders tried to mend fences and create a new working relationship. "It didn't happen overnight," said First Lieutenant Jeff Weller, leader of 5-1's Apex Troop, 2nd Platoon. "I think we've got a pretty good working relationship now."
Staff Sergeant Michael Johnson, a mortarman who had previously deployed to Afghanistan to a base where conventional troops had been assisting Special Forces troops, said the mission was familiar to him: "[This is] very similar, but no mountains to look at and no snow." The last time Johnson had been to Iraq he had also been packing up American positions. He deployed in 2011 at the end of Operation New Dawn as American troops prepared to leave the country, many believing they'd never come back.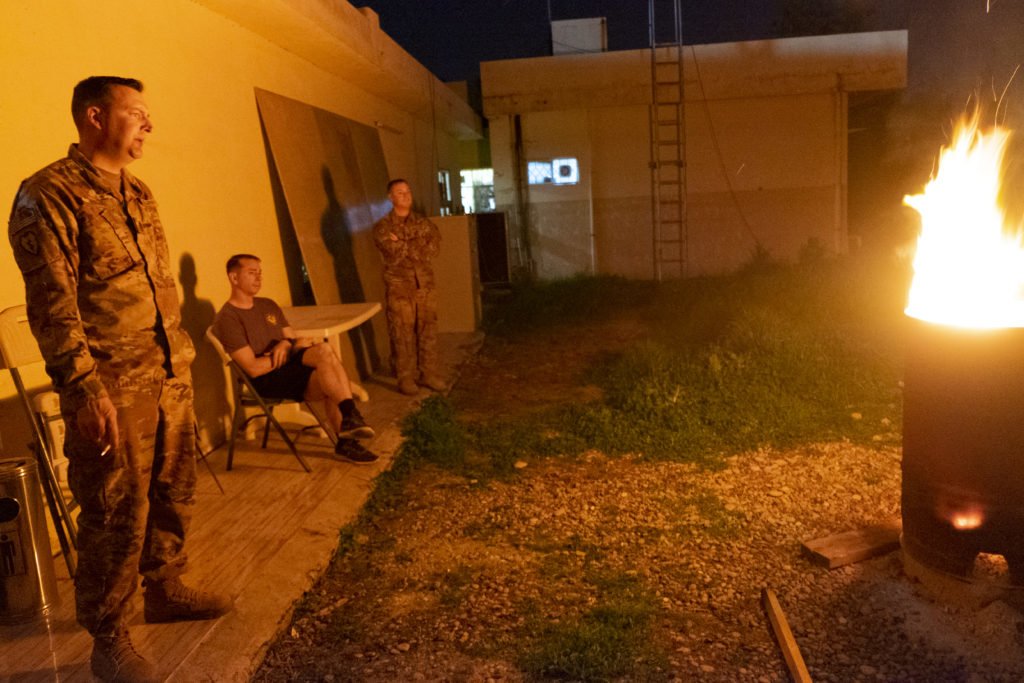 In addition to providing security for the SEALs, 5-1 also maintained relationships with Iraqi troops, making trips to visit Iraqi units and meet with generals around Kirkuk. "Everyone's a general out here, that's something I've learned," said Sergeant Declan Ware, explaining that their respective militaries are structured very differently.
Ware said he enjoyed the opportunity to meet his Iraqi counterparts. They always greeted American visitors with feasts of local food and were generous in sharing cigarettes. "All of them want to add you on Facebook, too," he said. "When the American soldiers showed up, they thought that was the coolest thing in the world."
One day, Ware recalled, they were with several Iraqi troops on a firing range. "They couldn't hit paper for the life of them," he said. "Whenever they hit even just the paper, it was a big event." However, Ware and other American troops were quick to contextualize that, for institutional reasons, even basic soldiering is a challenge for Iraqi troops.
Iraqi troops don't leave Iraq at the end of their deployment — their fight is a constant one. And they go about their work within a system that's often dysfunctional — paychecks go missing and commanders often get promotions based on political connections rather than job performance.
"It's a challenging environment to be in, and it's changing every day. It's definitely not the deployment I expected."
In some cases, the best Iraqi troops manage to go on to join elite units like ICTS and the storied Golden Division that fought at the tip of the spear against ISIS in Mosul. But for the regular Iraqi Army, retention of experienced soldiers is a challenge. "A lot of [the Iraqis the U.S. trained] are dead, a lot of them decided this isn't what they wanted to do," Johnson said.
After the U.S.-led invasion of Iraq in 2003, the Coalition Provisional Authority disbanded the Iraqi military. Thousands of armed, angry, out of work military men quickly formed the backbone of armed insurgent groups. The vacuum also created an opening for Iranian agents to expand their influence by supporting local proxy forces. The U.S. military hastily began building a new army from scratch. Western troops have been advising the new Iraqi military for nearly two decades while trying to battle Sunni insurgent groups and contend with Iranian-backed Shia militias.
The city of Kirkuk sits on the ruins of what was once the ancient Akkadian city of Arrapha. The Akkadian empire, which lasted from 2335 to 2154 BCE, had united all of the Akkadian and Sumerian speaking Mesopotamians under one rule. The city continued to change hands, and while empires and rulers changed over the centuries, so did the demographics as various merchants, nomads, and settlers cycled through the area.
After the dissolution of the Ottoman Empire at the end of World War I, Western imperial powers carved up the Middle East. Kirkuk became part of the Kingdom of Iraq in 1926, and a group of Iraqi and American excavators working for the British-led Iraq Petroleum Company (IPC) struck a massive oil gusher at Baba Gurgur near Kirkuk city in 1927. By 1934, the IPC began exporting from the Kirkuk oil field, and the company moved its headquarters into a new camp on the outskirts of town.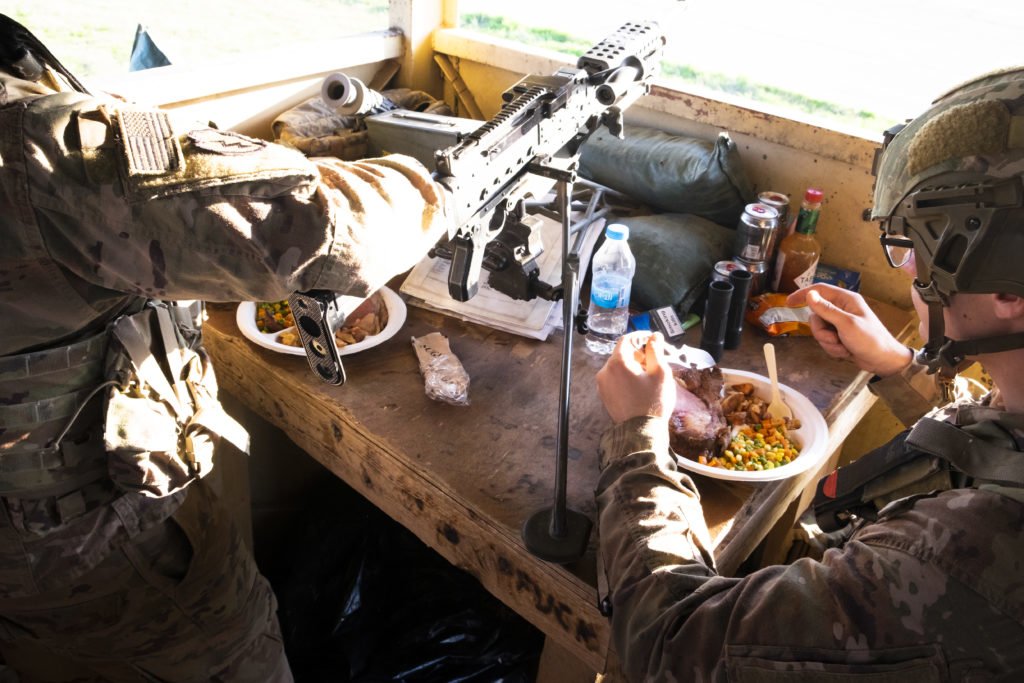 IPC named its new headquarters Arrapha in honor of the ancient city. As workers moved in, it quickly developed into a large neighborhood of Kirkuk city in its own right. The IPC wielded significant political and financial power in Kirkuk province and played a central role in reshaping the city in the 20th century, working closely with the central Iraqi government on urban planning and housing developments.
The city had always been diverse but emerged as a cultural center of sorts for Iraqi Turkmen. The oil rush transformed Kirkuk as Arabs and Kurds flooded to the city in search of opportunity. Kurds from the northern mountains also began settling in uninhabited but cultivable rural land outside of the city, turning the region into an agricultural hub. The influx of Kurds into Kirkuk continued well into the 1960s.
However, under the rule of the Arab Nationalist Baath Party, the government began an "Arabization" policy. This policy displaced many Kurds, Turkmen, and Christian Assyrians from Kirkuk and several other areas and replaced them with Arabs from southern Iraq. At the end of the Gulf War in February 1991, then-U.S. President George H.W. Bush urged Iraqis to overthrow Saddam Hussein. On March 24, when Southern Shias and Northern Kurds launched an ill-fated revolt, Kurdish Peshmerga fighters took control of Kirkuk. The Iraqi Army struck back, forcing the Peshmerga to abandon the city just four days later.
In response to the uprising, the Baathist regime ramped up Arabization, razing Kurdish villages and building thousands of new homes for Arab residents. The Baathists forcibly removed as many as 300,000 people from Kirkuk during their rule of Iraq.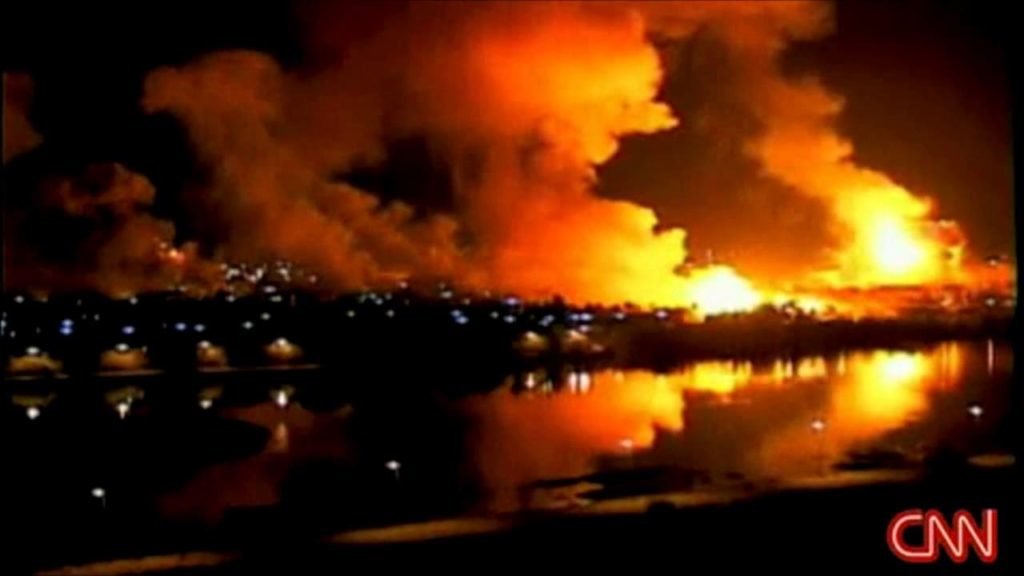 During the American-led 2003 invasion, Kurdish Peshmerga fighters aided U.S. troops in taking over the city and remained until the Coalition Provisional Authority requested their withdrawal. While the Peshmerga left, Kurdish families began returning to Kirkuk in large numbers. As the province began holding elections, most of the political parties served ethnic and tribal interests. The province's politics were volatile. It was at times dangerous, too.
American forces patrolled the area for years and regularly found themselves caught in the complex web of local conflicts that define the region. Insurgents regularly planted bombs and launched suicide attacks against civilians, U.S. troops, and the fledgling American-backed Iraqi security forces. When the bulk of U.S. forces left Iraq in 2011, insurgents bombed several churches and cafes in Kirkuk in a series of coordinated attacks.
In June 2014, ISIS militants seized Mosul, wiping out Iraqi troops defending the city after their commanders abandoned them. When news of the fate of the garrison in Mosul reached Iraqi troops in Kirkuk, they quickly fled as well. Almost as soon as Iraqi troops left, Peshmerga fighters entered the city and raised a Kurdish flag.
The Iraqi government condemned the takeover. Many of the city's Arab and Turkmen residents had mixed feelings about the Kurdish fighters, but the city was relatively safe from ISIS attacks. It was one of several areas the Peshmerga seized during their fight against ISIS. Western troops began returning to Iraq in August 2014 in response to the ISIS slaughter of Yazidis in Sinjar. Air strikes pounded the militants while elite Western special operations forces arrived to advise local forces and hunt down ISIS leaders. It wasn't long before some of the elite troops took the hunt to Kirkuk.
On Oct. 16, 2016, an ISIS cell launched several coordinated attacks in Kirkuk City. […] By October 24, the Peshmerga and Kirkuk's local police quelled the violence after killing 74 militants and arresting the man they believed to be the mastermind of the attacks.
ISIS laid siege to the Iraqi Turkmen town of Amerli just south of Kirkuk. Human rights groups warned that the town's mostly Shia residents were at risk of genocidal violence similar to what the Yazidis suffered in Sinjar. But PMF fighters managed to reach the town in time to help the locals hold out against ISIS, including members of Kataib Hezbollah. Peshmerga fighters entered the fight from the north, and American forces began sending air support.
The Battle of Amerli was a strange episode. Iranian-backed militias and American planes indirectly cooperated to save the town's residents. IRGC commander Qassem Soleimani even visited the frontlines as American air power pounded their mutual enemy. But the battle's aftermath proved to be a dark preview of things to come — some PMF militiamen began looting homes that had belonged to Sunni residents and told several Sunnis to leave, while preventing Kurdish Peshmerga who helped repel ISIS from entering the town. One Peshmerga commander told Reuters that the militias were the "Shia Islamic State."
In the city of Kirkuk, Kurdish political parties expanded their influence in elections and seemed to be working toward slowly annexing the city while Kurdish authorities took control of running the oil facilities, leading to increasing political drama. Meanwhile, Western troops began increasing their presence at K1, at the time still occupied by the Peshmerga.
ISIS was also trying to assert itself in Kirkuk. On Oct. 16, 2016, an ISIS cell launched several coordinated attacks in Kirkuk City. Local residents recalled several explosions and gun battles breaking out in the city. By October 24, the Peshmerga and Kirkuk's local police quelled the violence after killing 74 militants and arresting the man they believed to be the mastermind of the attacks.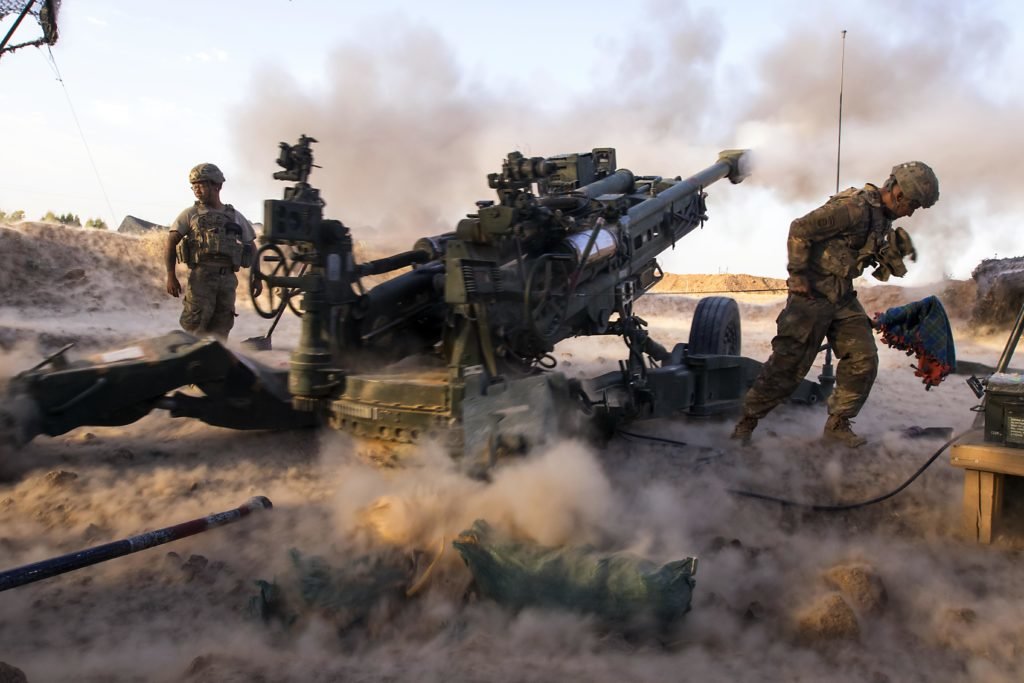 Iraqi troops gradually pushed their way into Mosul, fighting street-to-street against ISIS. In October 2017, Iraq's Semi-Autonomous Kurdish Government held a referendum and voted to declare independence from Iraq. The Iraqi government rejected the bid for independence.
In response, the Iraqi Army and PMF launched attacks against the Peshmerga. Iraqi troops and PMF fighters retook Kirkuk and several other territories in a brief but fierce series of battles that killed several on both sides. As the Iraqi forces moved into Kirkuk and replaced the Peshmerga at K1, the coalition continued its operations against ISIS. However, the renewed conflict between the Peshmerga and Iraqi security forces complicated the war against the militants.
ISIS cells took advantage of the divisions and began establishing ratlines in disputed territories between Iraqi and Kurdish lines. During the summer of 2019, ISIS cells began burning farms near Kirkuk, Mosul, and in the disputed town of Makmour near the Qarachogh Mountains where the militants hid in caves between Peshmerga and PMF forces.
When Coffee or Die visited Peshmerga fighters on top of the Qarachogh Mountains in June 2019, they said they often saw ISIS fighters moving around below them and occasionally fought them. However, due to their standoff with PMF forces at the base of the mountain, they were unable to root out the militants living in the caves. From the mountains, the Peshmerga pointed to several plumes of smoke emerging from fires in Makmour and outside Kirkuk that they said were the work of ISIS.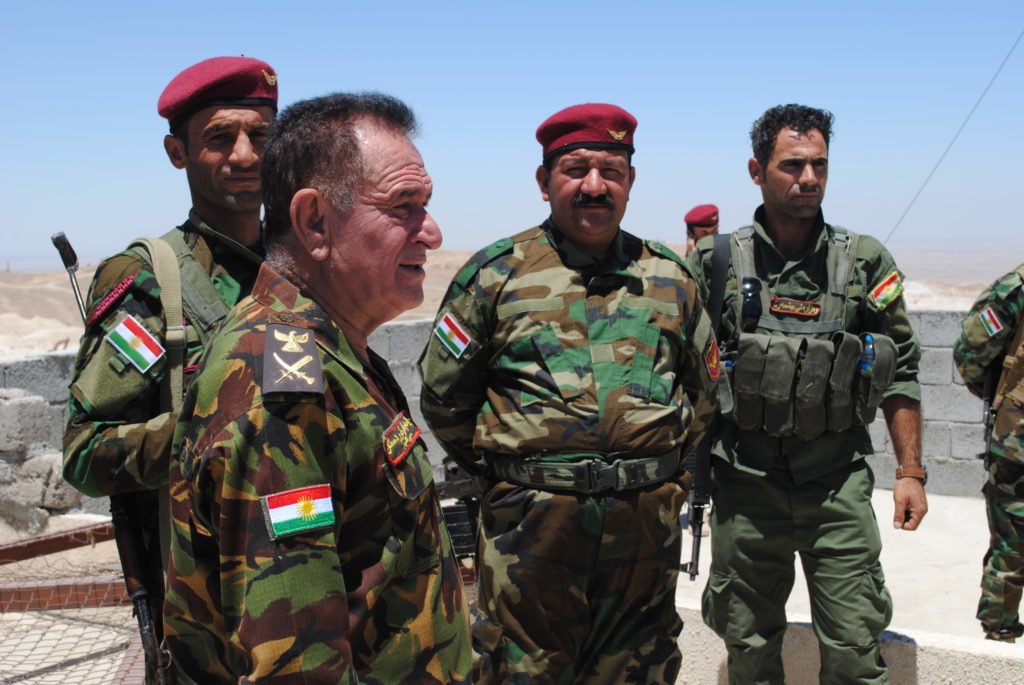 On July 1, 2019, Iraq's then-prime minister Adil Abdul-Mahdi signed an executive order that officially made the PMF part of the Iraqi security forces. At the time, some Western think-tanks hailed the move as a step toward bringing the militias under control — though many Iraqis warned that it further legitimized groups like KH. Throughout July and August a series of mysterious strikes against KH compounds in Amerli and Baghdad destroyed munitions and killed several fighters.
The strikes were later revealed to be the work of Israeli drones. Though American officials stressed that they'd played no role in the attacks, Kataib Hezbollah pledged it would strike American troops with rockets in retaliation. The Arctic Wolves began arriving in Iraq in late August and September; by November, rockets began striking American positions across Iraq. The attacks gradually began to involve more powerful munitions and increasing numbers of rockets. KH didn't claim responsibility, but American troops knew exactly who was lobbing rockets at them.
American commanders hoping to focus on their anti-ISIS mission tried to avoid conflict with the militia. They weren't eager to get into a new conflict with a faction that now fought under the banner of the very Iraqi government they were supposed to be supporting. Many American officers hoped that the hostilities with Kataib Hezbollah and other PMF factions would blow over and that everyone would move on before the situation escalated.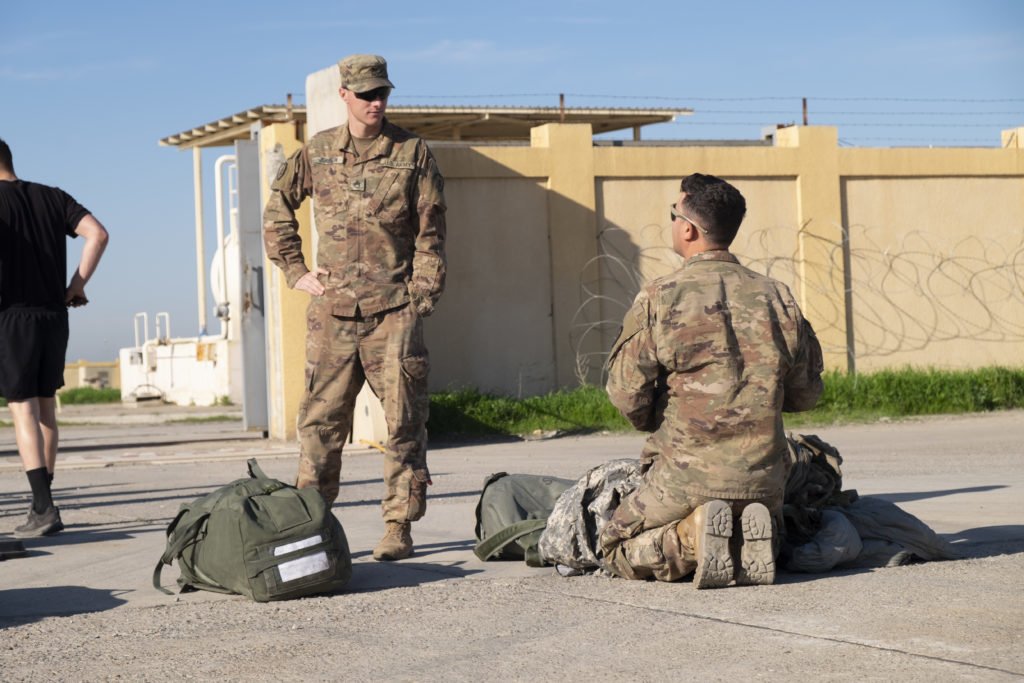 It was raining on the night of Dec. 27. 2019. Corporal Madison Rivera, a cavalry scout from Florida, was on tower duty looking out into the fields when he heard a sound and saw some faint, distant flashes.
"At first I thought it was fireworks," he said. "I was like, Man, these fireworks suck." Then he heard the whoosh of the rockets flying past the towers and saw the fiery projectiles impacting the base behind him.
Fuck, he thought to himself. Those aren't fireworks.
Johnson was at the BDOC (Base Defense Operations Center) on duty glancing out at the rain coming down. "I was looking out the little crack in the window in the room, and I thought it was lightning hitting the towers because it was just a big flash and a loud bang. So I thought it was a thunderstorm moving in," he said. "Then I heard three more just after and was like, Oh, that's rockets."
Zimmerman was watching "Rick and Morty." Other soldiers were playing video games. "We just heard some thuds, and it was still kind of distant," Ware said. He was in his room with a fellow soldier who was listening to music when the attack started. "It started getting closer and closer, and I was like, 'It's real.'" He grabbed the headphones out of his friend's ears and said it again: "It's real." Ware grabbed his gear, gathered his soldiers from their rooms, and headed for the bunkers. "There were just red sparks going everywhere," he said.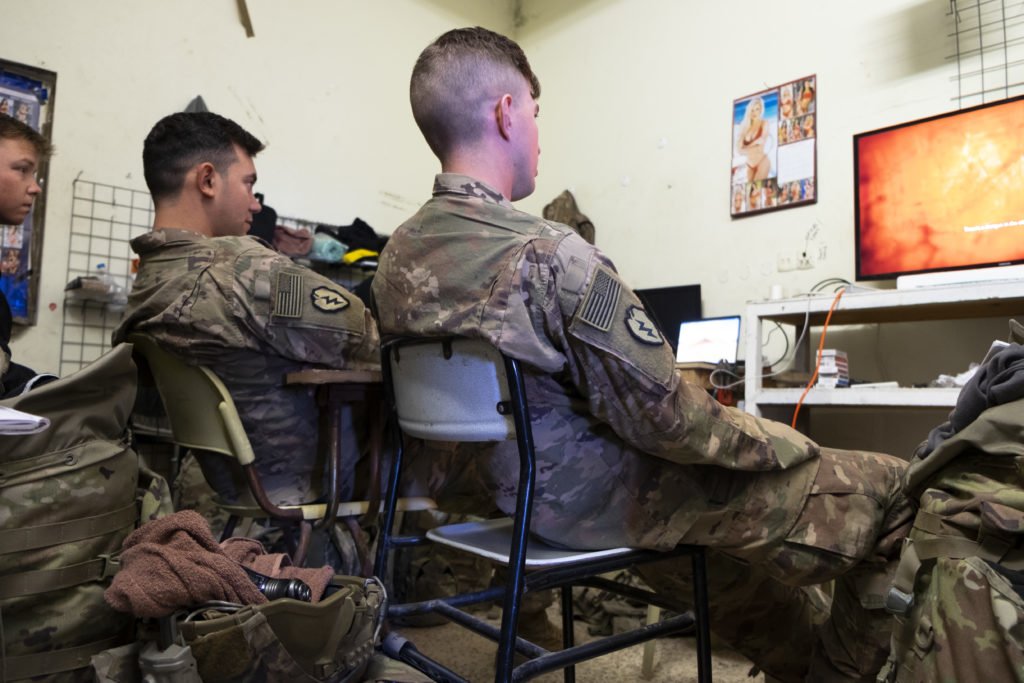 Sergeant Virginia Monroe, one of the squadron's medics, was in her room when the rockets started. "I was texting my parents, you know, telling them I was signing off for the night, when it started," she said. "And you just don't believe it at first. You hear it and you're like, What's that? — then, Oh, fuck."
The women's barracks was one of the buildings that took a direct hit from a rocket. Specialist Guadalupe Torres, one of the squadron cooks, recalled, "I come out to all these chicks screaming." Torres threw on her gear and joined other soldiers running through the rain as rockets struck and sparks flew. "I'm running down this fucking pathway, all I heard was the last strike, and someone literally shoved me into the bunker."
Torres and fellow soldiers found themselves in a crowded bunker with several civilian contractors that didn't have protective gear. The soldiers moved the contractors into the center to shield their bodies. "The thing that sucked the most was that yelling, when someone went into that panic attack mode," Torres said. She recalled a friend of hers who was particularly shaken up.
"I didn't know it was her at first because the bunker was black, and all I heard was yelling and screaming and shit, then someone else just said, 'Shut the fuck up! Quit crying!' and she said 'I'm not crying' — literally, all I could think to do was hug her, and then slap her hand and say, 'Feel that, feel that.'" Her friend began praying to take her mind off the danger. "I told her just keep praying," Torres said. But Torres admitted that a part of her enjoyed the rush of adrenaline that coursed through her body.
"… literally, all I could think to do was hug her, and then slap her hand and say, 'Feel that, feel that.'"
"The 27th was without a doubt not the first time I've taken rocket fire — that's a normal thing on deployment," Johnson said. "But [it was] certainly the most intense I've ever seen in terms of volume." He contrasted the attack on K1 with his time operating out of larger bases in Afghanistan. "They'd shoot three or four at it, but on a base that big, you'd hardly notice. The amount that hit this small of a base is pretty hairy."
When Johnson and his team identified what they considered a lull in the attack, they ran out to their mortar pit and took positions to start launching counter fire. They stood by for orders to return fire, but the attackers had long ago fled.
"When I was sitting in the bunker, we thought we heard the mortars going off, that we were shooting back," Briggs said. "But it was just more fucking stuff exploding around us." Flames had engulfed the ammo dump in the SEALs' compound and began cooking off mortar rounds, machine gun belts, and other munitions. Periodic pops, booms, and whistles continued to punctuate the night. "It was hard to tell where the rockets stopped and where that started," Monroe said.
"Our little bunker has a little opening you can see out," Briggs recalled. "So when the sparks started coming down, you could just see — it was sort of like rain drops, but they were all like bright red. The best way to think about it was like a bunch of fireflies flying around."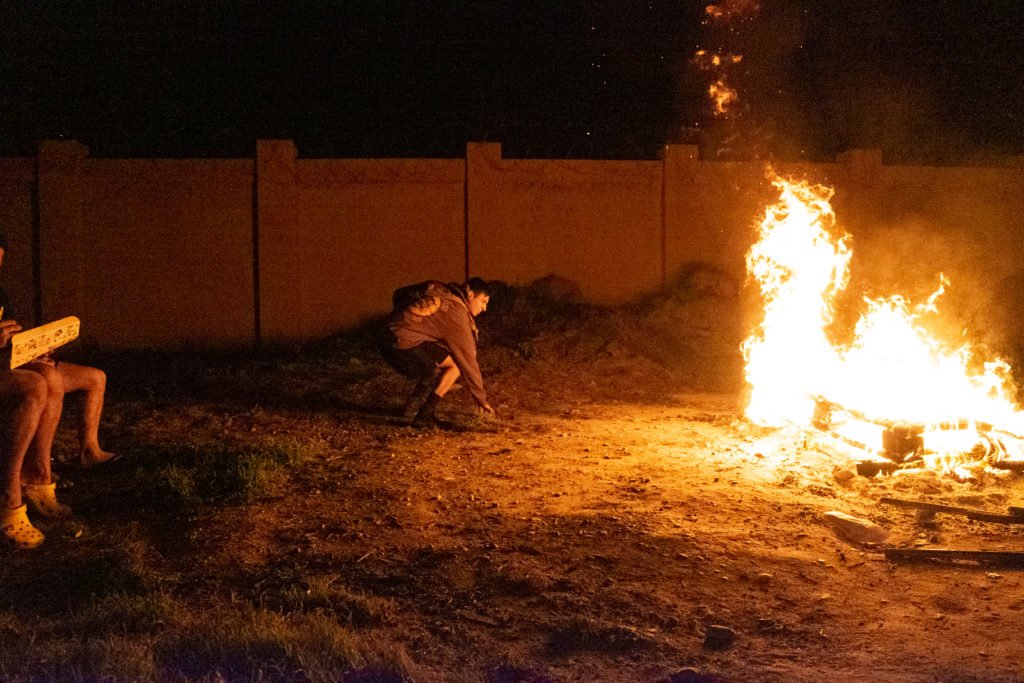 Soldiers on tower duty watched from their positions. "There wasn't really anything we could do, we had to keep watch," Rivera said. They looked out to the SEAL compound as the fire grew larger and explosions continued to burst. They could hear bullets cooked off by the explosion ricocheting and began to worry about a pair of troops in the watchtower in the corner of the SEAL compound, which they could see was still getting hit with errant munitions cook off. But the guards stood their ground.
Monroe had made it to the aid station and was working with the rest of the medical team to prepare for casualties. They were patching up troops who had endured relatively minor injuries from shrapnel. Then one of the SEALs brought in Nawres Waleed Hamid, a civilian contractor and father of two who had been working with their team as a linguist. "I saw him come in, and everyone saw that this one was serious," Monroe said.
Monroe, who was in charge of blood transfusions and goes by the callsign "Vampire," put out the word for blood donors to come to the aid station immediately. Specialist Tanner Day, a scout with 0-negative blood and one of the squadron's volunteer blood donors, heard the call. "As soon as I heard 'Vampire,' I was like, 'I know where I need to be,'" he said. He left his bunker and began making his way toward the aid station.
"As soon as I got out to around the port-a-potties, I looked out and it was raining sparks, the fucking sky was red, a lot of destruction," he recalled. "I took a minute to take a breather, and I just ran through that shit. I didn't realize how many rounds were popping off, or that [the SEALs'] mortar rounds were actually going off in their armory until I got closer to the Echo area — so that was an experience."
"We were just in the bunker just sucking down cigarettes. Then we saw the medevac birds coming in, and we're just like, 'Oh no, somebody got hurt, somebody got hurt.'"
Day made his way to the aid station hugging the concrete barriers as exploding ordnance shook the ground. "The adrenaline was rushing, but like, I was still trying to take care of myself as well," he said. "So I tried to stay as close to the T-Walls as I could so I didn't get shwacked, and got knocked off balance a few times by those mortar rounds."
Meanwhile, other soldiers made the best of their predicament. "We were just in the bunker just sucking down cigarettes," Zimmerman said. He and fellow soldiers cracked jokes, trying to keep the mood light. "Then we saw the medevac birds coming in, and we're just like, 'Oh no, somebody got hurt, somebody got hurt.'"
When Day made his way into the aid station, he recalled witnessing a frantic scene. Medics were working tirelessly to save Hamid. The SEAL that brought him in stood by the table next to him. Hamid was fading. Day immediately set up to give blood, and Monroe began drawing. Day watched as Hamid struggled to hang on to life. "I actually saw him on the table and I just felt bad for the guy," Day said. "He was just in bad shape."
"They were actually about to double tap me for another bag because they were already exhausting their blood supply," Day noted. "If I was only 20 more pounds, they would have double tapped me." Hamid eventually died of his wounds on the table.
"There's only so much they're able to do," Day said of the medics. "The SEALs, man, they were mad. They were pissed," said Zimmerman. "Not even five minutes after the all-clear was given, they just got in their trucks and rolled out."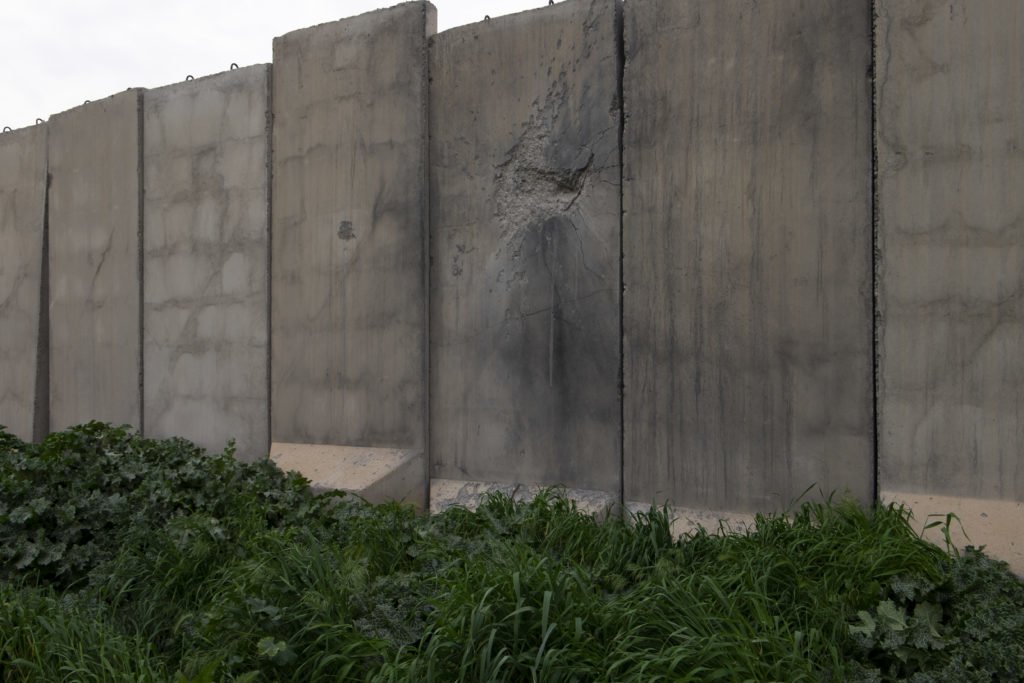 As the sun rose on December 28, the men and women of 5-1 assessed the wreckage. More than 30 rockets struck K1, leaving shrapnel peppered across roofs and the sides of buildings. Morning sun beams shone eerily through holes in thinner walls that had been thoroughly pierced and where, by chance, no one had been sleeping that night. One medical officer pointed to a chunk of shrapnel embedded in the door to his room.
Members of Echo Company swept the SEAL compound looking for any potential unexploded ordnance that still posed a risk of detonating. During the attack, one of the rockets penetrated the thin tin roof of the warehouse that served as Echo Troop's barracks. By sheer luck the rocket hit a steel beam inside, redirecting the projectile outside of the building. "That beam saved everyone's life," Ware said.
"I was actually about to walk right over to the aid station, where our office is at, I was literally about to walk out the door when the first rocket hit," Briggs said. "I was about to walk outside, and right where I was about to walk was where shit was blowing up at. So had I not been a bit lazier, I would have been hit by one of those — we'll call it tactical procrastination."
The rain caused several soldiers to stay indoors. Several said that rockets impacted either at or near areas where they would normally stand on a clear night. "It's the little things like that," Johnson said. "If you look at every individual rocket, the slightest deviation could have ended so much better or worse for everybody."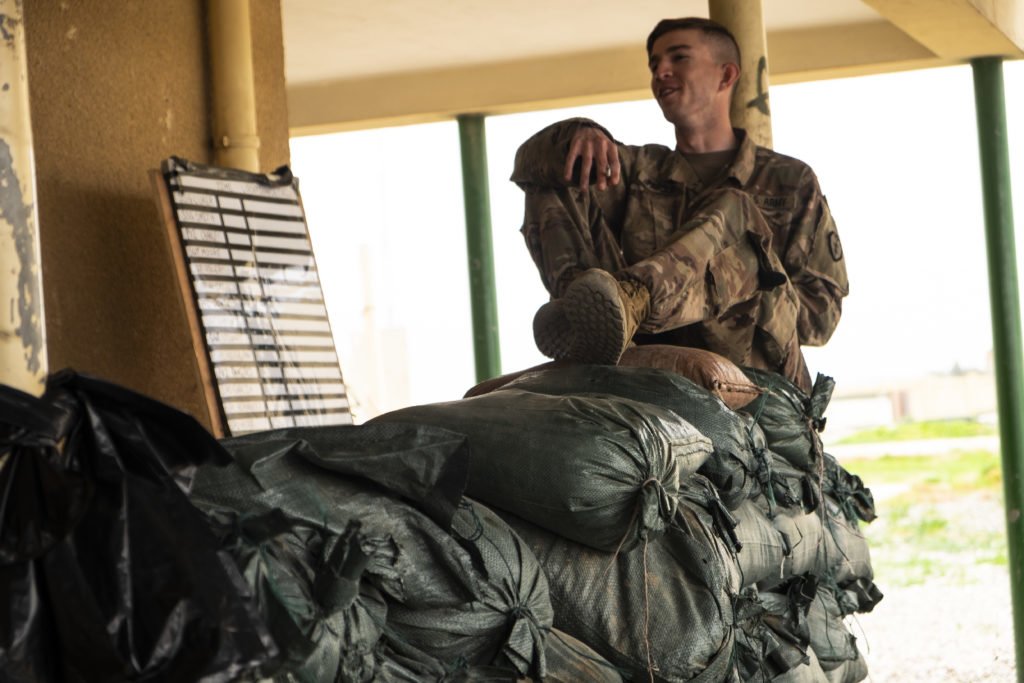 The rockets had been fired from a tube launcher mounted on the back of a white Bongo truck. It followed the pattern of other KH strikes against U.S. troops across the country, particularly a similar truck-mounted rocket attack against Q-West in November. "I think it [was] a reality check for a lot of people," Ware said. "That made it real — that there's definitely a threat out there, and there's definitely people that want to kill us."
In total, the attack wounded five American troops, and rockets that landed outside their compound wounded Iraqi troops as well. Hamid was the only fatality. Sergeant Travis Morrison, one of the head cooks, recalled how his soldiers made their freezer into a makeshift morgue to keep Hamid's remains. "We moved all of our food out of the freezer and stored the body there until the helicopter arrived to take him where he needed to go," he said.
Zimmerman was on KP, or "Kitchen Patrol," duty helping the cooks the day after the attack. When he made his way to the kitchen, he found the SEALs there. "The SEALs were sitting out by a fire, and they had the guy that got killed — they had a flag over the little wooden casket that they had for him," Zimmerman said.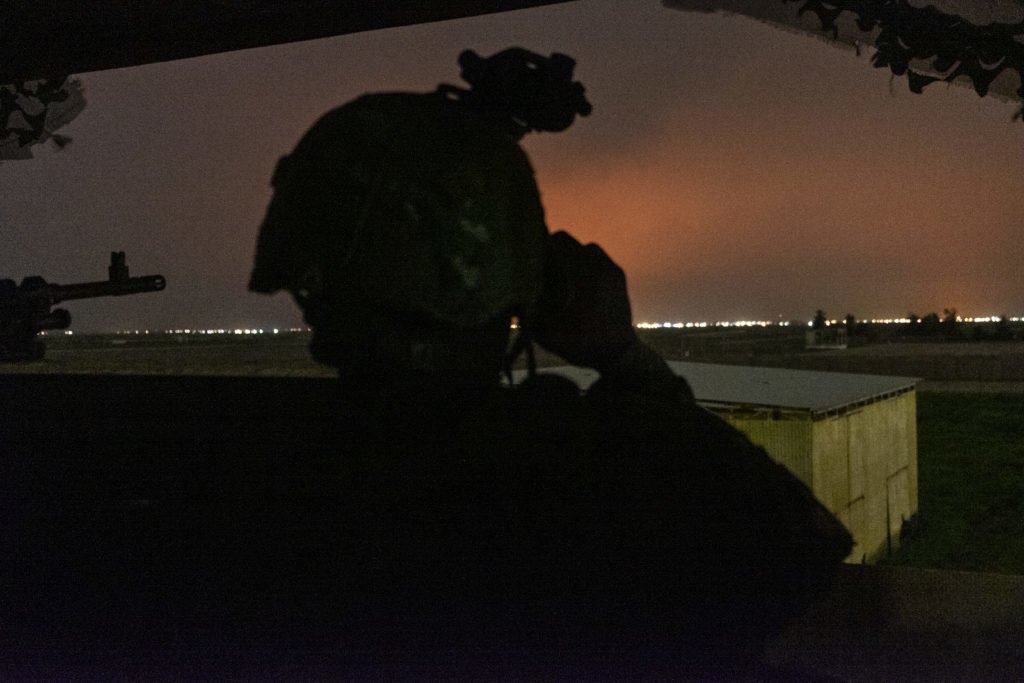 A soldier who requested not to be named said the body remained there for nearly two days and that witnessing the SEALs watch over Hamid's remains was the most moving experience of his deployment. "I saw them guard him like I'd never seen them guard anything," he said, noting that at no point did the SEALs leave the casket unattended, and they kept the flame burning until the body was moved.
Hamid wasn't a service member or veteran — he was a civilian employed by contractor Valiant Integrated Services — but the SEALs made a conscious choice to drape his coffin with the American flag. "That's what he was to them," said the soldier. "He wasn't just some guy. He was their friend." Hamid had been born in Iraq but came to the United States in 2011 with his then-pregnant wife, Noor. He became a naturalized citizen with a home in Sacramento, California, where he and Noor started a family.
Hamid had left Iraq as a refugee, but he died there as an American.
It's weird to say it, but the most stressful part wasn't the attack. It was the events following it," Zimmerman said.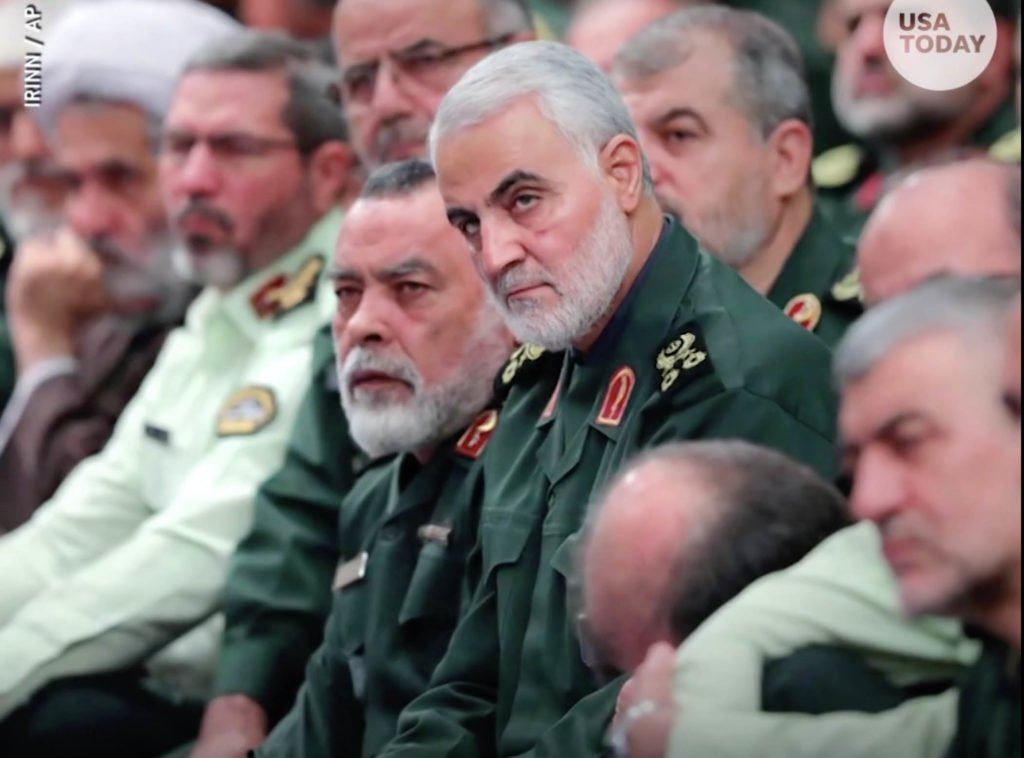 Shortly after the attack on K1, American planes and drones struck three KH positions in Iraq and two in Syria, killing about 25 people. In response, members of KH and other Iranian-backed PMF factions went into Baghdad's Green Zone and ransacked the grounds of the American embassy as KH leader Abu Mahdi al-Muhandis (who also served as deputy head of the PMF) and other leaders stood by exhorting the crowd.
A few days later, American drones killed Soleimani and Muhandis in a targeted strike at Baghdad International Airport that shocked the world — Soleimani had an almost mythic status as Iran's regional enforcer. "We killed Soleimani in response to [the K1 attack], and then the tensions with Iran just skyrocketed," Zimmerman said. "So the most stressful part, I guess, when Iran said they were going to retaliate the next few days after that, we were just busting ass getting ready and prepping for a major attack."
Soldiers began hastily setting up fighting positions across the compound on top of buildings in case the PMF was bold enough to launch a ground assault. They hardened positions with sandbags and set up machine guns and anti-tank weapons. Operations came to a standstill as coalition forces announced a temporary suspension on all anti-ISIS operations with Iraqi troops.
"When we got here, the SEALs were just killing everybody," Zimmerman said. "They were going out and killing what was left of ISIS. And that stopped right after the attack. Nobody went outside the wire after that, then it was strictly base defense."
"[There was] a lot of anxiety […] a lot of, 'Oh my gosh, we're leaving — oh my gosh, we're not leaving.'"
"[There was] a lot of anxiety — like, everyone was very on edge trying to figure out how we should go back to a normal schedule, or how that should work," Monroe said. "There was a lot of, 'Oh my gosh, we're leaving — oh my gosh, we're not leaving.'"
On January 8, Zimmerman recalled Stockdill barging into a room. The sergeant major was not pleased. "Holy shit, there's a lot of motherfuckers in here. Why aren't you in your bunkers?" Stockdill bellowed at the scouts. The soldiers told him they had orders to stay in hard standing buildings. "Bullshit," Stockdill told the scouts. "Al-Asad just got hit with theater-level ballistic missiles. Everyone needs to be in the fucking bunker right now!"
They waited in the bunkers until 0500. "We all thought World War III had started, and it was all because of us. That was fun," Monroe said sarcastically. "All our families were calling and saying, 'We saw the news, we saw the memes on Facebook' and asking us what happened."
Initially, the Pentagon announced that there were no deaths or injuries after Iran's missile strike, but in the coming weeks several service members began exhibiting signs of traumatic brain injuries (TBI) with some serious cases leading to medical evacuations. Regardless, nobody died.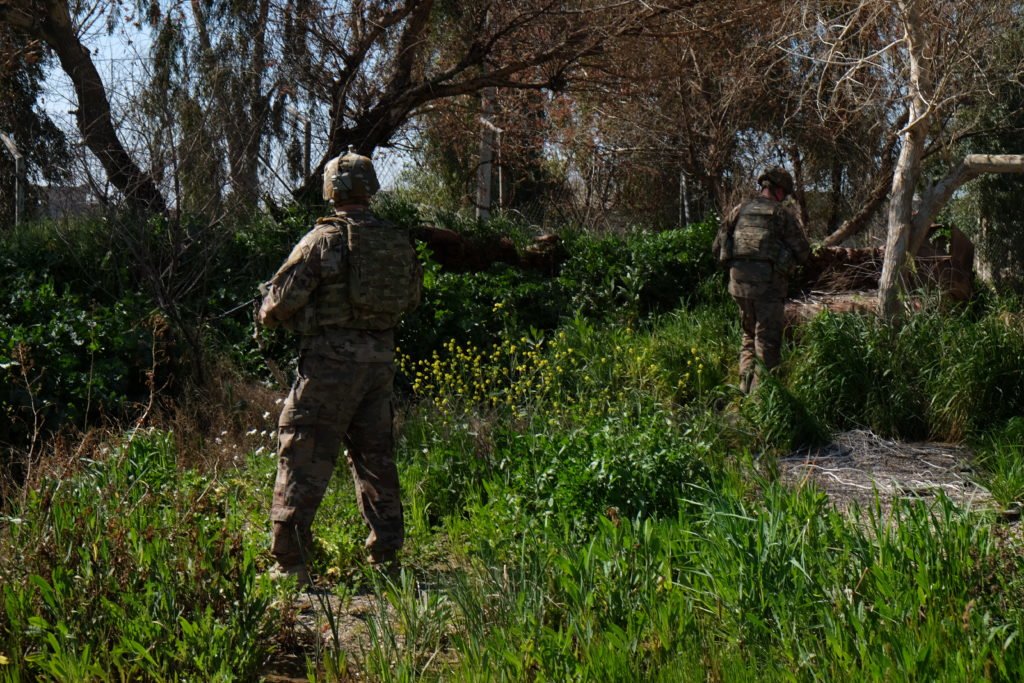 During the pause in coalition operations, Iraqi forces continued to fight ISIS. In Anbar Province, Iraqi forces launched Operation Heroes of Iraq, which Iraqi officials notably stressed would involve neither coalition nor PMF forces. "The pause really was a good time to reassess things," said Stockdill, adding that Iraqi forces performed adequately without American help. "They're not children. At a certain point you need to stop treating them like children."
Stockdill said that while Iraqi forces have their quirks, he's been impressed with the leaders he's interacted with on his most recent deployment. "At least from a purely tactical standpoint they can do this without us," he said. Stockdill mentioned that he has a daughter attending West Point who will soon be an officer, and he doesn't want her fighting the same wars he did.
Still, Stockdill wonders about missed opportunities. He wonders if they could have deconflicted the situation if they'd been able to get more facetime with PMF fighters and build personal relationships. He said he wished younger troops had gotten the opportunity to spend time in the villages and interact with the Iraqi people like he'd done on previous deployments — to get a feel for the country and its people beyond the war. While he doesn't want to come back to Iraq to fight any more wars as a soldier, Stockdill said that if he ever gets the chance, he wouldn't mind coming back some day as a civilian to see the Northern mountains and ancient cities.
Iraq's most persistent challenges aren't on the battlefield. Behind the scenes, militia leaders like the late Muhandis and Iranian agents often pull the strings and play a role in the corruption that has hobbled the economy. Grievances against these militia leaders played a major role in the rise of ISIS and in the widespread protests against government corruption. These militias have ruthlessly dealt with dissent, often killing and kidnapping their opponents.
"The pause really was a good time to reassess things. They're not children. At a certain point you need to stop treating them like children."
On February 6, the New York Times ran a feature in which several Iraqi officials disputed the Americans' account of the attack on K1, suggesting that KH doesn't have a presence near K1 and couldn't have launched the attack. Several analysts and journalists with experience in the region critiqued the NYT report for uncritically accepting the claims of its sources without noting their ties to Iranian-backed groups.
"Muhandis invested heavily in taking control of Badr-leaning Shiite Turkmen communities and their militias. KH has had full freedom of movement in Kirkuk since Oct 2016," tweeted analyst Michael Knights. "They have liaisons in the Fed Pol, Kirkuk Ops Command and Governor's complex."
On February 13, there was another rocket attack on K1, but this time only one rocket hit the base. Once again the attack was launched from a white Bongo truck. When Iraqi troops found the launch tube, they realized that the attackers had a full volley of rockets ready and that the other rockets had merely failed to launch.
Later that month, four members of an Iraqi family returning to Kirkuk from Iran tested positive for COVID-19, becoming the first Iraqis documented with the virus (Iraq's first case had been an Iranian student). The government of Iraq's semi-autonomous Kurdish region swiftly restricted travel to and from Kirkuk, and other parts of Iraq and sealed the border with Iran.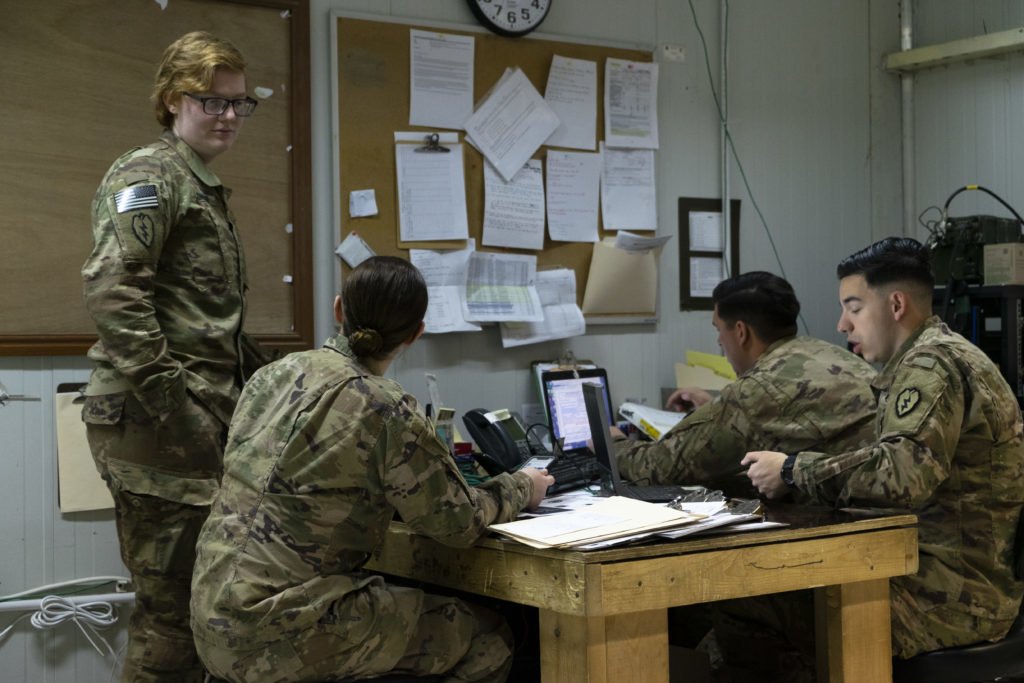 At K1, where the Americans depended on local contractors for much of the base's functions, new procedures came down. Kurdish cooks at the restaurants began wearing masks, and the Americans began more carefully planning operations with their Iraqi counterparts. When the first case emerged in the Iraqi Kurdish capital of Erbil, the KRG ordered all bars, restaurants, beauty salons, and parks closed.
The scouts tried to make sense of the news they were hearing. Was it just the flu or something more serious? The soldiers argued about the implications of the quickly spreading pathogen and just how worried they should be. "I'm not worried about catching COVID because I've got so much oil in my lungs now," Stockdill joked, referencing the air pollution from Kirkuk's oil fields. "I feel like all the smoke we've been breathing leaves a protective coating."
On March 7, word circulated through the base that all personnel should find a "hardened structure" to stay in between the hours of 1700 to 2200. They had received intelligence that militiamen may have been planning another attack. This was happening with some frequency. "They usually only threaten attacks during gentlemen's hours," Weller joked. "They at least let us sleep after midnight." That night, American jets flew overhead. Whether the news of the attack was a false alarm or the possibility of an airstrike dissuaded militiamen from launching an attack, no rockets hit K1.
The next morning a pair of U.S. Marine Osprey helicopters landed at the base. The soldiers wondered what they were there for. The night of March 8 was clear and breezy, and soldiers on guard duty at K1 chugged Rip Its and talked about what they would do when they got home. At a tower overlooking the ICTS motor pool, soldiers watched as several Iraqi troops got in a pair of Humvees and left. Then another pair of Humvees. Then another.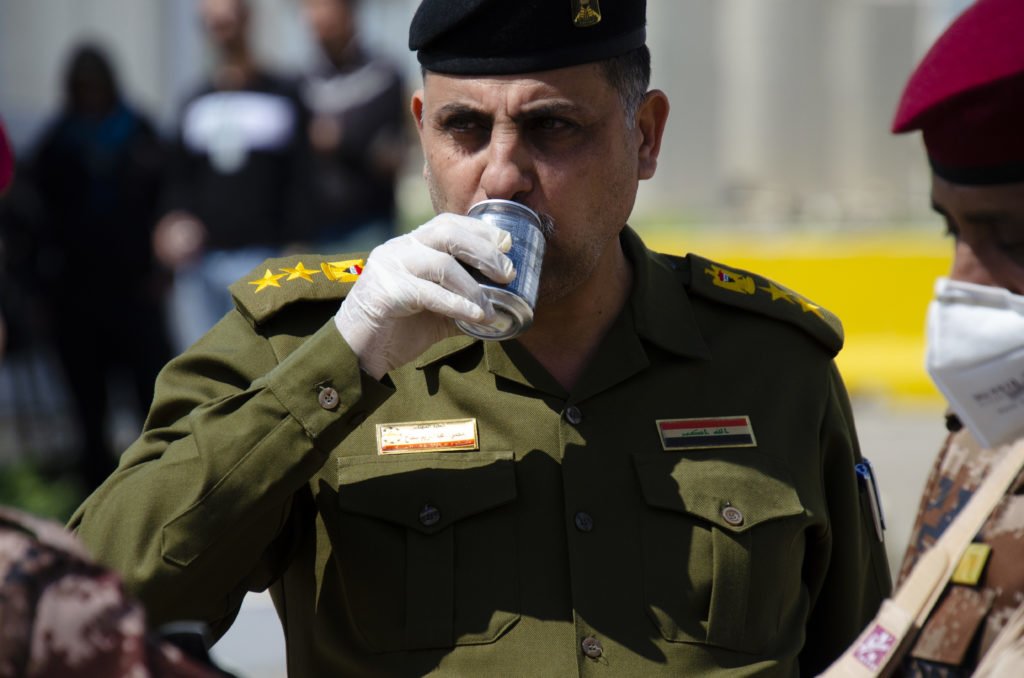 "Wow, that's a lot of guys," one of the soldiers remarked. "I wonder if something is up?" As the base buzzed with activity and more Iraqi soldiers mobilized, the Americans got word over the radio: "We've got friendly vehicles coming." A huge group of SUVs rolled through the base and entered a large field in the Fed Pol compound.
"Wow, that's a lot of guys," said one of the scouts. Soldiers used thermal vision to peek into the Fed Pol compound. "What's going on over there?" one asked a comrade peering through his thermal optics. "I don't know, but I'm getting a lot of heat signatures, looks like a hell of a party." They got an update on their unexpected visitors. "It's the Kurds," a sergeant told troops as they continued keeping guard. Having Peshmerga in Kirkuk would be a big deal. The scouts continued to watch whatever was happening unfold.
Over the radio, soldiers got word to be on the lookout for a possible hostile drone in the sky over K1. Both the PMF and ISIS occasionally use off-the-shelf commercial drones for surveillance and occasionally rig them with small improvised bombs for attacks. Soldiers scanned the sky. "Man, I didn't think anything would happen tonight," one mused. Eventually helicopters arrived and picked up several of the people on the ground from the Fed Pol compound. Soldiers on guard were puzzled as to what had just happened.
Weeks later, as 5-1 prepared to hand over the compound to the Iraqis, an American officer at the base confirmed to Coffee or Die that the Peshmerga had been there that night. "They were there very temporarily," he said. The officer explained that the Peshmerga had helped extract members of U.S. Marine Special Operations Command who had been fighting alongside local forces in the Qarachogh Mountains in an effort to root out ISIS militants from their sanctuary.
Weeks later, as 5-1 prepared to hand over the compound to the Iraqis, an American officer at the base confirmed to Coffee or Die that the Peshmerga had been there that night.
Two Marine Raiders, Gunnery Sergeant Diego Pongo and Captain Moises Navas, died in an intense firefight with the militants in what coalition officials described as a well-defended cave complex. Coalition forces had to call in additional troops to help recover the dead Marines in an effort that took roughly six hours.
The fallen Marines apparently had to be pulled out with a hoist after falling into a crevice in the mountains. Coalition and local forces managed to kill 19 ISIS militants in the cave complex before withdrawing. The Peshmerga ferried several Marines to K1 as they took stock of the situation and cared for the wounded as they waited for extraction.
The presence of the Peshmerga in Kirkuk didn't go unnoticed — as they drove through Iraqi lines and into K1, several local social media users excitedly posted updates about unexpected sightings of the Kurdish fighters and speculated about what they were doing. "It was a pretty high-stress situation, everyone was pretty stressed out," said the officer. "It was a bit awkward for everyone."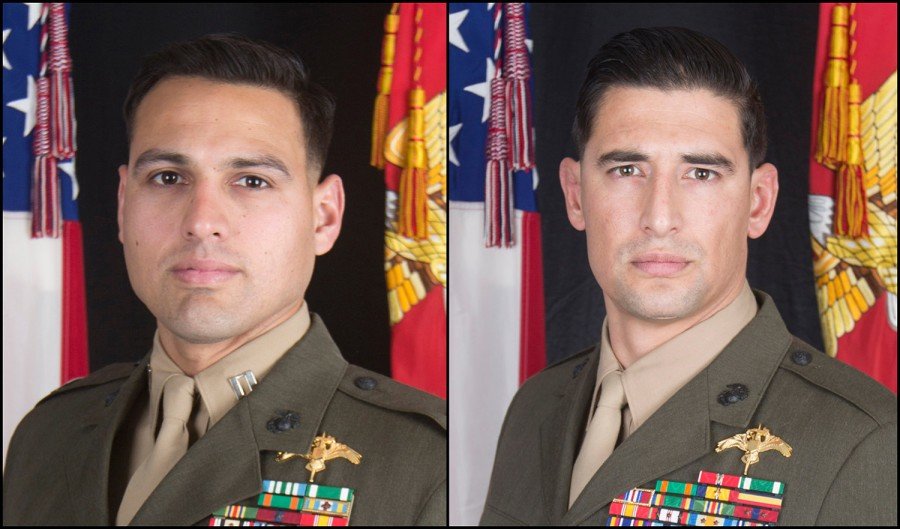 The morning after the ill-fated raid, the soldiers at K1 continued business as usual. News of Pongo's and Navas' deaths wouldn't be released until later that day. Across the base, soldiers continued making lists and packing equipment as they prepared for their looming departure. Apex Company continued patrols of the perimeter. Over the last few weeks they had been finding mysterious holes dug around the perimeter.
"Honestly, I couldn't tell you who's been digging them," Weller said. "They're pretty weird." His platoon sergeant, Sergeant First Class Charles Jaques, was leading the perimeter patrol. Soldiers loaded into MRAPs and headed out. The vehicles stopped by a grassy field and several soldiers dismounted. The road was strewn with garbage and old army boots. "Now you get to see where the ISF dumps all their garbage," Jaques said.
The soldiers made their way to a T-Wall to check out the chain-link fence line behind it. Staff Sergeant Alexander Smith and Zimmerman took point while Jaques and Specialist Chase Vestal — a medic — took up the rear. As the soldiers approached the fence line they came upon a farm. A dog approached the fence on the other side, wagging its tail. "Hey pooch," Jaques greeted the curious canine. The dog whined for attention from the soldiers, but it began to growl and bark when it heard the sound of the MRAPs. "They like people, but they don't like the trucks," Jaques explained.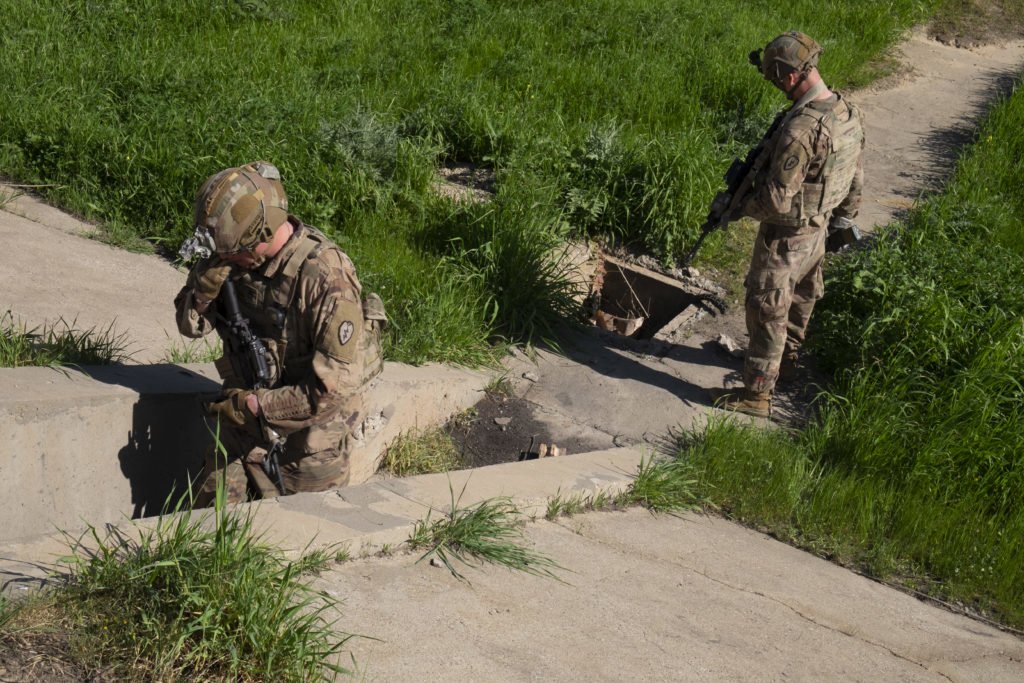 There were no people in sight, but the farm was well cared for. Fruit trees looked ready to harvest, and Zimmerman pointed out an ambitious beekeeping operation with several hives. The soldiers continued along the T-Wall until they reached the road again. On the other side of the fence they could see civilian traffic — a white Bongo truck rolled by. The soldiers walked along a row of aging Hesco barriers.
"Sergeant Jaques, if you had to guess, how long do you think these Hescos have been here?" Zimmerman asked.
"Oh, probably 10 years," Jaques replied.
Jaques had been in Kirkuk during the surge in 2007, the most violent period of the Iraq War for American troops. He reflected on being in Kirkuk during those violent days when gunfire and distant explosions were the norm at night. "It's a lot quieter now," he said as he and his soldiers walked. "It seems like the ISF, the Iraqi military forces, are put together a little better than they were. I never thought I'd come back."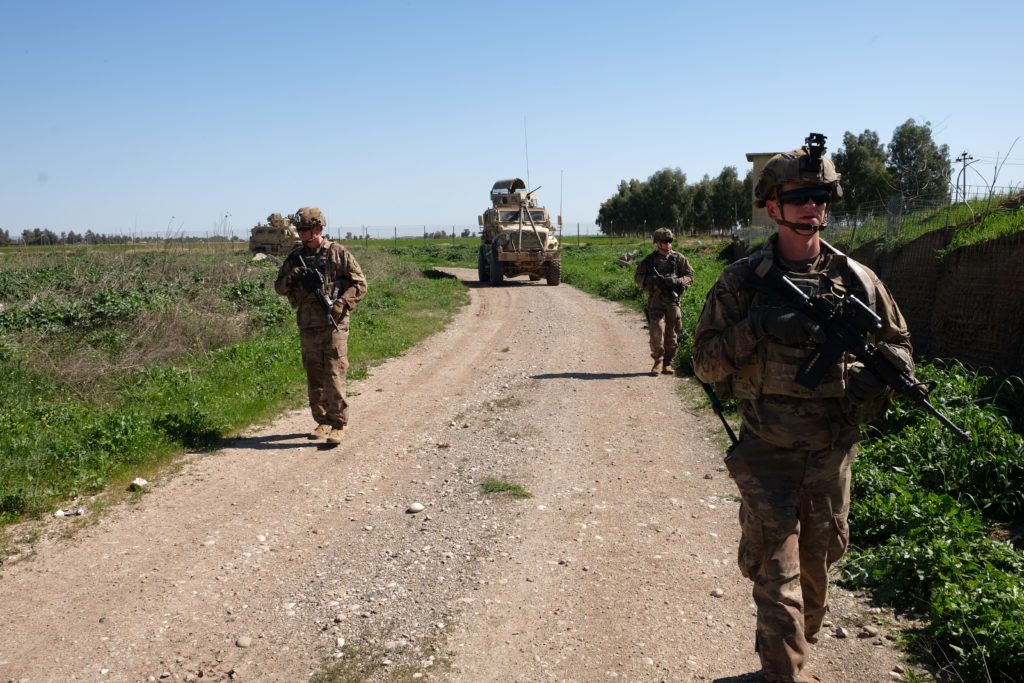 They checked watchtowers as they came across them. No Iraqis seemed to be manning them. They eventually split up to check on a series of old bunkers and other seemingly abandoned concrete structures. While most of the attacks against Americans had been from truck-mounted launchers outside the compounds, the scouts decided a thorough search was in order. Upon finding nothing unusual, they returned to base.
On March 11, rockets struck the coalition compound at Camp Taji, killing two American troops, a British soldier, and wounding 14 other coalition personnel. The 15 rockets had been launched from tubes set up in an abandoned building that had been rigged with a timer. That night, American aircraft struck KH positions in Syria and Iraq, destroying supplies but killing no one.
On March 13, U.S. forces launched several more airstrikes against militia facilities at Karbala airport and in Babylon. There's conflicting reports on the results of the attacks, with some claiming IRGC leaders among the dead, while the Iraqi government claimed the strikes killed three Iraqi soldiers, two police, one civilian, and no PMF members. On March 14, rockets again struck Taji, this time during the day, wounding five coalition personnel and two Iraqi troops.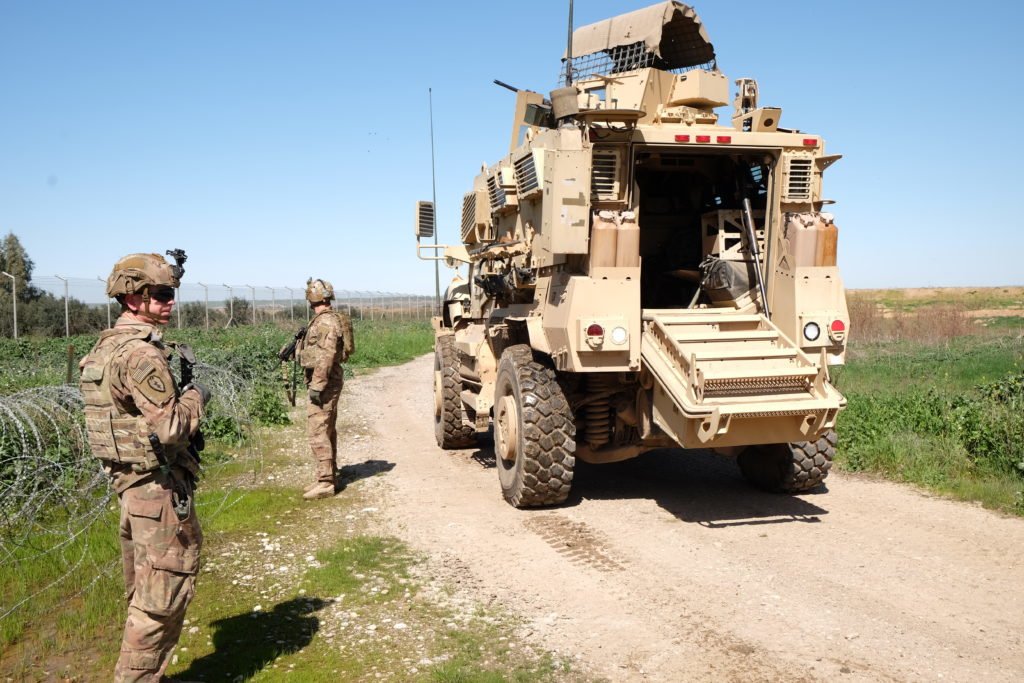 KH claimed it had nothing to do with the attacks on Taji but nevertheless praised the deaths of American and British troops. A supposedly new group calling itself the "League of Revolutionaries" claimed credit for the attack. In a press release, they called America "the enemy of the vulnerable people" and said "the assassinations of our martyred commanders [Soleimani and al Muhandis] ignited a fire within our chests." American officers told Coffee or Die that the group appeared to be composed of members from IRGC-backed groups like KH and merely represented a continuation of Iran's proxy wars in Iraq.
Simultaneously, leaders of all parties to the conflict began to wrestle with the growing scope of the COVID-19 pandemic and the strategy in Iraq began to shift drastically. On March 19, coalition officials announced a 60-day pause in training with Iraqi troops and a massive reorganization of forces in light of the risk of infections. The coalition would begin to hand over several camps to Iraqi forces well ahead of schedule.
Even as troops packed up to leave their compounds for larger bases, the Pentagon issued the American commanders a directive to craft plans to "destroy" KH. The New York Times obtained a memo written by the coalition's top commander, Lieutenant General Pat White, outlining his concerns about launching offensive operations against KH, including his assessment that such an effort would require additional troops while they were trying to reposition troops, and that such a campaign risked a war with Iran.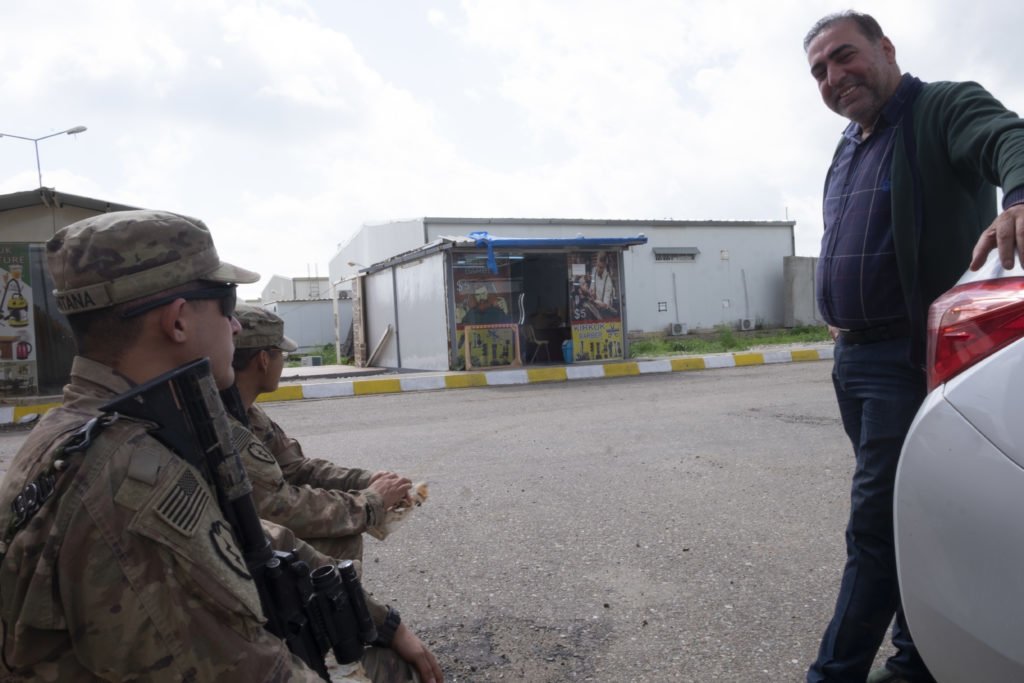 KH is also part of the Iraqi government, officially operating as the 45th Brigade of the PMF — an offensive campaign against the group could effectively put coalition troops at war with their Iraqi hosts.
At the end of March, Patriot Missiles that American commanders had spent months asking for arrived at several bases across Iraq. The Patriots are a base defense weapon that can shoot Iranian ballistic missiles out of the sky. Meanwhile, as the Peshmerga and the PMF continue to watch each other distrustfully, ISIS cells continue to take advantage of the conflict between the region's factions and the chaos of the pandemic to regroup. The conflict is entering a new phase, though few can articulate what that new phase is exactly yet. For both Iraqis and Americans, the world is changing every day.
March 29 was the day 5-1 officially handed K1 over to the Iraqis. Most of the unit had already left by then. Mock and Stockdill stayed behind, along with a few members of Apex troop and a few other soldiers with the handful of vehicles and other supplies that hadn't left.
Several contractors still milled about, picking up garbage and draining port-a-potties. The move was still behind schedule. The Americans were relying on local contractors to haul some of their equipment to other bases on trucks, but the government had closed several roads and set up additional checkpoints in light of the pandemic. Iraqi security forces have regularly subjected them to random searches and redirected them, further complicating the process.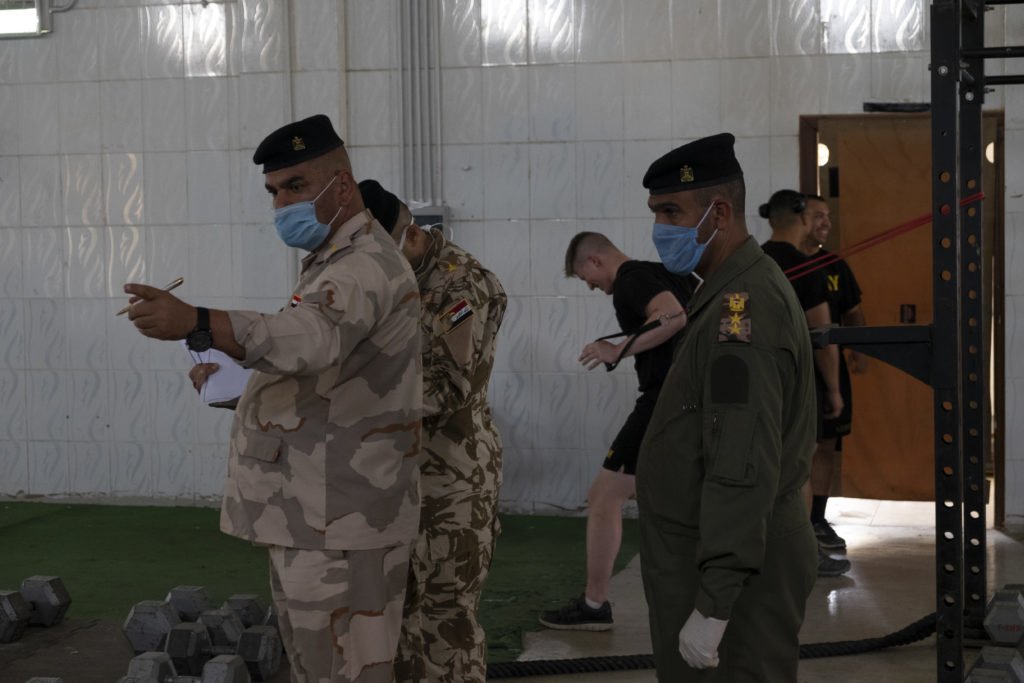 "If I had trucks, we could move faster," Mock told Brigadier General Vincent Barker, the coalition's director for sustainment operations. Barker had flown out to the base to get an update on pack-up operations and to sign the compound over to Iraqi leaders. The bazaar had been largely torn down. Moe's store was gone, and the Kurdish restaurants were closed. The squadron's cooks had also left, leaving the remaining troops to subsist mostly on MREs — though one of the Kurdish bazaar holdouts was serving lunch out of his car to grateful soldiers.
A group of Iraqi officers entered the compound to inspect the buildings and equipment as members of 5-1's leadership gave them a tour. Smith, Zimmerman, and two other soldiers from Apex provided an armed escort. A heavy rain had fallen the night before and huge puddles had turned several parts of K1 swampy. The party entered the gym, where a group of American soldiers were working out. They continued their exercises, paying little mind to Iraqi officers in face masks inspecting their building and workout equipment.
They moved to the buildings where Apex Company had set up their bunks and went room to room. One Iraqi officer noted a plasma-screen TV in one of the rooms and asked if they would get it with the transfer. "No, that belongs to a soldier," an American officer replied. "It's coming with us."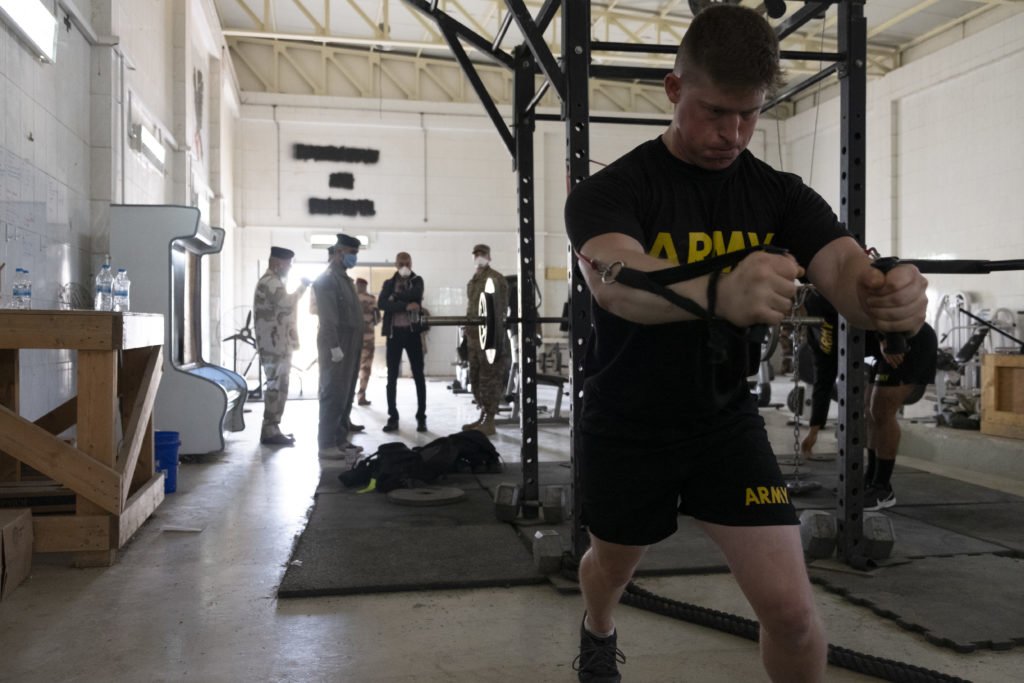 They looked through several more buildings before returning to the bazaar — the transfer ceremony was set to start soon. Several civilian contractors remained. A pair approached the group of Iraqi officers and introduced themselves. One lit a general's cigarette and began handing out Rip It energy drinks to the Iraqi officers.
"This is pretty low key," Smith said. Just a few minutes later, a huge crowd came around the corner. Mock, Barker, and several more Iraqi officers were flanked by a legion of local reporters with cameras and mics. "Oh," one of the soldiers said. "That's the group they were talking about." The crowd moved into a warehouse that had previously been the soldiers' USO center, where tables were set up with documents for the official signing and transfer ceremony.
Mock and Barker went over to the tables with the Iraqi officers as the journalists began setting up their cameras and recording equipment. Weller, who was responsible for security, came into the warehouse and looked at the enormous crowd. "This is way more people than we were told," he said. The junior officer began directing his soldiers to their positions around the room and outside the building. Mock shifted nervously as he looked at the sea of reporters, cameramen, and flashing lights. "This isn't his thing," Stockdill said. "He hates the spotlight."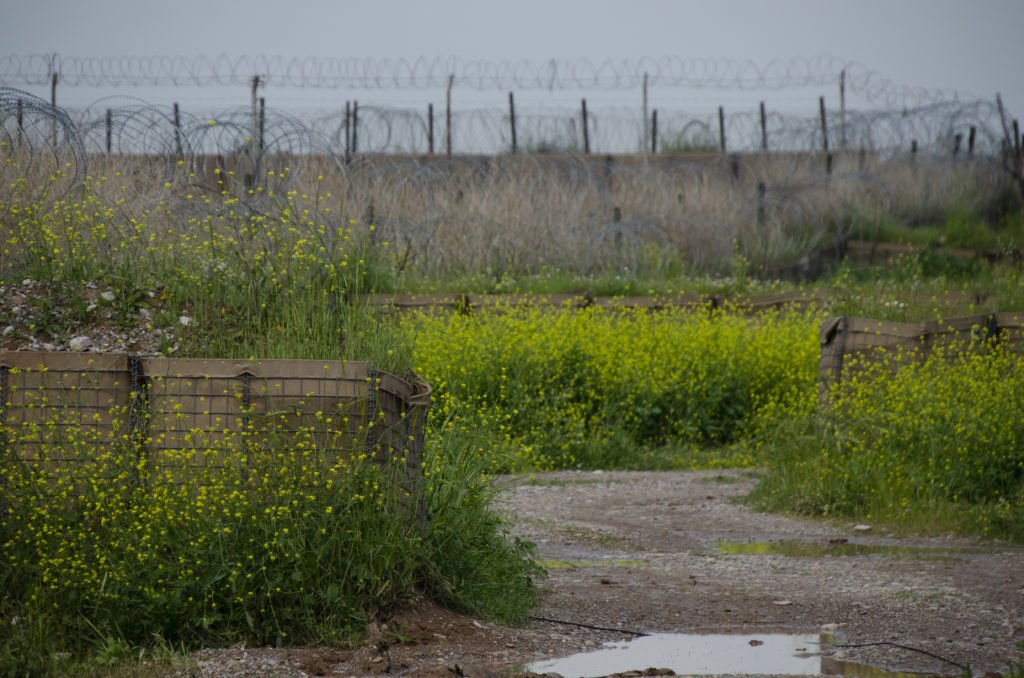 Barker and the Iraqi officers began signing papers as Mock hovered behind. After signing the papers, an Iraqi general addressed the crowd of reporters. Then Iraqi officers began giving out plaques and certificates to Mock, Stockdill, and other soldiers from 5-1. The Iraqi generals walked outside with the crowd for an on-camera press conference, while Barker went out the back with his entourage to catch a ride out on a pair of Italian helicopters, leaving Mock and Stockdill to load the last of their equipment and leave for good.
Since the handover, the province has continued to contend with roadside bombs and kidnappings. On April 13, ISIS militants ambushed Iraqi troops as they searched for insurgents that had fired on an Iraqi position, leading to a four-hour engagement that killed two Iraqi soldiers — one an officer — and wounded 11.
"ISF were attacked from four sides, and a tough confrontation took place," an Iraqi security source told local outlet KirkukNow. The intensity of the battle and apparently large numbers of ISIS militants required the Iraqis to call in air support, while ground reinforcements came in from both the Iraqi military and the PMF.
Even as violence continues and the COVID-19 pandemic has shut down much of Iraq's economy, farmers in Kirkuk continue to grow food and oil workers continue to pump crude out of the ground. The oil market is still struggling, and the roads are heavily policed — but Iraqis need food and truckers need fuel to haul farmers' harvests to markets across the region. The world never stops turning.