Just in time for the great-power competition era, the US Air Force has acquired a light attack aircraft perfectly suited for providing close air support in combat against low-tech insurgencies.
The US Air Force Life Cycle Management Center announced last week that the service had received the first of two Beechcraft AT-6E "Wolverine" light attack aircraft. In a Twitter post, the center announced: "Congrats to our Fighters and Advanced Aircraft Directorate's Light Attack Aircraft Program Office, for leading efforts to acquire and field Textron Aviation's AT-6 Wolverine!"
A Feb. 3 ceremony commemorated the aircraft transfer, which officially took place on Dec. 18, 2020. The two AT-6 aircraft destined for the USAF Light Attack Office at Wright-Patterson Air Force Base in Dayton, Ohio, are part of an Air Force program called the Airborne Extensible Relay Over-Horizon Network, or AEROnet, which is meant to develop a cheap communications and data-sharing network for American allies and partners.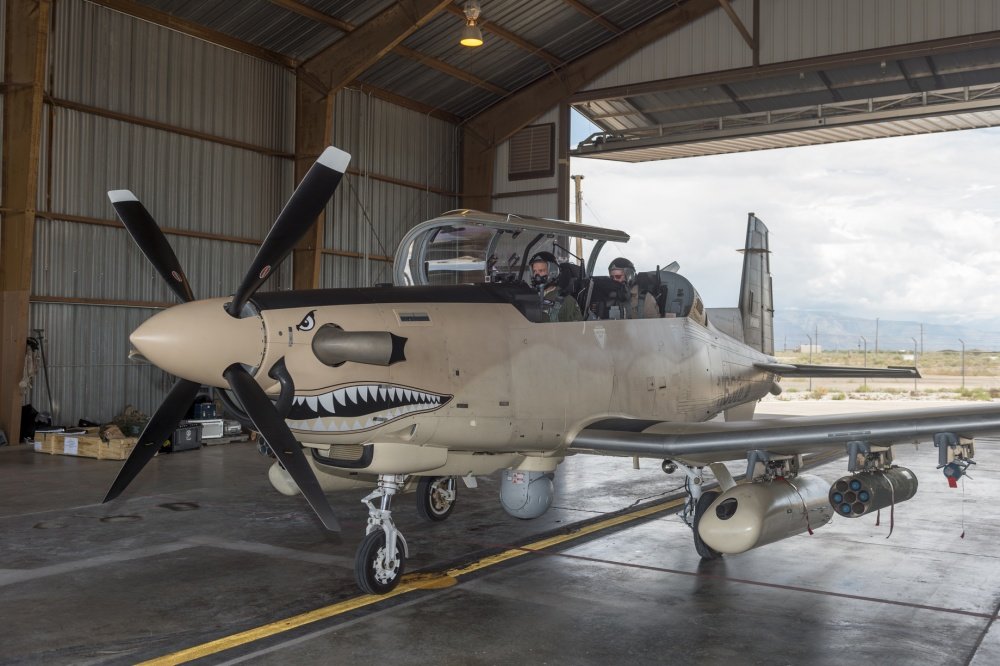 In March 2020, the Air Force authorized a budget of some $70.2 million to purchase and maintain the two AT-6 aircraft, and train the pilots to fly them.
The AT-6 is a modified version of the two-seat, single-engine turboprop T-6 Texan II trainer used by both the Air Force and Navy for primary flight training. In this phase of training, student aviators learn basic aviation skills such as instrument procedures and formation flying. A multirole attack aircraft, the AT-6 is capable of wielding 66 separate weapons load configurations, including 500-pound and 250-pound laser-guided munitions and laser-guided rockets.
From the exterior, the turboprop AT-6 harkens back to piston-engine warplanes from World War II. But that ostensible similarity only runs skin deep — when it comes to its weapons, sensors, and onboard computers, the AT-6 is a decidedly modern combat aircraft.
Notably, the Wolverine is equipped with an L3 Wescam MX-15D multi-sensor suite, which provides color and infrared cameras, a laser designator, laser illuminator, and laser rangefinder. According to Beechcraft, the AT-6 is fully compatible with US and NATO Joint Terminal Attack Controller (JTAC) systems.
The AT-6 is designed to fulfill a broad gamut of missions, including: close air support; forward air control; armed intelligence, surveillance, and reconnaissance; and strike coordination and reconnaissance. Within the cockpit, the AT-6 includes the F-16's Hands-On-Throttle-And-Stick (HOTAS) controls, and the A-10's combat mission system.
"The AT-6 Wolverine covers a wide-mission spectrum that includes training, manned Intelligence Surveillance and Reconnaissance (ISR), and light precision attack," Beechcraft writes on its website. "Its non-traditional capabilities are ideal for internal defense and civil support missions."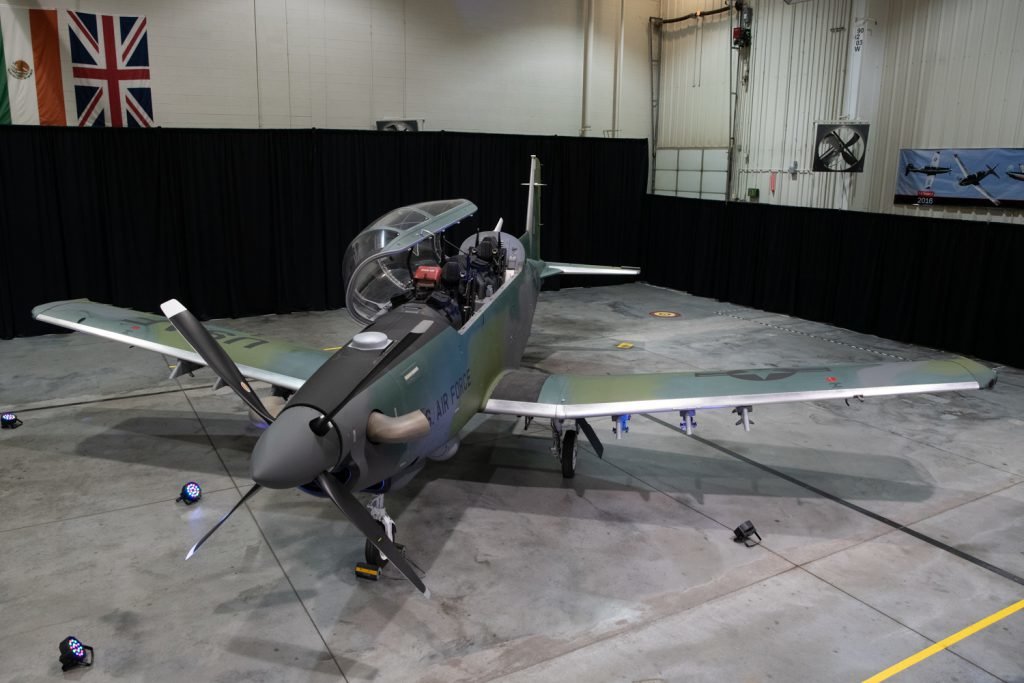 The Air Force's interest in the AT-6 dates back to 2008, when the service began researching the development of a light attack aircraft that required limited maintenance upkeep and could operate from austere, forward operating locations to support irregular warfare campaigns. The program was meant to develop "a viable cost-effective capability to counter the violent extremist threat, freeing fourth- and fifth-generation aircraft to face emerging threats."
To that end, the 2009 Light Attack/Armed Reconnaissance program initially projected the acquisition of 100 aircraft with a budget of roughly $2 billion. The US Air National Guard also experimented with the AT-6.
While the light attack program waxed and waned in its ambitions over the intervening years, it never materialized into a combat-ready weapons platform. As great-power competition increasingly loomed as the US military's steering threat, the Light Attack/Armed Reconnaissance program lost momentum around 2013 and was officially nixed by Air Force brass. A significantly scaled-down version — known as the Light Attack Experiment — began in the summer of 2017, but was scrapped again in early 2019 to the chagrin of some Air Force leaders.
"What I don't want to do is end up in a position that I've got F-35s chasing small buses or mopeds or whatever else we may be trying to chase," Lt. Gen. Arnold Bunch, military deputy for the Office of the Assistant Secretary of the Air Force for Acquisition, told Defense News in February 2019.
Set to run from January to May 2022, the latest incarnation of the light attack aircraft program — the Continued Light Attack Experiment — will evaluate low-cost solutions to a mission known in military parlance as "Countering Violent Extremist Organizations."
The two Wolverines set for the Air Force test program are not likely to see any combat use, but their acquisition does mark a notable step forward in the light attack program's Sisyphean saga. While the AT-6 may not become a front-line combat platform for the US armed forces, it could be an exportable combat commodity the US could provide to its allies and partners (complete with the requisite training programs) to employ in ongoing counterinsurgency campaigns.
Compared to fifth-generation fighters like the F-35A Lightning II and the F-22 Raptor, the Wolverine — which has a top speed of 0.67 Mach, or about 360 miles per hour — is a decidedly minimalist combat air power option in a world of rapidly developing military technologies such as artificial intelligence and hypersonic weapons. However, the light attack aircraft's low operating cost of about $1,000 an hour and its ease of maintenance (the AT-6 shares 85% of its parts with the T-6) makes the Wolverine an ideal option for operations out of austere airfields — satisfying the Air Force's original light attack mandate.
Nevertheless, with its limited chances at surviving modern air defenses, the AT-6, if it ever sees combat service in the US military, would likely be confined to supporting counterinsurgency operations against enemies without an air force or sophisticated surface-to-air weapons.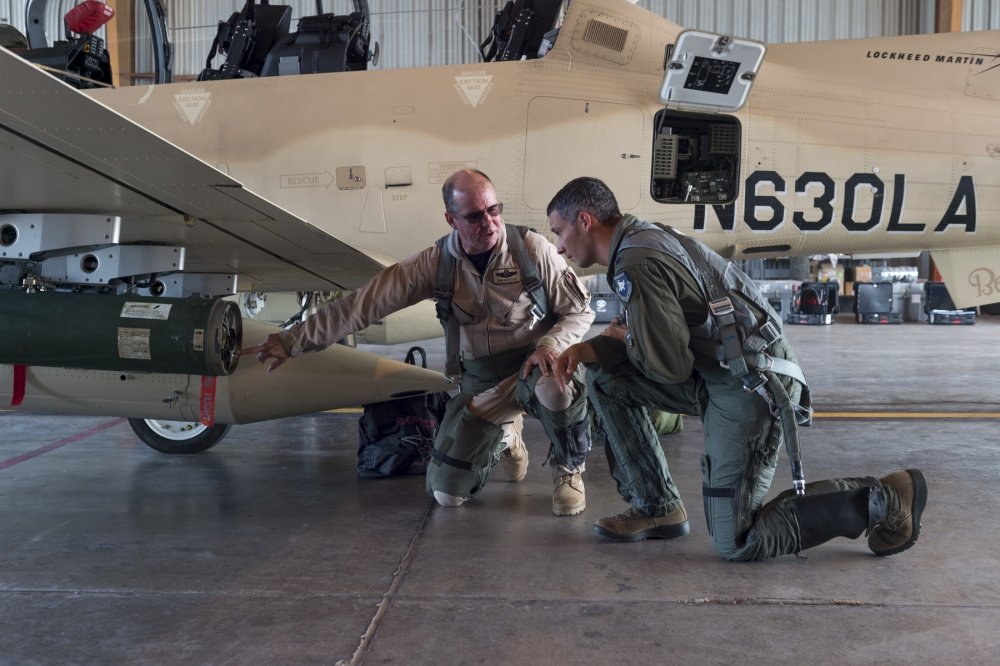 Despite the Pentagon's focus on so-called great-power competition, America's special operations units remain embroiled in counterterrorism combat in Afghanistan, Iraq, and Syria, as well as various other sites in Africa and Asia. In those conflicts, a light attack option such as the AT-6 could offer America's armed forces a low cost and lethal option for supporting special operations units, as well as America's allies and partners, in small-scale, low-tech combat.
To that end, Air Force Special Operations Command, or AFSOC, has also purchased three Sierra Nevada Corporation/Embraer A-29 Super Tucanos. Set to be operated out of Hurlburt Field in Florida, AFSOC will use these aircraft to experiment with light attack and armed ISR capabilities.
The Afghan National Army Air Corps purchased 20 A-29 Super Tucanos in 2011. In November, the Air Force ended a five-year program at Moody Air Force Base in Georgia to train Afghan pilots to fly the A-29. Later this year, the US Air Force is scheduled to train Nigerian pilots to fly the A-29 at Moody Air Force Base. The Nigerian Air Force has reportedly placed orders for 12 Super Tucanos, which are to be based at Kainji Air Base in the country's west.