The wind howled and the rain poured constant as a pair of the US Air Force's most deadly battlefield airmen made their way up and then down a massive obstacle called The Weaver on Fort Hood's air assault obstacle course. The task was not easy, forcing the airmen to move up and over one wet log before going up and under the next, bringing them approximately 20 feet off the ground at the peak. Not an easy day, but an easy day wasn't expected.
This was just one of the many challenges presented on Monday when the US Air Force gathered 14 two-man teams composed of the best Tactical Air Control Party (TACP) specialists from across the service for Lightning Challenge 2020. The competition tests each team's technical and tactical competence, as well as their physical endurance and ability to work as a team.
Lightning Challenge used to be an annual event hosted by the TACP schoolhouse and held at Hurlburt Field, Florida, but went on a long hiatus due to constant deployments to war zones around the world. Indeed, TACPs have been busy. Earlier this year, eight TACPs assigned to the 17th Special Tactics Squadron were recognized for their valor on a recent deployment to Afghanistan with two Bronze Stars with "V" devices, two Purple Hearts, one Joint Service Commendation Medal with "V" device, seven Air Force Commendation Medals with "C" devices, and one Joint Service Achievement Medal with "C" device.
But awards alone cannot explain just how important the TACP is on the modern battlefield nor the sheer volume of violence they are capable of raining down on our nation's enemies. Although they are known for their Joint Terminal Attack Controller (JTAC) certification, they are much more than "just a JTAC." According to the US Air Force, they specialize in synchronizing air assets into the ground battlespace, routinely embedding with Army, Navy, and Marine Corps maneuver elements to manage large areas of operations, maximizing the lethal and nonlethal effects of airpower while simultaneously minimizing risk to friendly forces and noncombatants.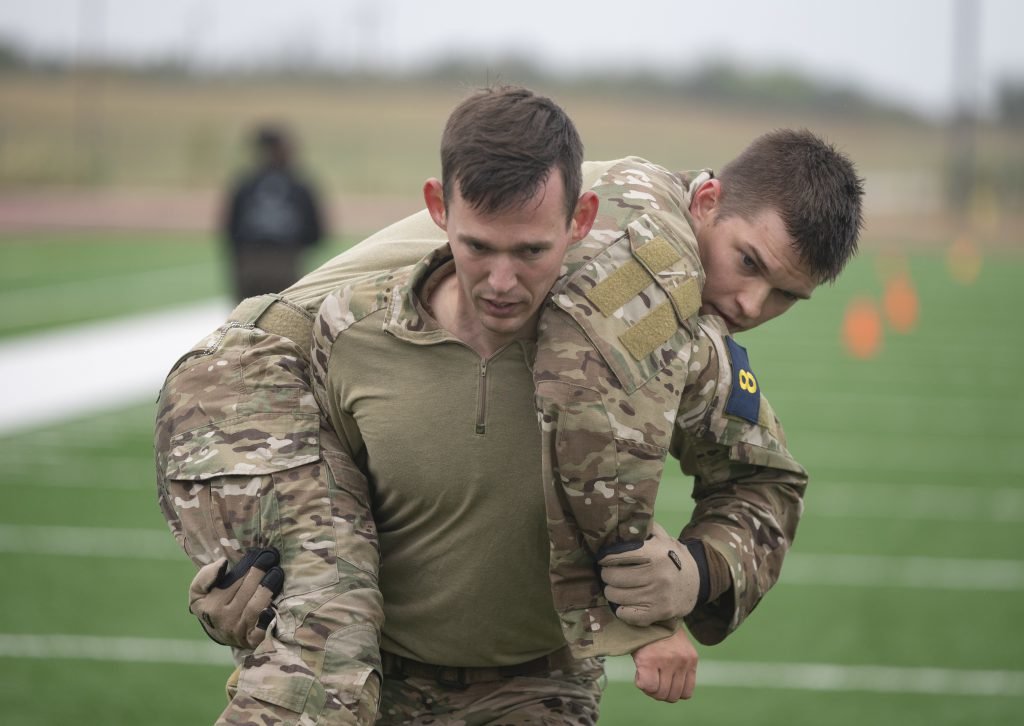 Now in its second year back, Lightning Challenge is a weeklong competition hosted by the 3rd Air Support Operations Group and featuring a variety of events. The winning team will be announced Friday. It's a friendly competition, and one that promotes esprit de corps as much as it tests the career field's best.
On the first day, teams had to complete a knowledge test before moving on to the Fort Hood air assault obstacle course, where they moved swiftly through a variety of challenging obstacles made even more difficult by the weather. All teams were in good spirits though, many cracking jokes and smiling as they made their way through mud, sand, and sometimes dizzying heights.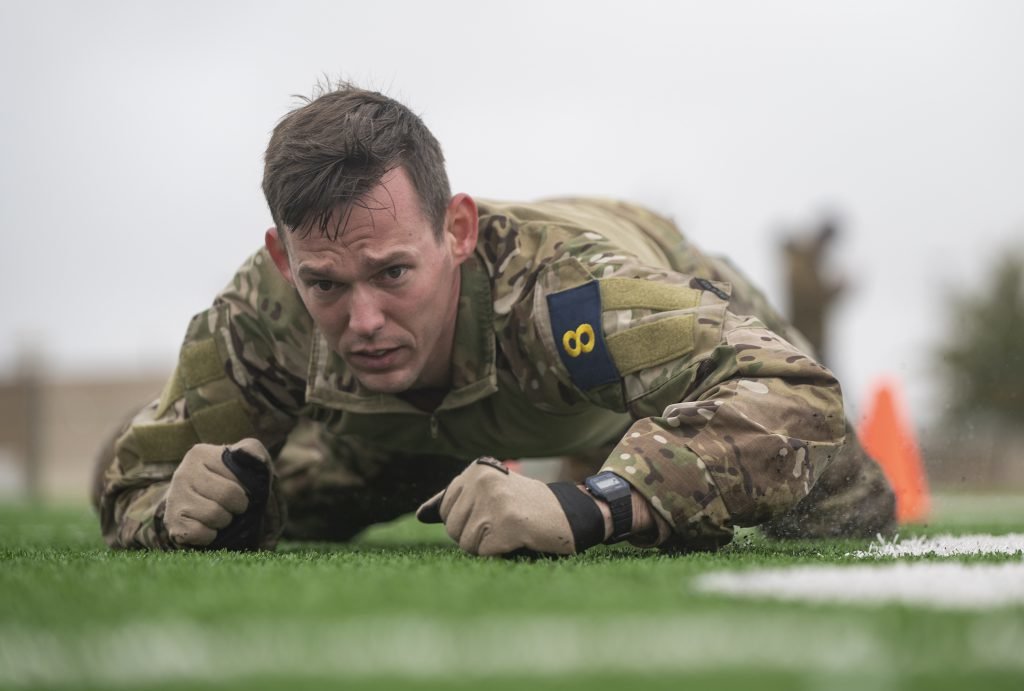 Due to the ongoing COVID-19 pandemic, there were no friends or family allowed to watch, and teams were staggered so that only one group at a time was on the course. These restrictions make for a much more intimate competition where teams are often by themselves with the cadre selected to grade each event, and their competition is nowhere in sight.
After successfully completing the obstacle course, the teams moved on to the Fort Hood stadium to conduct a Marine Corps Combat Fitness Test, administered by local Marines. Although all the competitors belonged to the US Air Force, the Marines' test was selected so that the teams were presented a new challenge that most had not previously experienced.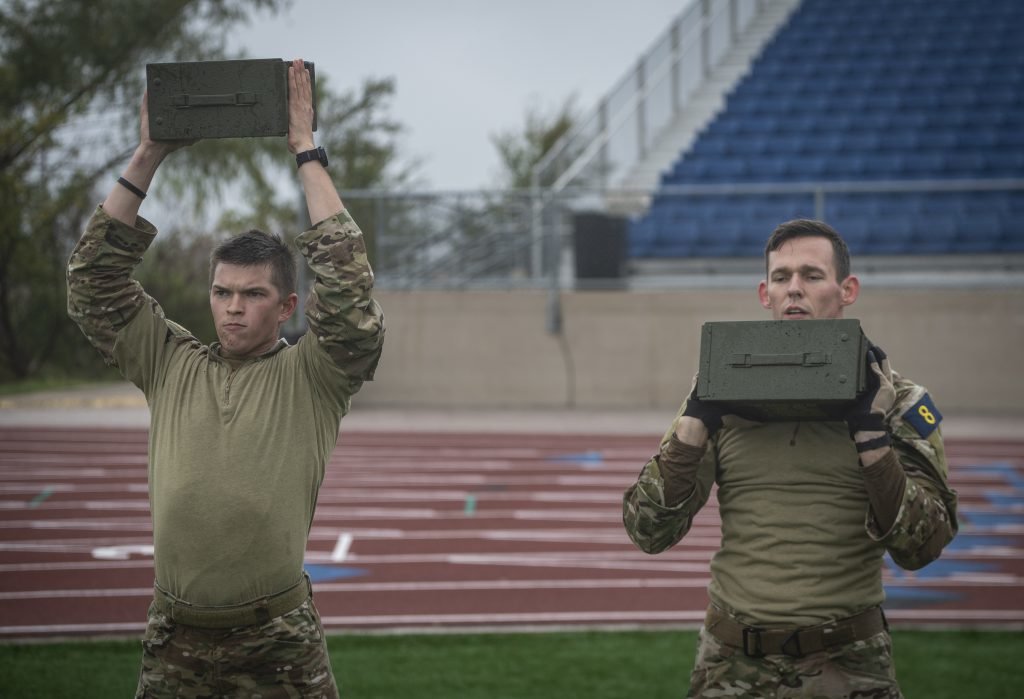 The Marine Corps Combat Fitness Test is no walk in the park. The test is composed of three different sections:



Run 880 yards, or two laps around a track, in full uniform.




Press a 30-pound ammo can from shoulder to overhead as many times as possible in two minutes.




Finally, perform a maneuver-under-fire simulation event — which features a menu of sprints, agility course, high crawl, low crawl, body drag, fireman carry, ammo can carry, pushups, and grenade throw — all over the course of 300 yards.



Without exception, every TACP team gave the test a 100% effort and finished exhausted — often on the ground and out of breath. And with each passing iteration, the temperature at Fort Hood continued to drop, adding a bite to the ever-present wind and rain. No easy day was given, no easy day was expected.
On Tuesday, competitors stepped off on a ruck march long before the sun crested the Texas horizon. The weather forecasts predict that conditions will only be colder and wetter than Monday. No easy day will be given, and no easy day is expected.
---
Editor's note: This is the first dispatch in what will be an ongoing series as Coffee or Die Magazine covers the 2020 Lightning Challenge. Check back tomorrow for our next update.