Every April, many Americans join energy cooperatives and utilities across the US in celebrating National Lineworker Appreciation Day. Roughly 114,930 lineworkers work around the clock to keep 328 million Americans connected to energy, and there is perhaps no better image to illustrate the gravity of the job and the sacrifices lineworkers make than Rocco Morabito's Pulitzer-Prize-winning photo "The Kiss of Life."
As a young newspaper photographer for the Jacksonville Journal, Morabito, who served as a ball-turret gunner on a B-17 with the Army Air Corps in World War II, was on assignment on July 17, 1967, when he happened upon a very troubling scene. Lineworker Randall G. Champion had been working on a utility pole when he contacted one of the power lines and absorbed more than 4,000 volts of electricity. According to First Coast News, the powerful current shot through Champion's body, burning a hole in his foot as it exited, and he fell back, hanging unconscious from his safety harness at least 20 feet off the ground.
Fellow lineworker J.D. Thompson, who was working on the ground nearby, had been hired by Jacksonville City Electric (now Jacksonville Electric Authority) four years earlier on the same day Champion was hired. Realizing his friend was in trouble, Thompson's emergency training kicked in, and he sprinted toward the pole.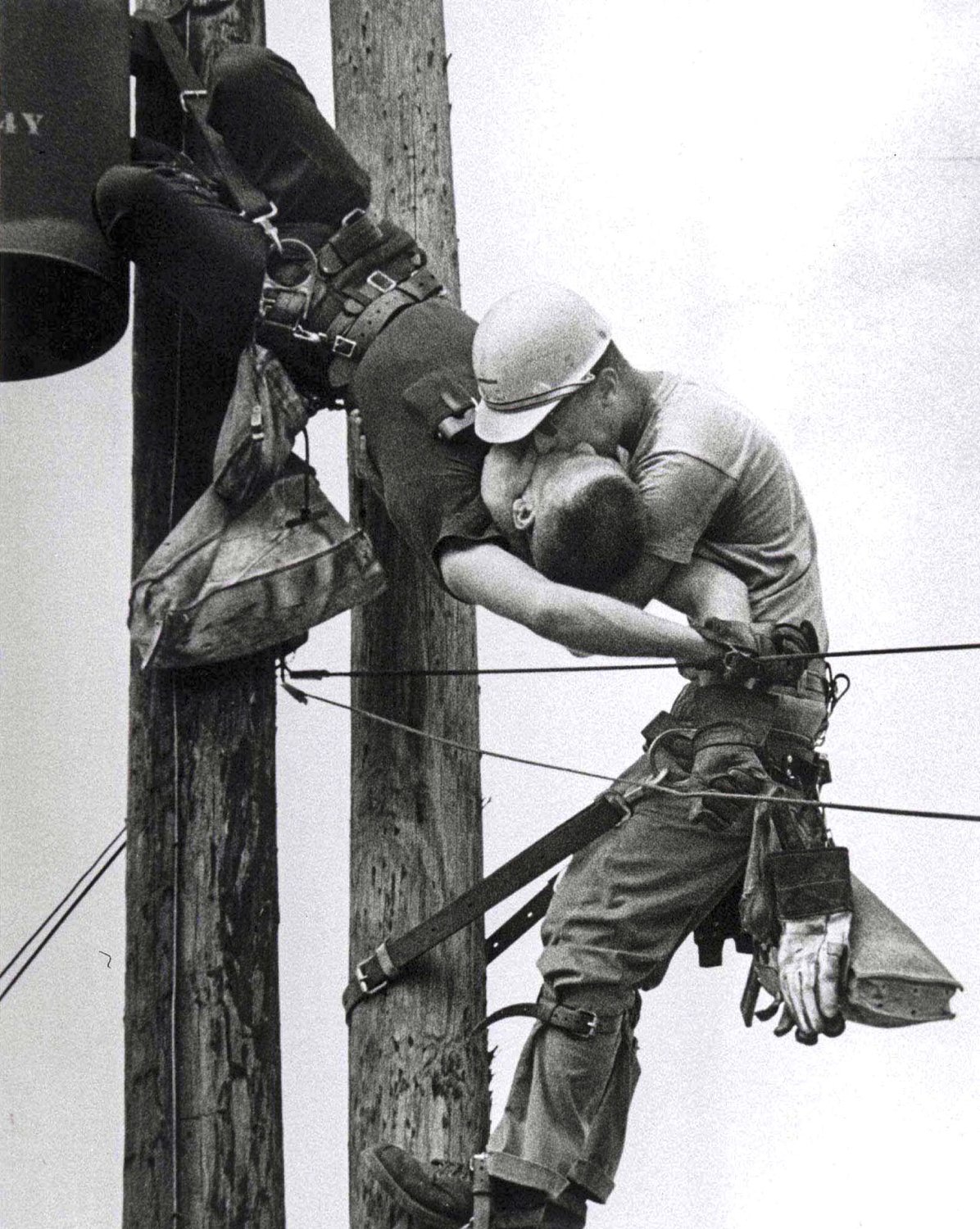 In the 2008 documentary "Kiss of Life," Morabito says when he arrived on the scene he heard people on the ground screaming and then saw Champion dangling. He snapped a single photo before rushing back to his car to radio back to the Journal's newsroom and tell them to send an ambulance. Then he quickly reloaded his Rolleiflex camera with a fresh roll of film and rushed back to the scene.
By then, Thompson was ascending the pole, and when he reached Champion, he thought his friend was surely dead.
"His face—his cheeks were just blue, and there was no movement to him, no breathing, nothing going on there," Thompson says in the Kiss of Life film.
He started administering mouth-to-mouth resuscitation to a lifeless Champion.
"I was putting air in him as hard as I could go and also trying to reach around him and hit him in the chest," Thompson told First Coast News.
As Thompson tried desperately to breathe life back into Champion, Morabito started shooting and captured the iconic moment that netted him the 1968 Pulitzer Prize for Spot News Photography.
After a while, Thompson felt a pulse.
"When he actually started breathing, I can remember it was just like a hiccup or something," Thompson says in Kiss of Life. "He just kind of jerked a little bit, and I knew there was some life there then."
Thompson yelled down to workers on the ground: "He's breathing!" He unhooked and rigged Champion's harness so he could get him down to the ground. Just before he reached the ground, Champion regained consciousness. Disoriented, he began flailing and kicking.
"I started fighting, trying to get loose from the wire because I didn't realize I had been out, and I thought I was still on the wire," Champion says in a 1985 interview featured in Kiss of Life.
Thompson and the other workers calmed Champion down and lay him down on some grass to wait for the ambulance.
Morabito, having captured the entire sequence of events, raced back to the Journal's newsroom, and the paper's editors pushed back their printing deadline to get the photo in the paper that day. After it was published, the wire services picked it up, and it ran on the front page of newspapers all over the country and was even distributed internationally.
In Kiss of Life, the narrator notes that, "After saving a man's life, [Thompson] quietly went back to work. A thunderstorm was on the way, along with power outages. J.D. would be at it until 3 in the morning."
Telling his story in the film, Thompson deflects the suggestion that his actions were heroic. Perhaps for him it really was just another day at the office for a lineman. But as he recalls his supervisor's praise after the incident, viewers get a glimpse of what appears to be a more honest reaction to how it affected him.
"[Our supervisor] was proud of the fact we had helped this fella," he says with a southern drawl. "I felt at that time, you know, that, well, I did it …"
Thompson then trails off as he's overcome by emotion. His chin slightly quivers, and his jaw tightens as he stares off camera, lost in the memory of the day he saved Randall Champion's life. The film then cuts to the interviewer's next question: "Did you feel like a hero?"
"No … no," he says.
According to the film, Champion was angry when he saw the photo in the newspaper the next day, and his daughter, Ann Dixon, offered this explanation: "He told us that he always kissed us goodbye in the mornings before he would go to work. And all he could remember as he lay in the hospital was he didn't kiss us goodbye that morning, and he could have easily never had the opportunity to do that again. And that really weighed heavy on his heart."
In 1991, Champion suffered a second injury in the line of duty, coming in contact with 26,000 volts (roughly six times more voltage than the 1967 incident) while carrying out his duties as a lineman. He suffered third-degree burns to his face and hands, according to the Orlando Sentinel. By that time, Thompson was the chief of the division where Champion worked at Jacksonville Electric Authority, and he told the Sentinel, "I've got 26 of these trouble men (linemen are sometimes called trouble men) working every day, and I worry about them every day."
According to a 1997 Florida Times-Union article, the surge from 26,000 volts of electricity burned off the side of Champion's nose, his lip, the top of his forehead and one of his fingers. He spent five weeks in the burn unit at Orlando Regional Medical Center and almost six months at Memorial Rehabilitation Hospital, where Thompson visited him regularly as he underwent plastic surgery and rehabilitation.
Initially paralyzed by the incident, Champion eventually regained movement but had to use a wheelchair to get around. He retired from JEA in 1993 after 30 years of service. In 2002, he died at age 64.
Morabito worked for the Jacksonville Journal for 45 years, retiring in 1982, according to the Florida Times-Union. He died April 5, 2009 after a long, full life.
Thompson retired from JEA in 1994 after 31 years of service, and today, JEA uses Morabito's iconic photo and the incredible story behind it in its orientation training for new lineworkers.
Every spring, American Public Power holds an annual Lineworkers Rodeo where one of the timed events requires lineworkers to put on gear, climb a 40-foot pole and rescue an injured man. The record for this feat is 43.33 seconds.
April 18 is National Lineworker Appreciation Day (though the National Rural Electric Cooperative Association celebrates it on the second Monday of April each year). Those who are familiar with the noble, difficult and dangerous work these men and women do have no problem celebrating lineworkers throughout the month of April and beyond. As the saying goes, "Thank a lineworker, because when the lights go out, so do they."
Today and always, Americans should celebrate the service and sacrifice of the men and women who keep the power on across the United States.
Editor's Note: This article first appeared in Ruralite Magazine online, an award-winning magazine that has served rural electric cooperatives and public-power utilities for more than 65 years.
Read Next: Marine Sergeant Wins International Photography Competition with Stunning Photos