It's May 30, 2020, and my gun is by my side, loaded, ready. I hope I don't have to use it, but more than a few scenarios have crossed my mind where I might have to squeeze the trigger. This is not what I would call a typical Saturday night in my neighborhood.
Five days prior, George Floyd was killed in Minneapolis. We've all seen the video. We are all watching the reaction. Minneapolis has burned. Los Angeles — my city — is burning. The day started out peacefully, but now we seem to find ourselves within the eye of a storm — the epicenter of what Alex DeLarge might refer to as "a bit of the old ultraviolence."
My roommate, my wife and I decided to attend the protest scheduled for noon at Pan Pacific Park. The video of George Floyd being murdered is now making its way all over the world. History is being written.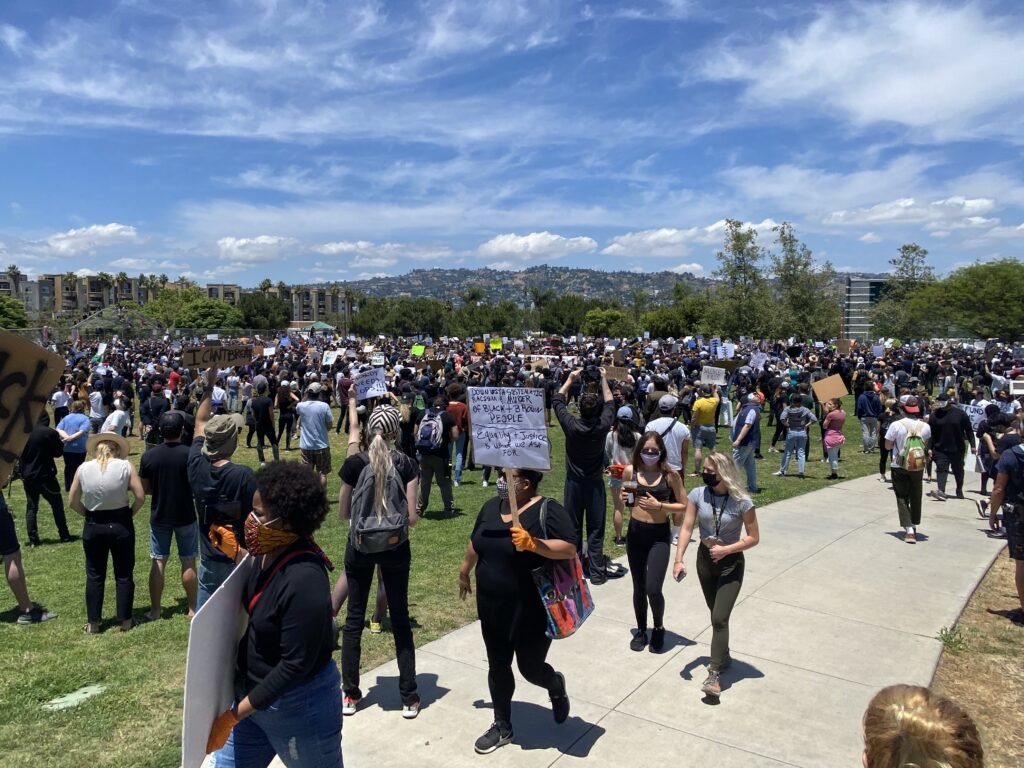 None of us are afraid or nervous. My roommate was a sniper, and I was a medic in the U.S. Army's 75th Ranger Regiment. My wife was in Istanbul in 2013 when a wave of demonstrations and civil unrest gripped Turkey. We figure we've all seen enough to handle a protest.
It's just before noon when we step out of our apartment and start walking south a block to West Third Street, a commercial corridor. It's lined with all types of stores and restaurants: big, small, corporate, mom-and-pop — it has it all. Within walking distance of my apartment you can find just about anything you need.
As we walk past the neighborhood liquor/convenience store on the corner, we immediately notice the car and foot traffic outside feels close to pre-pandemic levels, the only difference being that just about everyone is wearing a mask. This is the weekend that LA was going to open back up. People seem happy to be out; there's good energy in the air. This is very welcoming after almost three months of living in a virtual ghost town.
The Southern California sun shines bright as we get closer to the park. By the time we reach the Trader Joe's on Fairfax, there are hundreds of people all around — many more than what could be considered normal — and they are all headed to the park.
"White silence is violence!" a white male protester proclaims through his face mask. There is a lot of excitement in the air, everyone is passionate about their beliefs and the cause. I feel like we are the only ones not carrying a sign. I don't know if I would call the mood positive, but it didn't feel angry either.
Suddenly, a cacophony of car horns fills the air. As we reach the south side of Pan Pacific Park, people are pouring in by the hundreds. The crowd just keeps growing. A mass of protestors gravitates toward the north side of the park.
The diverse crowd is so big I have to climb atop a nearby chain link batting cage to take it all in. Once on top, I can see there's probably at least 5,000 people all crowded around a small group of organizers. A black woman with a megaphone delivers a fiery speech about police brutality to an enthusiastic crowd. She speaks of George Floyd as if she knew him personally. Whether she did or not, her words resonate. An air of unity and empathy spreads over the crowd. We feel closer to him and really begin to understand why all of these people are gathered here today.
I jump down and link back up with my wife and roommate. We start to make our way around the crowd toward Beverly Boulevard, and the air begins to shift. For the first time, I start to get the feeling that not all the protesters are here to be peaceful.
"We didn't come here to talk!" yells a young black man, leading about 15 people as they angrily march onto Beverly Boulevard. "We came here to protest!"
We hang around for about 10 more minutes, and then the march begins. They head south onto Third Street and go west toward Fairfax. My wife and I split off from our roommate. He follows behind those marching, and we attempt to go down and around to get ahead of them.
My wife and I head west half a block and then cut down to the next side street between the park and The Grove shopping center. We can see the massive crowd heading west on Third Street. There's probably 10,000 people at this point. We cut through the farmers market, trying to get closer to the front.
We reach Third and Fairfax, and the crowd pauses for a few minutes, chanting "Black lives matter!" and "Remember George Floyd!"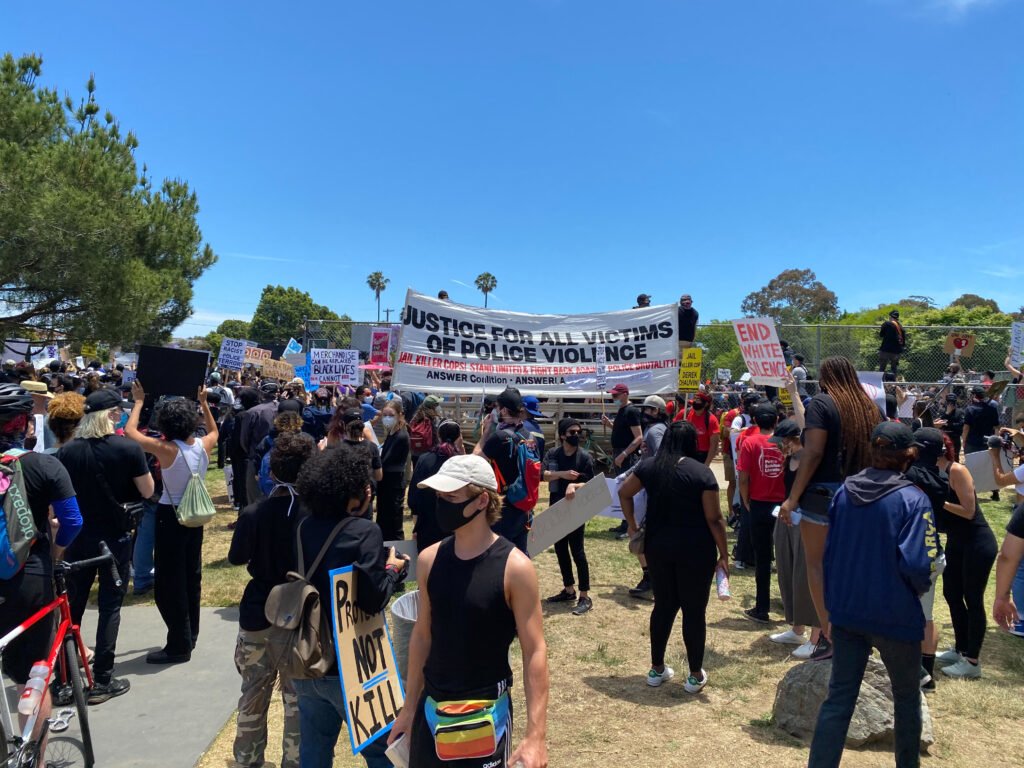 Continuing west on Third, the protestors march a few blocks before stopping again at Crescent Heights Boulevard. We can feel the protest's intensity building. The anger and frustration are becoming palpable. "No justice, no peace," shout the people.
Fresh graffiti is everywhere. Barely any surface is left untouched. The most common messages I see are "BLM," "Black Lives Matter," "George Floyd," "ACAB," "All Cops Are Bastards," and "FTP."
As people begin moving, the crowd is alive, electric. It moves, breathes, vibes in unison. Its presence overwhelms the small, quaint neighborhood, leaving in its wake a feeling of gravity and awe. Moving with the marchers, I'm fascinated by the feeling of being a single cell in a massive organism. This is my first protest, and all of this is quite impressive.
After about 15 minutes, we stop at the intersection of Third Street and La Cienega Boulevard. Small groups disperse to form a perimeter on the streets, blocking cars from getting close. They form lines to prevent the movement of others — foreshadowing the police lines that will soon form and clash here.
"I can't breathe!" A speaker shouts through a megaphone. "George Floyd!" the crowd responds in unison. Suddenly an ambulance, sirens screaming, races toward the crowd. The protestors part to let the ambulance through.
A scrawny white dude dressed in all black darts from the crowd toward the ambulance. The only thing visible is the skin around his eyes as he blasts past me to throw a water bottle at the ambulance. Protest chants in the vicinity turn to shouts of "agitator," while everyone seeks to expose the bad seed. He disappears back into the crowd, and the protest resumes. It's obvious now that there are more than a couple people in this crowd who want to turn the volume up to 11.
The protest turns north and starts making its way up La Cienega through a commercial area that includes two shopping malls. One is an outdoor mall; the other is a fully enclosed eight-story luxury behemoth called the Beverly Center. The only stores open are the aptly named Target and a CVS on the corner. Sounds of breaking glass ring out around us. The agitators are going to work.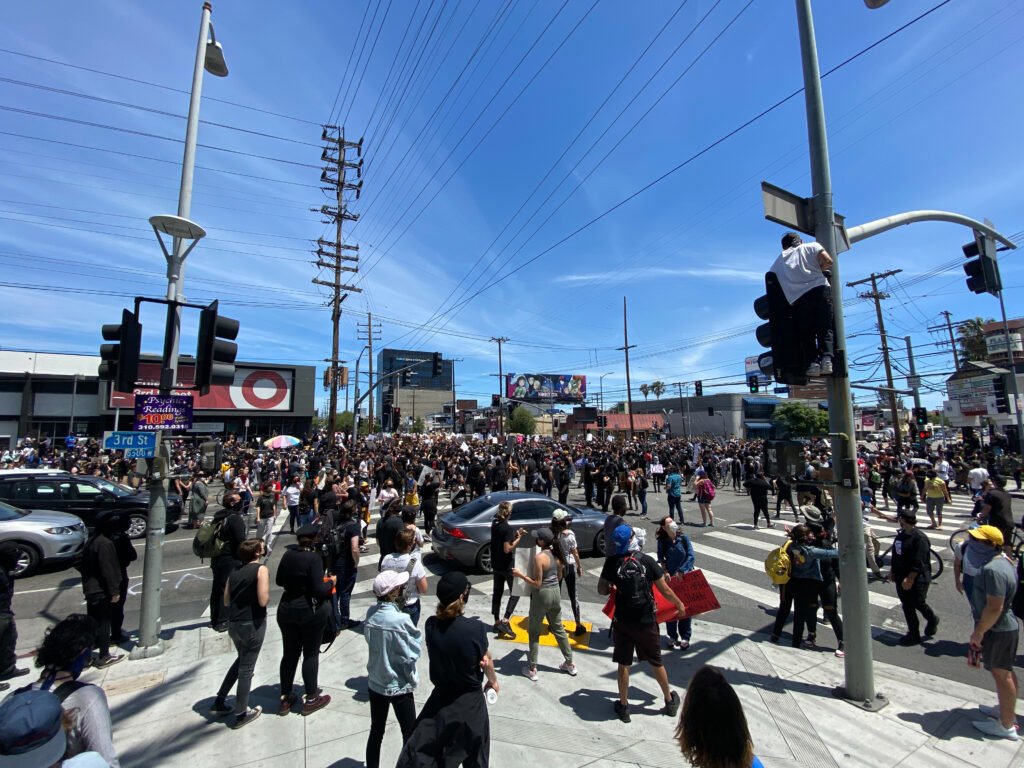 Reaching Beverly Boulevard, the march takes a right. Several young people who were clearly not part of the main protest sprint into CVS. A lone security guard is standing next to a beige Crown Victoria with a flashing amber light on top. He looks like he wants to stop them, but he is outnumbered. I'm not sure if this is where the looting started or if they just went in to buy a bottle of water, but from all appearances it doesn't look good.
The vast majority of people keep marching and chanting. They remain focused on their cause: peaceful protest. After walking two blocks east on Beverly, we are just a block from my apartment. It's about 2:30 PM, and we decide it's a good time to take a break.
By 3, we're back outside. Once we get back on Beverly, the street feels more perilous. Smoke rises from the east, and we are heading toward it.
Most marchers have moved on, but to where, I can't tell. The people who remain are either spectators or there to cause trouble. They've abandoned the march and the change the protest sought to bring about. No one seems organized or sure of what's going on or what to do. We hear a lot of sirens, but there are no cops in sight.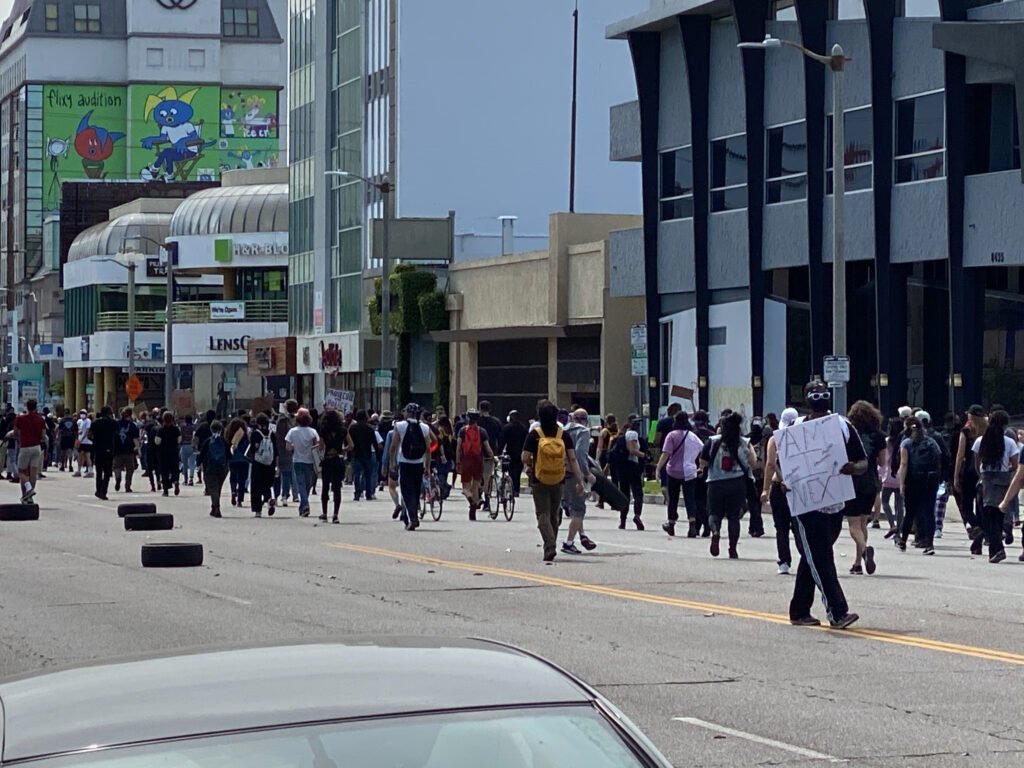 People begin looting. Agitators — mostly men dressed in all black — walk by with sticks, batons, and baseball bats. A man carrying a slingshot walks in front of us. I imagine his name is Dennis.
Another man walks by, his bleeding hand held up above his shoulder. The parking lot of the Taco Bell on the corner is littered with glass from shattered windows. I wonder about the man's hand.
We no longer feel safe in this crowd. My wife and I make our way through an alley and travel a few more blocks to Crescent Heights, then back up to Beverly.
This is when we see our first burning police car.
A large crowd surrounds the vehicle. There is a marked difference between this group and the peaceful protestors we marched with earlier. I wouldn't call these people agitators because that suggests a sense of organization.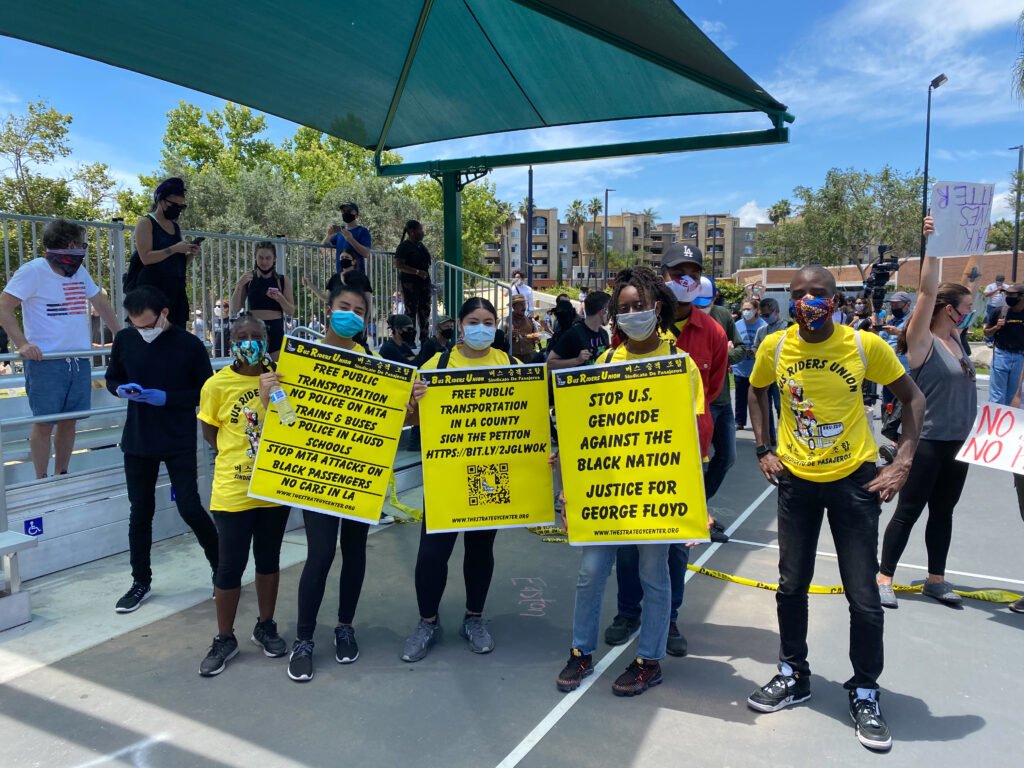 This was more like anger unleashed: People holding signs and chanting, people taking selfies in front of the burning car while others jump on top of it and pose for the camera. At some point the police were here. Then, at some point, they fled.
I receive a text from a friend who says there's action just southeast of us at the intersection of Third and Fairfax. We hustle through the chaotic crowd toward Fairfax, where we find two more police vehicles set ablaze.
Facing south on Fairfax, I see a smashed up police SUV to my right, covered in graffiti. About five people are dancing on top of it. The scene feels surreal, like we are in a movie. We hang out for a while, almost dumbstruck by the absolute madness around us.
We head south toward Third, and as we get closer, the mob gets bigger. We reach First Street and decide to go a block west to get around. As we get to the Trader Joe's parking lot at the end of the street, we are stopped by a line of riot police, all geared up and ready to go. We go further west, finally coming out onto Third at its intersection with Crescent Heights. More chaos and destruction.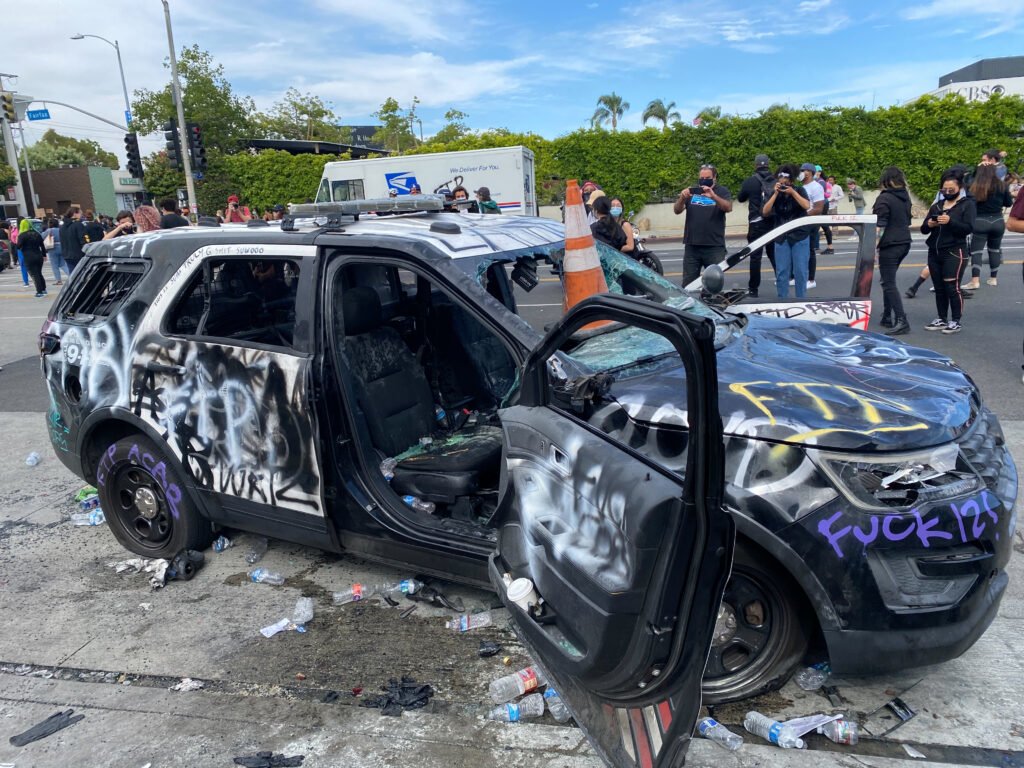 We push east toward Fairfax and meet another line of riot police blocking access. Behind them, I see police fighting with protestors, batons swinging wildly. The police in front of us look ready to unleash some of their own fear, adrenaline, and anger. It's time for us to move on.
We head north on Edinburgh Avenue and get to an alley blocked by riot police. We try First Street. More riot police. We go back to Beverly and run toward Fairfax. The smashed-up police SUV is in flames. We hurry through the crowd and somehow manage to get within 100 feet of Fairfax. To our right, more riot police block access to Trader Joe's.
There's a half-formed line of cops at the intersection facing us. Behind them, anarchy.
There's a city bus on Third covered in spray paint. Rioters smash out the windows with hammers. Pockets of police attempt to beat the crowd back with batons. A gunshot cracks out in the distance, but no one seems to notice. Then a second shot. And a third. The rubber bullets have people's attention now. As police increase their rate of fire, panic grips the crowd.
Suddenly, 10 gunshots ring out. […] They keep marching. I'll never forget what I'm seeing and hearing at this moment. It's time to go home.
As everyone sprints away from the advancing police line, I see a small woman take a rubber bullet right to the spine. She screams out in guttural pain, stumbles, and then begins to run again.
Anything resembling a peaceful protest is now gone, at least at this intersection. As far as I can tell, we're in the middle of a riot.
My wife and I reach First Street and stop. We have no desire to get tear-gassed, shot with rubber bullets, or arrested. We egress to our apartment to gather ourselves.
There, my wife, roommate, and I watch the news. Outside we can hear helicopters flying overhead and sirens blaring all around.
An 8 PM curfew has been announced, so we decide to head out again before it goes into effect. Once outside, the fires have blanketed the air with an eerie haze that's accentuated by the sun getting lower in the sky.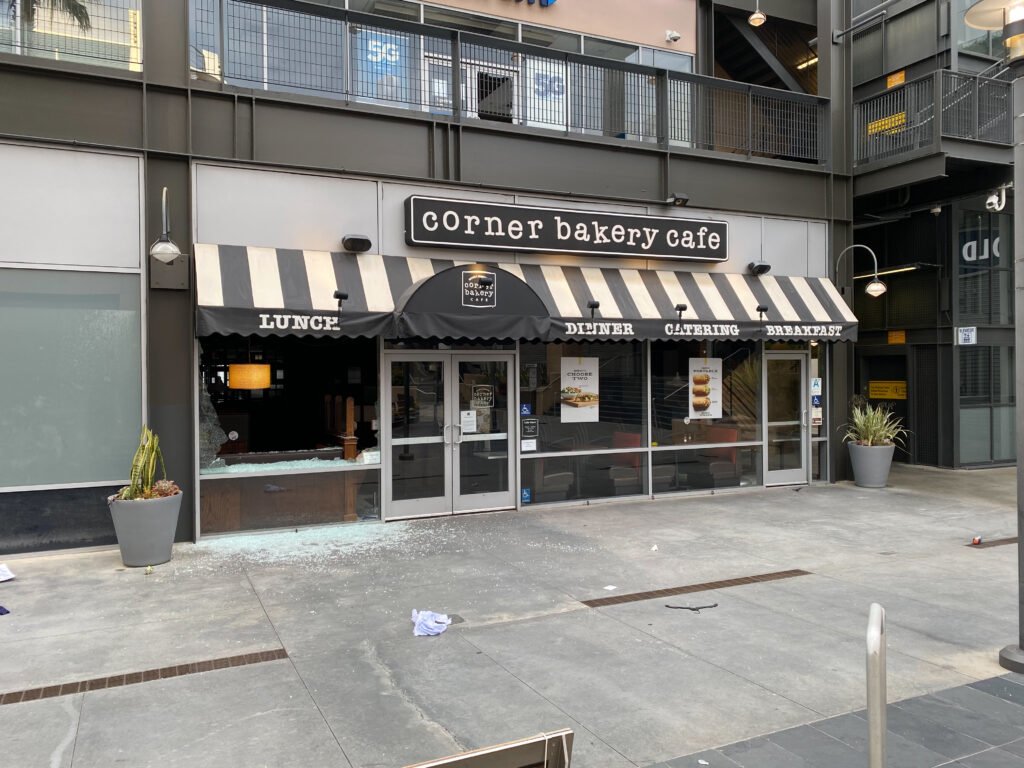 The vibe has gone from tense and chaotic to outright anarchy. There's more traffic on my street than I have ever seen. Cars rush up and down, back and forth. Loud crunching sounds fill the air as cars disregard speed bumps.
We go a block south to Third Street and turn west. All along La Cienega, cars speed up to street curbs, people jump out, loot whatever store is closest, jump back into the cars, and take off.
There are no police. Just hundreds of rioters and looters — and us. Almost every window is smashed. Amidst the chaos, no one seems to pay much attention to us. It doesn't feel real enough to be dangerous, yet it's nowhere near what I consider safe.
As we walk past Saks Off 5th, a car pulls up and three people jump out. A young man jumps out of the backseat about 10 feet from us, pausing to readjust as he almost drops the pistol stashed in the front pocket of his hoodie. My adrenaline surges as I watch the scene unfold. I'm hyper-aware that we are now in the midst of a potentially very dangerous situation.
Another car pulls up behind us, and a gunslinger and his crew get out. We walk about 25 feet while the group communicates amongst themselves as if we aren't there. They don't seem to notice us even as we move aside to clear their path. They climb through a broken window and proceed to steal clothes.
As we stand there, a short, pleasantly plump woman comes out of the same broken window and kind of waddles by us, barely able to hold onto the massive pile of clothes she is carrying. She says "excuse me" as she passes, and then climbs into the back of a running car before it speeds off.
Walking north on La Cienega, we don't see any police but can hear them all around. It's beginning to sink in that there's a good chance they're not coming if we need them.
I look around and think about how interesting this day has been. I've never seen or experienced anything like it.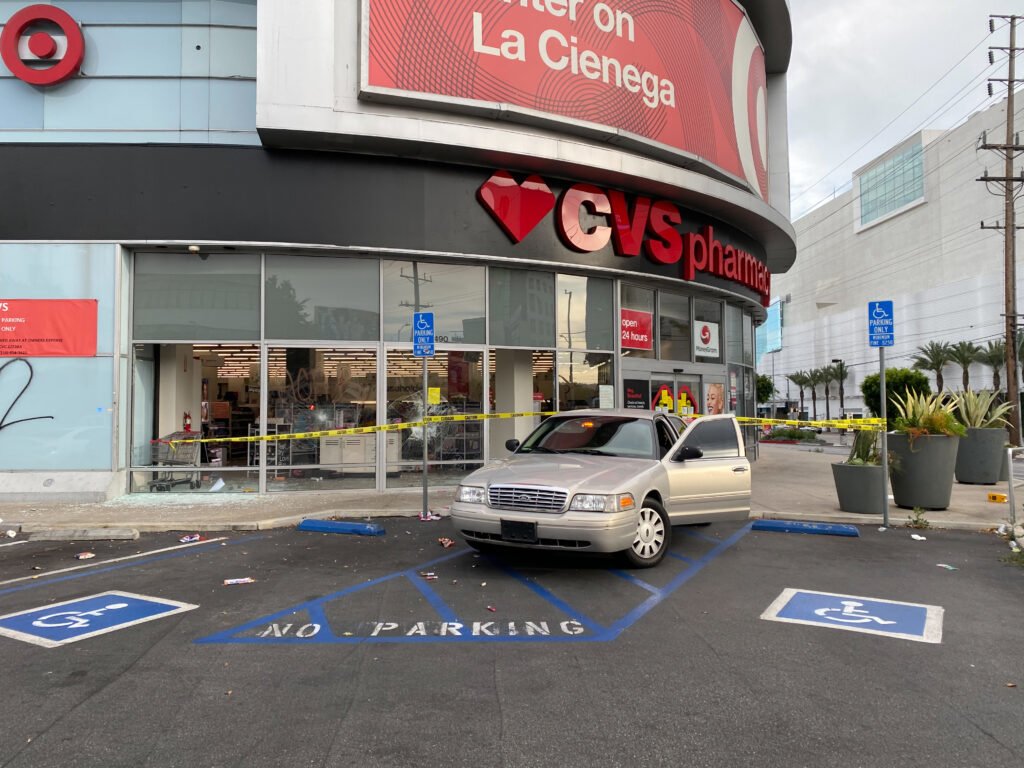 Sirens get louder as I see a caravan of police cars coming toward us. Five of them fly by with no concern for what's happening around us. It's clear the riots have spread beyond my neighborhood. The whole Mid-Wilshire is experiencing this. Hell, I bet most of LA is experiencing this.
We walk toward CVS and find rioters ransacking it. Dozens of people run in and out. The beige Crown Victoria remains, but the security guard who was standing by it before is long gone.
When we get to La Cienega and Beverly, we stop and look west at the most surreal, awe-inspiring sight I've ever seen. Out of the orange haze of the slowly setting sun, thousands of marchers materialize in front of us.
In every other direction, it's looting, rioting, chaos. But in front of us, it's just people trying to be heard. They march onward, unfazed by the anarchy.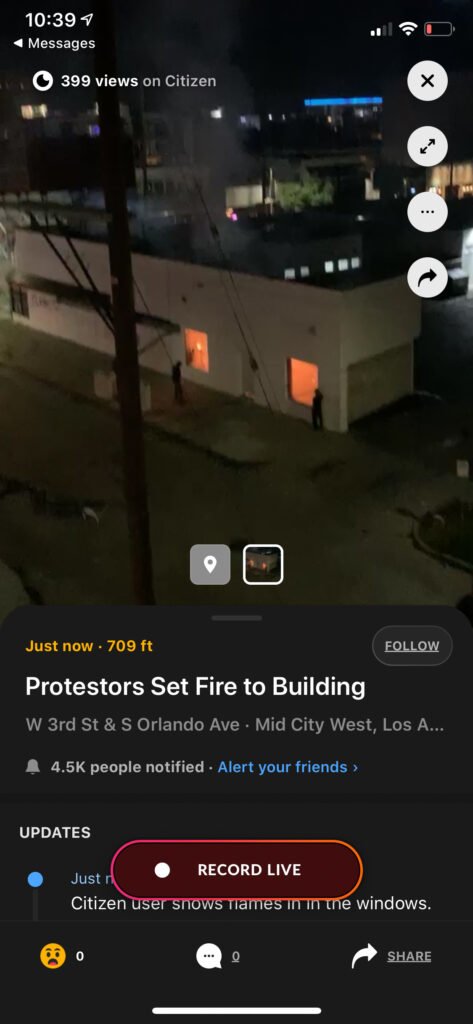 Suddenly, 10 gunshots ring out. The report sounds familiar, like a 9mm pistol. A muscle car — presumably the shooter — bursts through the intersection, almost hitting the protestors. They keep marching. I'll never forget what I'm seeing and hearing at this moment.
It's time to go home.
From the roof of our building, we look out over our city. Clouds of smoke billow from every direction. Helicopters buzz all over the night sky and throughout the Los Angeles Basin. Cars rush up and down the streets below. Looking toward Target, we can hear it being looted and destroyed. I hope they don't set it on fire.
We head back inside to wait out the night.
A little after 10, the landlord calls. Someone is banging on the front door of our apartment building. As my roommate and I rush downstairs, it occurs to me that we are the front line for protectors for our neighbors. We link up with the landlord and see no intruders. We step outside to check further. Walking toward the sidewalk, my roommate points out a large pile of brand-new clothes on the ground. There's people out, but no one close enough to confront. We head back in.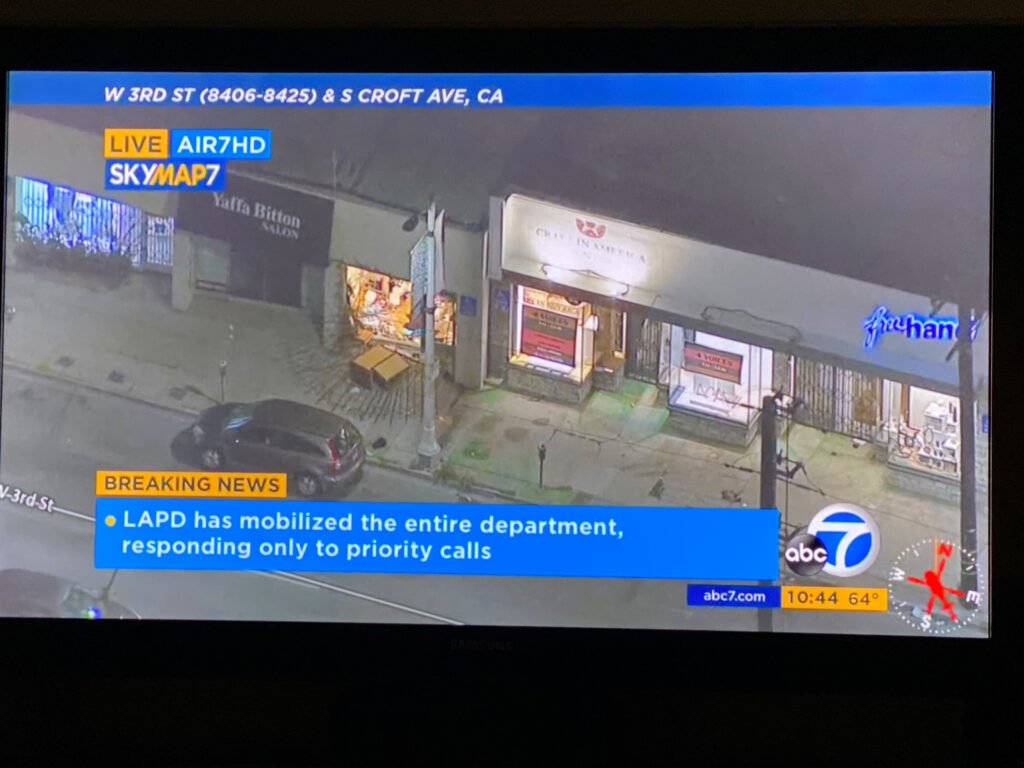 Just before 11, I see on the news that the mom-and-pop convenience store half a block away on Third Street is on fire. It's going to be a total loss. I watch the flames get bigger. There are no fire trucks available to put them out.
A couple minutes later, the news reports multiple car fires half a block the other way on Beverly Boulevard. Sirens blare all around, helicopters patrol overhead, and we watch our neighborhood burn on the nightly news.
We bunker down, hoping the fires outside don't get any closer. We watch the news while listening to the anarchy around us. My focus is on the safety of my wife and the people of my apartment building.
The news tells us the entire LAPD has been mobilized, and we shouldn't call. They say the National Guard will be here at midnight. For now, we're alone, our neighborhood on fire. The social contract that we all agree to under normal circumstances went up in flames alongside the liquor store.
I've seen violence before, this isn't my first time. But I never thought I'd see it like this, not in my own backyard. I figure I'll stay up. It's May 30, 2020, and my gun is by my side, loaded, ready.