KYIV, Ukraine — As protesters continue to call for his ouster, Belarusian President Alexander Lukashenko traveled to the Russian Black Sea city of Sochi on Monday to meet with President Vladimir Putin. The meeting highlighted a shaky rapprochement between the two leaders as Lukashenko persists in soliciting Russian help to stay in power.
"A friend is in trouble, and I say that sincerely," Lukashenko told Putin in televised remarks on Monday.
"Our position is that Belarusians should handle this situation on their own, via calm dialogue and without hints and pressure from outside, and arrive at a common solution," Putin reportedly said at the meeting, in which the Russian leader reportedly offered a $1.5 billion loan to Belarus to help shore up the country's economy against the combined effects of protests and the COVID-19 pandemic.
"We now have the opportunity to talk about everything in a calm manner, but first of all, we should discuss economic issues," Putin said, the Russian news site TASS reported.
Nationwide protests erupted in Belarus after the Aug. 9 presidential election in which the 65-year-old Lukashenko claimed to have taken more than 80% of the vote. Protesters said the election was rigged. Lukashenko, for his part, blamed the unrest on a Western cabal intent on bringing him down, as well as a NATO plot to invade Belarus for a piece of its territory.
In late August Lukashenko put his country's military forces on "high alert" due to what he alleged was the impending threat of a NATO military intervention. NATO officials subsequently said the Western alliance has no plans to invade Belarus.
The leading Belarusian opposition candidate, Sviatlana Tsikhanouskaya, fled to neighboring Lithuania following the August election, citing concerns for her children's safety.
Regarding Monday's planned meeting between Lukashenko and Putin, Tsikhanouskaya wrote on her Telegram channel:
"I want to remind Vladimir Putin, whatever you agree on in Sochi will not have legal force. Any agreements signed with illegitimate Lukashenko will be revisited by a new government because the Belarusian people no longer trust Lukashenko and did not support him in the elections. I regret that you have decided on dialogue with a dictator and not with the people of Belarus."
After a month, both sides appear to be at a deadlock. Lukashenko has not ceded power or allowed new elections. Yet the protests have not fizzled, either. An estimated 100,000 protesters marched through the capital city of Minsk on Sunday, and dozens of other demonstrations took place across the country. Some 774 people were arrested nationwide, the Interior Ministry of Belarus reported Monday.
For years Lukashenko had slow-rolled a plan by Putin to unite Belarus and Russia as a single country. Yet with his 26-year grip on power under pressure, Lukashenko reversed course and turned to Putin for help. In the run-up to Monday's meeting in Sochi, top US officials had signaled their hopes that Putin would back off his support of the embattled Belarusian leader.
"We hope the message from Moscow to Minsk is that the ruler needs to give way to the will of his people," US Deputy Secretary of State Stephen Biegun told reporters in a Friday telephonic briefing.
"A free and fair election will allow the Belarusian people to select who will be the next president of Belarus, and we strongly support their wish to do so, and we very much hope and expect that the Russian president will convey the same message that the regime in Belarus is hearing from so many other nations around the world," Biegun said.
The protests against Lukashenko are not fundamentally pro-Western in nature — as were the 2014 protests in Ukraine that ultimately ousted that country's pro-Russian president in favor of a pro-Western government. Rather, the ongoing unrest in Belarus is focused on Lukashenko's ouster.
"We believe that the Belarusian people must be able to determine their own path free from outside interference or threats, including from powerful neighbors," Biegun said. "US support for the Belarusian people […] does not mean we are asking Belarus to choose between East and West. This is not a contest between the United States and Russia. This is a battle between a ruler and the people that he purports to rule."
Consequently, Putin's persistent support for Lukashenko will likely leave Moscow at odds with the sentiments of the Belarusian street. On the other hand, Putin's position may also signal his calculation that the protests will ultimately peter out, and that by offering Lukashenko support Moscow will gain long-term leverage over Minsk.
Biegun, the US deputy secretary of state, said Moscow's support for Lukashenko was a shortsighted blunder.
"Most Belarusians have seen Russia as the country closest to their hearts, and we respect that sentiment and sovereign choice," Biegun said. "It thus eludes us how Moscow can back such a regime and such violence against peaceful citizens exercising constitutionally protected rights to freedom of assembly, association, and speech. If the Kremlin continues down this path, it risks turning the Belarusian people, who have no grievance with Russia, against Moscow."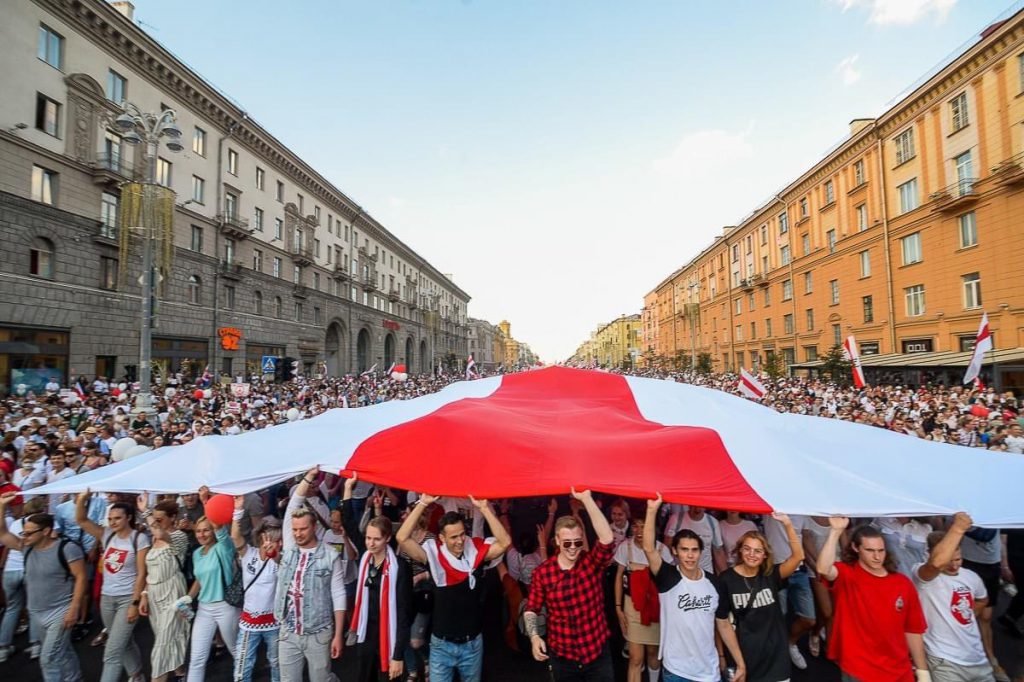 In Ukraine, meanwhile, military officials have increased border security along the northern border with Belarus as a joint Russian-Belarusian military exercise called "Slavic Brotherhood" begins on Monday. Serbian forces had planned to participate as well — as they have since 2015 — yet they withdrew due to an ongoing row between Belgrade and Moscow after Russian Foreign Ministry spokeswoman Maria Zakharova posted an off-color Facebook post mocking Serbian President Aleksandar Vučić.
Russia has reportedly sent airborne soldiers to participate in the Slavic Brotherhood drills, which are scheduled to last until Sept. 25 and are taking place in the city of Brest, near the Polish border.
Belarus and Ukraine share a roughly 620-mile border, parts of which include an uninhabited stretch of land off-limits to permanent human habitation due to radiation from the Chernobyl nuclear power facility in Ukraine, which was the scene of a devastating nuclear accident in 1986 and is located some 6 miles from the border with Belarus.
The State Border Guard Service of Ukraine announced that it is monitoring the border with Belarus with aircraft, drones, and ground K-9 units. Boat patrols are also operating along the water sections of the border. As of this article's publication, Ukraine has not announced the deployment of any military forces to its northern border.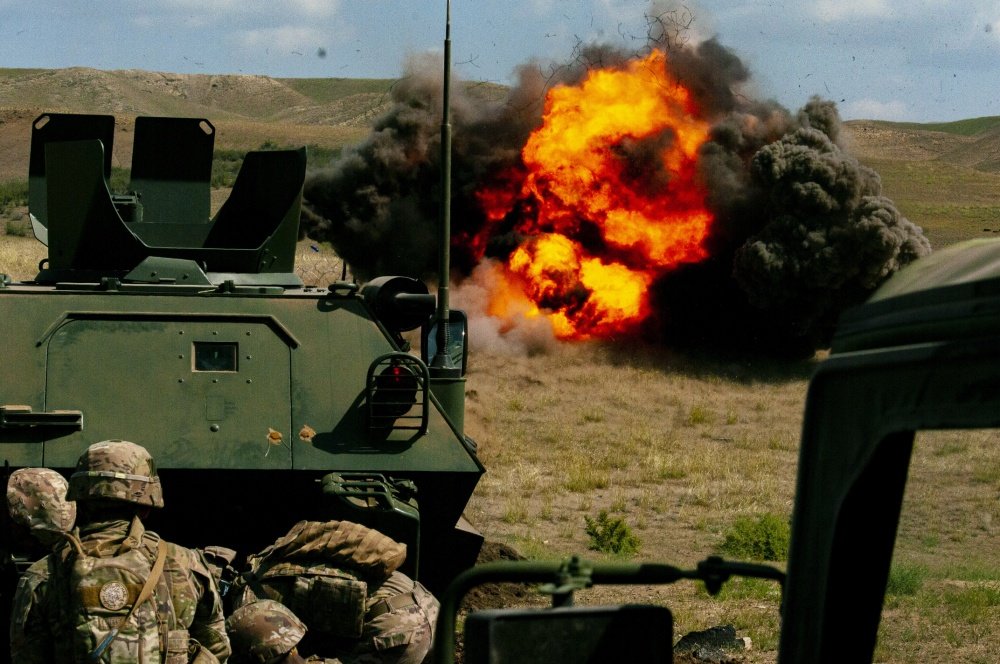 Russia invaded Ukraine's eastern Donbas region in 2014. The conflict is ongoing along a roughly 250-mile, entrenched front line and has killed about 14,000 people.
According to multiple military sources and civilian experts, Ukraine's armed forces have about 40,000 personnel currently deployed to the eastern war zone. Those forces comprise some 10 army brigades, in addition to air defense units, aviation units, and support personnel.
Altogether, about 25,000 to 27,000 Ukrainian ground troops are in the Donbas. Of that number, about 17,000 to 19,000 are likely at front-line positions at any given time, according to estimates by civilian experts.
Belarus and Russia are part of a joint defense pact that guarantees Russian intervention in the event of a common threat. Russia also currently leases two military facilities inside Belarus.
The Slavic Brotherhood military exercise is an annual military training event involving Russia, Belarus, and Serbia that began in 2015 — the year following Russia's invasion of Ukraine. The exercise rotates among the three countries. Last year's iteration took place in Serbia over 13 days and comprised roughly 750 troops. According to the regular rotation that began in 2015, this year's exercise was previously scheduled to take place in Belarus.
Russia already maintains about 80,000 troops within its territory near the border with Ukraine. For years, Ukrainian military officials have said those Russian units are poised to execute a short-notice, armored land invasion of Ukraine.
Many Ukrainian military experts say the chance of a Russian military move against Ukraine from within Belarus is slim. The more pressing concern is that Moscow may use the exercise as a pretext to permanently position a detachment of its troops within Belarus.
For its part, Moscow has repeatedly said that this year's Slavic Brotherhood exercise was scheduled years ago and that there are no plans for Russia to leave any troops behind.
"After the joint drills program is complete, the Russian forces will return to their permanent deployment locations," Putin said Monday.