Federal inspectors continue to seize cheap conversion kits that can turn many semi-automatic firearms into automatic weapons, officials told Coffee or Die Magazine.
US Customs and Border Protection officers on April 10 in Memphis, Tennessee, confiscated 40 switches used to convert Glock handguns into fully automatic weapons. They were bound from China for Mississippi, and officers intercepted them because the package arrived in Tennessee mislabeled as "steel parts, without the proper declaration for conversion kits required by the US Bureau of Alcohol, Tobacco, Firearms and Explosives," Ian Camejo, a spokesperson for the ATF, told Coffee or Die in an email.
"These machinegun conversion devices are illegal for the general public to possess, and criminals use these illegal machineguns to cause needless violence in communities throughout our nation," Camejo said.
The Gun Control Act of 1968 and the National Firearms Act of 1934 define "machine gun" to include any combination of parts designed and intended for use in converting a weapon to shoot automatically more than one shot, without manual reloading, by a single function of the trigger, Camejo said.
Benjamin Canfield, US Customs and Border Protection's acting area port director of Memphis, said his officers have seized 525 of the contraband kits since Oct. 1, 2021. In the previous federal fiscal year, his officers intercepted 1,714 of them. Key giveaways were parcels arriving from an abnormal address listed for a business that wasn't legitimate.
Others were what officers call "mismanifested," which means they were listed on a shipping document as something they obviously weren't, triggering officers to "dive deeper into what's going on," Canfield told Coffee or Die.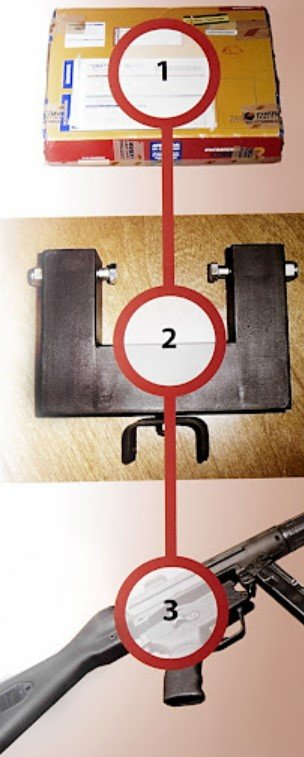 "Our officers and our team, we're always looking for the new and evolving trends in criminal activity," Canfield said.
Federal investigators suspect the conversion kits are being used to alter firearms increasingly wielded by carjackers and narcotics traffickers. Most legal firearms parts are made in the US or arrive in shipments from Europe; the Tennessee package coming from China was a red flag.
"That really motivates us to be on the lookout for these items coming into the country because that means every one we can stop at the border is one that's not going to be used in the furtherance of criminal activity," Canfield said.
Read Next: