Franklin D. Miller served six tours over six years in Vietnam. For his first two, he was an infantryman, mainly conducting long-range reconnaissance patrols. The next four years were with Military Assistance Command, Vietnam — Studies and Observations Group (MACV-SOG), the Green Beret-led teams that operated deep in the mountains and jungles of Vietnam, Cambodia, and Laos on the most dangerous search-and-destroy missions of the war. By the end of those six tours, Miller had been awarded six Purple Hearts, two Bronze Stars with Valor, an Air Medal, a Silver Star, and the Medal of Honor.
With his MACV-SOG teams, he often walked into enemy-held territory on foot and would pass by US convoys in armored trucks. "Here we were, walking down the road in the middle of enemy territory," he recalls in his book, Reflections of a Warrior: Six Years as a Green Beret in Vietnam. "We'd be wearing bandannas around our heads, with a notable absence of flak jackets or helmets. Our tailored trousers would be unbloused, hanging straight down. We'd be heavily armed with strange weapons. We looked sort of like banditos. We'd just smile at them and wave very casually."
Miller writes with a youthful bravado about gunfights as "asskicks" and routinely exclaims just how lucky he was to risk death in the NVA badlands. But it was on the gray morning of Jan. 5, 1970, that Miller finally thought he might not make it out alive.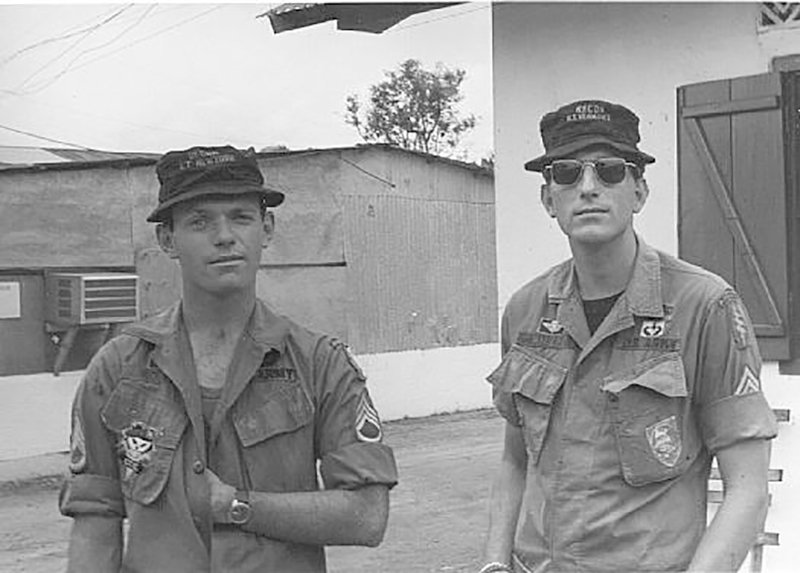 He was in charge of a seven-man joint American-South Vietnamese team of Green Berets and Montagnard tribesmen in Kontum province. The team inserted on two UH-1D Hueys, while six Cobra gunships and an additional Huey carrying a Special Forces medic and full medical equipment followed in support. The mission was to patrol on foot in Laos, search for an intelligence aircraft that had been shot down in the area, then gather information on a North Vietnamese Army base from which American surveillance teams had previously intercepted dozens of radio transmissions. While en route, Miller's platoon halted near the downed American aircraft where some 35 to 40 NVA soldiers were sitting in the tan, thigh-deep grass.
Miller, who had been scouting ahead, spotted the NVA soldiers and melted back into the grass, returning to his team to report to the forward air controller circling above. Hours later, after the platoon had skirted around the NVA soldiers, the mother of all asskicks was about to take place. When Miller heard a shot 500 to 600 yards in the distance, he scribbled the shot's timing, location, and direction in his notebook. As he finished writing, things went sideways.
"Strong shock waves assaulted my body and my vision blurred, like a camera being jarred," he writes. "My initial reaction was to hit the ground, because the first thing you learn about combat is that anything standing gets hit."
Down the hill where the rest of the team was located, Miller saw a gray cloud from an explosive that had just detonated. One of the Montagnards had triggered a booby trap. Dirt, stones, leaves, and branches fell through the jungle, landing all around him. One of Miller's men staggered toward him, missing his lower jaw, weapon, and rucksack, his clothes ripped all over his body. The explosion had wounded five of the seven-member squad.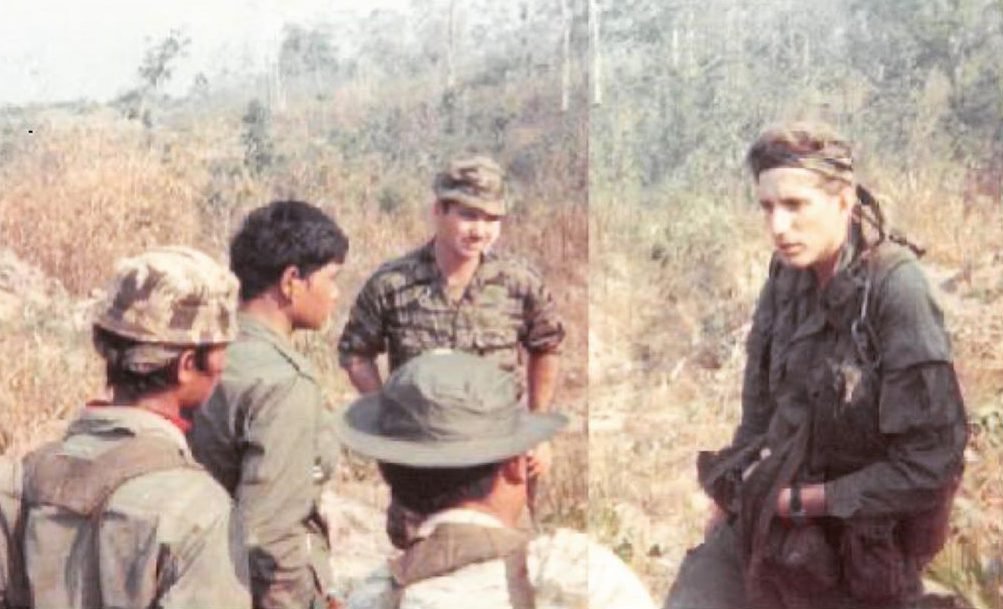 Unharmed by the initial explosion, Miller flanked with another teammate to engage the 25 to 30 NVA soldiers attacking them. Miller entered the kill zone and worked to bring his wounded teammates across a stream and call in reinforcements. In SOG, there were three levels of emergencies: "team," when someone was sick or wounded; "TAC E," or tactical emergency, when a team was engaging a superior enemy force; and "prairie fire," when a team was at risk of being annihilated. Miller called in a tactical emergency and hid, awaiting the NVA's next assault.
The NVA force tracked the team's blood trail from the stream to bushes the SOG team had disappeared into. The enemy troops set up a machine gun to cover both ends of the stream and the area Miller's team was camped in. An NVA scout crept to within 10 yards of Miller's crippled team and discovered them. Miller leaned back, raised his body slightly, and cracked off a single round, dumping the NVA soldier to the ground. The bushes and tall grass Miller was in concealed his position as he hugged the ground, with concentrated return fire raining down on his position.
Miller pulled the pin on a CS-gas grenade and hurled it as far as he could. He then grabbed a white phosphorus grenade and repeated the effort to create a heavier, denser fog that would linger and irritate the enemy troops, who Miller hoped would disengage. At around 1 p.m., Miller coordinated with his wounded teammates to conceal themselves as well as they could.
Alone, Miller moved on foot and hid behind a section of rocks and fallen timber. He ambushed a seven-man NVA element and focused his controlled bursts of fire on the machine-gunner first. For more than two and a half hours, Miller waged a one-man fight against an estimated 100 NVA troops, dodging hand grenades, bullets, and shrapnel.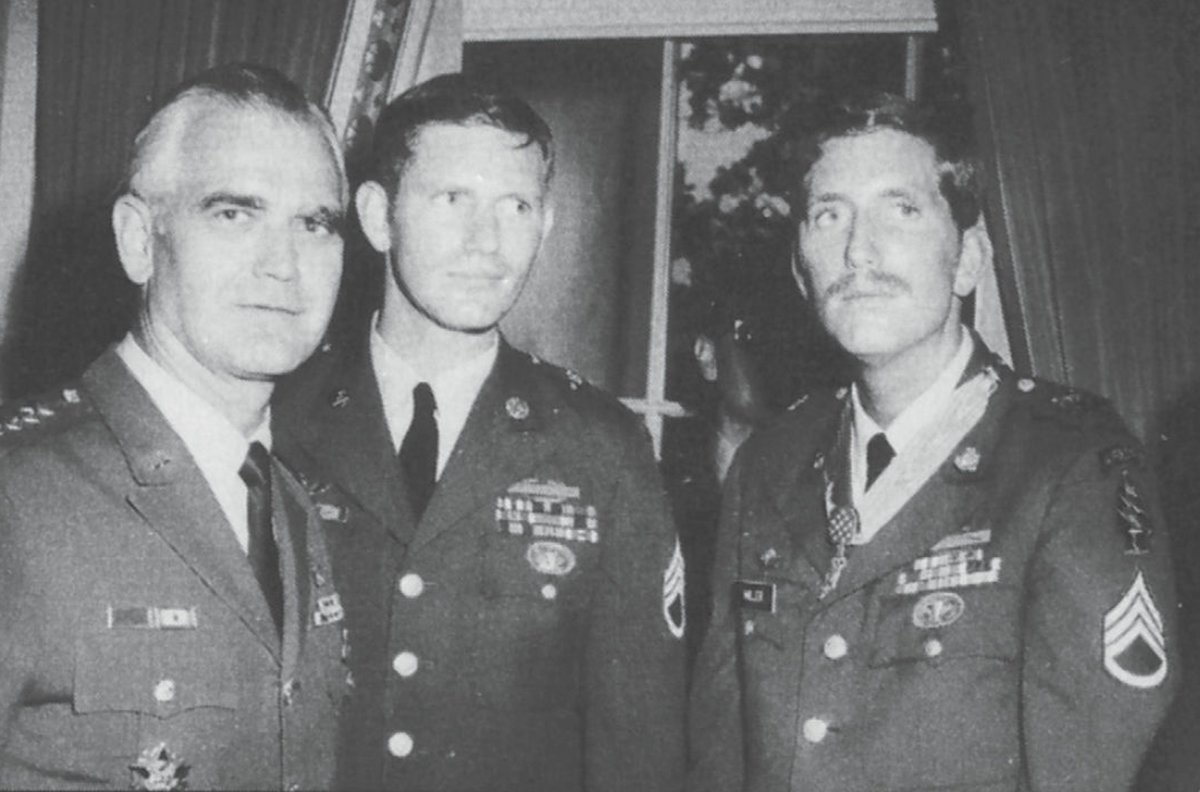 "But saddest of all was the sight of my team, my friends," Miller writes. "The scene was basically composed of two colors, green and red. Blood-drenched bandages attempted to stem the outpouring of life from the four who were scattered in the grass before me. Amazingly enough, all were in various stages of consciousness, though I could tell that at least one of them wouldn't survive."
A C-130 orbiting some 25,000 feet overhead radioed Miller with instructions to locate a nearby bomb crater to arrange a medevac. Miller reached the site, and the lights went out. He was shot in the chest. He collapsed and faded in and out of shock. Miller, completely dazed by his wound, cut off a piece of poncho liner with his pocket knife, stuffed it into the hole in his chest, swung his M16 rifle around to his waist, and let loose two or three bursts of fire at four NVA soldiers who were shocked Miller was still alive. Two were killed instantly, a third was caught in the back running away, and the fourth escaped into the woods.
Miller somehow rose to his feet, crashed through bushes and vegetation, and crawled 50 yards to regroup with his team. Once he reached them, he pushed and dragged every member back to the crater. His teammates Yube and Hobart assisted with security, though they were seriously wounded themselves.
Just as they felt they were going to be overrun, a Huey swooped in and hovered within 5 yards of the large crater in the jungle. The chopper, though, raced back into the air when more than 50 NVA soldiers attacked with small arms, mortars, and rockets. In the melee, Miller was struck in the left arm. The wound was so severe he thought his hand had been blown off, rendering his arm completely useless. This was it, Miller thought, his final stand, down to one magazine and an additional frag from Yube. Through a daze, Miller saw a figure holding an M60 machine gun and issuing hand signals in his direction. It was a Hatchet Force, an entire platoon of Montagnards supported by American advisers.
Soon, more helicopters arrived, and Miller refused to leave until everyone else was on board. Recon Team Vermont and the Hatchet Force flew out to safety. Four of Miller's seven-man team had been killed, while Miller, Yube, and Hobart survived. Miller was first recommended to receive the Distinguished Service Cross, but it was ultimately upgraded to the Medal of Honor. Miller retired from the Army in 1992 as a command sergeant major. He often told new Special Forces trainees to "share your fears with yourself and your courage with others" because "you will inspire people to do things that are incredible." In 2000, Miller died at age 55.
Read Next: The Incredible True Story of How the Heir to Walmart Served in MACV-SOG in Vietnam