Countless legends have been spawned from the MACV-SOG, who fought some of the most harrowing missions of the Vietnam War. This task force, which included U.S. Special Forces operators, was charged with carrying out secretive, unconventional missions, many of which have never been written about or discussed in a public setting.
According to Soldier Systems Daily, "The Military Assistance Command, Vietnam, Studies and Observations Group (MACV-SOG) was activated, January 24, 1964, to function as a joint special operations task force. Commanded by a U.S. Army Special Forces colonel, MACV-SOG was a subcomponent of MACV. Born from a need to conduct more effective special operations against North Vietnam, many Central Intelligence Agency programs were transferred to SOG, which eventually consisted of personnel from U.S. Army Special Forces, U.S. Navy Sea-Air-Land (SEALs), U.S. Air Force, U.S. Marine Corps, Force Reconnaissance and CIA personnel. Special operations were conducted in North Vietnam, Laos, Cambodia, and South Vietnam."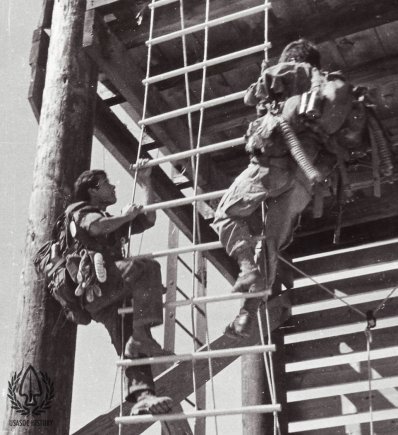 Due to the unconventional nature of their missions and the availability of certain resources, the gear these men carried did not fall in line with the equipment typically carried by the regular Army.
The image of MACV-SOG operators is often tied to their uniform — they famously wore the tigerstripe camouflage pattern, which was also worn by South Vietnamese Armed Forces and other Southeast Asian countries. It has even made a comeback now among U.S. Special Forces operators. It was an effective camouflage during the Vietnam War and was only worn by the most elite among the U.S. forces.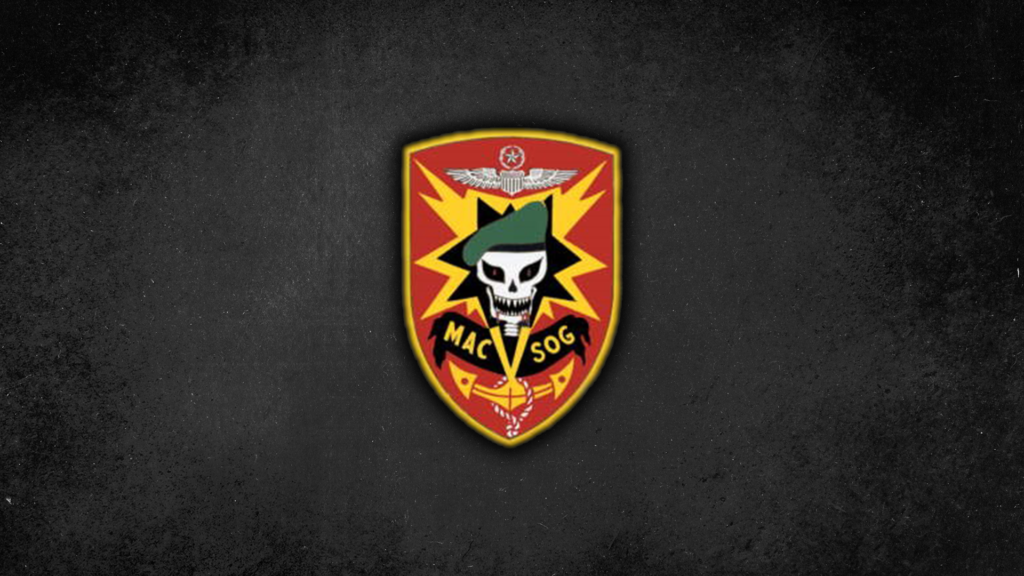 The tigerstripe has since become a staple for companies seeking to infuse some military history into their apparel. Soldier Systems Daily's inventory reflects the tigerstripe's resurgence, with items ranging from a skateboard to a hat featuring the iconic pattern. Black Rifle Coffee Company will also be launching a line of tigerstripe apparel in the near future.
As for firearms, the men in MACV-SOG typically carried the CAR-15. In his book "Across The Fence: The Secret War In Vietnam," former operator John Stryker Meyer described carrying the rifles using atypical slings — either a canvas strap or a cravat taped securely to the rifle. This was imperative for reducing the sound of their movements. He also mentioned the use of an AK47 for the point man decked out in NVA garb; other MACV-SOG soldiers had been known to wear modified racks to accommodate these changes. In the photo below, Major General Ken Bowra is wearing an AK chest rig.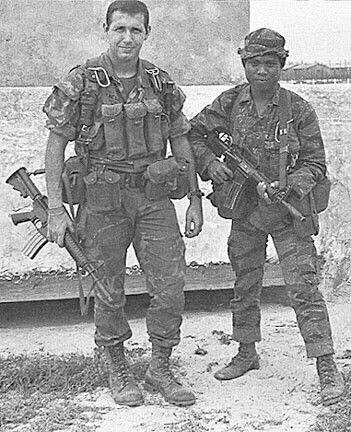 The weapons of the elite MACV-SOG units extended beyond the CAR-15 and the occasional AK47. Every American on these teams would also carry a 40mm grenade launcher, the M79. The M203 grenade launcher was typically mounted to the weapon system; the M79 was carried separately. Carrying a separate 40mm launcher is once again popular in modern military circles; the M320, which replaced the M203, can be carried separately or mounted to the underside of a rifle.
However, in typical MACV-SOG fashion, the group sawed off their M79s, increasing its maneuverability and decreasing its weight. It was then secured to the person by a tether or D-ring covered in tape to mute any noise.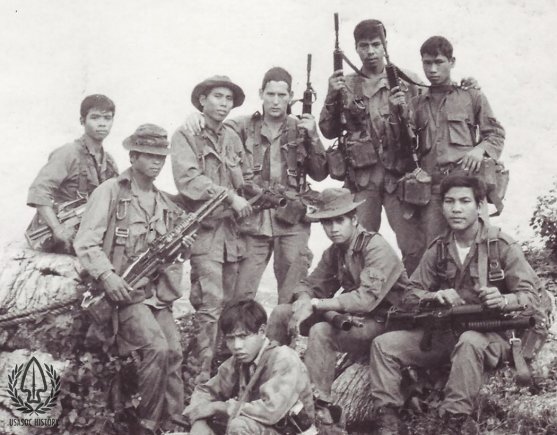 Meyer also recounts in his book that he would carry approximately 612 rounds for his CAR-15, 12 40mm rounds for his M79, and approximately a dozen fragmentation grenades, as well as a pair of V-22 mini grenades.
According to Meyer, they didn't carry IDs, dog tags, combat patches, or unit patches, and their green berets were left back at base — just the tigerstripes and their equipment. A common theme in much of the gear that they carried was speed and silence. While these are crucial elements for anyone on a combat mission today, it was more imperative than ever for the members of MACV-SOG. It was just one element of many that make MACV-SOG one of the ultimate examples of clandestine wartime special operations.