In the early morning hours of Nov. 28, 1970, a C-130 circled 17,000 feet above a drop zone in Laos. A six-man element dubbed Recon Team Florida inched forward to the edge of the ramp. Sgt. 1st Class Cliff Newman waited for the signal from jumpmaster Master Sgt. Frank Norbury before he stepped out of the aircraft and into history as the first combat HALO (high altitude, low opening) jumper in US Army history.
Norbury watched as Newman exited the aircraft and disappeared into the abyss of the night.
"I was first off the ramp and went into a rainstorm about 5 seconds out," Newman recalled. "Didn't see a thing, including my altimeter, until I decided to pull at about 2,500, luckily. We found out later the Air Force put us about 10 clicks off our designated [drop zone]. Still get the old pucker factor on occasion."
HALO jumps were first conceptualized by the Army between 1957 and 1958 as a way to insert Special Forces teams behind enemy lines without detection. It took a decade before the 10th Special Forces Group created the "Trojan Parachute Club" in Bad Toelz, Germany, which developed the techniques of equipment jumps, high altitude with oxygen, and night jumps.
Billy Waugh, an Army Special Forces legend and CIA paramilitary officer who later became one of the first Americans to hunt Usama Bin Laden in the mountains of Afghanistan at the age of 71, was in charge of the combat HALO effort for Command and Control North.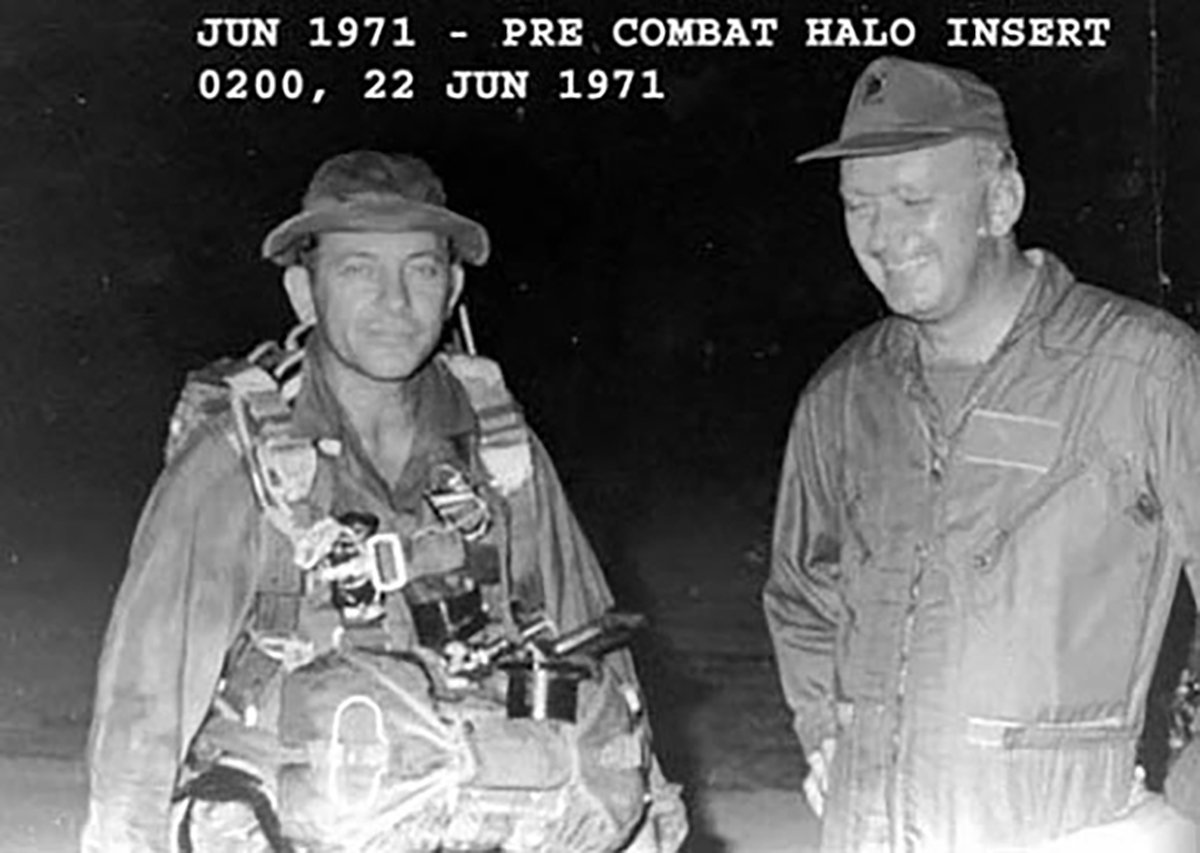 As the Green Berets of the Military Assistance Command, Vietnam — Studies and Observations Group (MACV-SOG) prepared for missions, they lacked a decent communications device. Expecting to be cut off from one another after a HALO jump, they rehearsed missions with the intention of being separated.
On that first jump, team leader Sgt. 1st Class Melvin Hill, Staff Sgt. Sammy Hernandez, two Special Commando Unit soldiers, and one South Vietnamese officer followed Newman. They traveled through two cloud layers and light rain before pulling their ripcords at 1,500 feet. They floated under canopy and landed in rugged terrain. The team unbuckled from their harnesses, stashed their parachutes, and turned on their homing beacons in an attempt to regroup before proceeding on foot. Their reconnaissance mission was designed to locate a communication wire used by the North Vietnamese army.
The small team was forced to split into four elements after the jump, with Hernandez and Hill going about enemy territory alone. After sunrise, a forward air controller made contact. The separated team heard voices of nearby enemy combatants, rumblings of vehicles traveling on roads, and sporadic gunfire, but weren't discovered. The five-day reconnaissance mission gathered enough intelligence on the area to call for an extraction. An HH-3 Jolly Green Giant helicopter flew in from Thailand to pluck the Special Forces operators out of the triple-canopy jungle.
Recon Team Florida never found the communications wire, and it was believed the enemy had an agent that compromised their mission.
Regardless, the mission was deemed a success. Hill, who passed away in 2020, was awarded the Silver Star for his role in the mission. By the end of the war, MACV-SOG teams made four more HALO combat jumps.