When news broke that "Someone finally made edible crayons for Marines," Leathernecks likely read the announcement with confusion: When have crayons ever been anything other than edible and delicious?
The colorful sticks of wax have been a dietary staple for members of America's 911 Force ever since the internet gods gave us all the gift that keeps on giving: a near-perfect meme riffing on the "stereotype" of how we Jarheads are the dumbest of all service members — so dumb that we eat crayons and paste with the same vacant zeal of that mouth-breathing, short-bus rider from kindergarten whose mom dropped him on his head. Mmmmmmmm, crayons.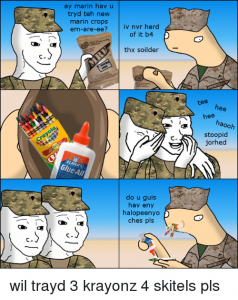 Having served on active duty for more than 10 years, Marine Corps veteran Tashina Coronel knows a little something about eating crayons. The 35-year-old mother of three in Waco, Texas, recently developed a line of novelty confections targeted toward the massive market of crayon-eating Devil Dogs.
"You throw a crayon at a Marine, and they're going to eat it," said the former administrator. "Yes, crayons have always been edible, but mine taste better."
Coronel said she's been in the dessert-making business for seven years. After leaving active duty in 2014, she attended the San Diego Culinary Institute. She now owns and operates Okashi by Shina. The name, which pays tribute to Coronel's Japanese heritage, translates to "Sweets by Shina."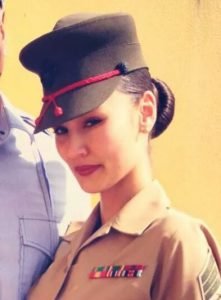 Coronel's packs of 10 Edible Crayons sell for $20 on her website. She has received hundreds of orders and an overwhelmingly positive response since launching the colorfully named specialty chocolates.
"My website just went live two weeks ago, and it's been surreal how many orders have come in," she said. "I got 130 orders in two days."
Each crayon is cleverly titled according to its corresponding color: Blood Of My Enemies, Glow Strap, Little Yellow Bird, Green Weenie, Blue Falcon, Hazing Incident, Zero-Dark Thirty, Tighty Whities, Silver Bullet, and Butter Bars.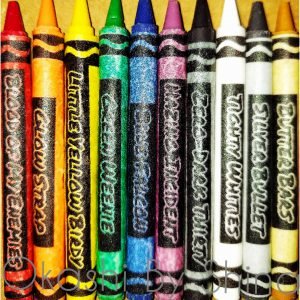 Okashi by Shina also offers a Crayon & Glue MRE Set that includes an edible glue bottle filled with marshmallow cream.
Coronel said she used several Facebook groups for Marines to focus group her idea before launching the product.
"I didn't really know if people were going to take it personally," she said. "I didn't want people to be like, 'Oh, she's jumping on the bandwagon to insult us; she sold out.'"
After designing her product and developing names for the crayons, Coronel shared her concept in the Marine Facebook groups.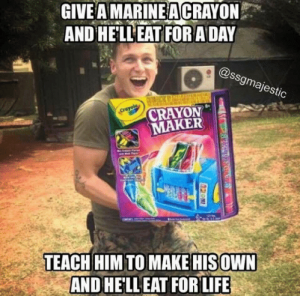 "I loved the idea right away," said Marisha Smith, a former Marine KC-130J crew chief who saw Coronel's Facebook posts. "It's an ongoing joke that we eat crayons, so we've just taken it and run with it. I plan to send some of the crayons to friends in November for the Marine Corps Birthday. I'm sure any Marine or service member in general would get a kick out of these. The fact they taste great too is just a plus."
Coronel said before her website went live, most of her orders were coming from friends and family. Since getting some initial press coverage, fulfilling orders has become a full-time job.
"The majority of orders are actually coming from male Marines," she said. "It means a lot that my brothers are looking out for and supporting me. With everything going on in the world right now, the coolest thing about this is I really enjoy being a morale booster and giving people a reason to laugh and have fun. I love being able to bring something to Marines that's their own and share a little bit of our culture with others."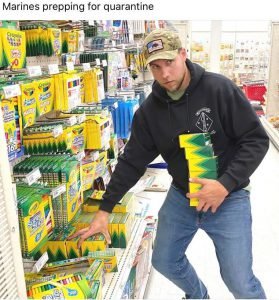 Coronel said her family and God are the main driving forces in her life. Her husband, who served as a Marine artilleryman, has stepped up to help fulfill orders and handle the increased demand.
"My family inspired me to start my own business, and my husband is really supportive," she said.
Coronel said she hopes to open a brick-and-mortar location to expand her operations and eventually partner with military exchanges to sell her products on bases. She said she knows there are a lot of challenges ahead, but she's ready to chase her dreams.
"As a Marine, I know if somebody calls us crazy, we're just going to show them how crazy we are," she said. "Nothing's really an insult unless you call us soldier. Then it's like, we're fighting."