Man caves, in one form or another, have been around as long as man himself. Cavemen probably had a separate space away from their cave family where they kept all their favorite rocks. Beyond the neon-tinted Bud Light signs and neglected wives, there's something incredibly personal and fulfilling about creating a space inspired by everything that makes you, well, you.
How you choose to fill your man cave is entirely up to you. From wild game mounts to old NASCAR hoods, the only limit is your imagination. And maybe your budget. And maybe the actual size of your "cave."
Thanks to COVID-19, we're now spending more time at home than ever — which means now is the perfect time to set up that man cave you've been dreaming of. If you're looking for inspiration, you came to the right place.
It seems like more and more people are trying to capture the aesthetic of the "good old days," and what better way to do that than a cabin-style room that wouldn't look out of place in an episode of "Doomsday Preppers"?
It's pretty simple to capture this feel with authentic and worn furniture, a solid wood desk space, and your guns proudly displayed on the walls. If you don't have a real fireplace, you can always grab one of those electric ones for the rustic ambiance.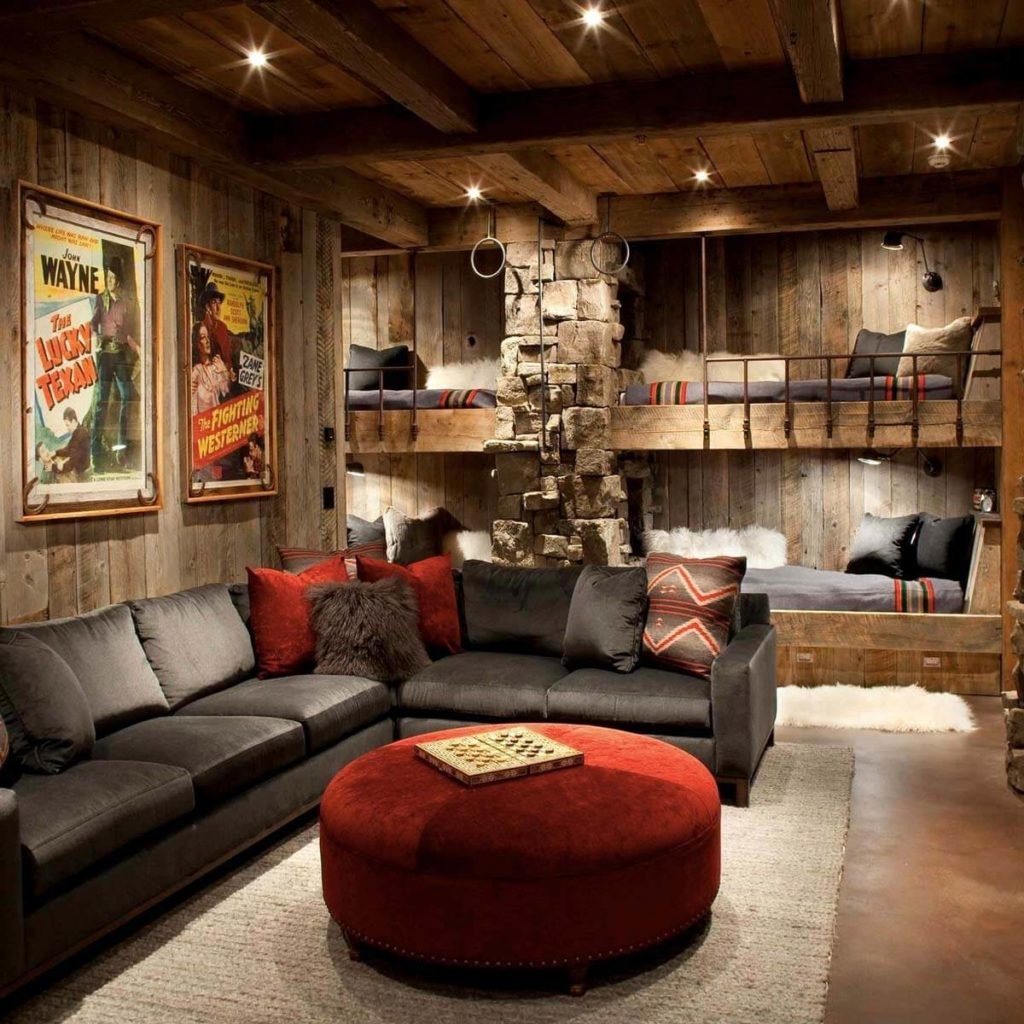 This room is a bit of an update on the wood cabin aesthetic we discussed above. While maintaining the wood-and-stone outdoor vibe, it also incorporates more modern comforts and conveniences.
While you may not have the means to create recessed, lofted seating, you can get this same feel by lining the walls with some old barn wood, hanging a couple of framed vintage posters, incorporating some natural stone, and making sure there's plenty of comfortable seating.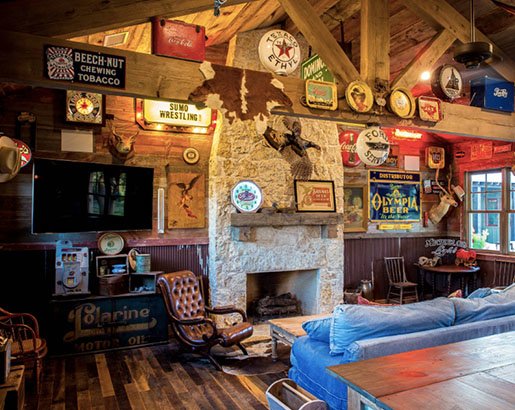 If you're lucky enough to have exposed beams and a stone fireplace, it's not too hard to ramp the space up to man cave status. Here, the log cabin aesthetic is complemented by vintage tobacco and alcohol signage, a big-screen TV, and plenty of comfortable seating. This room is a perfect combination of vintage nostalgia and rustic charm.
It also goes to show that you don't have to pick just one hobby or theme to build your man cave around. Sometimes you like to watch the Big Game with a couple of friends and a couple of beers, other times you need to focus on reloading your long-range ammunition or tying fly fishing flies.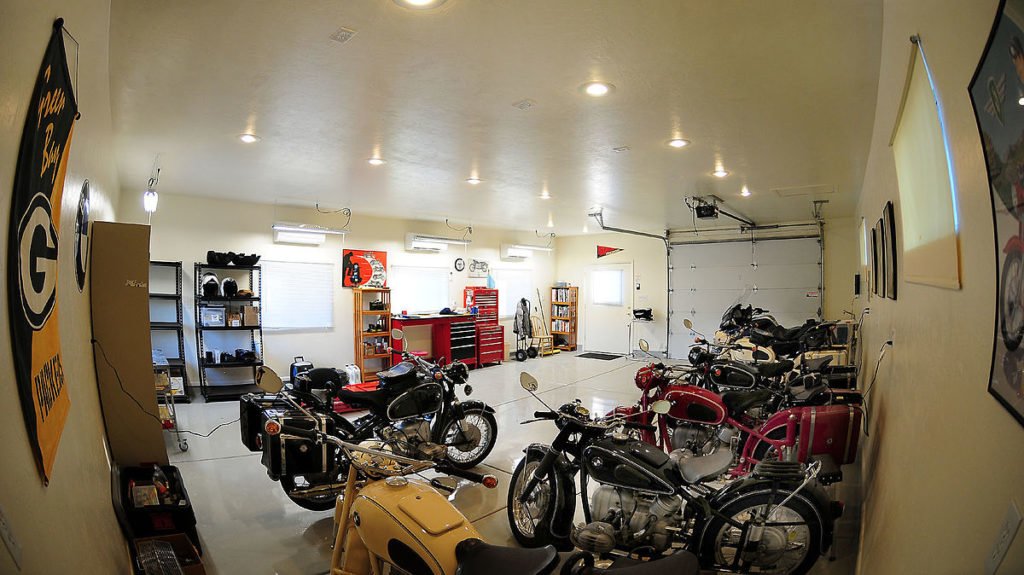 Stepping away from the great outdoors vibe, let's check out something for the more mechanically inclined among us. Having a garage full of motorcycles and a massive workbench for all your projects sounds like a dream come true, doesn't it?
Converting your garage into a dedicated work space doesn't have to be difficult. Just make sure there's plenty of ventilation, an open space for your current project, and an easy-to-clean floor.
In this particular man cave, we find an amalgamation of classic, outdoorsy style, mechanical grace, and a touch of vintage. The beauty of this space is found in its lighting — the abundance of windows brings in lots of natural light to highlight your mechanical art pieces.
If the neon signs are too much — either for your taste or your wallet — old metal signs or other vintage memorabilia on the walls would create a similar effect.
An important aspect of most man caves is access to alcohol. With this style, you have a dedicated bar space and multiple seating areas, which is perfect for larger groups. The natural wood and stone maintain an outdoor feel, while the rustic lighting and leather seating kick up the sophistication a notch. With a full wet bar, plenty of storage, and good lighting, you may never want to leave this space.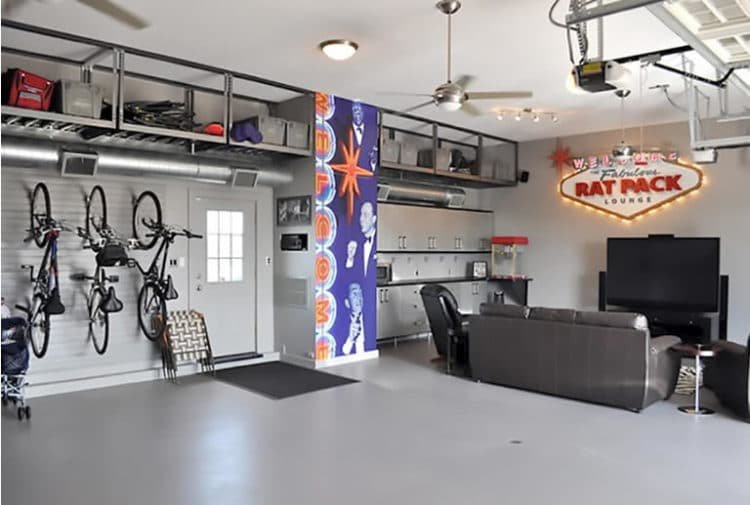 Multipurpose may be the best way to get a space of your own — even if it's smaller than you initially hoped for. Half of this space is open for storage, fitness activities, or potentially for a vehicle. The rest of the space is a Rat Pack-themed living room space with a popcorn popper, microwave, and comfortable leather seating.
If hitting the weights is your idea of quality time, get some inspiration from Bert Sorin's Man Cave. Sorin is a champion hammer thrower and president and co-owner of Sorinex Exercise Equipment — and obviously knows how to maximize his space.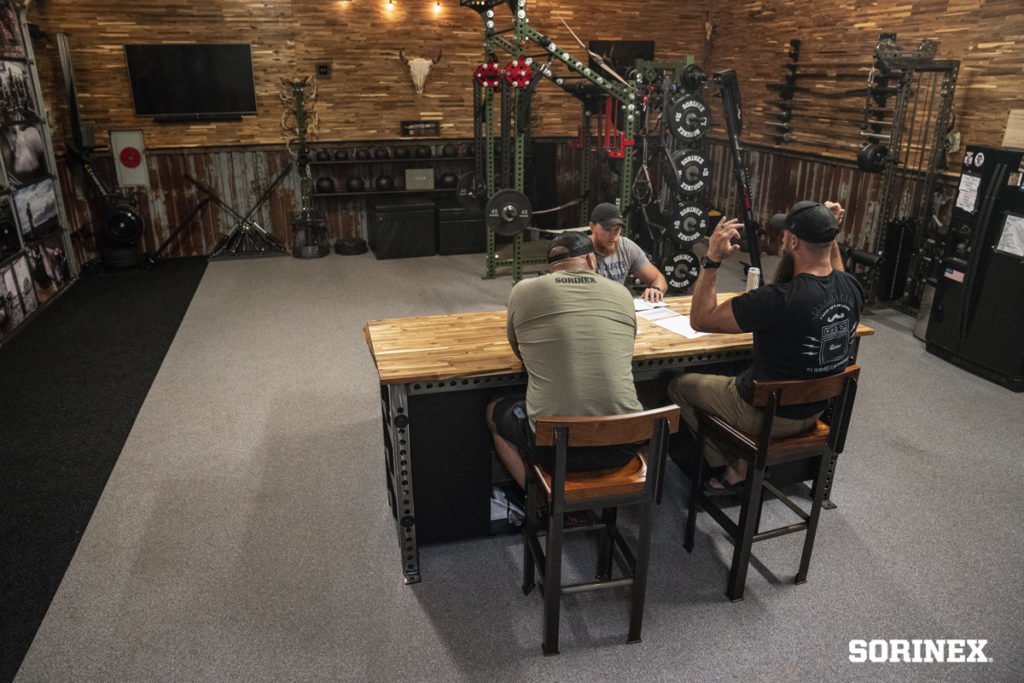 In addition to Sorin's epic weight-lifting setup, the rest of his cave has an outdoors-meets-industrial aesthetic. Long bows, animal mounts, outdoor photography, and rusted metal paneling are contrasted with sleek flooring and a modern industrial table that doubles as ammo storage. Add a big screen and a refrigerator, and you've got access to everything you need for a little "me time."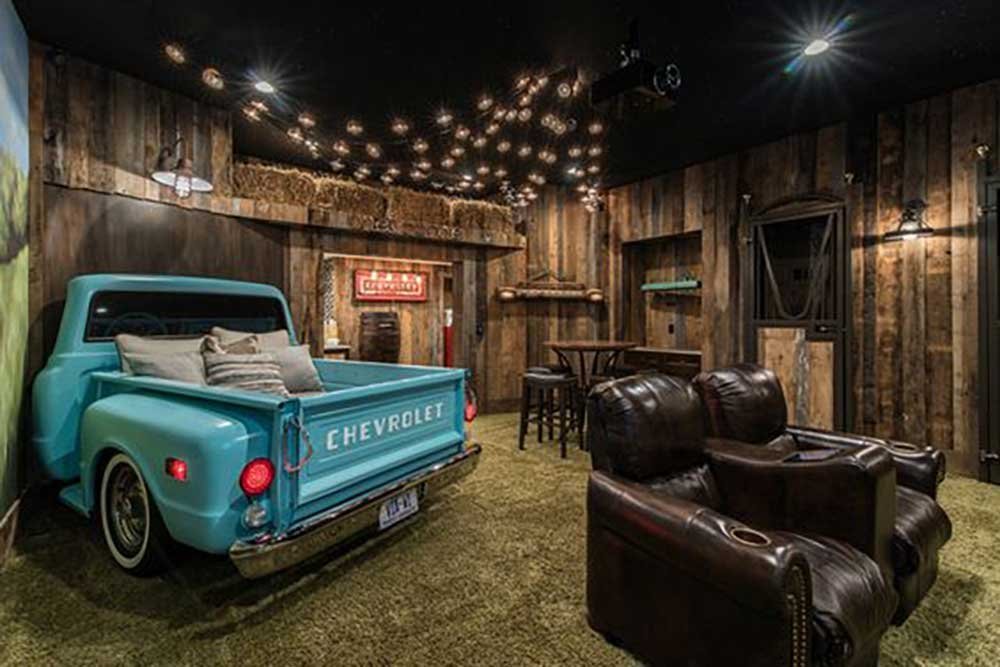 Decorative hay bales, aged leather, and the backend of a pickup truck — sold yet? This space makes it feel like you're hanging out in a barn, but without the eau de bovine. Hay bales are easy enough to come by, but it's probably not so easy to get half a truck in your space. Instead, you can look for an old tailgate or license plates to mount on the walls. Also, using various shades of stain on plywood or other wooden planks can help you achieve the barn wood look if the real thing is in short supply.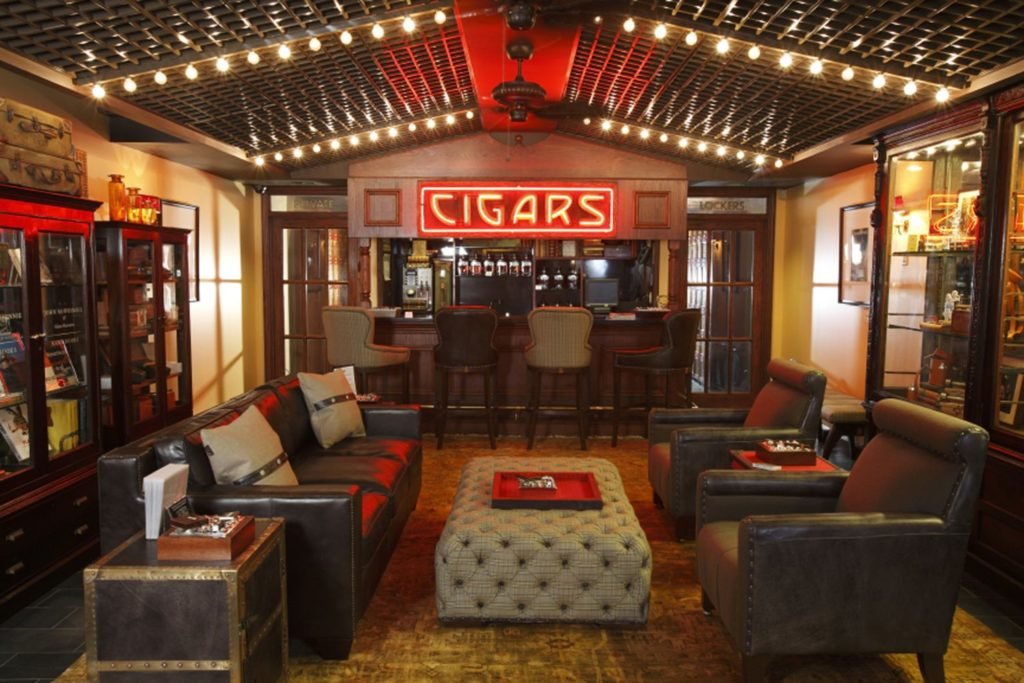 When it comes to masculine relaxation techniques, few things feel as good as kicking back with a cigar and high-quality bourbon. This vibe is pretty easy to replicate — a well-stocked bar, classy leather seating, and a box of cigars. Line the walls with war memorabilia, significant books, or other conversation starters (behind glass to protect them from the cigar smoke, of course), and you've got everything you need to unwind at the end of a long week.