A US Marine Corps veteran from Georgia will spend the next 27 months behind bars for assaulting two law enforcement officers during the Jan. 6, 2021, riot on Capitol Hill.
On Monday, May 2, in Washington, US District Judge Dabney L. Friedrich also sentenced Kevin Douglas Creek, 47, to a year of supervised released after he exits a federal penitentiary. He also will pay $2,000 in restitution to the Architect of the Capitol, a small portion of the estimated $2.7 million in damages caused by rioters attempting to stop the certification of Electoral College votes naming Joe Biden as the next president.
Creek, from Alpharetta, Georgia, pleaded guilty on Dec. 1, 2021, to assaulting, resisting, or impeding officers, and admitted he attacked them. According to his plea deal, he understood he likely faced a prison sentence between 24 and 30 months, not the maximum sentence of up to eight years in a federal penitentiary, followed by three years of supervised release, and a $250,000 fine.
As part of the agreement, federal prosecutors dropped six other charges, including engaging in physical violence in a restricted area; obstruction of law enforcement during civil disorder; and disorderly conduct.
Video camera surveillance, especially from cameras mounted on Metropolitan Police and US Capitol Police officers' body armor, made it easy for FBI agents to pinpoint Creek. Stills showed he began striking and kicking cops at 2:28 p.m. on Jan. 6, 2021, near the US Capitol's West Terrace.
At the time, Creek owned Nailed It Roofing and Restoration, a business registered with the Georgia Corporations Division in his name. He was married, with two children.
According to Creek's military records, he had served at Camp Lejeune in North Carolina between 1995 and 1999 as a vehicle recovery operator assigned to Motor Transport Maintenance Company, 2nd Maintenance Battalion, 2nd Force Service Support Group. He was honorably discharged as a corporal.
A tipster contacted the FBI, saying Creek had sought treatment for tear gas inhalation at Northside Hospital Forsyth in Cumming, Georgia, following the protest on Capitol Hill.
During a later interview with FBI agents, Creek told them he'd "lost his country" on Jan. 6, 2021.
In a pre-sentencing motion filed by Creek's criminal defense attorney, Troy Jones, Creek expressed "extreme remorse and regret" for committing what he conceded was "a very serious crime."
Jones told the judge that Creek had neither destroyed nor plundered government property and claimed Creek had also helped move a female officer who was "in distress" and surrounded by the mob near the Capitol steps.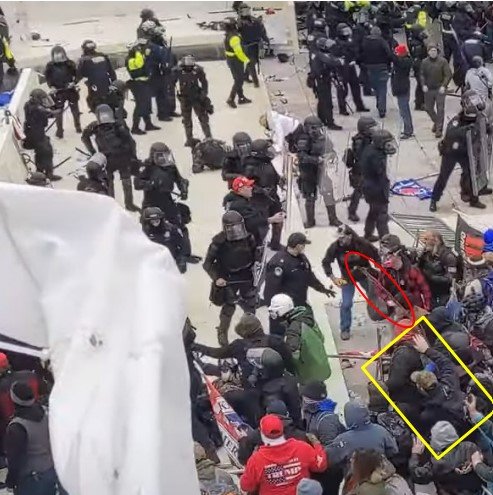 "Having been a Marine that had defended our country, Kevin is ashamed about what he has done," Jones wrote. "Kevin's father was a law enforcement officer and a soldier, and he knows to respect authority figures. Kevin accepts full responsibility for his actions and wished that this had never happened."
In his motion, Jones wrote that Creek wasn't drawn to right-wing organizations or causes, even on social media. Jones urged the judge to sentence Creek to probation and community service, not prison.
Federal prosecutor Kathryn E. Fifield disagreed. In her motion to the court, Fifield urged the judge to send Creek to prison for 27 months, partly because "he has yet to show meaningful remorse for his actions."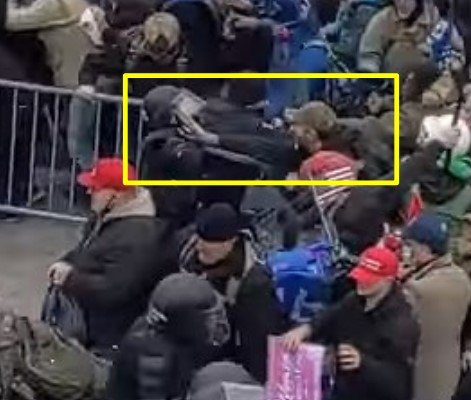 "Creek's lack of remorse following the attack on the Capitol demonstrates a genuine danger of future violence from this defendant," Fifield added.
Fifield detailed Creek's planning for the "Stop the Steal" rally, including carrying a first-aid kit, mace, a boot knife "in case of an attack by members of Antifa," and binoculars to the rally. He and the three others also brought radios, in case the "phones went down," she added, and he wore a camo-colored baseball cap bearing the US Marine Corps logo.
Creek pointed to that cap after he slugged a Metropolitan Police officer in his face shield, the melee captured on surveillance footage.
He then turned on a US Capitol Police officer, kicking him to the ground, where another rioter pounced on the cop. Creek then threw a heavy ratchet strap at the police line.
Normally, Fifield wrote, Creek would get credit for his honorable service in the Marine Corps, but the fact that, on Jan. 6, 2021, he "appeared to invoke that status immediately after assaulting one police officer and before moving on to assault another makes this aspect of his history and characteristics more aggravating than mitigating."
Read Next: