A Marine from Norco, California, was among the 13 US service members killed Thursday, Aug. 26, in a suicide bombing at Kabul's Hamid Karzai International Airport.
Lance Cpl. Kareem Nikoui graduated from Norco High School in 2019, according to a Facebook post from the City of Norco.
Nikoui's father didn't know his son was dead until the Marines came to his home Thursday evening, he told the Daily Beast. The elder Nikoui had stayed home from work, "glued to the TV."
"I haven't gone to bed all night," Nikoui's father said, according to the Daily Beast. "I'm still in shock. I haven't been able to grasp everything that's going on."
In a series of anguished Instagram posts, Nikoui's mother, whose account identifies her as Shana Chappell, poured out the horror of learning her son was dead. "This is the last picture my son sent me of himself. It was taken on Sunday. I know i am still in shock right now. I felt my soul leave my body as i was screaming that it can't be true!"



View this post on Instagram








Nikoui's father said his son had always wanted to be a Marine and was stationed close to home at Camp Pendleton, his father told the Daily Beast. He often came home on weekends, bringing along a dozen or so other Marines with him for home-cooked meals.
"My wife and I felt very honored that [since] these other boys weren't around their homes, that we were able to provide some sort of family life for them," the elder Nikoui told the Daily Beast. "He really loved that [Marine Corps] family. He was devoted — he was going to make a career out of this, and he wanted to go. No hesitation for him to be called to duty."
Nikoui was 20 years old, born the same year as the Sept. 11, 2001, terrorist attacks that prompted the invasion of Afghanistan.
"He was born the same year it started, and ended his life with the end of this war," his father told Reuters.
Nikoui's father blamed military leaders and President Joe Biden for his son's death, according to the Daily Beast, saying they sent his son to Kabul as a "paper pusher and then had the Taliban outside providing security."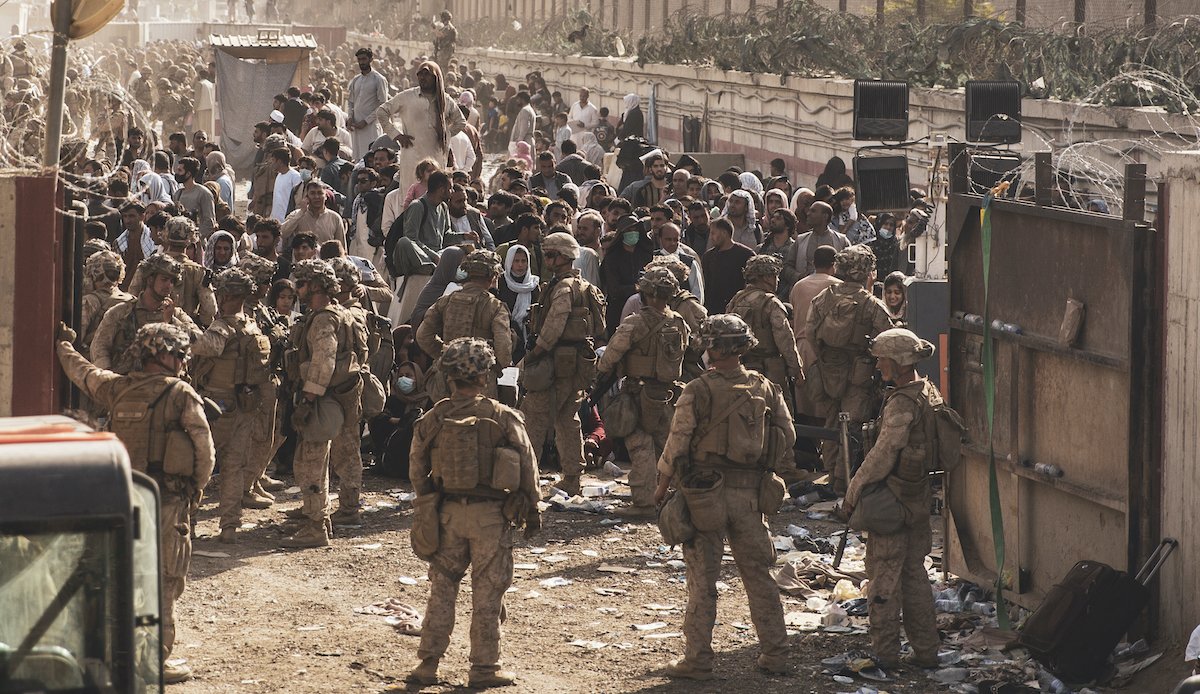 "Biden turned his back on him," the elder Nikoui was quoted as saying. "That's it."
The terrorist group ISIS-K claimed responsibility for the series of explosions that rocked the area surrounding the airport and took the lives of 13 US service members and dozens of Afghans.
The City of Norco plans to honor Nikoui by placing his name on the "Lest We Forget Wall" at the George A. Ingalls Veterans Memorial Plaza, which honors local residents who made the ultimate sacrifice while serving their nation.
"We will not forget you, Kareem. We're gonna make sure that they're gonna know your name for 100 years," Norco Mayor Kevin Bash said in an interview with KNBC.
The Marine Corps and other military officials have not officially released the names of any service members killed in action Thursday, telling Coffee or Die Magazine they would release information "24 hours after every family member is notified."
UPDATE, 11:35 a.m., Aug. 28: This story has been updated with the Instagram post published by Shana Chappell on her son's death.
The 13 American service members killed in the Aug. 26 bombing were:
Lance Cpl. David Lee Espinoza, USMC | Laredo, TX

Sgt. Nicole Gee, USMC | Roseville, CA

Staff Sgt. Taylor Hoover, USMC | Salt Lake City, UT

Staff Sgt. Ryan Knauss, US Army | Knoxville, TN

Cpl. Hunter Lopez, USMC | Indio, CA

Lance Cpl. Rylee McCollum, USMC | Bondurant, WY

Cpl. Dylan Merola, USMC | Rancho Cucamonga, CA

Lance Cpl. Kareem Nikoui, USMC | Norco, CA

Cpl. Daegan William-Tyeler Page, USMC | Omaha, NE

Sgt. Johanny Rosario, USMC | Lawrence, MA

Cpl. Humberto Sanchez, USMC | Logansport, IN

Lance Cpl. Jared Schmitz, USMC | Wentzville, MO

Navy Corpsman Maxton Soviak, US Navy | Berlin Heights, OH
Read Next: AFGHANISTAN UPDATE: Pentagon Confirms 13 US Service Members Killed in Suicide Bombing Outside Kabul Airport