In a photo recently uploaded to the forum r/USMC on the popular aggregator and discussion website Reddit, a Marine appears to have successfully lured a cougar into his bed.
Though it is unlikely this young Marine is the first of his kind to lure a "cougar" back to the barracks, he is likely the first to ever successfully lure a live jungle cat back to his room. No doubt other Marines have tried this feat in the past and failed. RIP.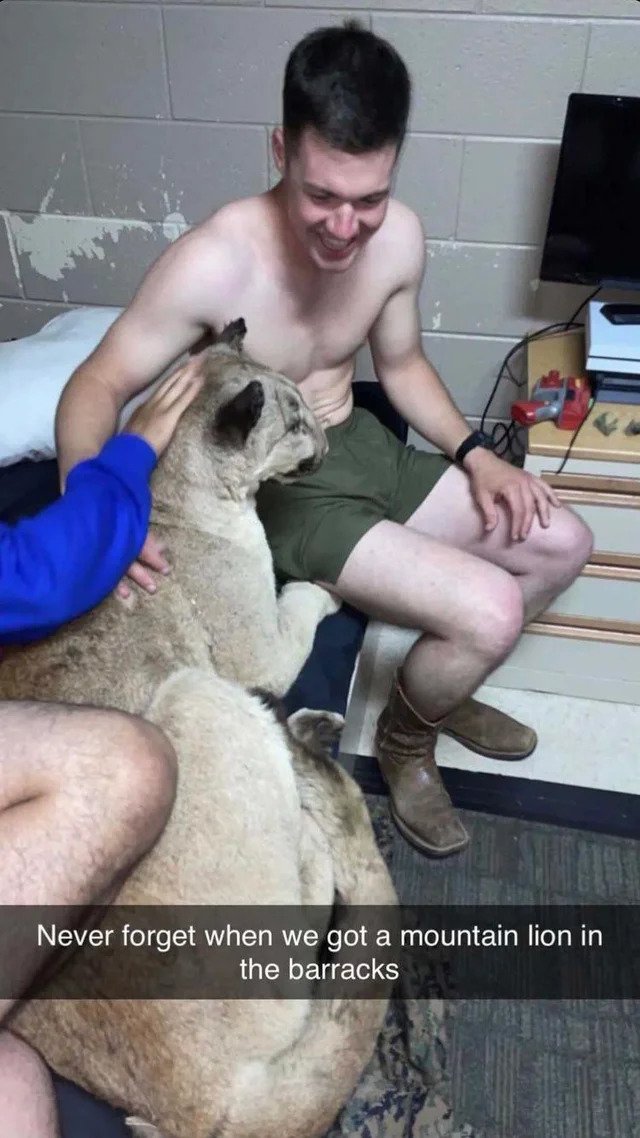 Little information was provided with the photo beyond the short caption, but multiple sources close to the Marine pictured reported that he had, on numerous occasions, expressed interest in cougars. His fellow Marines had assumed he meant, um, something else.
It is unclear how the Marine successfully lured the cougar past guards and into his barracks, but it is speculated that a series of laser pointers were used to both lure the cat and distract the Marine guards.
Critics of the photo claim that the cougar is fake, but several experts have noted that cats are terrified of cucumbers and that cucumbers are almost always present in Marine barracks; this likely frightened the wild animal into submission.
At the time of this article's publication, there were no reported incidents or police records of a Marine in cowboy boots with a cougar. There were also no petitions for marriage to a wild animal and no hospital intake forms related to a cougar attack on a Marine.
None of these facts shed light on whether the cougar is real, though they do raise serious concerns as to whether the man pictured is actually a Marine.
Although the photo is real, this article is satire and we cannot confirm that the cougar in the photo is real. Considering the difficulty, but not impossibility, of sneaking a cougar into a military barracks, the general appearance of it, and the fact that two people are literally sitting on this creature, common sense tells us that this is not actually a live animal … but it could be.
Read Next: YouTube Marine: 'Please Have the MP's Waiting … I'm Ready for Jail'