Read the original article on Military.com. Follow Military.com on Twitter.
Marine Corps marksmanship officials this week rolled out the final version of a new, more realistic rifle qualification course that will force Marines to put lethal hits on stationary and moving targets the same as they would in combat.
Beginning Oct. 1, all active-duty Marines and sailors assigned to Fleet Marine Force will qualify with the demanding new Annual Rifle Qualification, or ARQ — a course of fire designed to assess how shooters use fundamental marksmanship principles to apply lethal force on modern targets with lethal zones marked on the chest and head.
"We are trying to replicate an operational environment where Marines are wearing their kit and they have to hit a human-sized and shaped target in an area that's going to have lethal effects on it," Col. Mark Liston, commander of Weapons Training Battalion at Quantico, Virginia, told reporters Tuesday.
Marines have previously used the Annual Rifle Training, or ART, qualification course, which was created in 1907 and has Marines engage the standard, fixed-table, dog and B-modified targets at ranges of 200, 300 and 500 yards from the sitting, kneeling, standing and prone positions.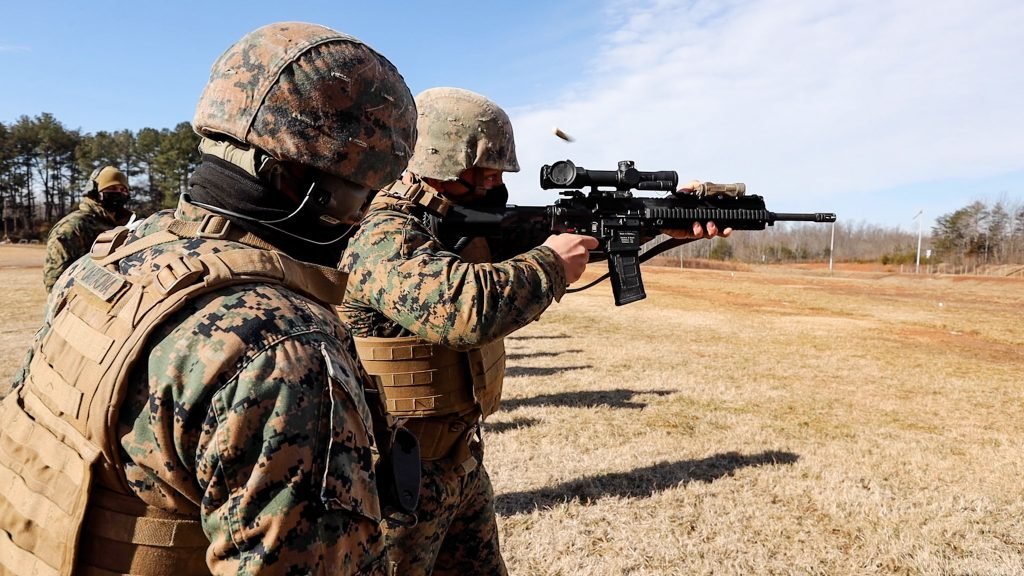 Enlisted Marine recruits and officer candidates in entry-level training will continue to go through the ART qualification course, Liston said.
From there, Marines in the operational force will qualify once a year on the ARQ course, which has Marines engage targets at distances ranging from 500 yards down to 15 yards, all while wearing helmet, body armor and load-bearing equipment.
"We have the Marines engage from far to near to foster a more offensive mindset as they are closing in on the enemy targets," said Gunner John Costa, director of the Marksmanship Program Management Section at the Weapons Training Battalion.
Unlike the ART course which takes 10-14 days to complete, Marines will complete the ARQ in three days. Day One is for zeroing and working out the point of aim on targets when using the Rifle Combat Optic or the new Squad Common Optic, Costa said. Day Two is for prequalification training and day three is for qualifying.
Read Next: What It Means To Be a Marine Corps Scout Sniper, According to 5 Scout Snipers
The course consists of 50 destroy targets with lethal zones marked in the chest and face area. There are also drill targets that put Marines through a sequenced scenario involving an enemy at close range.
"The biggest difference between destroys and drills is they both require lethal shots … but the drills also require that drill to be executed properly," Costa said.
There is a 25-yard failure-to-stop drill which requires Marines to put two shots to the head and one to the face.
This is "mimicking the enemy threat wearing body armor, so the two shots to the chest, he just absorbed it and took it like a champ, so you've got to put one in the brain box to drop him," Costa said.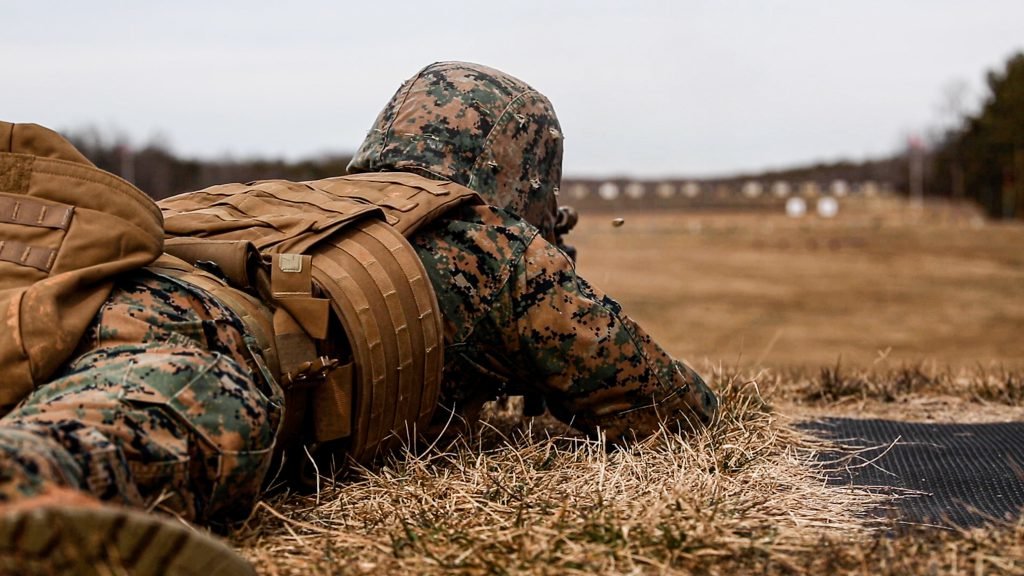 The 25-yard box drill is similar to the failure to stop drill but features two targets, requiring the Marine to "two in the chest in the first target, two to the chest in the second target, one to the brain box on the second target and come back over to the first one to put another one in the brain box," Costa said.
The third drill is a failure-to-stop drill that requires the Marine to engage it while moving from the 25-yard line to the 15-yard line, Costa said.
Marines will also have to engage moving targets from 200 yards that move from left to right at four miles per hour across a 16-foot span, then turn around and come back, moving from right to left.
The ARQ course of fire also encourages Marines to use available objects for support for more stable firing positions, Liston said. Marines have the option to use barricades placed at the 100 and the 200-yard lines, as well as their own equipment.
"We are allowing them to use things that are issued, as far as bipods, being able to rest their magazines on the deck or use items such as their assault pack for support," Liston said.
Planning the Change
The Marine Corps marksmanship community began discussing the need for a more realistic qualification course back in 2016, and drafted the ARQ course of fire at the annual Combat Marksmanship Symposium in October 2018.
The initial concept for the ARQ included a night-fire portion, but Marine officials decided not to include it because many Marine units do not have night vision gear or need it for their primary missions, Costa said.
"What we want to do is further study the feasibility to create a night-fire portion," he said.
Moving forward, the Marksmanship Training Company at Quantico will train the trainers at Camp Lejeune, North Carolina in early March and then train instructors at Camp Pendleton, California the ARQ in late March, Liston said, adding that a final course will be held at Quantico in June.
Marine units will start evaluating active-duty Marines on the ARQ no later than Oct. 1, and Marine Reserve units will transition to the new course of fire in fiscal year 2022, Liston said.
"Also, we are looking at our program of instruction of how we train our combat marksmanship coach and our combat marksmanship trainers," Liston said, describing the current method as very prescriptive and rigid on how Marines use firing positions.
"This is much more, I look at it as a permissive environment where we give them their left and right limits and they have the latitude to engage the targets as they would in combat."