A Marine Corps veteran turned security contractor, John Carughi, unintentionally took the internet by storm after a video surfaced of him disarming a Seattle rioter who had stolen a police officer's AR-15 from a destroyed squad car Saturday.
The preliminary details of what happened have become distorted on social media, with misconceptions about a second rifle that was slung on his back as well as why he was at the protests that developed following George Floyd's death in police custody. Coffee or Die obtained an exclusive interview with Carughi to set the record straight on what happened that day.
Carughi served four years in the U.S. Marine Corps infantry in 1st Battalion, 3rd Marines, Alpha Company. After separating from service, he entered into his current career of military contracting, which has included working as a firearms instructor and in security, along with starting a community group on Instagram called Firewatch Official, a page dedicated to helping military and first responder personnel share their stories and quell demons that some carry with them. He said that he is in-between jobs, and due to financial strains incurred by the pandemic, is also in the beginning stages of starting his own company.
"When you get to the bottom, it's like, where are you going to go but up?" he said.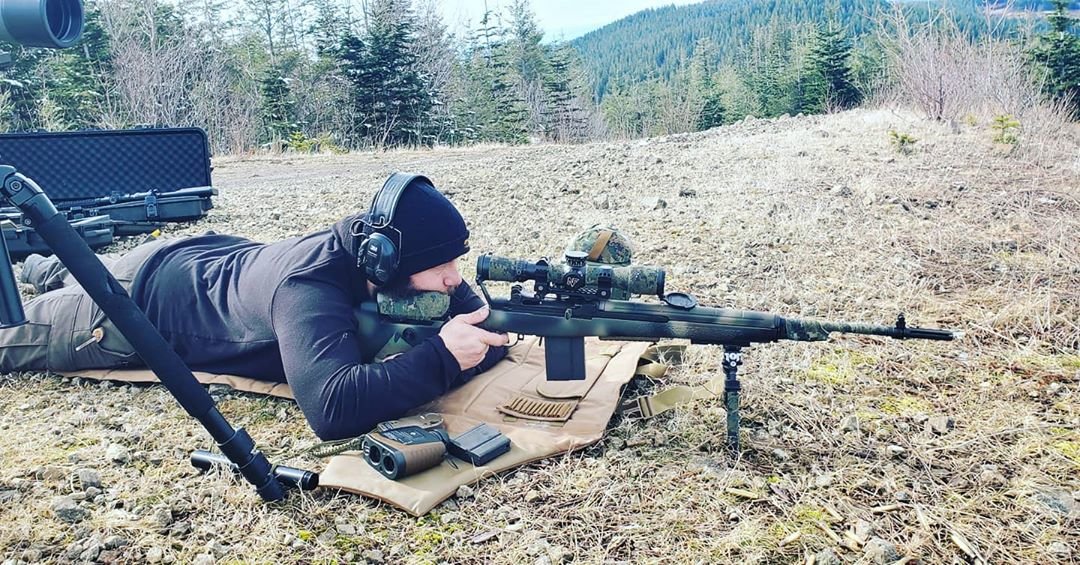 Being introduced to firearms at a young age helped Carughi view guns as tools and develop safe handling practices. He said his father taught him the intricacies of firearms. "It's a passion, it's a hobby. It's obsession. It's a love. It's the thing I choose to make my life around," he explained. He was naturally drawn to working with firearms and in a career that allows him to use them. And he was in the right place at the right time during the protests and riots on the streets of Seattle.
Carughi was hired to protect the crew of reporters from a local Fox News affiliate out of Seattle while they covered the protests and riots in the city, although he's been accused of being at the protest to assert himself. "I was working and doing my job, trying to pay bills," he said. "I'd rather be home playing with my dog — [laughs] my wife's dog, she would kill me if she heard that one!"
He thought through every step of this contract and then some, starting with the decision to carry his pistol in a bag because he wanted to blend in. Carughi also expressed concern over the hundreds of people potentially bumping into him and trying to lift a side holstered pistol or his spare magazines on his belt. He dressed in multiple layers in case he was "made" by the rioters and would need to switch up to obscure his identity.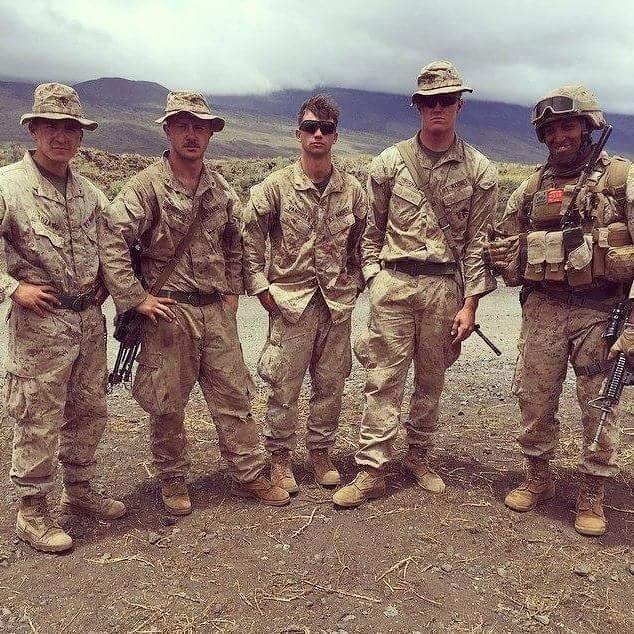 Carughi met with the news crew around 3 PM to move them down to the area where they would be reporting. He said there was complete chaos when they arrived, and it continued throughout the day. He was immediately busy. "I was trying to keep them safe from anything, […] whether it was thrown, tossed or someone just rushing by," he said. The contractor was especially cognizant of the Fox News photojournalist who had a camera on his shoulder, leaving him completely blind to the right side. "I became his eyes," he said.
The news crew wanted to set up in a particular area to record what was happening to two police vehicles that were on the street. Rioters were destroying the squad cars rapidly, and Carughi had already made a mental note to watch them because he suspected that there were firearms inside. He saw the vandals digging in the first squad car and immediately moved the news crew around the corner to safety. "Stay safe, and I'll be right back," he told them.
"The first, he was a shooter. People are getting me on this. He was a shooter. He produced the AR-15, held it like good ol' Rambo-style at the hip, and he fired four rounds into the police vehicle and the wall of the building," Carughi said. He explained that he wasn't sure why the rioter stopped at four rounds, but knew he needed to act quickly. The rioter didn't see Carughi coming, but ducked into a store next to the squad car. Carughi could still see a part of the vandal's frame around the corner of the doorway, and as soon as he turned the corner, he yelled aggressively for him to put down the weapon.
Carughi described the rioter's reaction to the confrontation as a "deer in headlights, stunned — you know, wide eyes and his hands kind of opened up. And he's still holding the rifle. He didn't drop it. So, [I] snatched his weapon." After confiscating the rifle, he backed out of the store slowly, then took off back to his news crew, simultaneously removing the bolt carrier group and the charging handle of the AR-15 and stuffing them in his pocket. He regrouped to continue his job.
Shortly after the first incident, Carughi eyed a second rioter doing the same thing to the other squad car. Rinse and repeat — he said the second one caught on video was almost identical to the first disarming of a rioter. Even though he had successfully prevented two separate potential threats, he had a much larger threat looming.
"I had just taken a firearm from a guy that was essentially aligned with hundreds, if not thousands, of people in this area," Carughi said. "And I drew a line around me that said, 'I'm not with any of you here.'" In addition to keeping the news crew safe, his concern now grew to the rioters turning on him after he thwarted their plans. Carughi quickly called the police dispatcher and reported the two confiscated AR-15's.
A large group of protesters started running around the corner, past Carughi and the news crew. He walked around the corner expecting to see the police approaching, but there were no officers in sight. Carughi knew he needed to get the rifles off him due to the growing threat.
"Until I got to about three and a half blocks away where I was getting closer to the police, I had people on me, I had a horde of people on me saying all kinds of things imaginable, phones out, all that," he said. "So there was definitely an uptick. It went from maybe 15 to 50 percent of attention because people were just looking at me like, you know, Why do you have this rifle? […] Everyone's after me."
Carughi headed out with one of the news crew members to get the rifles back to the police, and two males were following him. He turned to confront them and found out that they were following him to make sure he got there safely. He recalled that one of them wore an American flag bandana and had another in his pocket, partially showing.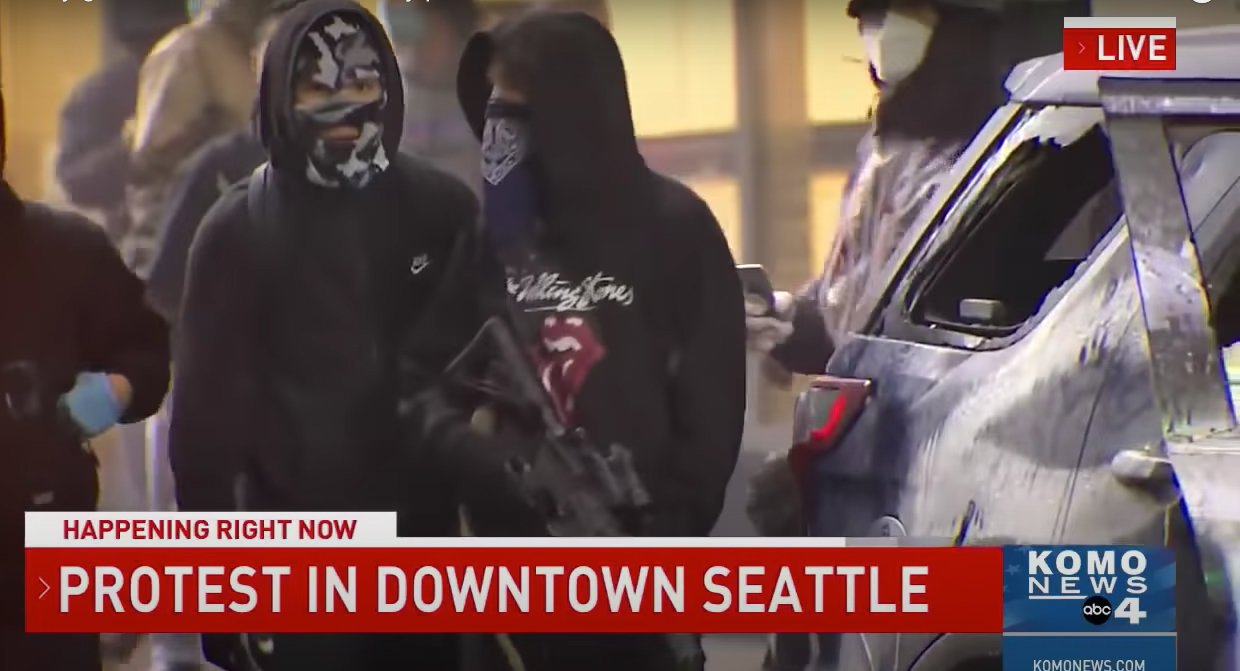 "[That tells me] you're here to protest, and you're trying to hold up American values, which I thought was excellent," Carughi said. The American flag protester assisted Carughi the whole way, while the second peeled off prior to the police line. The protester jogged ahead to gather intel on whether the police were actually there and confirmed their position.
As the trio approached the police line, Carughi said, "They're on high alert just as well as I was, you know? […] I made it very clear what my intentions were. I listened to what they were saying, and I approached showing them exactly what I was doing." He popped the AR-15's, slung them over his forearm, and holstered his pistol to make it clear that he was not threatening the police.
Carughi and his crew were met with some resistance from the police and were ordered to stop approaching. He explained to the officer talking to him that the rifles were theirs and they needed to take them. "I took the bolt carrier groups and charging handles out of my back pocket. I put them in his hand, and as his lieutenant walks up, his eyes were just kind of like, what the hell?" he said. Carughi explained the situation and that the rifles actually belonged to the police, handed them over, and ran back to find the crew member who had stayed by their original location.
Rioters and protesters recognized him from the previous events, so he switched out his outer layer of clothing and wore a mask for the rest of the night. But he kept his news crew safe while simultaneously preventing the potential deaths of police officers, protesters, and rioters.