When you've survived one mass shooting, you might think there's someone upstairs looking out for you. When you make it out of the second one unscathed, you're certain.
"I would not be standing here talking to you if it wasn't for God's protective hand and His graces over me and the people I was with," said Brendan Kelly, a lance corporal in the U.S. Marine Corps who survived mass shootings in Las Vegas and California.
Kelly was attending Las Vegas' Route 91 Harvest Festival on Oct. 1, 2017, when a gunman fired on the crowd from a window of the nearby Mandalay Bay Resort. Kelly's story from that event was widely reported after Renee Cesario posted on Facebook, detailing how he had risked his life to save hers even though they'd met only two hours prior.
A native of Newbury Park, California, Kelly, 22, said that many survivors of the Route 91 shooting live near him in the greater Ventura County area, and many — including himself — found solace at the Borderline Bar & Grill in Thousand Oaks, California.
"Borderline was definitely a place of refuge and a safe place where we came together as not only survivors but as country music lovers," said Kelly. "We enjoy line dancing, enjoy each other's company, enjoy having a good time on a Wednesday, Thursday, or Saturday night just to kind of forget about the stresses of the week. It's our spot, and it's literally unlike any other type of bar that I've been to because you just feel so at home with everyone there."
But on Nov. 8, 2018, tragedy followed them. Another gunman opened fire at Borderline, killing 12 people before turning the gun on himself.
"It's hard to describe how quickly you react when you hear gunshots — and not distant gunshots, these were close-range, close-quarters — and I am very familiar with what that sounds like," said Kelly. "I wish that I wasn't put in that situation again, but clearly God has a reason for me being there and being able to act the way that I did and help those around me. It's hard to describe; there's nothing like it."
Kelly credits his military training and the experience at the Route 91 Festival for his ability to think and act quickly, but he also points out that there were many others who assessed the situation and acted accordingly to save lives — and he by no means considers himself a hero.
"I just reacted the way that I know how to," he said. "I have good buddies who are no longer with us who are absolutely the heroes, who did everything in that moment to put a stop to that guy."
BEYOND TRAGEDY
Kelly joined the Marine Corps Reserve as an 0861 Fire Support Marine 3½ years ago, and even though his family has a history of corpsmen (his grandfather retired a colonel and his uncle a major), it was watching his quadruplet brother, Aiden, graduate from basic training that inspired him.
"That was really the deciding moment for me," said Kelly. "At 18 years old, he already had this huge accomplishment of being a United States Marine, and I said, 'Well, I think that I want that.' So, the following July, I left for basic training."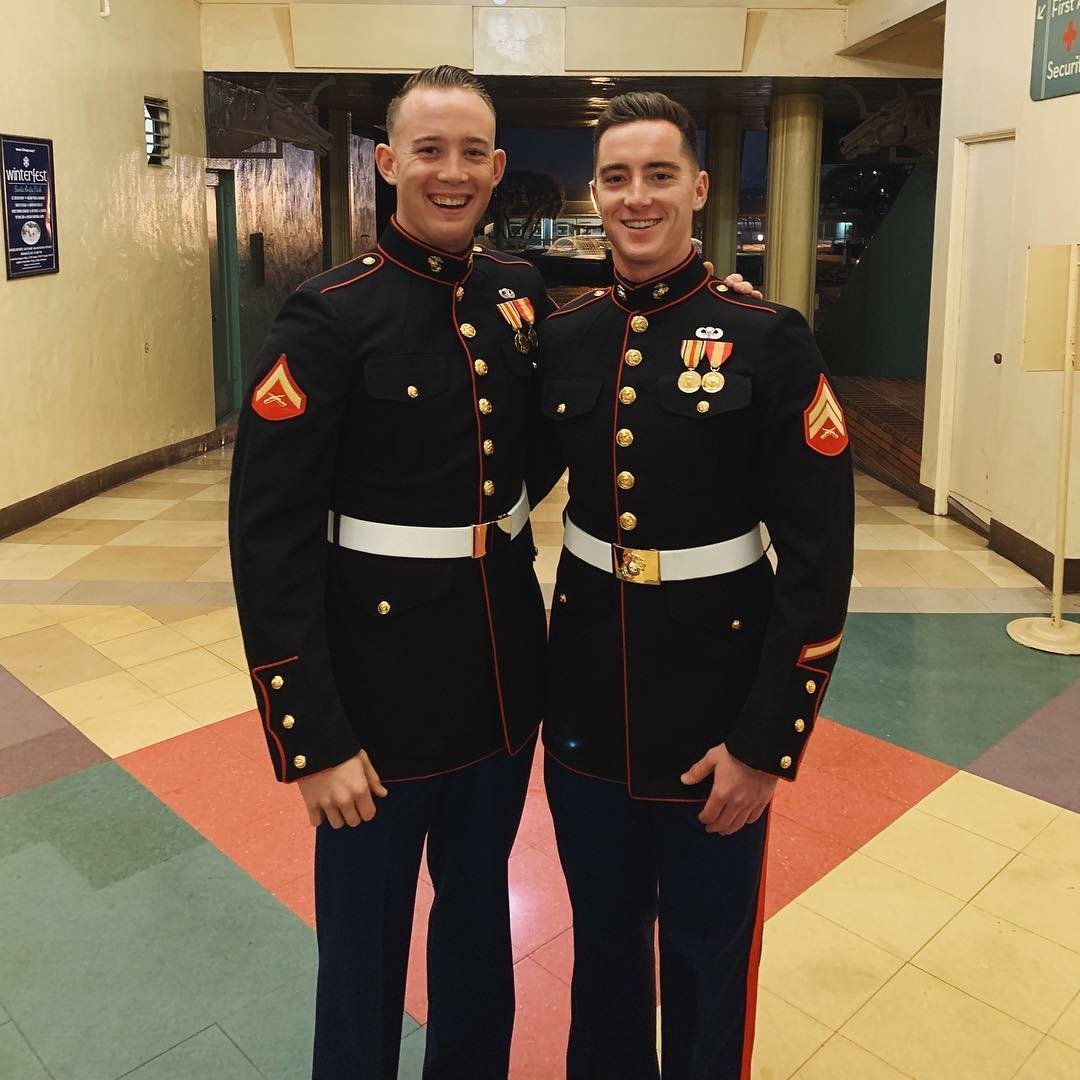 In addition to the military training he received, Kelly's full-time job with Costco Wholesale also helped him hone his situational awareness and people-watching skills. He said he is always in the mindset of "if something were to happen, what would I do?"
"Be aware of your surroundings wherever you go, whether driving down the road or at the gym or walking the dog, at the grocery store," Kelly said. "The second that you get lazy or complacent or let your guard down is usually when something happens."
Kelly is currently gearing up for his first deployment; he said he was honored to be selected and is excited to put his training to use — though some may argue he already has.