With close to a year left in the Marines, Justin Governale got a huge Grim Reaper tattooed on his forearm. It was 2007, and though he'd had two deployments to Iraq, he returned home to find the service had clamped down on tattoos, issuing the first in a series of widely disliked tattoo policies that remain the strictest in the military.
"I was just so belligerent," he told Coffee or Die Magazine. "I can go to war, but I can't get a tattoo below my elbow?" He said he never got in trouble for the ink, blending in with the many Marines who had grandfathered-in tattoos. "But if I had reenlisted, they would have caught me."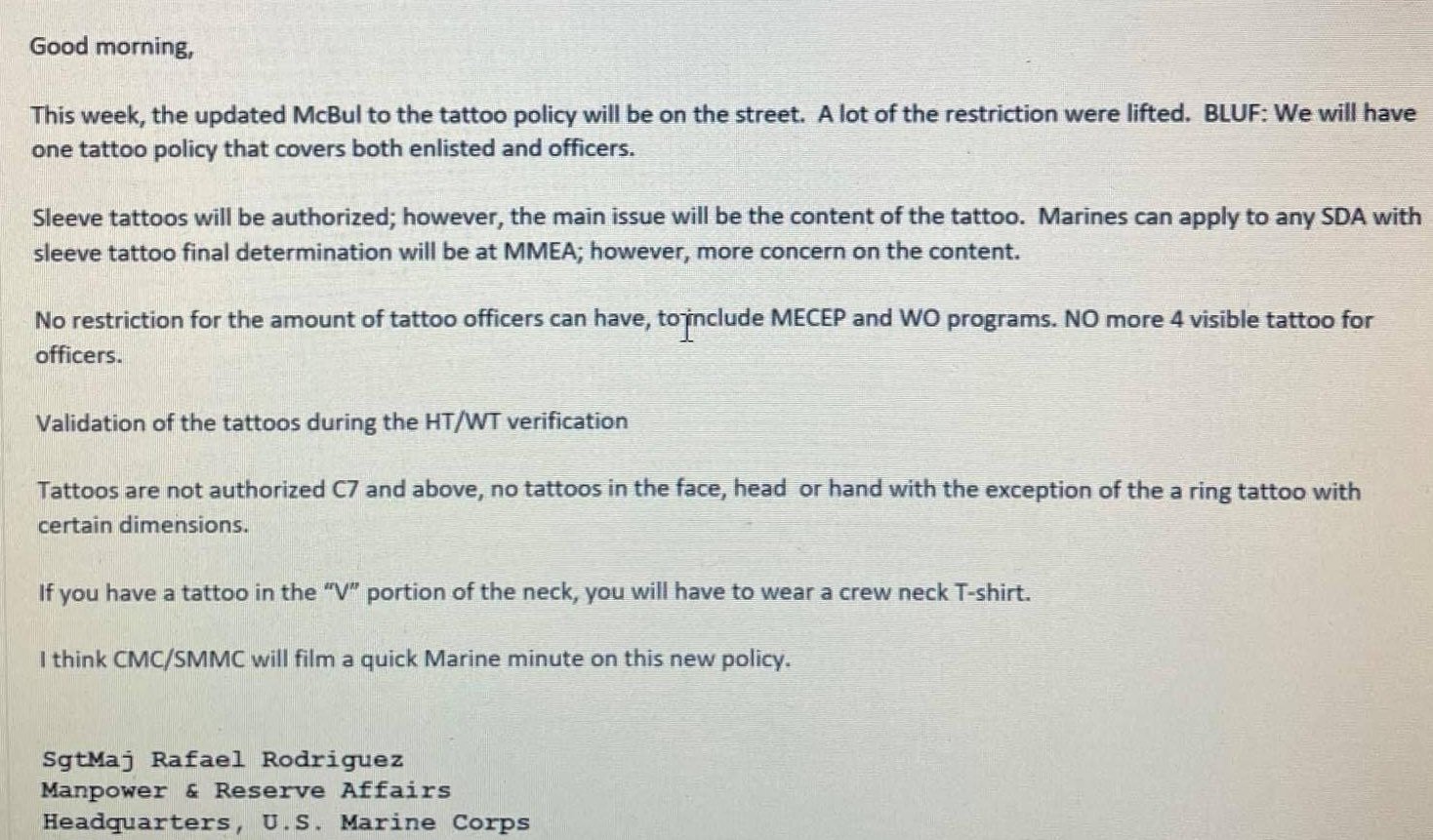 A supposed leaked email that surfaced this week on several Marine-focused social media sites has many Marines hoping that a change to the service's policy is on the way.
The email that surfaced appeared to be written by Sgt. Maj. Rafael Rodriguez, a senior enlisted Marine for manpower and reserve affairs. A Marine by that name and rank is assigned to that office, according to several Marine Corps documents available online. The new policy would make changes to:



Standardize rules for officers and enlisted.




Open the door for large "sleeve" tattoos by lifting restrictions on wrist, elbow, and knee tattoos.




Revise how tattoos affect eligibility for special-duty assignments.



Many Marines believe that tattoo restrictions affect both recruiting and retention.
Devon Diffie, another former Marine, told Coffee or Die that the strict tattoo policy change in 2015 affected his decision to leave the Corps. "I think ink on a person doesn't dictate a person's personality or professionalism," he said. "Only the character shown by a person's actions can depict that."
According to the current rules, which were revised in 2015, Marines can have no tattoos inside the mouth or on the head, neck, wrists, elbows, knees, or hands, with the exception of a single, small, ringlike tattoo on one finger.
Officers and enlisted Marines also face different rules. Officers may have only four visible tattoos when wearing a standard PT uniform. Enlisted Marines have a more complicated set of rules, including restrictions on size, number, and location on the body. Large tattoos might disqualify Marines from assignments to special duties or commissions as officers or warrant officers.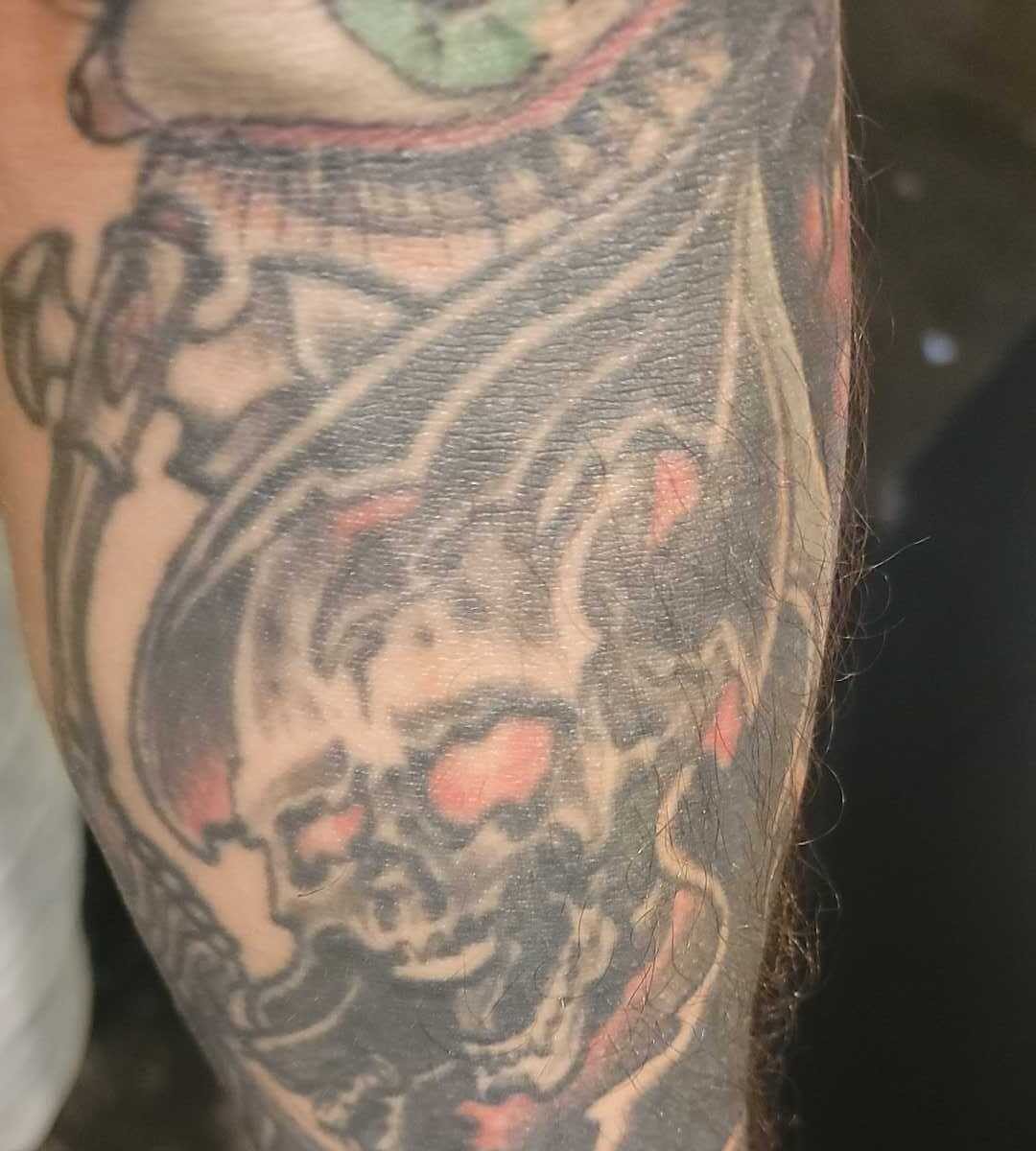 The email was deleted from Reddit but was reposted in redacted form in another post. The Marine Corps did not respond to Coffee or Die's request for comment on a potential tattoo policy change.
"The rules are silly," Alex Vasquez, a former Marine infantryman, told Coffee or Die. Vasquez said he had been written up during his time in the service for getting a tattoo at an unauthorized shop in Okinawa, Japan. "Far too often, the Marine Corps gets concerned with things that don't matter, things that don't make them better Marines, make them serve the country better. Now that the Marine Corps is taking a step back to no longer worry about these little things, they can get focused back to the mission at hand."
Read Next: