Carved on the front of the US Marine Corps War Memorial in Arlington, Virginia, are the words of Navy Adm. Chester Nimitz, who said that on Iwo Jima, "uncommon valor was a common virtue."
But Sunday, local firefighters needed to lend a hand after the memorial faced uncommon winds.
A storm The Washington Post called a "wall of wind" rolled over the capital Friday, with gusts up to 60 miles per hour. The memorial's flag became tangled and came loose from its rigging.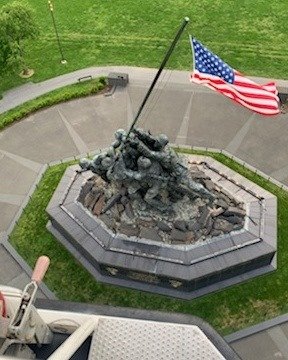 A ladder truck dubbed Tower 104 from the Arlington County Fire Department responded to set the flag right.
The top of the memorial's flagpole is 78 feet off the ground, beyond the reach of most ladder trucks. But Tower 104, which can extend over 100 feet, had no problem getting a team up to the flag, which had broken from its line and was not fully open.
The memorial was created by Felix W. de Weldon. According to the city of Rosslyn, it's considered one of the largest bronze statues in the world. The memorial is a re-creation of Joe Rosenthal's Pulitzer Prize-winning photograph of an iconic scene atop Mount Suribachi after Marines took the mountain five days into a grueling WWII battle on the island of Iwo Jima.
A key piece of terrain needed to set up for the invasion of Okinawa, Iwo Jima would also act as an emergency landing zone to save 24,000 US airmen in 2,200 B-29 bombers. Over 36 days during the battle for Iwo Jima, almost 7,000 Marines died and approximately 20,000 more were injured, according to the National WWII Museum. Twenty-seven Marines and sailors received the Medal of Honor for their actions there.
Read Next: