The U.S. Marine Corps is rooted in tradition, discipline, and legacy — both on and off the battlefield. For their 244th birthday, we put together a short but noble list of badass Devil Dogs that you may not have heard of before!
From Marine Raiders in the Pacific to the Office of Strategic Services (OSS) officers in North Africa to a World Series champion and a Hollywood heartthrob — this list reminds us that Marines are some of the best the United States has to offer.
William A. Eddy
William A. Eddy was an enigmatic figure. He was well-traveled, well-spoken, and had knowledge that many Americans during World War II lacked: an immersion in Islamic culture. Eddy was the son of missionaries and spent his childhood in Sidon, Syria (now Lebanon). He later immigrated to the United States and received an education from Princeton University.
At Princeton, Eddy studied 18th-century literature and Islamic customs, and he developed a fascination with "Gulliver's Travels" from author Jonathan Swift. During World War I, he exchanged academia for bravery when he was awarded the Navy Cross, the Distinguished Service Cross, two Silver Stars, two Purple Hearts, and the French Fourragère as an intelligence officer. The Battle of Belleau Wood left him severely wounded when an explosive shell peppered his hip, an injury that plagued him for life.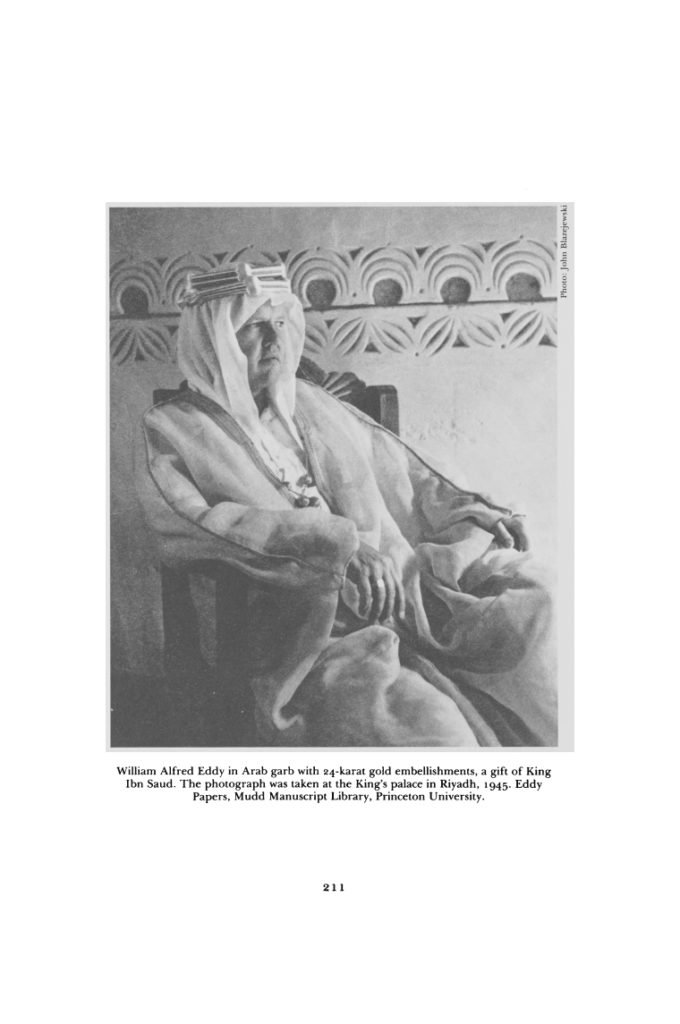 Following the war, Eddy took a job teaching English at American University in Cairo, Egypt, and taught basketball and tennis to students after hours. He wrote the first basketball rulebook in Arabic. In 1941, after professors resigned in protest because of his school curriculum, Eddy said, "College presidency is a job with which I am definitely out of love. I want to be a Marine." A year later he was commissioned as a major in the Marine Corps, and William Donovan — the founder of the OSS — gave him a cover job as a naval attachè. This cover provided him the access needed to lead all Allied Intelligence across North Africa.
In 1944, he resigned from the Marines to pursue a career that would enhance his love for research, writing, and building relationships. President Franklin Roosevelt asked him to become minister plenipotentiary to Saudi Arabia. Since he spent much of his childhood in the Middle East, Eddy was proficient in the Arabic, French, and German languages. All three are spoken in North Africa, which was an asset in his diplomatic career. He once personally acted as a translator between Roosevelt and King Ibn Saud of Saudi Arabia on the deck of a naval destroyer in the Suez Canal. At the time, he was the only person who could speak both English and Arabic.
A year later, he served in Yemen to develop a U.S. treaty despite not being allies. From 1946 to 1947, he served as special assistant to the secretary of state and was in charge of research and intelligence. When Eddy wasn't pioneering rapports with Middle Eastern leaders, he and his wife, Mary, enjoyed birdwatching, skiing in Switzerland, and aimlessly traveling the deserts of Lebanon and Beirut. In 1962, he died from a sudden illness at 66 years old. Eddy left behind a legacy as an Arabian Knight who secured the U.S.-Saudi alliance, as well as a war hero, intelligence officer, teacher, and diplomat.
Evans Carlson "Carlson's Raiders"
Like many Marines, Evans Carlson gained his education and life experience through intense combat. Military historian John Wukovitz referred to Carlson as "an intellectual who loved combat; a high school dropout who quoted Emerson; a thin, almost fragile-looking man who relished fifty-mile hikes; an officer in a military organization that touted equality among officers and enlisted; a kindly individual with the capacity to kill; the product of small New England towns who sought adventure in vast reaches of the world; a man who believed in decency and love and fairness, but whose actions generated bitterness hatred and empathy."
After running away from his Vermont home at age 14 and lying about his age at 16, Carlson enlisted in the Army in 1910 and matured as a man in a time of war. His duration in the Army was short, though worth noting because his service in the Pacific resulted in many promotions. He advanced to sergeant major and later was commissioned as a 2nd lieutenant, deploying to Europe just in time for the armistice agreement to be approved. In 1919, he left the Army and mingled around the civilian world before enlisting in the Marine Corps with a reduced rank.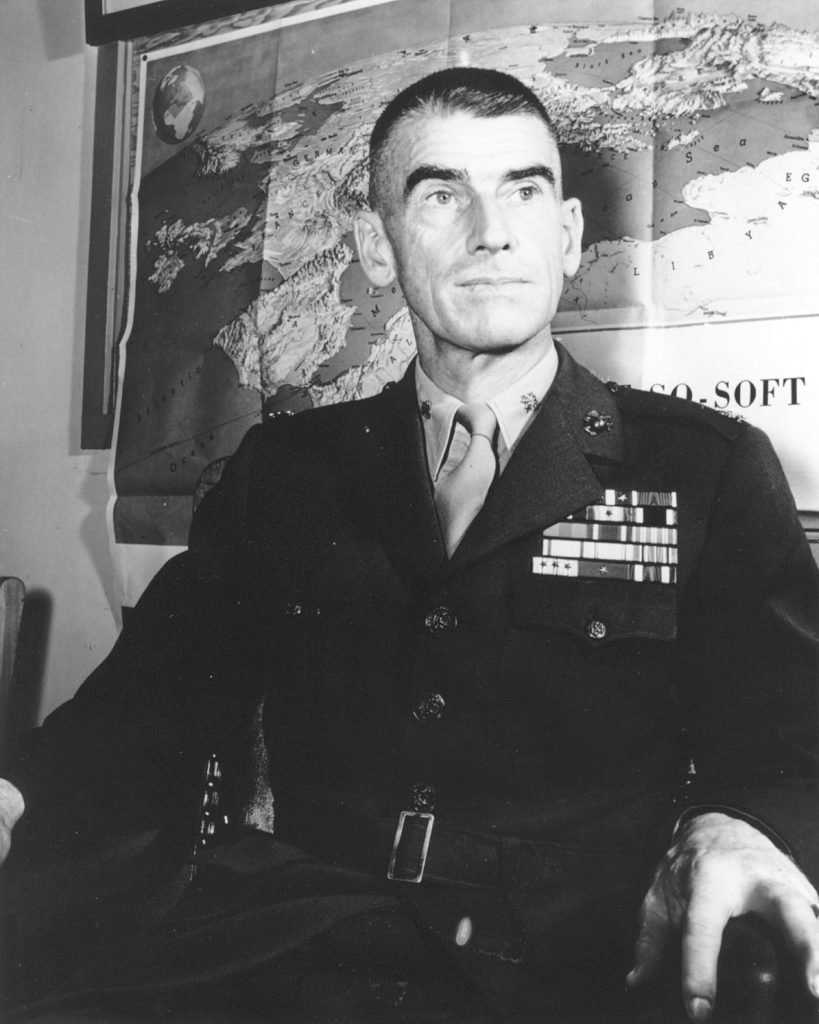 As an officer, Carlson proved himself in Nicaragua with a team of just 12 Marines. They repelled 100 bandits, and he was awarded his first Navy Cross. Later, between 1937 and 1939, he was a witness to the developments of the Chinese army. While living among their forces, Carlson traveled thousands of miles on horseback through difficult terrain. He jotted down his findings and studied the tactics of Japanese foot soldiers. As an author of two books — "The Chinese Army" and "Twin Stars of China" — Carlson was an advocate for the Chinese, who he thought could be an ally in the Pacific against the aggressive Japanese military.
In 1941, he led the 2nd Marine Raider Battalion and called his unit the "Kung-ho (Work Together)" or "Gung-ho Battalion." Others called them Carlson's Raiders. He valued each man by their merit, not by their title. Carlson utilized his past experiences from his three trips to China to build rapport with allied-native forces and hit the Japanese in shock-and-awe violence.
While aboard two submarines — the USS Nautilus SS-168 and the USS Argonaut SM-1 — traveling from Pearl Harbor, the Marine Raiders were tasked with a secret mission to attack the island of Butaritari (sometimes referred to as Makin Island). Although they trained for this mission using light rubber boats, Murphy's Law always has a say in real-world operations. At 3:30 AM, the Raiders launched 20 boats from the submarine — 11 men each — into the heavy surf and rain. Some of the equipment, such as mortars and mission essential supplies, were lost at sea because they weren't tied down.
Adding to the confusion, one soldier accidentally discharged his weapon, which erased the element of surprise. Carlson phoned the submarine on the radio with a SITREP and said, "Everything lousy." Alongside legendary Chinese Marine Sergeant Victor Maghakian — who served in the famed Shanghai Municipal Police — the Raiders successfully deceived the Japanese into believing this amphibious landing was the main assault, thus drawing attention from Guadalcanal. For his decisive leadership, Carlson received a Gold Star for his second Navy Cross.
In November, the Carlson's Raiders reached Guadalcanal and hiked 18 miles through dense jungle foliage. This hike was later called Carlson's patrol or the long patrol and has since reached legendary battlefield status. Led by native scouts — and in just 29 days — 488 Japanese soldiers were killed, 16 Americans killed in action (KIA), and 18 Americans wounded. The success of the operation was largely due to the guerilla warfare tactics the unit employed, the understanding of the Japanese fight-to-the-death mantra, and the effectiveness of small units and their capabilities.
Merritt A. Edson
Merritt A. Edson's path was similar to Evans Carlson's. Both were commanders of a Marine Raider Battalion — Edson leading the 1st and Carlson leading the 2nd. Prior to World War II, Edson pursued an aviation career but made the transition as a grunt from 1928 to 1929. During that span, he fought 12 separate ground engagements against Nicaraguan bandits, which earned him his first Navy Cross. This is where his nickname, "Red Mike," was born because he wore a long, red beard during the fighting. This is also where his platoon of specially trained Marines honed a capability they would use during World War II.
Edson is most notably remembered for his heroism on what was later described as "Edson's Ridge" (Lunga Ridge) near the captured Japanese airfield later renamed Henderson Field on Guadalcanal on Sept. 13-14, 1942. Edson's Raider Battalion, enforced with two companies from the 1st Parachute Regiment, were hunkered down to rest on a warm August evening. A numerically superior force of 2,500 heavily armed and determined Japanese launched an all-out ambush that initially overwhelmed the estimated 800 Marines. Edson called for his men to push back to avoid being overrun.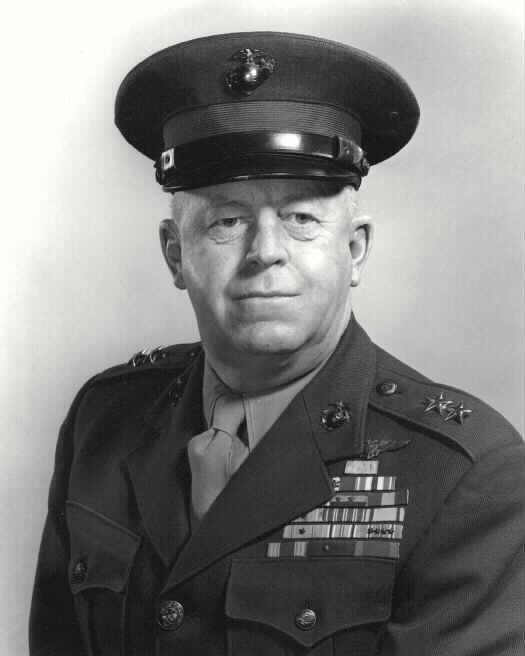 Edson told his Marines to prepare for their final stand as they began mowing down the waves of charging Japanese soldiers. They effectively repelled the attack, and Edson's fierce leadership was awarded with the Medal of Honor. After World War II, Edson was promoted to major general before retiring from the military in 1947. However, his service didn't end there — he became the first commissioner of the Vermont State Police, the state in which he grew up. The state police uniform was modeled after the Marines, and the troopers were structured in a paramilitary-type ranking system. When Bennington College student Paula Weldon disappeared in 1946, Edson helped establish the Department of Public Safety. The case has remained unsolved, but it was a driving force in creating an organization to effectively solve crimes in a unified manner rather than allocating help from outside state and federal resources.
Edson's practices and innovation in the police force encouraged other departments and agencies to follow suit. In 1948, the first state police radio system allowed stations and patrol cars to communicate with each other. And in 1949, an Identification and Records Division was established, which ultimately changed the future of policing. After four years of dedicated service, Edson retired in 1951. Four years later, he committed suicide by carbonmonoxide poisoning in the garage of his home in Washington, D.C. At the time, he was working for the National Rifle Association.
Sterling Hayden
To his fellow Marines, Hollywood heartthrob Sterling Hayden was known by his alias, John Hamilton. At age 22, Hayden had already secured a master's certificate in sailing, and his passion was at sea. He used his acting career to fund his adventurous sea voyages. "I just laughed it off at the time," he said in an interview in 1972. "But a year or so later, when I had finally managed to buy my own ship only to see her irreparably damaged on her first voyage, a few months in Hollywood seemed like a quick and easy way to get enough dough and buy another one."
Hayden thought his acting chops were lacking and was waiting for someone to tap him on the shoulder and ask what he was doing there. Others, especially women, saw a 6-foot-4, blonde, and handsome character actor with a soft smile who was easy on the eyes. He married British actress Madeleine Carroll, who was known for her roles in Alfred Hitchcock's "39 Steps" and "Secret Agent." The pair were a fair match as both had resentments about Hollywood, but for Hayden, who grew up idolizing World War I ace fighter pilot Eddie Rickenbacker, more adventures were waiting. He was commissioned as a 2nd lieutenant in the Marines during World War II as a secret intelligence and paramilitary organization was being created for which they were in search of Marines with advanced skills.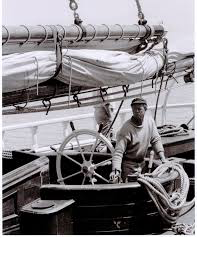 In order to operate undercover at the OSS, he adopted an alias, which was common practice for OSS officers. As John Hamiliton, Hayden was sent to commando school in Britain to learn parachute skills and tradecraft from the Special Operations Executive (SOE). He then assumed his pastime as a sailor, except this time he was running guns through German-patrolled waters to Josip Broz Tito's partisan forces in Yugoslavia. From Christmas Eve 1943 to Jan. 2, 1944, Captain Hamilton operated clandestine missions through hazardous waters and scouted enemy positions for reconnaissance. He was awarded the Silver Star for his actions.
When Hamilton first met OSS officers, he said it was "the first time since joining the OSS that I was associated with men who were actually doing a job." Hamilton later sailed another mission carrying food and nourishment to the Yugoslav people, who were cut off from outside assistance. Captaining a 50-foot Italian fishing vessel, their crew crept through the Adriatic Sea off the Albanian coast completely unarmed. Between February and April, they made 10 trips. Hayden later commented: "By plunging through the Allied minefield late of an afternoon a schooner always had a fighting chance of reaching Vis at dawn—barely in time to be backed into a precipitous cove where she could be hastily camouflaged with pine boughs festooned in her rigging, unloaded the following night, the camouflage repeated, and then driven toward Italy as soon as the weather served."
In the summer, he was tasked with transporting 40 tons of explosives near the shores of Croatia, but the mission was passed to the SOE at the last minute. When the war ended, Hayden returned to his old habits, sailing the world with legendary seafarer Spike Africa and his children, writing of his adventures in his popular autobiography "Wanderer" and his novel "Voyage," and acting in popular movies. He appeared in "The Godfather" as the chief of police and in Stanley Kubrick's "The Killing" and "Dr. Strangelove." He died in 1986 at age 70.
Hank Bauer
Hank Bauer was a New York Yankees all-star who played on the same team as baseball icons Joe DiMaggio, Yogi Berra, and Mickey Mantle. One sportswriter described him as having "a face like a clenched fist." Bauer holds the record for the longest hitting streak in World Series history, with at least one hit in 17 consecutive games. He is also a World Series Champion, both as a player and as a manager for the Baltimore Orioles.
Despite all his success as an athlete, Bauer said his brother, Herman, who was killed in action in France in 1944 during World War II, was the family's best player. Like his brother, Bauer served during the war, but with the elite unit known as the Marine Raiders. While serving with the 4th Raider Battalion in the Pacific, Bauer's immune system had a problem with malaria — or that's what outsiders would tell you, since he contracted and fought the disease 23 times. This was largely due to his stubbornness as he refused to take atabrine pills to prevent it.
Despite all his success as an athlete, Bauer said his brother, Herman, who was killed in action in France in 1944 during World War II, was the family's best player.
Bauer saw action on the islands of New Georgia, located north of Guadalcanal, and he recalled it as "indescribable — the worst [place he had] ever seen." As the Marines island-hopped across the Pacific, Bauer was wounded by shrapnel on two separate occasions. During the Battle of Okinawa, Bauer was the platoon leader for 64 Marines. Only six of them survived the hellacious fighting. In 32 months of combat, he was awarded two Bronze Stars and two Purple Hearts.
Steve Fredericks, one of the Marines in Bauer's platoon, said, "On Guadalcanal when things quieted down, he had a baseball glove and I'd go out and have a catch with him. You could tell he played, but it didn't enter my mind [that he could be professional]. When I got back to the states I heard him on the radio and watched him on TV. But it didn't surprise me; he was built. He was all muscle. He was a strong man."