The Marines were somewhere around their motor pool on Camp Lejeune when the drugs began to take hold.
That's according to Pfc. Stockton Fitzgerald, one of two Marines from 2nd Marine Division's Combat Logistics Battalion 2 who have come forward as whistleblowers in the wake of a scandal that they say the division's leaders are trying to bury with an elaborate cover-up.
"If you've never seen a Marine staff sergeant strip off all of his gear and clothing on the back of a moving 7-ton packed full of Marines and angrily fire off an entire 30-round magazine of blank rounds at a swarm of nonexistent bats, I can tell you, it's a pretty jarring sight," Fitzgerald told Coffee or Die Magazine in an exclusive interview from the Marine Corps Installations East Regional Brig. "Especially when you're just starting to feel the effects of the LSD yourself. Like, the bats were really fucking there, man. I swear to God, Staff Sgt. [Evan] Manley shot at least 10 of them."
In a separate interview from the brig, Pvt. T.M. Leary said he could not confirm Fitzgerald's claims about the bats, but he's confident that every Marine in the unit ingested LSD about an hour before loading up on trucks July 6.
"Somebody definitely spiked the battalion's water buffalo with acid … again," he said.
Leary said he watched a shocking spectacle unfold that day as the CLB-2 Marines headed out on what was supposed to be a weeklong training exercise.
"I didn't put it all together until way after I came down," Leary told Coffee or Die. "At the time, I was too caught up in the mind-blowing scene, and you know, the fact that I was tripping my fucking balls off."
Leary said after Manley unloaded a full magazine of blanks into the air above them, every other Marine on his truck recoiled from the violent sound and fury, and all instinctively threw their rifles off the back of the vehicle before aggressively stripping naked.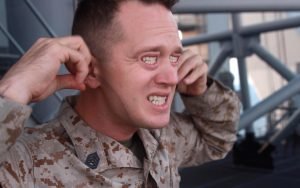 "Dudes were hugging each other like hungry babies hug their mama's boobs, ya know? Some dudes started kissing and licking each other. We have this one female Marine — Jackson. She's the only Marine on the truck who didn't make out with somebody else. I mean, she stripped down too, but she only seemed to be interested in licking herself. I don't blame her either. Jackson's a smoke show," Leary — who wears a creepy John Waters 'stache — said while making an exaggerated gesture of winking and nodding.
Asked if he thought MDMA, or ecstasy, might have been a factor, Leary replied, "Nah, I've, uh, heard that LSD has a way of unlocking doors in people's minds, and GAY is a door the vast majority of Marines are just looking for an excuse to walk through, ya know?"
(We actually do know.)
"It's not gay if you're underway, amiright?" Leary added slyly.
Coffee or Die confirmed with Navy officials that a 7-ton truck in motion does not count as being "underway."
Fitzgerald said the entire battalion spent a whole day in the field just riding out their trip.
"The uniform of the day was a poncho liner secured around the shoulders like a cape, untied boots with no socks, and a light coat of CLP," he said. "When I say it now, it sounds super weird and arbitrary, but at the time, it felt like the most perfect uniform ever conceived. We were riding this beautiful hive mind wave for a while there, man. It was actually the most beautiful spiritual experience I've ever had. Felt like God was singing a lullaby to my soul. Most of the Marines I've talked to feel the same way, and all of us are like, 'Fuck this war bullshit, dude.' We've seen the truth now. Our eyes are open. There's no going back to all that rah-rah warrior shit for these cats, you dig?"
Fitzgerald said the battalion's sergeant major had those Marines who didn't throw their rifles away establish a security perimeter around their area of occupation, and he ordered them to shoot on sight anyone who "doesn't have the aura."
"We cracked every chemlight in the battalion that night, and the docs passed around vapor rub for everybody," Leary said. "I felt like I was that dude from Avatar, and I kept trying to shove my ponytail in everything."
Leary is bald.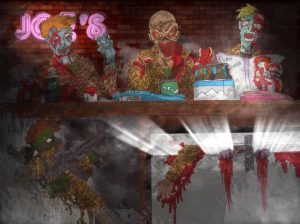 Marine officials have denied that the events Leary and Fitzgerald allege ever took place, and the two Marines, who happen to be the most junior members of the battalion, claim they've been made to take the fall for whoever spiked the battalion's water supply with the drug that day.
Division officials announced a massive overhaul of the division's drug-testing policy in the wake of the incident, and the division will begin testing regularly for LSD use.
"Previously, the Department of Defense drug lab only accepted individual samples for testing of LSD, pursuant to law enforcement requests," officials said in a statement. "LSD screening hasn't traditionally been standard practice across the Department of Defense. The push to make common testing the norm within 2d MARDIV not only makes the division a leader in striving to maintain its preeminent battle readiness, but also allows the division to set an example for others wishing to eradicate drugs within their ranks to follow."
The statement said the policy shift is necessary "to continue to uphold [2d MARDIV's] high standard as a premier fighting force."
Asked to comment, Leary made an elaborate fart noise before saying, "Whatever, man. Everybody knows we're the turd division. I signed up for the Blue Diamond — 1st MARDIV — and somehow I ended up in the brig after getting drugged and forced to participate in what amounts to a mostly gay orgy in the backwoods of North Carolina. This is such bullshit."
Editor's note: Just in case you haven't figured it out, this is a satire article and is in no way meant to be an accurate depiction of actual events. Stay safe, and Semper Fi!