When I was approaching a crossroads at the end of high school and deciding which branch to enlist in, I was stuck between two choices: Army or Marines. I had a very brief conversation with an Army recruiter dressed in heavily wrinkled cammies. His appearance, coupled with the fact he couldn't even be bothered to pause his video game, sent me scurrying across the hall of the recruiting station. A tall Marine gunnery sergeant welcomed me and invited me to take a seat in front of his desk. On his desk were stacks of paper and various trinkets accrued during his years of service. Among the mementos was a small jar filled with black sand.
"Where's this from?" I asked, holding up the jar.
The scowling Marine pulled the back of his shirt up enough to reveal a tattoo that began somewhere below the waist of his trousers and disappeared again under the scrunched-up shirt still hiding his shoulders. Blued ink covered his back in the iconic image of six Marines planting the flag on Iwo Jima.
"Here," he said.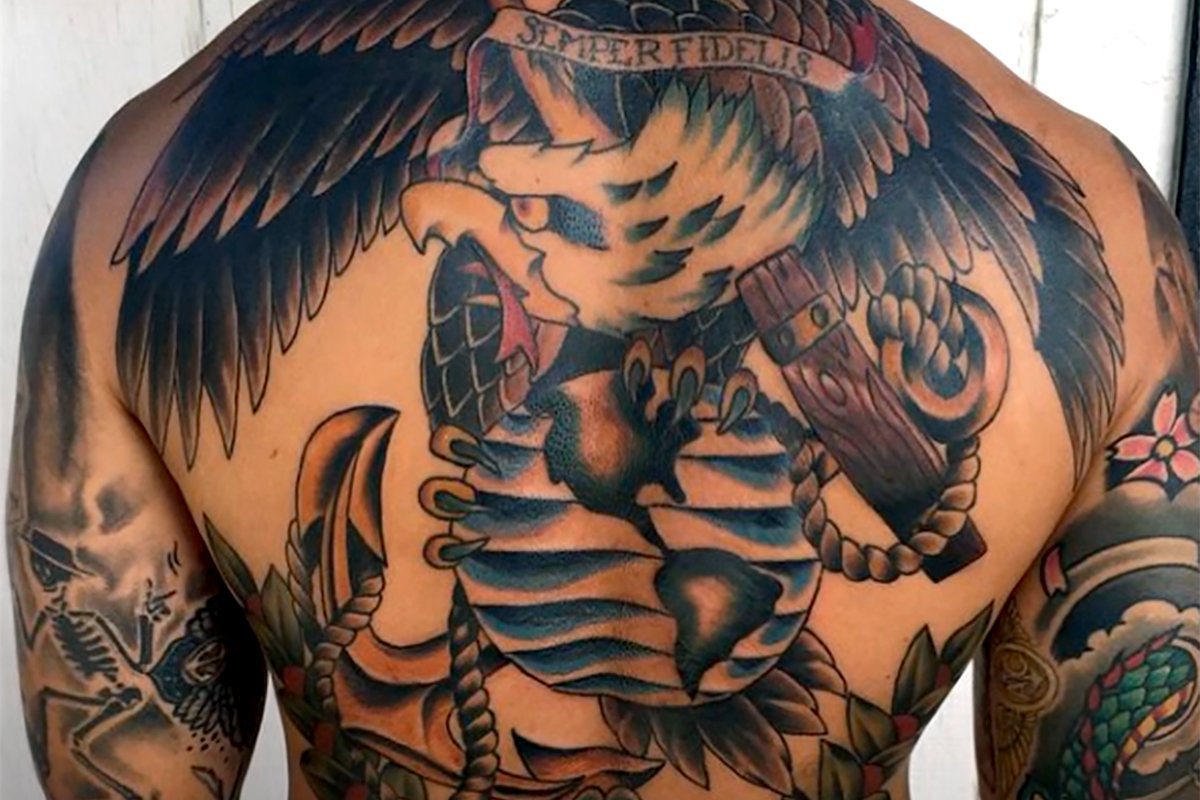 He most likely got the tattoo as an 18-year-old private, young, dumb, and full of pride in becoming a leatherneck. But what would have looked ridiculous on most Marines didn't seem so silly on a man who towered over his desk at 6 feet, 4 inches, and who sported a scar from ear to mouth that he collected somewhere in Iraq. He had a hog's tooth and a tomahawk hanging on the wall behind him. He was a Marine caricature, and I was hooked. I signed up that afternoon.
If he didn't have the full back tattoo of the Marines' most recognizable moment, I don't know whether I would have scribbled my Herbie Hancock so quickly. The fading ink — undoubtedly injected into his skin at a sketchy tattoo shop minutes from the front gate of either Lejeune or Pendleton — was perfectly in line with what I pictured a Marine looking like. Scars and tattoos were as important to a Marine's image as was his dress blue uniform.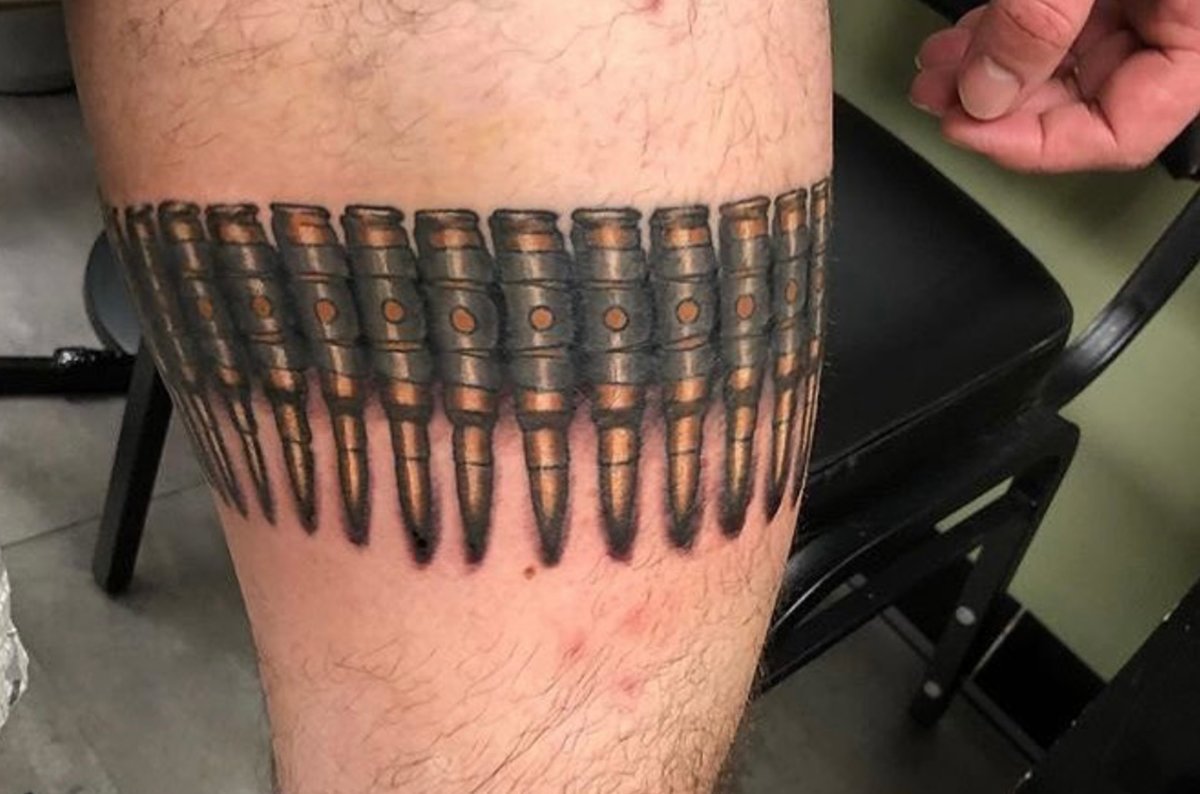 In an effort to increase retention rates, the Marine Corps recently announced an updated, more lenient tattoo policy. Marines can now get tattoos anywhere except the head, neck, and hands. Marines were banned from covering their arms in tattoos since the early 2000s, but the recent policy update is more in line with the Corps' tradition of tattoos stretching back to its 18th-century nautical roots.
For much of America's history, tattoos were considered taboo. It was viewed as a form of body art saved for unsavory types, such as carnies and criminals, who resided on the outskirts of respectable social groups. But for the military — specifically, for those involved in naval service — tattooing was as much a part of the job as bad chow and travel.
Sailors can be credited with first bringing the tradition of ink into the military. Along with members of the Royal Navy, American sailors were among the few societal groups of the West that regularly traveled to areas of the world where tattooing was commonplace. Service in Asia and across the Pacific introduced Americans to Eastern traditions of body art. By 1789, sailors were being identified by their unique ink. Soon, they began adopting certain designs and assigning them meaning. An anchor symbolized starting a career in naval service, a turtle signified crossing the equator, and a pig or rooster on the foot protected sailors from drowning. All remain traditional sea-service tattoos.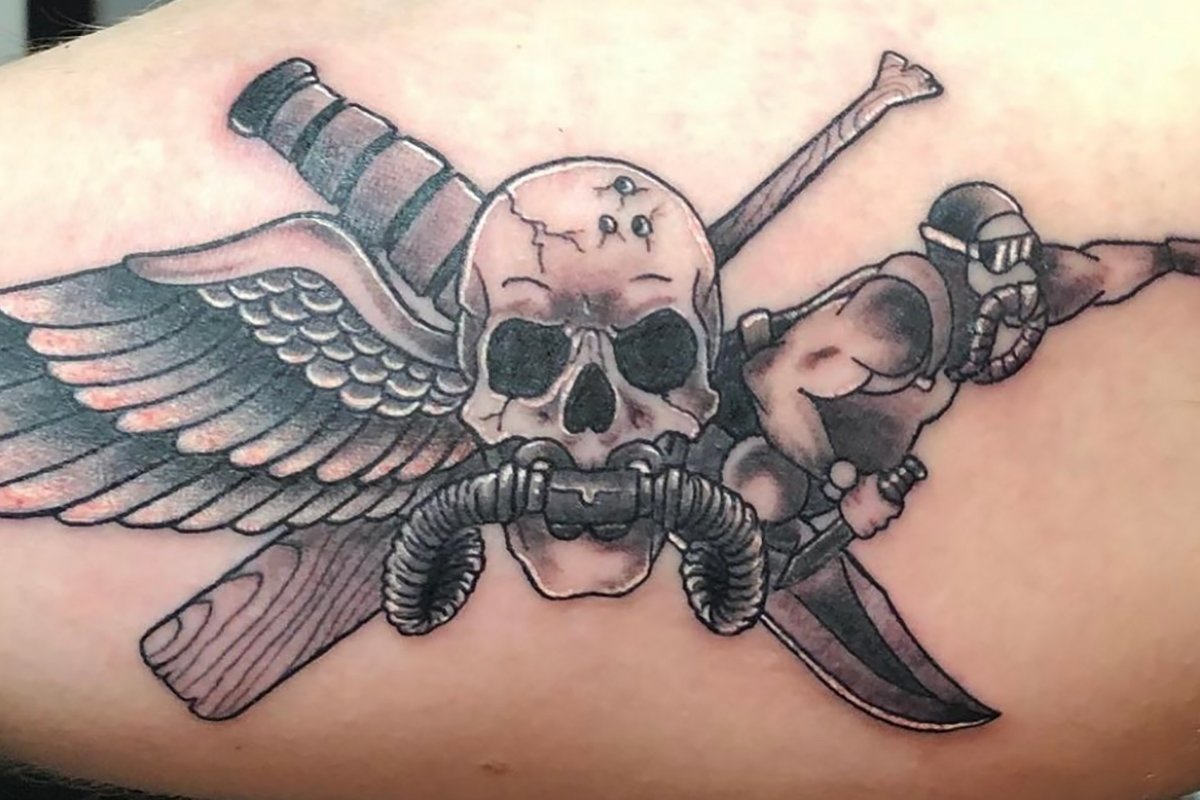 Early US Marines served as an amphibious infantry force and onboard security. Though most of the history surrounding tattoos in the military is unrecorded and passed down in the oral tradition, US Marines embraced the maritime tradition of using body art to map the stories of their service at sea.
"[Drill Instructors were the] old Marines, the tall, straight, mustached professionals who dressed their pride in gaudy blue uniforms, decorated their bodies with salty tattoos, fed their thirst with chewing tobacco, frequently dipped snuff, assuaged fatigue with whiskey, cursed with the metric vigor of Kipling, drilled their troops night and day, held frequent and demanding inspections, and knew everything there was to know about the Springfield .03 rifle," Robert Asprey — a veteran of Belleau Wood — said of his World War I Marine drill instructors.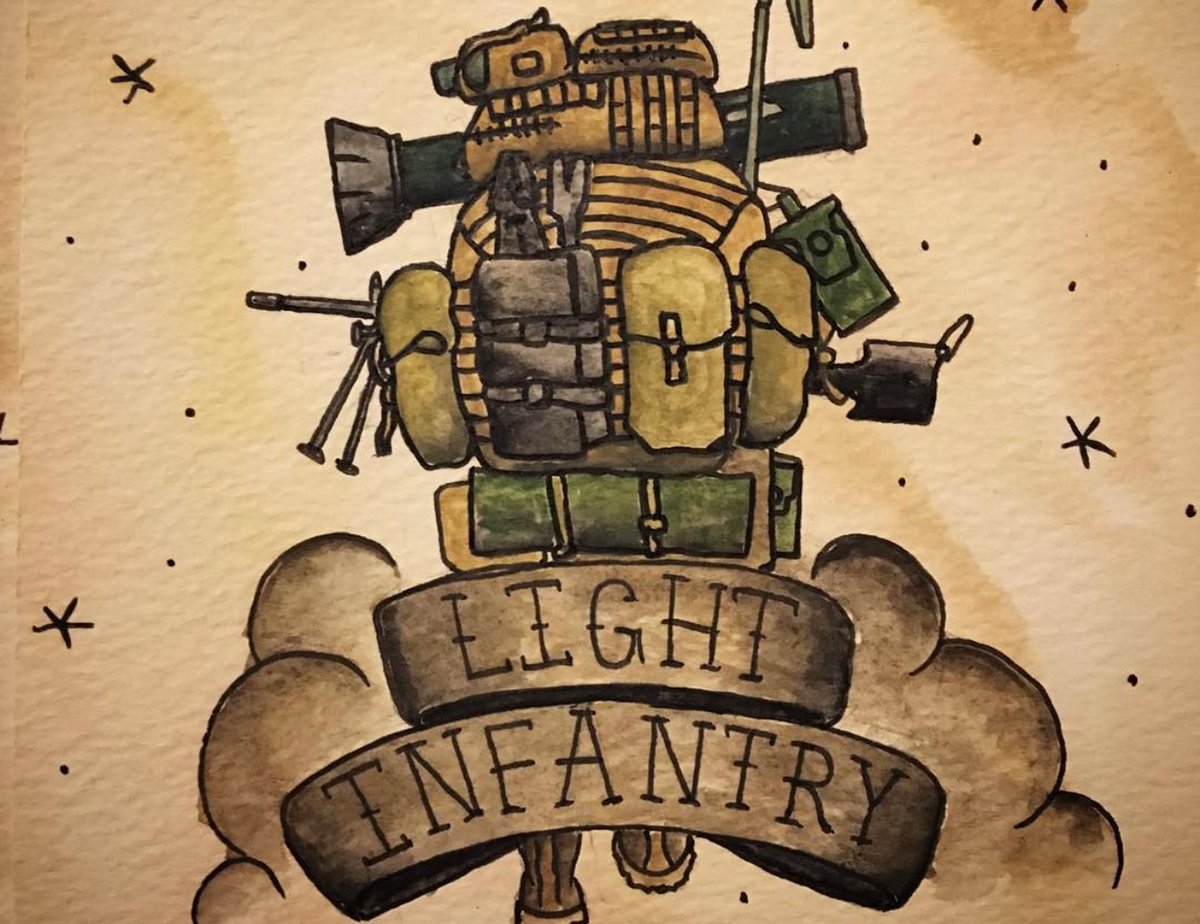 Two-time Medal of Honor recipient and Marine legend Maj. Gen. Smedley Butler even had a massive tattoo of an Eagle, Globe, and Anchor from his collarbone to his waist.
"It required several sittings and hurt me like the devil, but the finished product was worth the pain. I blazed triumphantly forth, a Marine from throat to waist. The emblem is still with me. Nothing on earth but skinning will remove it," he said of the tattoo.
A Marine giant of similar status, Gunnery Sgt. John Basilone, who received the Medal of Honor for actions at the Battle of Guadalcanal and the Navy Cross for actions at Iwo Jima, also had his share of inked skin, with "Death Before Dishonor" famously emblazoned on his left arm and a cowgirl pinup on his right.
The proud tradition of jarheads getting tattooed continues today. Just as Sailor Jerry represents the traditional style of tattooing associated with naval service during World War II and the Korean War, a new wave of flash designs has emerged. Devil Dogs who served in America's last two wars can be seen sporting a variety of Global War on Terror-related ink. In addition to classics — such as an Eagle, Globe, and Anchor or "Semper Fi" — Marines of today decorate their bodies in myriad designs specific to military occupational specialties.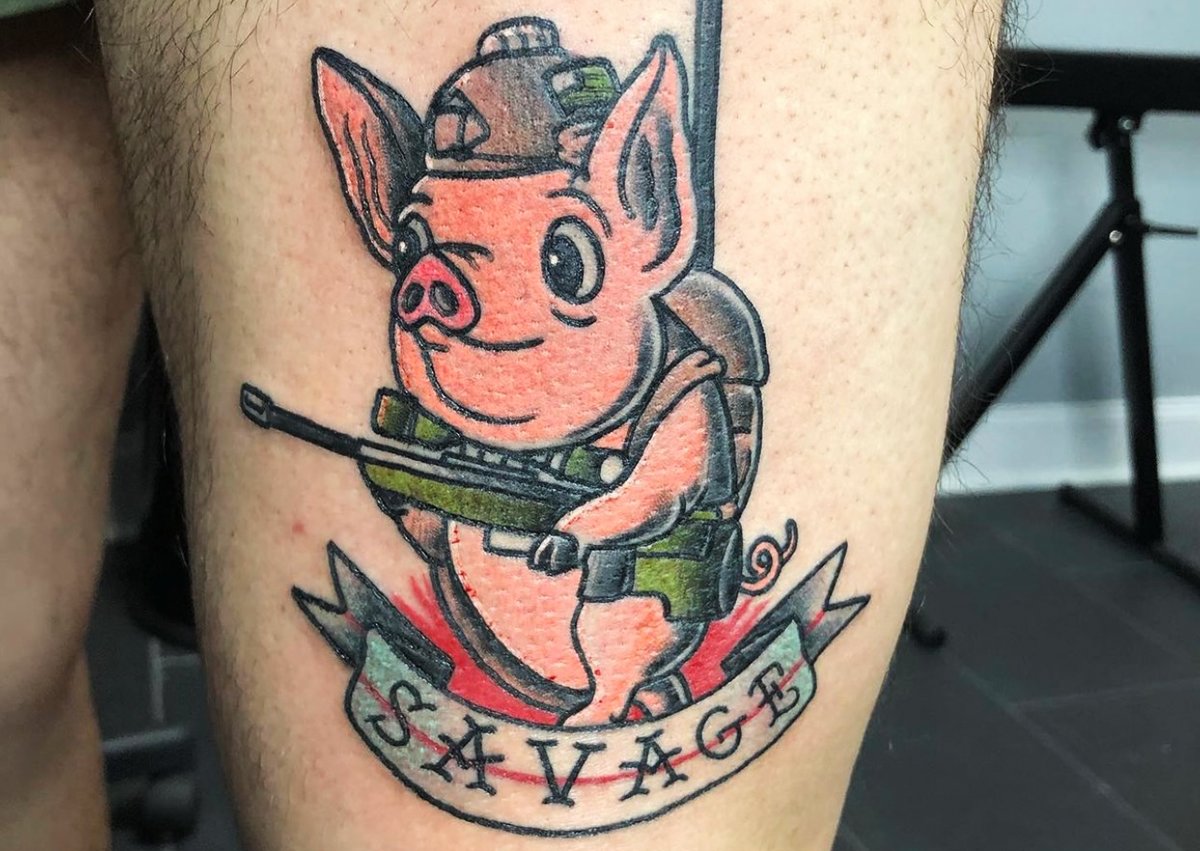 Recon Marines often wear "Recon Jacks" to identify them as the Corps' original jack-of-all-trades operators. Scout Snipers often cover their skin with pictures of hogs, rifles, and reticles. Many Marine machine gunners have adopted a new mark: linked 7.62 ammunition around their thighs. The belts of bullets are a callback to the pre-WWII tattoos of bullet pyramids that Marines opted for instead of anchors to distinguish themselves from sailors. Marines today remain easily recognizable for their unique ink.
As waves of enlisted Marines take advantage of the Corps' new policy and rush to tattoo shops in Jacksonville, North Carolina, and Oceanside, California, to pick out sleeve designs from laminated binders, they will be upholding a long body-art tradition as "soldiers of the sea."
Read Next: The Civil War Roots of the US Military's Tattoo Culture