A member of a US Marshal's fugitive task force was shot Wednesday in Canton, Ohio, by a man that officers feared was trying to commit "suicide-by-cop."


"The most important thing I can tell you today is that our officer was shot today and he's alright," said Peter Elliott, US Marshal for the Northern District of Ohio. Elliott said the task force was attempting to capture Aaron Pierre Thomas, 33, who they feared would try to initiate a gunfight with police.
"He'd said in the past he wanted to die by 'suicide-by-cop' and he came out shooting," Elliott said.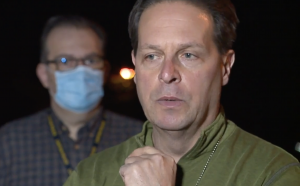 Thomas was wanted on charges in Virginia of armed robbery, aggravated assault, and firearms charges. Elliott said the team was preparing to raid an apartment looking for Thomas when they spotted him in a rear window. Thomas then broke the window, Elliott said, and began to run, shooting toward police. One shot hit an officer. Police returned fire, Elliott said, striking Thomas.
Both Thomas and the officer were treated and taken to local hospitals. Due to the involvement of police, the shooting will be investigated by the Ohio Attorney General's office.
Elliott said the officer shot was the "probably the longest serving member" of the task force, which launched in 2013. Tuesday's raid included members of the US Marshals, Stark County Sheriff and Canton Police.
Read Next: US Marshal's Top 15 Wanted Fugitives