There is no other club like it in the world. Membership in the Martin-Baker Ejection Tie Club is earned when a pilot successfully ejects from an aircraft using a Martin-Baker ejection seat to save his or her own life. In the span of the last 48 hours, four new members have become part of this exclusive club first formed in 1957: an instructor pilot and student pilot from an Indonesian Air Force KT-1B aircraft, as well as two pilots from a Royal Australian Air Force F/A-18F Super Hornet. The number of lives saved currently sits at 7,638 and continues to rise.
The Martin-Baker Ejection Tie Club provides its registered members with a customized tie to be worn with civilian clothing in order to identify the common bond each of them shares. Club members also receive memorabilia with a red triangle warning sign, the recognized international danger symbol associated with the ejection seat.
Martin-Baker has set the world standard for design and manufacturing of aircraft ejection seats and first entered the lifesaving realm more than 70 years ago. In 1929, Sir James Martin established Martin's Aircraft Works and in a span of five years partnered with Capt. Valentine Baker to found Martin-Baker Aircraft Co. Ltd. In 1942, Baker was tragically killed in a test flight of the Martin-Baker MB3 prototype. The engine failed and one of its wings collided with a tree stump, causing the plane to flip.
Martin's beloved friend and fellow pilot didn't have the luxury of relying on the ejection seat safety mechanism. Thus, Martin determined to focus on developing and ensuring pilot safety. Soon after Baker's death, another employee named Bernard Lynch successfully completed a series of ejection seat tests, first on the ground launched from a rig like a human roller coaster, then later from the rear cockpit of a modified Meteor 3. He ejected from the aircraft traveling at 320 mph and 8,000 feet high. Lynch went on to complete 30 additional ejections.
"From an engineering point of view," said Martin-Baker company spokesman Brian Miller, "the ejection seat was developed quite quickly, and we were able to soon come up with the velocities and accelerations that we needed to clear an aircraft fin. The problem was that nobody knew what those accelerations would do to a man."
The thrust upward from applied propulsion combined with gravity compressed the spine and could lead to injury if the specifics weren't ironed out. This made Lynch's daredevil accomplishments much more impressive.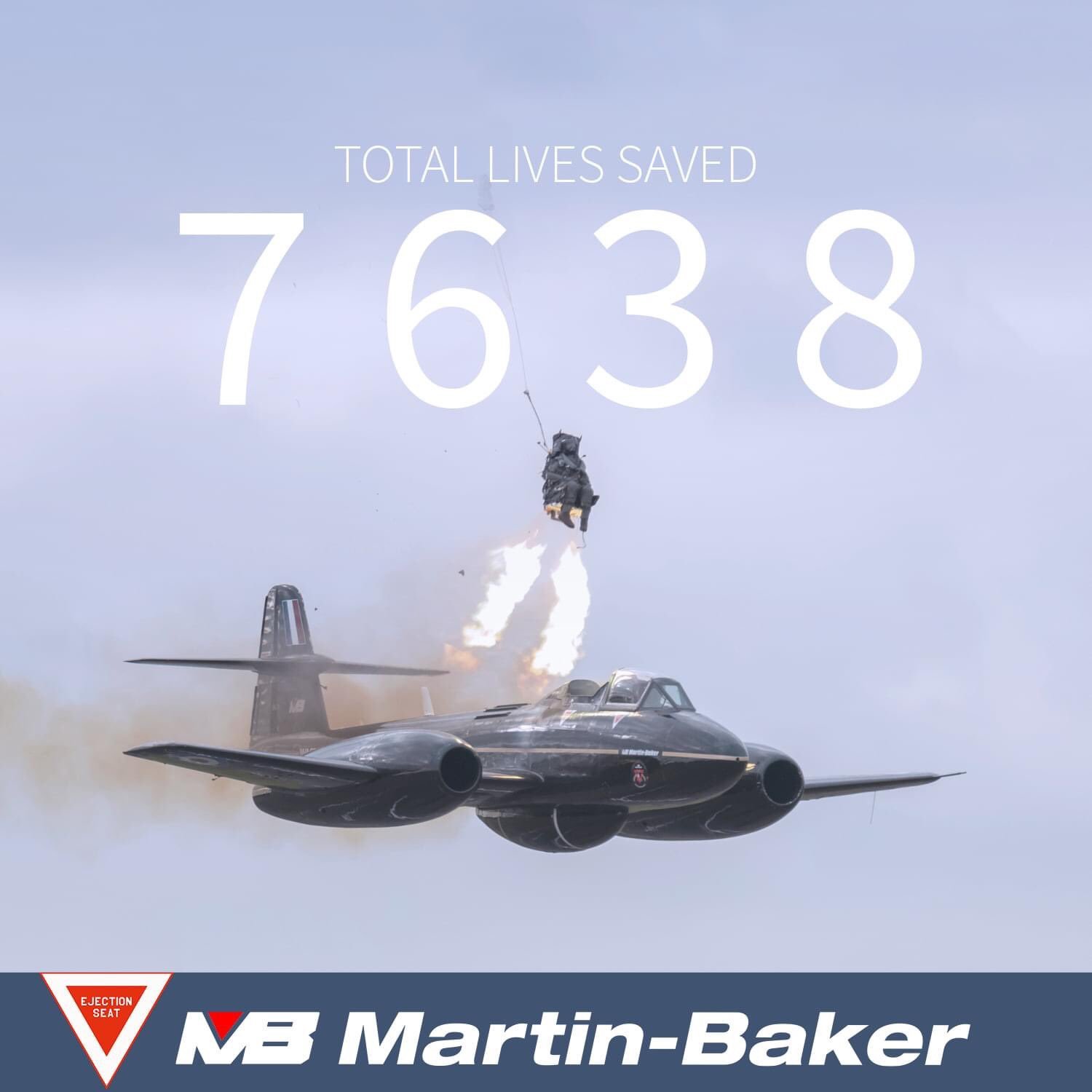 Only three years after Lynch's tests, Jo Lancaster became the first to be saved by a Martin-Baker ejection seat on May 30, 1949. Since then, Martin-Baker has delivered more than 70,000 ejection seats to 93 air forces around the world.
The testimonials are often the same, from male and female pilots, over the years. For Jerry Cox, an F-4D pilot on a bombing sortie in Cambodia on May 26, 1973, he owes his life to Martin-Baker.
"I took four hits," his testimonial reads. "One round blew the nose off. Second round came up into my front cockpit. Third round hit between the engines and the fourth round took off one of the stabs. The airplane went into a steep left hand spiral. I started the ejection sequence with the lower handle. I will be forever grateful to Martin-Baker."
Martin-Baker's excellence, innovation, and dedication earned the company the 2019 Flying Spirit Award from the National Aviation Hall of Fame, joining other inductees from past years such as World War II's Flying Tigers, the US Navy Blue Angels, and NASA, among others.