Sam Wilson swoops into the season finale of The Falcon and the Winter Soldier, proving once and for all he's the superhero America's been waiting for. Decked out in a badass new suit and calling everyone on their bullshit, Sam finally fulfills his destiny as Captain America.
The exciting conclusion of The Falcon and the Winter Soldier proved that quality television can deliver action-packed entertainment while addressing important current events. Episode six brought multiple storylines to satisfying conclusions, gave secondary characters the arcs they deserved, and confronted social issues that can't be ignored — all without sacrificing the quality fans have come to expect from Marvel. "One World, One People" ended the series on a high note and set the stage for an exciting future for the franchise and its characters in the Marvel Cinematic Universe.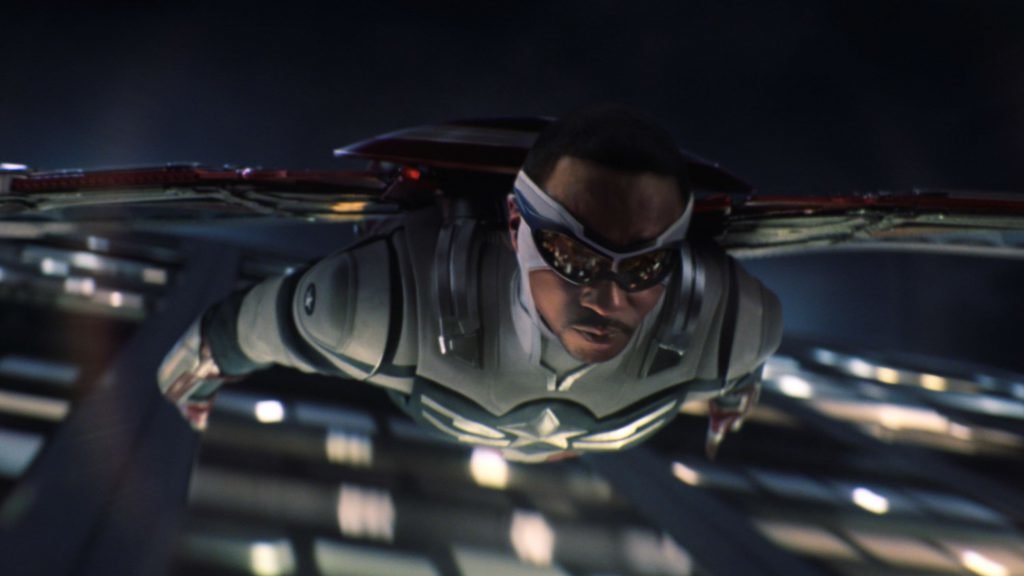 First things first — we need to talk about Sam's phenomenal new suit. With improved falcon wings, an updated Redwing, and Cap's signature-accessory shield all tied together beautifully — Marvel has remained faithful to the comics. The suit is unmistakably American in its resemblance to Old Glory and Steve Rogers' OG Captain uniform but with a base color of white to distinguish it as uniquely Sam's. The finale made sure to showcase the suit's sweet upgrades, including wings that can wrap around Sam, armadillo-style, providing 360 degrees of protection, or how the wings can dig in behind Sam for extra stability when going up against an opponent with superstrength.
Fans should appreciate the poetic twist of the suit's origins. When T'Challa promised at the end of Black Panther to "open Wakanda to the rest of the world," it seems Marvel was setting the stage for Wakanda to replace Tony Stark and Stark Industries as the MCU's new front-runner in state-of-the-art weapons technology.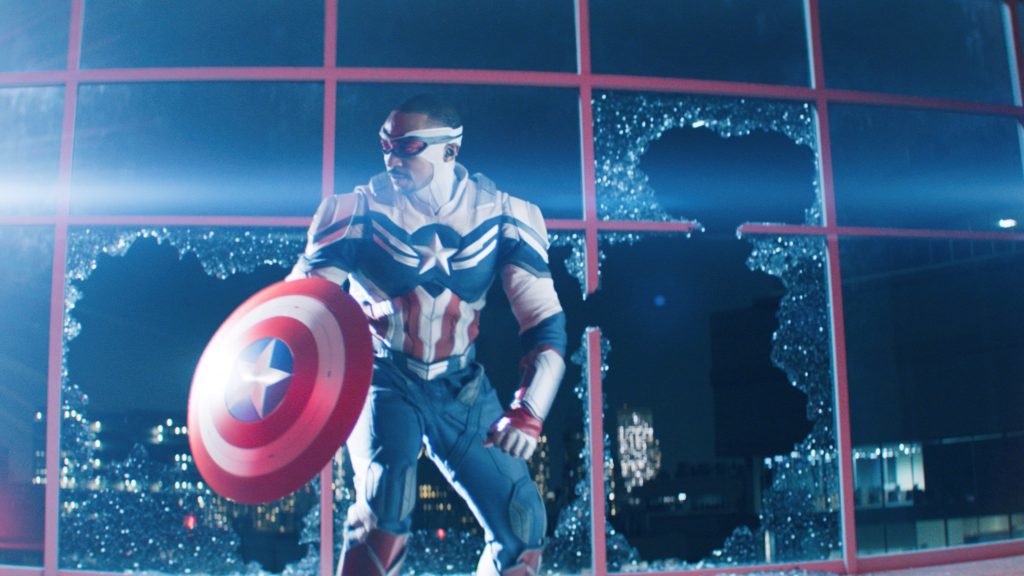 Gadgets aside, it's Sam's attitude that proved he was up for the challenge of carrying the First Avenger torch. After watching John Walker stumble as Captain America, it became clear that without Steve Rogers' unwavering moral virtue, fighting ability and bravery would never be enough to truly earn the role of Captain America. Walker failed by repeatedly not taking the moral high ground. Sam not only assumed the mantle for the right reasons, he proved that no one was above reproach — not Karli's Flag Smashers and not the GRC.
Bucky finally made peace with his violent past and showcased his incredible fighting abilities. After launching himself from a motorcycle to single-handedly take on the Flag Smashers, Bucky taps into his inner Alwyn Cashe and rips the door off a burning vehicle to rescue everyone trapped inside. He has finally come full circle since his Winter Soldier days of murdering Iron Man's parents.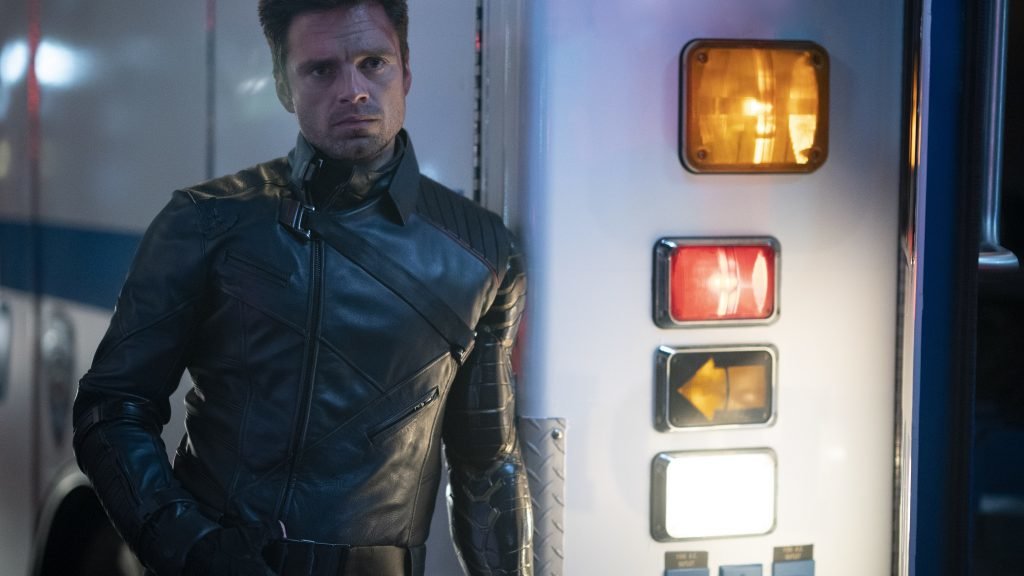 Despite Walker's not living up to the task of being Captain America, he managed to morph into a character that elevates the MCU: US Agent. First appearing in the comics in 1986, US Agent is basically a darker Captain America — a hero who isn't restricted by having to always do the right thing. It's a solid role for a professional soldier with a very human tendency to succumb to his less-than-honorable emotions.
What makes John Walker as US Agent even more exciting is the fact he redeemed his honor (if only temporarily) during the finale. As a truck full of innocent people teeters on a ledge, Walker — in an unexpectedly moving moment — gives everything he has in an attempt to save those dangling above certain death. Paired up with Val, US Agent has the potential to become another compelling anti-hero in the MCU.
The finale also gave Sharon Carter the screen time she was denied during the Infinity Saga. The big reveal that Carter was the Power Broker might not have been a total surprise, but it's a cool take on a character who originally acted as a quasi-love interest for Steve Rogers. Carter kills Karli, saves Sam, and is finally pardoned for her support of Steve Rogers in Civil War. In the post-credit scene fans have come to expect from Marvel, Carter makes a mysterious phone call where she reveals her plans to be a double agent. She'll use her access to the US intelligence apparatus to live up to the name Power Broker.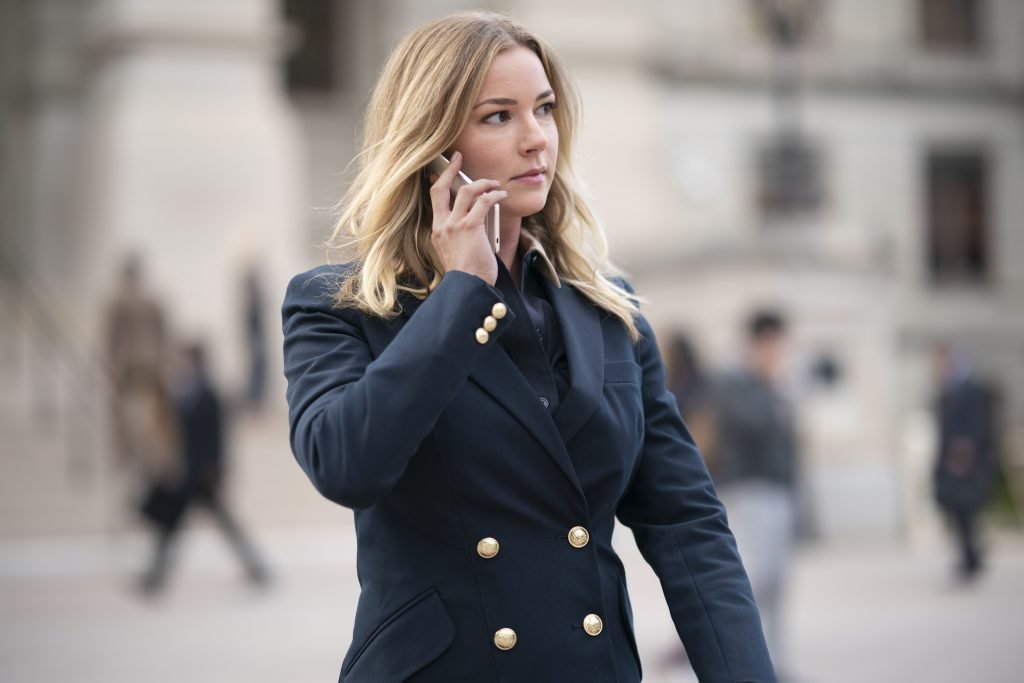 It's an unexpected way to change the Power Broker of the comic books, who had the literal ability to broker superpowers to villains. While Carter's version will be less fantastic, the character is primed to mine some of the deep-state-military-industrial-complex conspiracies that we Americans can't seem to get enough of. (We see what you're doing, Marvel, and we're not mad.)
The finale's only pitfall came during a lengthy monologue — a lecture really — to the small group of elite politicians Sam saves. As his moralizing public service announcement is broadcast live to the world, the meta layers of the sermon are delivered with all the subtlety of a bat to the head.
During the almost five-minute speech, Sam warns against labeling people before exercising empathy. "You've got to stop calling them Terrorists," he warns members of the morally corrupt GRC. The only problem is, they are terrorists. While it's true, one man's terrorist is another man's freedom fighter, let's not forget the Flag Smashers blew up buildings full of innocent people in pursuit of certain political ends. That's terrorism, period.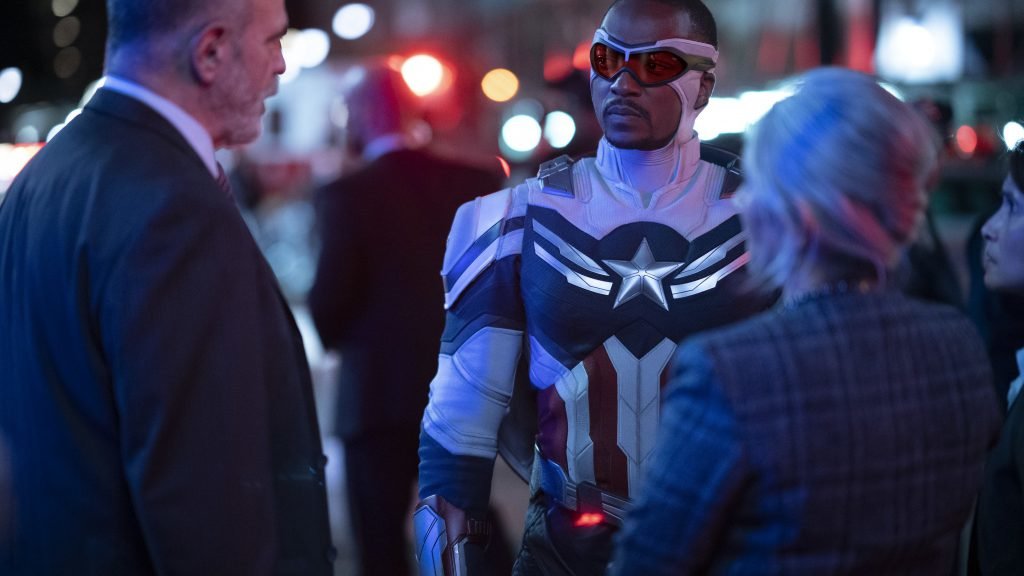 While Sam's speech slowed the pace of the finale, it was necessary and poignant in many ways. Whether in five-cent magazines or on multimillion-dollar streaming services, comics have always kept their finger on the pulse of current political and social climates. Like satire, they are a vital means of stoking social commentary around difficult issues. Following the doozy of a year that 2020 was, Marvel provided some important discourse on the messy intersection of patriotism and race in America. At times the writing felt heavy-handed, but thanks to Anthony Mackie's acting chops, the show pulled it off.
With the real Captain America finally embracing his new role, Sam and Bucky's series fades to black, and a new title slide appears: Captain America and the Winter Soldier. After a banger ending to a wildly successful series, Disney was quick to reveal the dynamic duo is set to star in the fourth Captain America movie.
Before that titillating title-slide finish, Marvel gave fans one of the most important and powerful scenes of the entire series. In a moment that perfectly conveys the series' spiritual center, Isaiah Bradley is finally recognized for his contributions to America in the form of a bronze statue inside the Smithsonian's Captain America exhibit. During a fuck-yes moment that firmly establishes Sam Wilson as the hero America needs right now, Isaiah Bradley stands in as a vessel for the audience, asking Sam on our behalf, "Black Captain America, huh?"
Sam (and more broadly Marvel) answers with a smirk, "Damn right."
Read Next: Exploring America's Fraught History, Marvel Sets Stage for Black Captain America