Masks are now required again for most military personnel, including everyone in the South and virtually everywhere in the western half of the country, the Pentagon announced Wednesday.
Deputy Defense Secretary Kathleen Hicks released a memo Wednesday making masks required indoors in all military installations and for all military members and employees on any "installations and other facilities owned, leased or otherwise controlled by DoD."
The mask mandate applies to those who are unvaccinated, as well as those who are vaccinated. The Pentagon's memo says local commanders should set their mask policy based on COVID-19 tracking data reported by the Centers for Disease Control and Prevention, in which counties with high transmission are indicated in red, and substantial transmission is shown in orange. "Substantial" counties are reporting a weekly average of 50 or more cases per day for every 100,000 residents; anything over 100 cases per day is ranked as "high."
While those guidelines will exempt some installations, a quick glance at the data indicates that the vast majority of US-based troops can expect to be wearing masks for the foreseeable future.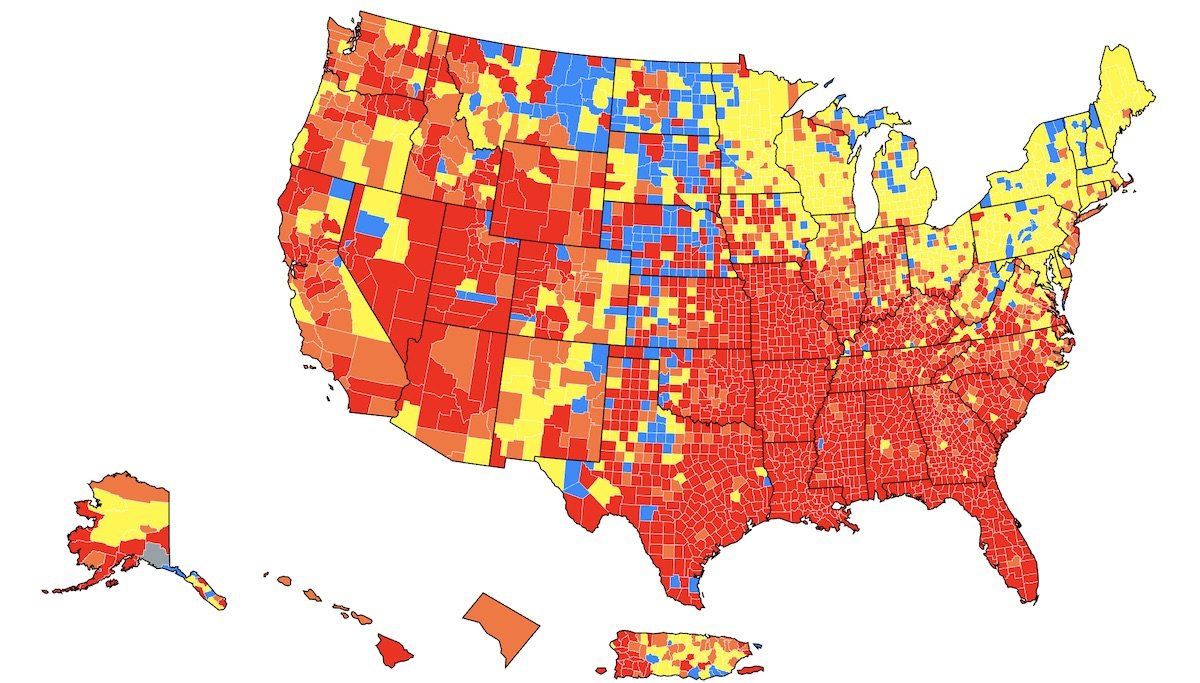 Much of the South, including large portions of Texas, Oklahoma, and Missouri, is almost completely red. The West Coast is also majority red or orange, with an exception of Monterey County, California, which is home to the Defense Language Institute.
The only states that are mostly below the "substantial" threshold are in the Northeast, along with Ohio, Michigan, Wisconsin, and Minnesota.
As of Wednesday, the Pentagon said more than 1 million troops had been vaccinated, about half of the entire US military.
Numerous media reports claim that President Joe Biden is considering a vaccine mandate for federal employees, though it is unclear if that policy would apply to the military.
Read Next: