Former Secretary of Defense Jim Mattis, who served in President Donald Trump's administration until he resigned in protest in December 2018, released a statement on Wednesday saying Trump is "the first president in my lifetime who does not try to unite the American people."
"When I joined the military, some 50 years ago, I swore an oath to support and defend the Constitution," Mattis wrote. "Never did I dream that troops taking that same oath would be ordered under any circumstance to violate the Constitutional rights of their fellow citizens—much less to provide a bizarre photo op for the elected commander-in-chief, with military leadership standing alongside."
Mattis, who is one of the most accomplished and respected military leaders in the nation, joined a chorus of high-ranking retired officers and former presidents who published statements decrying Trump's use of force against protestors in Lafayette Square outside the White House Monday evening.
"I will fight to protect you — I am your president of law and order and an ally of all peaceful protesters," Trump said in a speech from the Rose Garden on Monday.
As he was speaking, peaceful protestors were forcefully cleared with less lethal munitions so he could walk to St. John's Church afterward.
After arriving at St. Johns, Trump posed for a photo-op in which he briefly held an upside-down Bible over his right shoulder, at first by himself, and then with other administration officials. Media outlets immediately picked up the photos, but the images of the actions that preceded his walk to the church quickly dominated the news cycle.
On Tuesday, retired U.S. Navy Admiral Mike Mullen, the former chairman of the Joint Chiefs of Staff under George W. Bush and Barack Obama, published an opinion piece in The Atlantic under the headline, "I Cannot Remain Silent."
"Our fellow citizens are not the enemy, and must never become so," Mullen wrote. "I have to date been reticent to speak out on issues surrounding President Trump's leadership, but we are at an inflection point, and the events of the past few weeks have made it impossible to remain silent."
On Wednesday, retired Navy Admiral James Stavridis, who served as the 16th Supreme Allied Commander at NATO, published his own statement with Time Magazine under the headline, "The U.S. Military Must Stand Up for Its Soul in This Moment."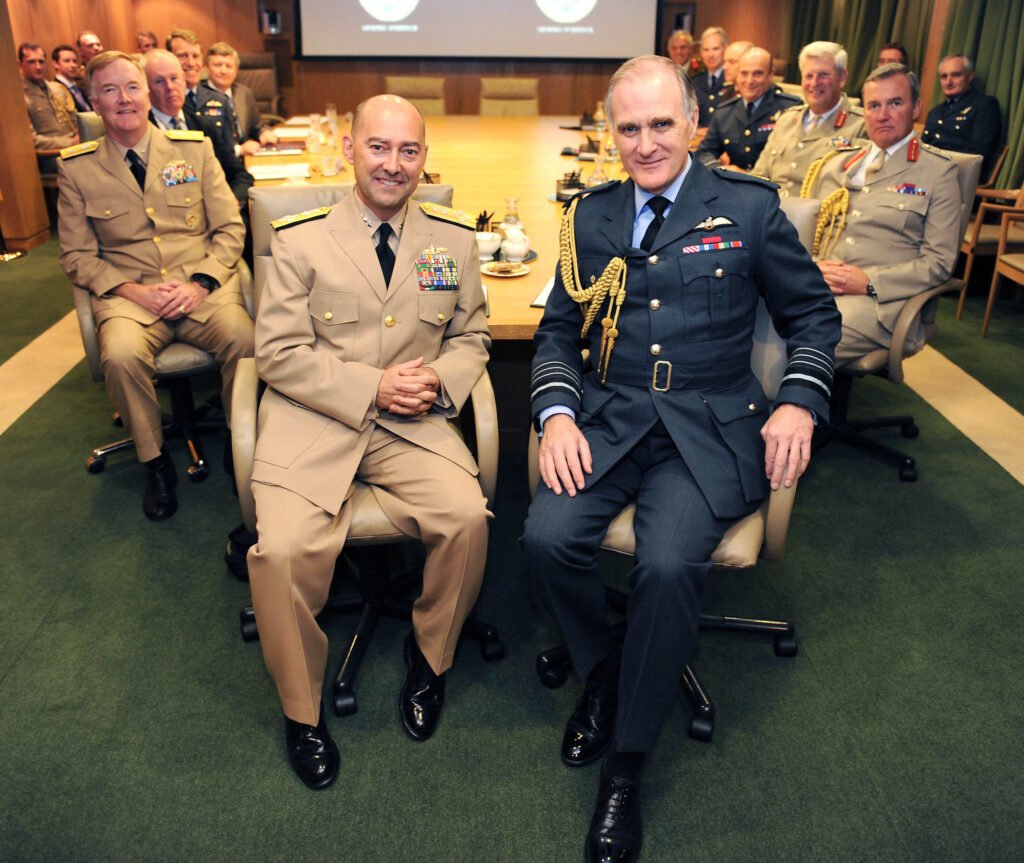 "Our military numbers about 1.2 million active duty," Stavridis wrote. "They are sworn to protect and defend the constitution of the United States, and the vast majority would instantly lay down their lives to do so. But they are not meant to be turned against their fellow citizens. Our founding fathers feared the use of a standing army that could be used to further the aims of a dictator. […] The idea of 'boots on the ground' and 'dominating the battlespace' in our American cities is anathema to America."
Former President George W. Bush put out a rare statement Tuesday, saying, "It is time for America to examine our tragic failures."
Bush said George Floyd's death "raises a long overdue question: How do we end systemic racism in our society?" While Bush's statement did not mention Trump, some excerpts appeared to be directed toward the president:
"Those who set out to silence those voices do not understand the meaning of America — or how it becomes a better place. […] There is a better way — the way of empathy, and shared commitment, and bold action, and a peace rooted in justice. I am confident that together, Americans will choose the better way."
As the chorus of forceful critiques started to box the president in politically, Defense Secretary Mark Esper, who was heavily criticized for urging governors during a White House conference call on Monday to "dominate the battlespace," held a press conference Wednesday where he put himself at odds with the president.
"The option to use active duty forces in a law enforcement role should only be used as a matter of last resort, and only in the most urgent and dire of situations," Esper said. "We are not in one of those situations now. I do not support invoking the Insurrection Act."
At a press briefing later that day, White House press secretary Kayleigh McEnany told reporters, "As of right now, Secretary Esper is still Secretary Esper, and should the president lose faith, we will all learn about that in the future."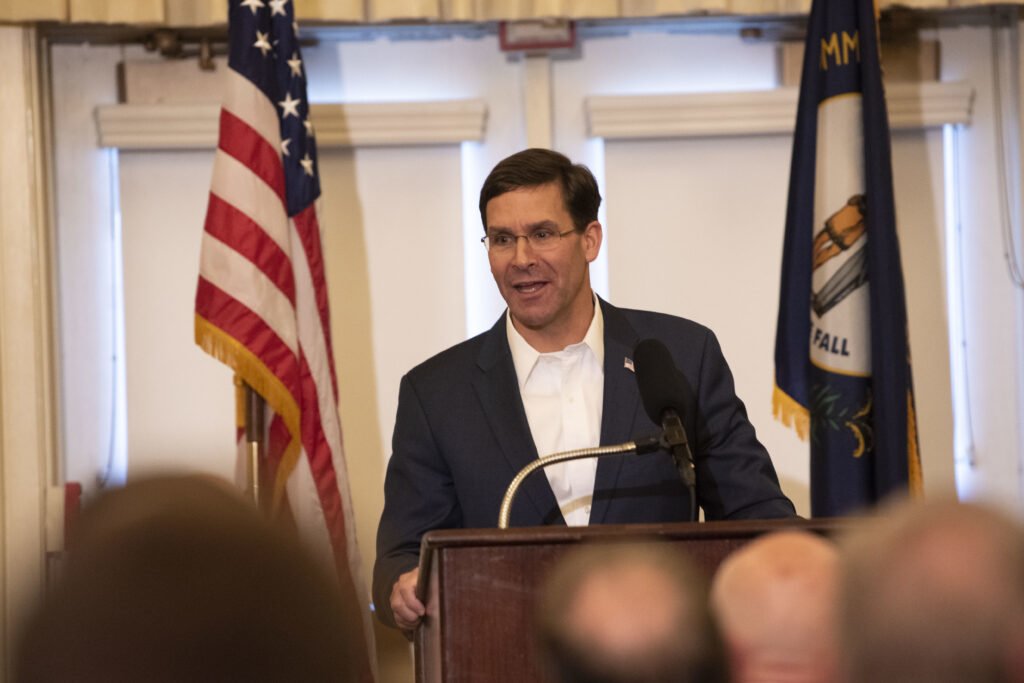 On Tuesday, Chairman of the Joint Chiefs of Staff General Mark A. Milley distributed a memo to all of the service chiefs and combatant commanders, urging them to "remain committed to our national values and principles embedded in the Constitution."
Next to Milley's signature block, the memo carried a handwritten message: "We all committed our lives to the idea that is America—we will stay true to that oath and the American people."
Mattis was uncharacteristically forceful in his critique Wednesday. He left no room for ambiguity in his attack of the president's rhetoric and actions.
"We can come through this trying time stronger, and with a renewed sense of purpose and respect for one another," he wrote. "We know that we are better than the abuse of executive authority that we witnessed in Lafayette Square. We must reject and hold accountable those in office who would make a mockery of our Constitution. At the same time, we must remember Lincoln's 'better angels,' and listen to them, as we work to unite.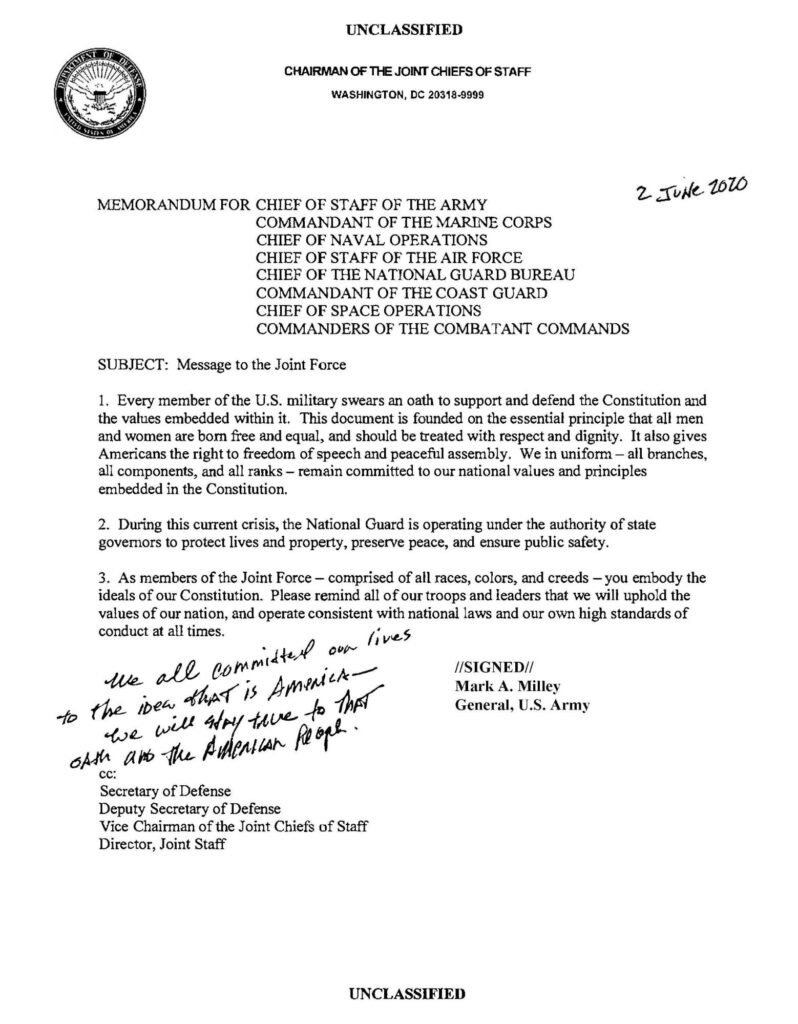 "Only by adopting a new path—which means, in truth, returning to the original path of our founding ideals—will we again be a country admired and respected at home and abroad."
The president responded to Mattis' statement on Facebook: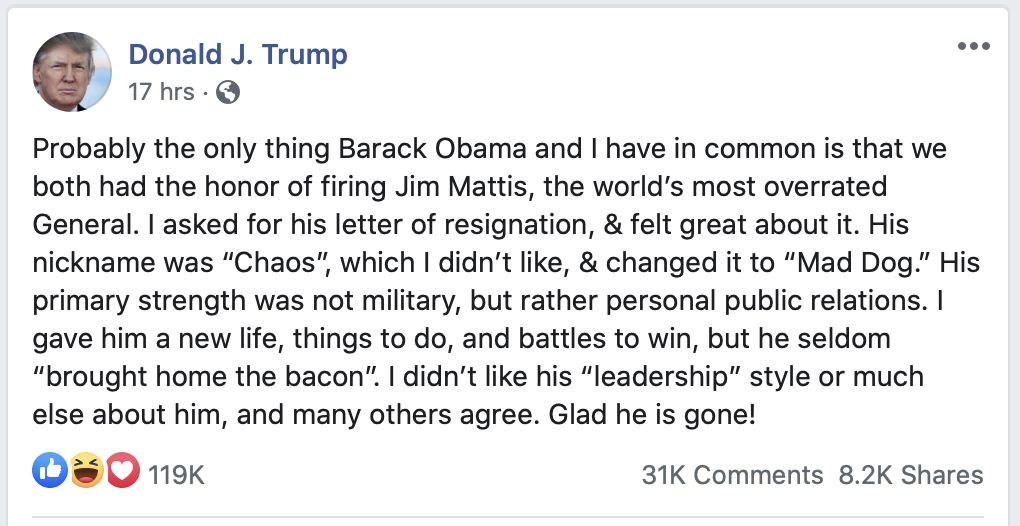 "Probably the only thing Barack Obama and I have in common is that we both had the honor of firing Jim Mattis, the world's most overrated General. I asked for his letter of resignation, & felt great about it. His nickname was 'Chaos', which I didn't like, & changed it to 'Mad Dog.' His primary strength was not military, but rather personal public relations. I gave him a new life, things to do, and battles to win, but he seldom 'brought home the bacon'. I didn't like his 'leadership' style or much else about him, and many others agree. Glad he is gone!"
CHAOS, the old call sign given to him as a colonel, stands for "colonel has an outstanding solution." Mattis famously dislikes the "Mad Dog" moniker, which did not originate with the president.