Hershel "Woody" Williams, the last living Medal of Honor recipient from World War II, marked a proud moment in his family's legacy of service Friday as he watched his great-grandson, Pfc. Cedar Ross, walk across the parade deck at Marine Corps Recruit Depot Parris Island and become a Marine.
The 97-year-old Williams was awarded the Medal of Honor for actions on Feb. 23, 1945, during the Battle of Iwo Jima. Armed with a combination of demolition charges and flame throwers, Williams waged a desperate four-hour fight, often by himself, against Japanese soldiers entrenched in a network of bunkers.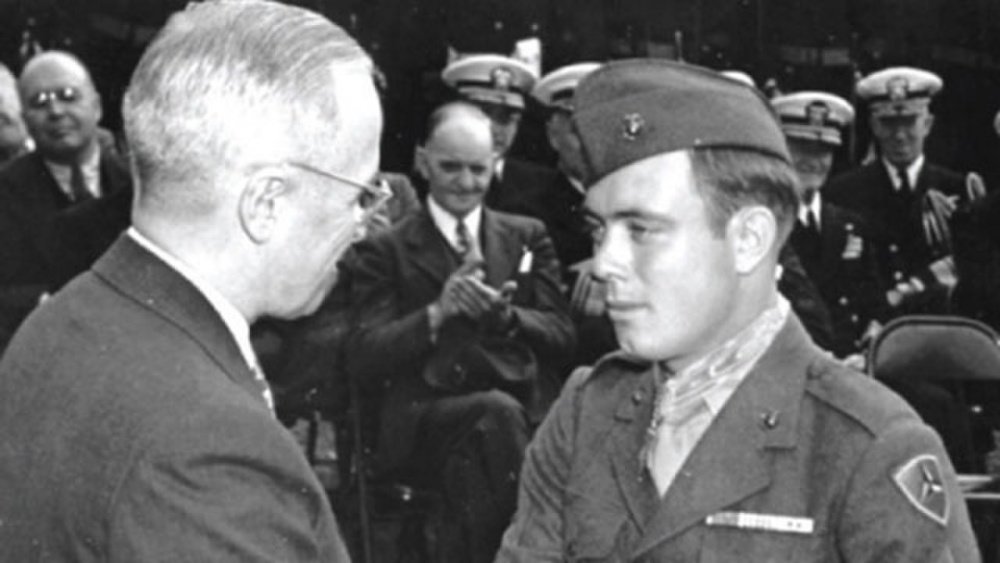 "Covered only by four riflemen, he fought desperately for four hours under terrific enemy small-arms fire and repeatedly returned to his own lines to prepare demolition charges and obtain serviced flamethrowers, struggling back, frequently to the rear of hostile emplacements, to wipe out one position after another," Williams' citation reads.
According to CBS News, Williams ultimately destroyed seven bunkers, enabling his company to break through to their objective. Williams' actions that day on Iwo Jima made him a Marine Corps legend, giving Ross a substantial legacy to carry forward.
Ross was roughly halfway through boot camp before drill instructors realized he was a descendant of the legendary Williams.
"The chief drill instructor told me, 'Ross, you're gonna have big shoes to fill.' And I said, 'Yes, sir. Thankfully, I wear size 15,'" Ross told CBS News.
Williams had simple advice for Ross, should he find himself in his family's long shadow.
"The only advice I gave him was to do the very best that he could, and then do a little bit more," Williams told CBS News.
The tradition of service runs deep in many American families. According to The New York Times, in 2019, 30% of Army recruits had a parent in the military, and 79% overall had at least one family member who'd served. There is no shortage of great Marines who share the title with their kids, grandkids, and beyond.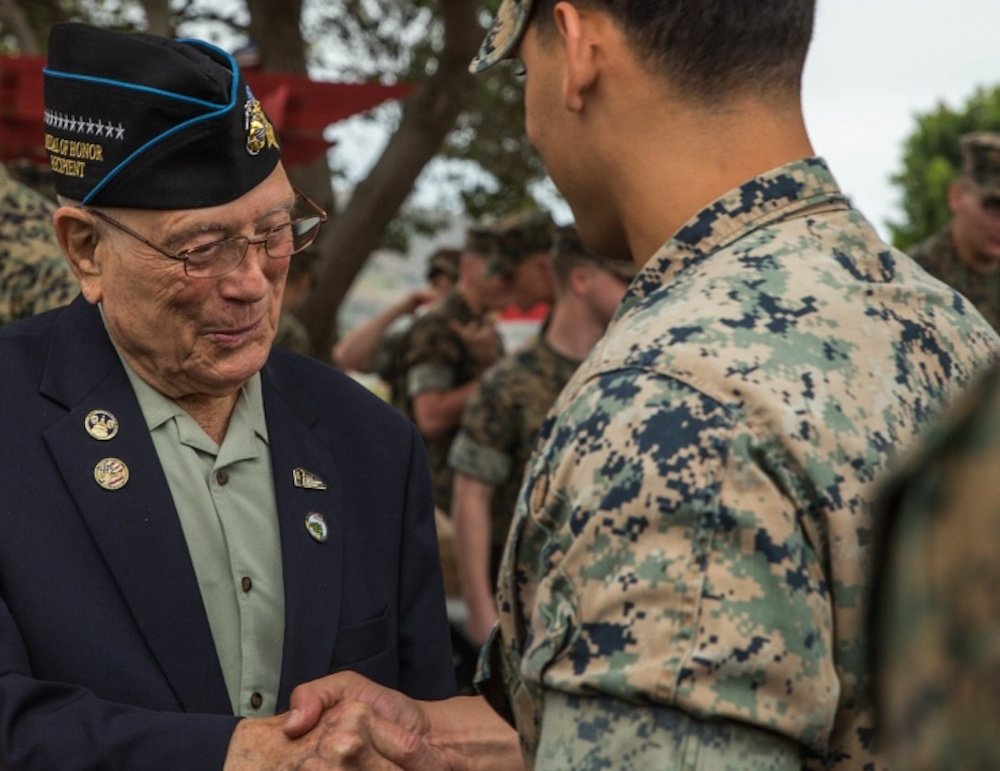 The most decorated Marine in the service's history provides a good example. During the Vietnam War, Lt. Gen. "Chesty" Puller's son volunteered. Lewis B. Puller Jr. went on to be an infantry platoon commander, where he received two Purple Hearts and was awarded a Silver Star for gallantry.
Former Commandant of the Marine Corps Gen. Charles Krulak is the son of a career Marine officer, Lt. Gen. Victor H. "Brute" Krulak. More recently, retired Gen. John Kelly, who was also White House chief of staff during the Trump Administration, saw both his sons join the Marine Corps and fight in the Global War on Terror. One, Robert, was killed in action in 2010 while serving as a platoon commander in Afghanistan.
As Ross' graduation represents the continuation of another storied Marine Corps family legacy, Williams told CBS News that what it means to be a Marine has not changed in the more than 70 years since he stormed bunkers on Iwo Jima.
Read Next: He Fled War-Torn Iraq as a Child; Now He'll Make Marines at Parris Island