MOUNT PLEASANT, S.C. — Leroy Petry had shaken so many hands that he finally had to make a joke about it.
As he addressed a crowd of admirers and well-wishers Friday, March 25, he pointed to the mechanical hand he now uses as a prosthetic, which allows him to squeeze while shaking hands. But he'd shaken so many hands that the battery had run down. He quipped, "No more open and close."
The crowd laughed, but in the joke was a reminder of the event they were there for: Petry lost the hand in 2008 when he picked up a live enemy grenade in Afghanistan while under fire, throwing it clear of two fellow Army Rangers wounded by an earlier grenade. The act lost him his hand but earned him the Medal of Honor.
Petry was one of six recipients of the nation's highest military award gathered at the Medal of Honor Museum on the USS Yorktown in Mount Pleasant, South Carolina, on Friday to mark National Medal of Honor Day.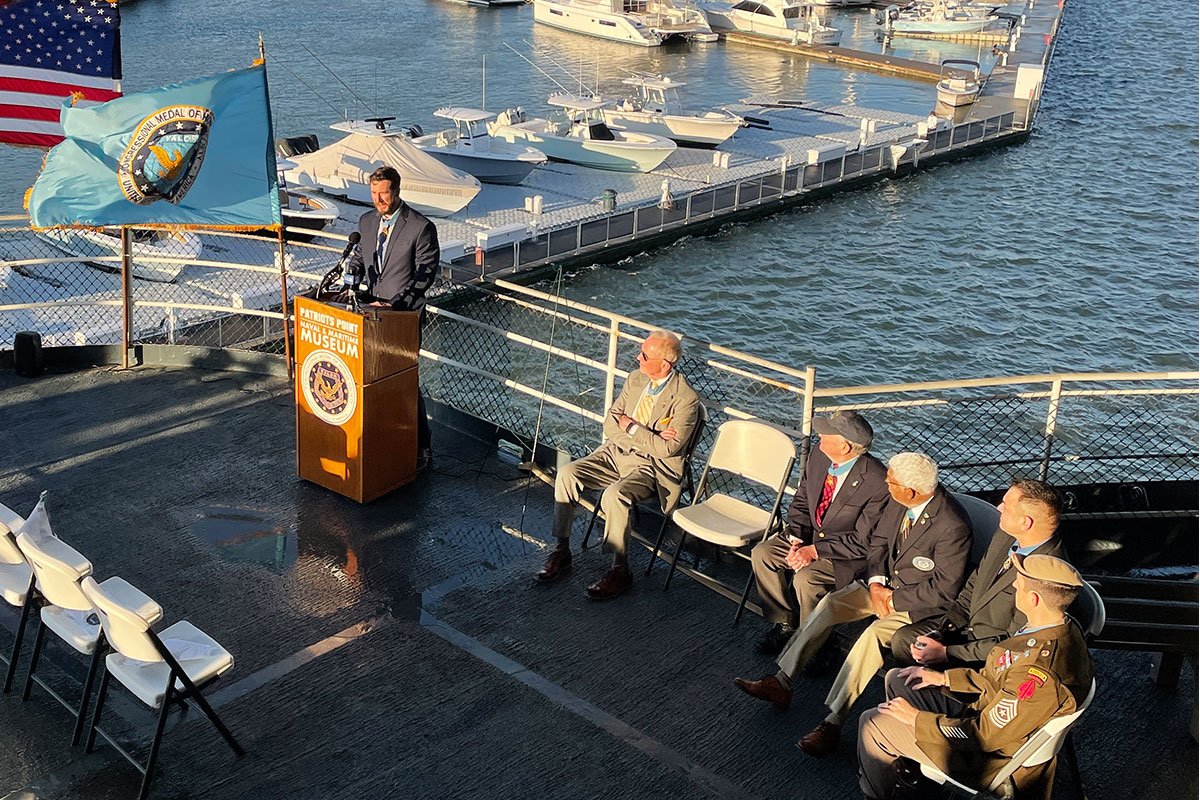 "Medal of Honor Day was established on March 25, 1991, to coincide with the award of the first Medal of Honor ever [to Pvt. Jacob Parrott], on March 25, 1863," said Ryan Pitts, who received the Medal of Honor for actions in Afghanistan. As a forward observer in the 503rd Infantry Regiment of the 173rd Airborne Brigade, Pitts fought off enemies so close on July 13, 2008, that he could hear their voices. Pitts was seriously wounded but prevented the enemy from overrunning his observation post and capturing American soldiers.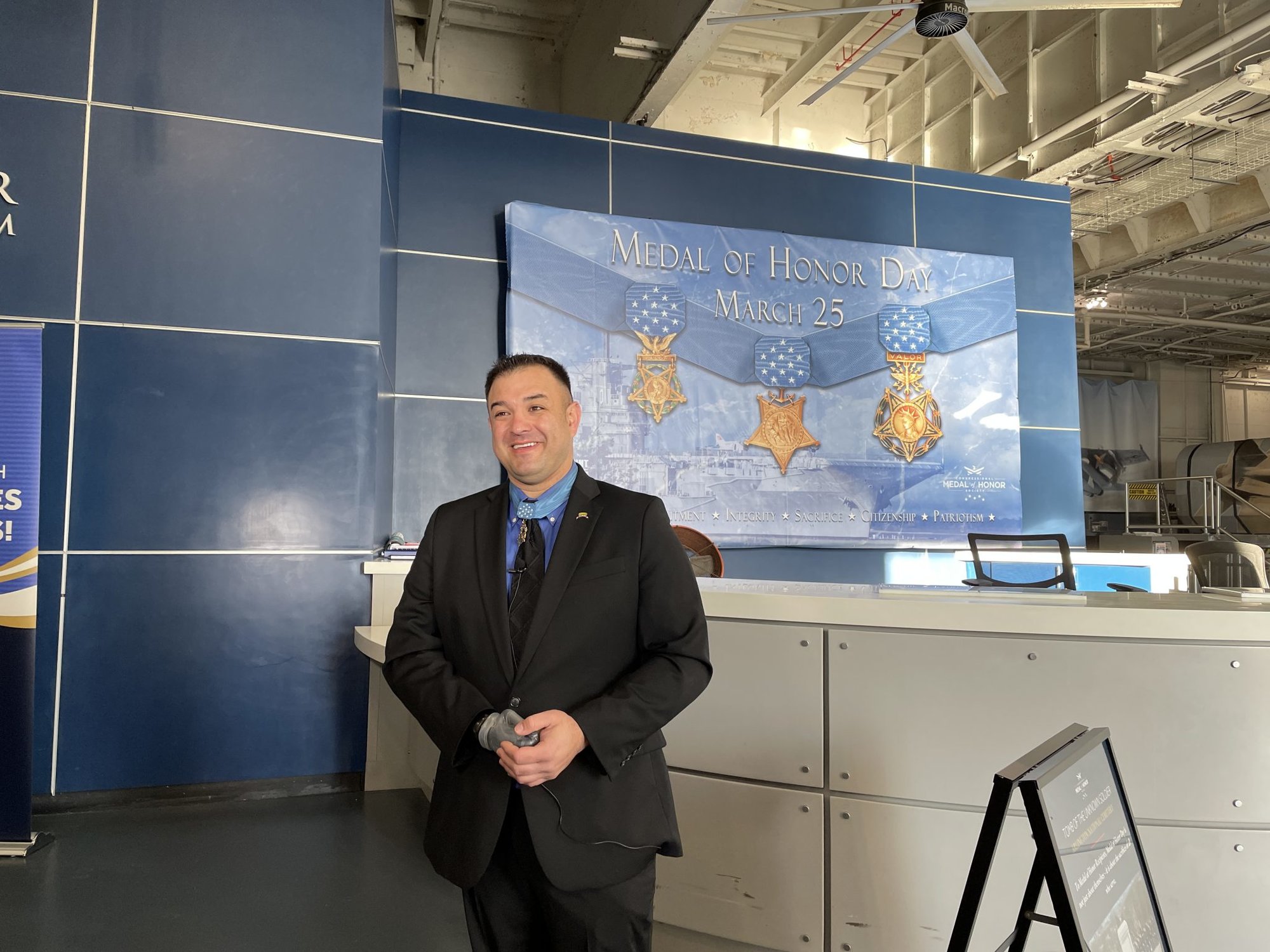 The medal recipients in attendance included Pitts; Petry, who serves as the Congressional Medal of Honor Society president; James Livingston, a Marine who was wounded three times on May 2, 1968, but continued to lead his men in a determined assault on the village of Dai Do; Walter "Joe" Marm, who on Nov. 14, 1965, broke an enemy assault and rallied his unit despite being severely wounded; Melvin Morris, who charged forward into withering enemy fire to take out bunkers and reach a fallen team commander on Sept. 17, 1969; and currently serving Sgt. Maj. Thomas "Pat" Payne, who during a rescue operation in Iraq's Kirkuk province, Oct. 22, 2015, led a team that liberated 75 hostages from a burning prison.
The six spent the day with museum patrons as well as community members and junior ROTC students.
Petry made sure to take pictures with all who asked, telling Coffee or Die Magazine that he told them, "You won't be able to re-create this moment. It's hard to get us together all in one place." But, he said, "Every time we do get together, though, it's like family."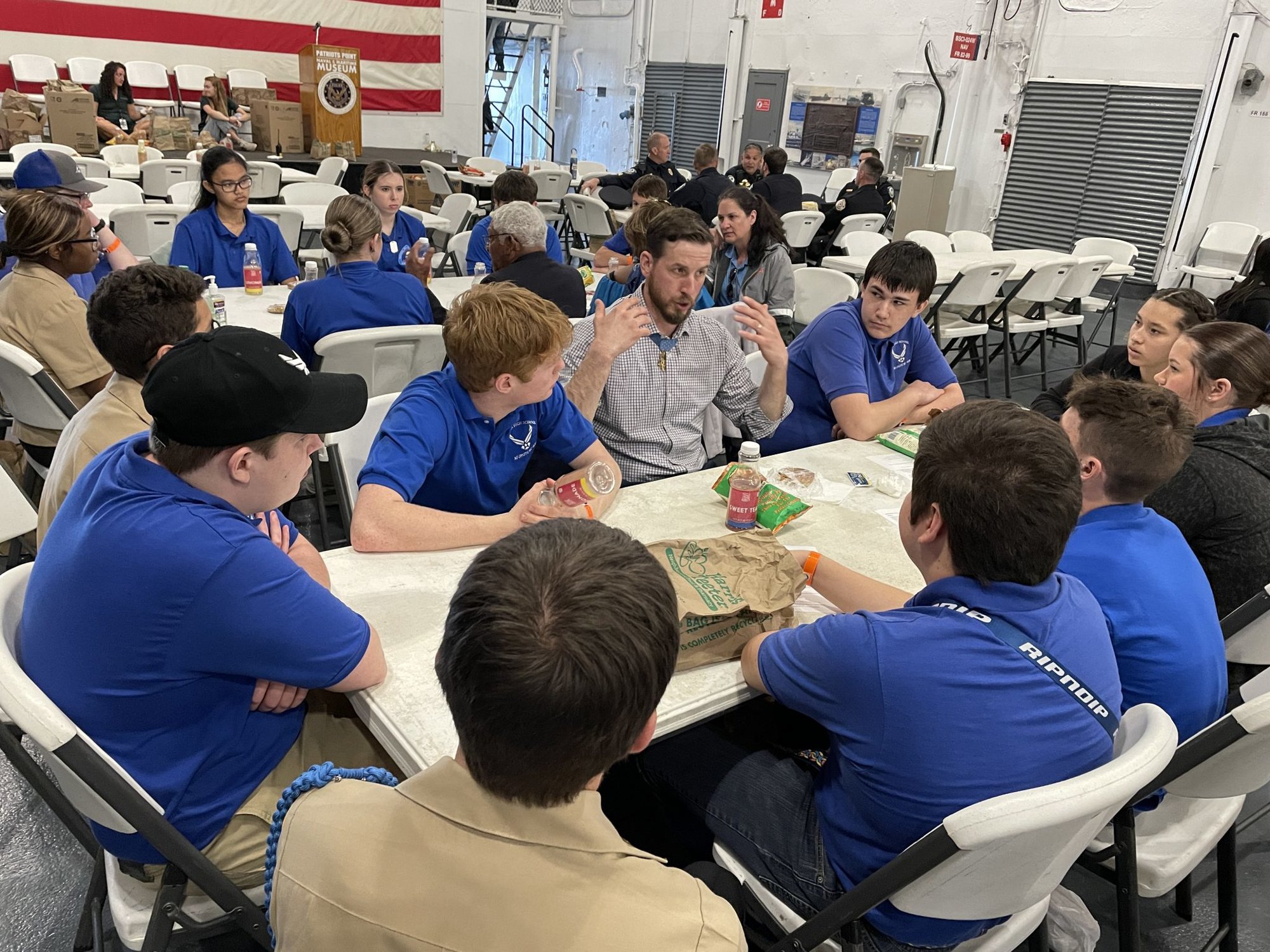 The six spoke with high school students about military service, a favorite activity for Morris.
"I love it," Morris told Coffee or Die. "Not telling my story; I'm just trying to get the young people on the right track."
The Congressional Medal of Honor Society is the membership organization of the 66 living Medal of Honor recipients.
The day started with a wreath-laying ceremony on the USS Yorktown in Charleston Harbor, followed by a C-17 flyover by the 317th Airlift Wing from Joint Base Charleston. There was also a livestream of a wreath-laying ceremony broadcast from Arlington National Cemetery to pay tribute to the 3,511 recipients since the Civil War and the 66 living recipients.
"Today is a very poignant reminder of the sacrifices of so many that have served this nation in peace and in war," said John Falkenbury, executive vice president for the Congressional Medal of Honor Society.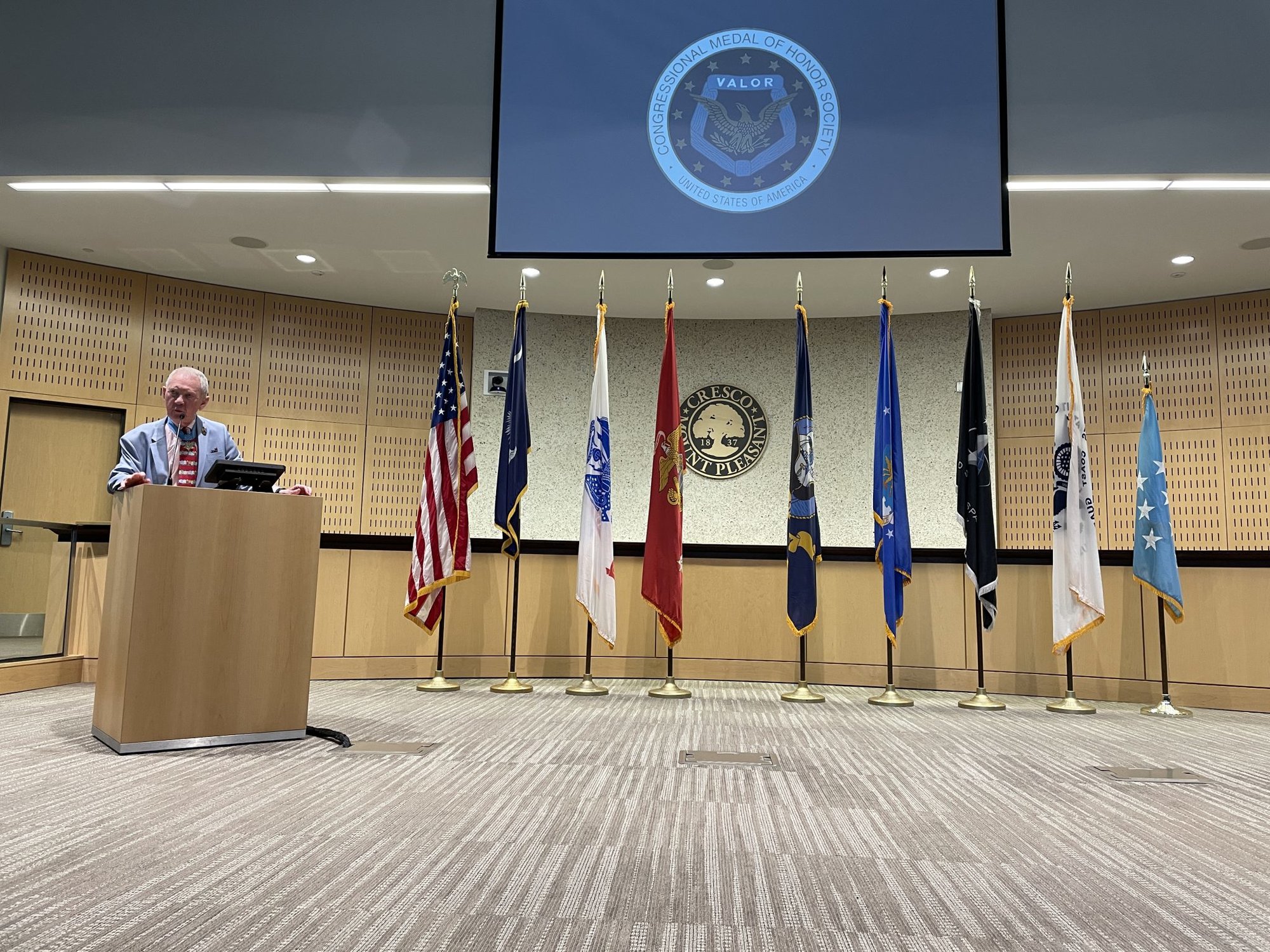 The day also marked the announcement of a new initiative, the Medal of Honor Valor Trail. The Congressional Medal of Honor Society joined with the American Battlefield Trust on an initiative that will promote the legacy of the Medal of Honor by educating people about the medal's history and meaning. The newly launched site connects Medal of Honor stories to tangible places through an interactive map.
Livingston took to the podium during the ceremony at Mount Pleasant Town Hall with as much oomph as he had serving as a US Marine. He commanded the attention of the room with ease, spoke without hesitation, and assured those in attendance that there would be a national museum in Mount Pleasant.
"The more Medal of Honor museums we have, the better," Livingston said. "Anything we can do to inspire young Americans about this country and about service and sacrifice, let's go."
Read Next: The Legend of Dick Bong: World War II 'Ace of Aces,' Medal of Honor Recipient — and Crocodile Killer?