The Medal of Honor is the United States' highest and most prestigious award for valor in military action. The medal is authorized for any military service member in the Army, Navy, Marines, Coast Guard, Air Force, and Space Force who "distinguishes themselves conspicuously by gallantry and intrepidity at the risk of their life above and beyond the call of duty:
"While engaged in an action against an enemy of the United States;
"While engaged in military operations involving conflict with an opposing foreign force;
"While serving with friendly foreign forces engaged in an armed conflict against an opposing armed force in which the United States is not a belligerent party."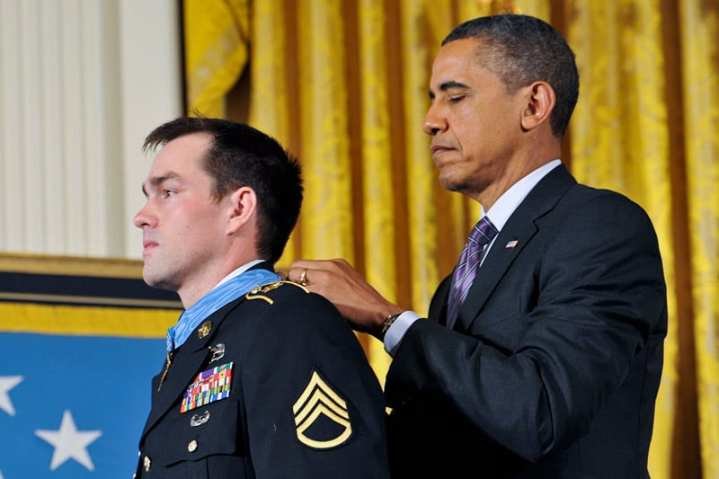 Since President Abraham Lincoln signed the legislation to create the Navy's Medal of Honor in 1861, there have been changes to the appearance of the medal, but what the medal stands for has always remained the same. In each medal are imbued the values that each recipient displayed in the moment when called upon — courage, integrity, sacrifice, and bravery.
There are three variations of the medal, each with distinguishing features representing branches of the Army, Navy, and Air Force.
Army
A light blue ribbon, a color of valor, wears 13 white stars representing the original number of American colonies.

The eagle cresting the top represents a long-standing symbol of pride for the United States.

Minerva, the Helmeted Goddess of Wisdom and War, rests in the medal's center.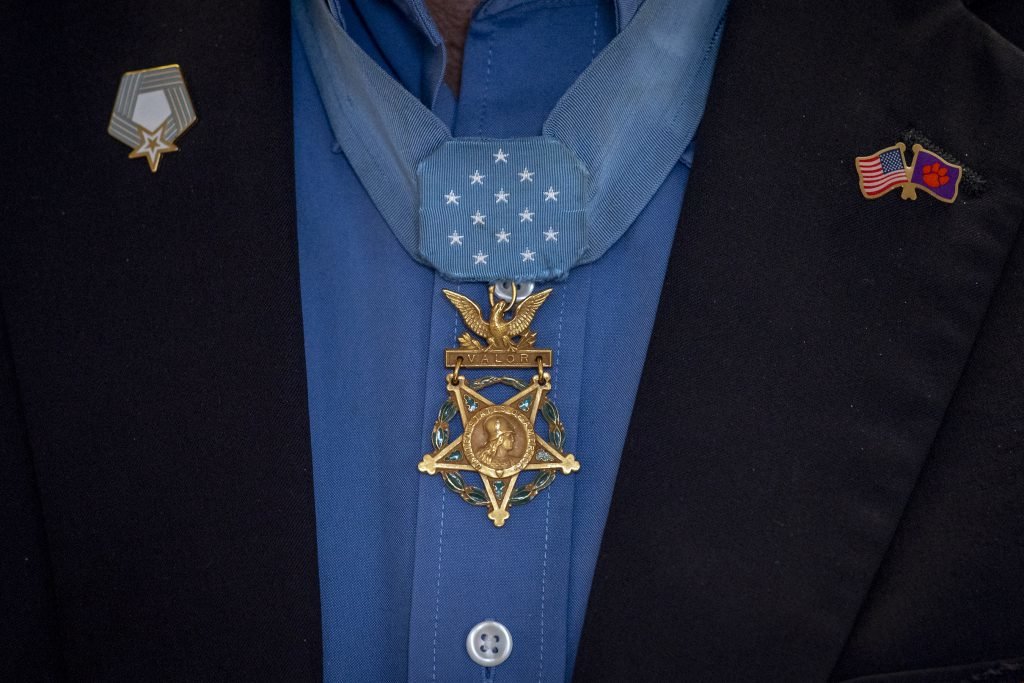 Navy, Marine Corps, Coast Guard
34 stars encircling the medal equal the number of stars on the US flag in 1862. Each star represents a state — Union and Confederate.

Minerva, the Helmeted Goddess of Wisdom and War, is depicted in the center, battling a man holding two handfuls of snakes representing strife.

Laurel and oak leaves on each of the medal's five points represent victory and strength.
Air Force and Space Force
A coat of arms at the top of the medal, adorned with eight lightning bolts, is borrowed from the Air Force coat of arms.

The head of the Statue of Liberty is centered in the medal. Her image was inspired by Queen Semiramis of Babylon, representing strength, beauty, and wisdom.

The laurel wreath symbolizes victory and was adapted from the Army medal.
In all, 3,526 Medals of Honor have been awarded to 3,507 recipients to date. Bernard J. D. Irwin rescued 60 of his fellow soldiers in Apache Pass, Arizona, in 1861, actions that became the earliest in time to be recognized with the medal. The most recent Medal of Honor recipient is Sgt. Maj. Thomas P. Payne, who distinguished himself during a daring nighttime hostage rescue in Kirkuk, Iraq, in 2015. From the trenches of France, to the frozen mountains of Korea, to the concrete maze of Ramadi, the medal tells the story of every recipient when they went above and beyond the call of duty.