The Medal of Honor. It's that rare award where you know the recipient is one bad hombre, no questions asked. They don't just give these out — hell, there are legitimate badasses who didn't quite pass muster. And this isn't just some award that the company commander gives you on a Friday afternoon in the barracks parking lot while the whole company stares at you with contempt for holding up their weekend. Only the President of the United States of America is authorized to present the Medal of Honor. Unfortunately, many recipients aren't alive to receive it in person.
Since the Civil War, 3,468 Medals of Honor have been awarded — 621 of them posthumously. Nineteen of these recipients were apparently magnets for shit situations and found themselves with two around their necks. Many of the stories of heroic feats in combat are well-known, so on National Medal of Honor Day, we found three that you might not know of — but definitely should.
1.
Corporal Hiroshi H. "Hershey" Miyamura – Korean War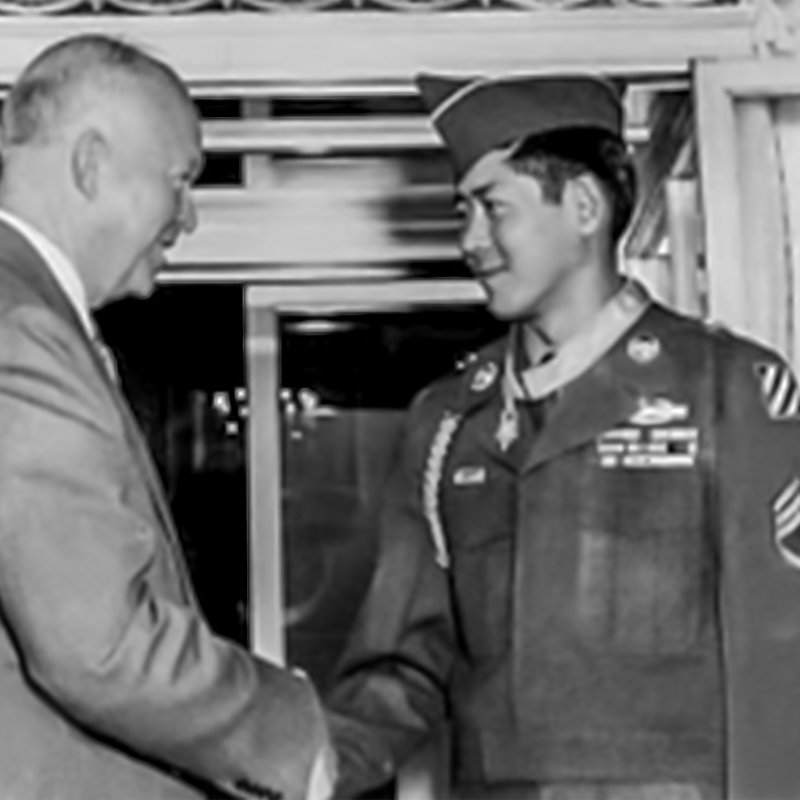 CPL Miyamura was awarded the Medal of Honor for stackin' bodies from April 24 to April 25, 1951, near Taejon-ni in Korea. The Chinese "fanatically attacked" his defensive position, so Miyamura jumped out of his shelter like a ninja and started wielding the fuck out of his bayonet in close hand-to-hand combat, which resulted in 10 enemy soldiers dead AF.
Another savage assault hit their position, so this time he upgraded to a machine gun and cut the enemy down until he ran out of ammo. He told the rest of his squad to beat feet and save themselves because things weren't looking too good. He grabbed his trusty bayonet again and started slashing and stabbing his way through every infiltrated enemy soldier that stood between him and a second machine gun position. He killed 50 more like it weren't no chore, but again his ammunition ran out and he was now severely wounded on top of it all.
According to his citation, he was last seen "fighting ferociously against an overwhelming number of enemy soldiers." This baller on an ammo budget was eventually taken prisoner and forced to march 300 miles to a prisoner of war camp, where he would stay for the next 28 months. He was actually awarded the Medal of Honor while still in captivity, but the military classified the award as Top Secret (the first to ever be classified at this level) so that his captors wouldn't know how many of their buddies were killed by ol' Hershey until he was safely back on American soil.
2.
Corporal James D. Slaton – World War II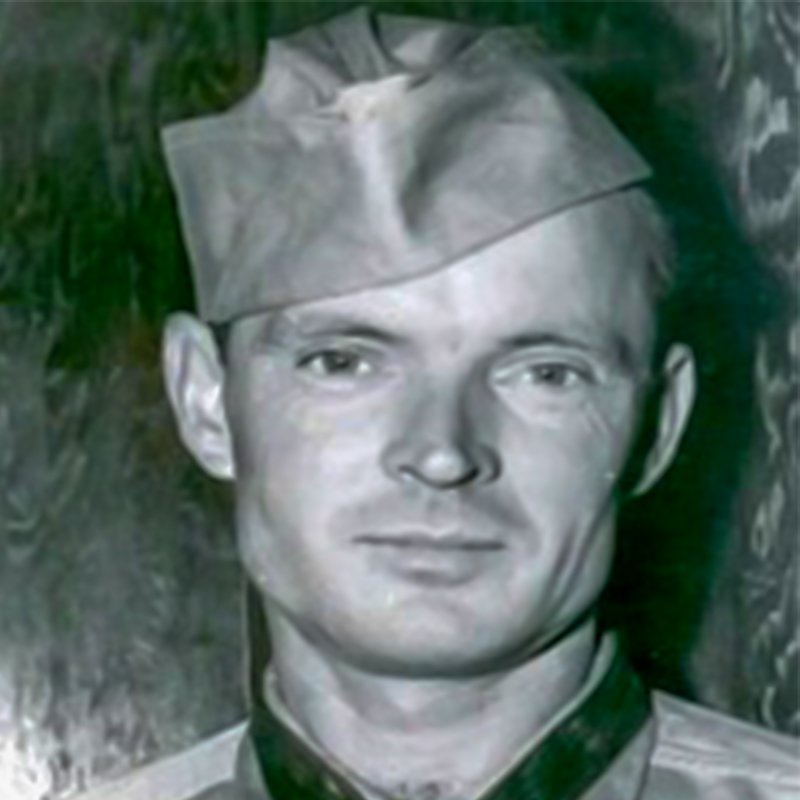 CPL Slaton received the Medal of Honor for laying a metric fuck-ton of hate on the enemy in the vicinity of Oliveto, Italy, on Sept. 23, 1943. He was leading an infantry squad on a mission to flank the enemy and make them sorry for pinning down two platoons of his fellow Americans. He was so damn excited to get his war face on that he moved ahead of his element and crept up to an enemy machine gun nest and took his bayonet to the gunner. Suffice it to say, the gunner didn't make it out alive.
Unfortunately, Slaton's bayonet was "stuck," so he detached it from his rifle and killed another nearby gunner. The fascists were onto him now, and a machine gun opened up on him. No cover? No problem. Slaton moved over the open ground under constant enemy fire until he was within throwing distance and tossed a couple of grenades, which killed another two enemy gunners.
Yet another machine gun opened up on him 100 yards to his front. Slaton was probably and understandably winded at this point, so he just dropped those fools with a couple of well-placed shots from his rifle. Long story short: the two platoons that had been pinned down were able to maneuver out, and the rest of Slaton's squad was like, "What the fuck, bro? Why'd we even come out here if you were just gonna do all the work?" I mean, they probably said that.
3.
First Lieutenant William B. Turner – World War I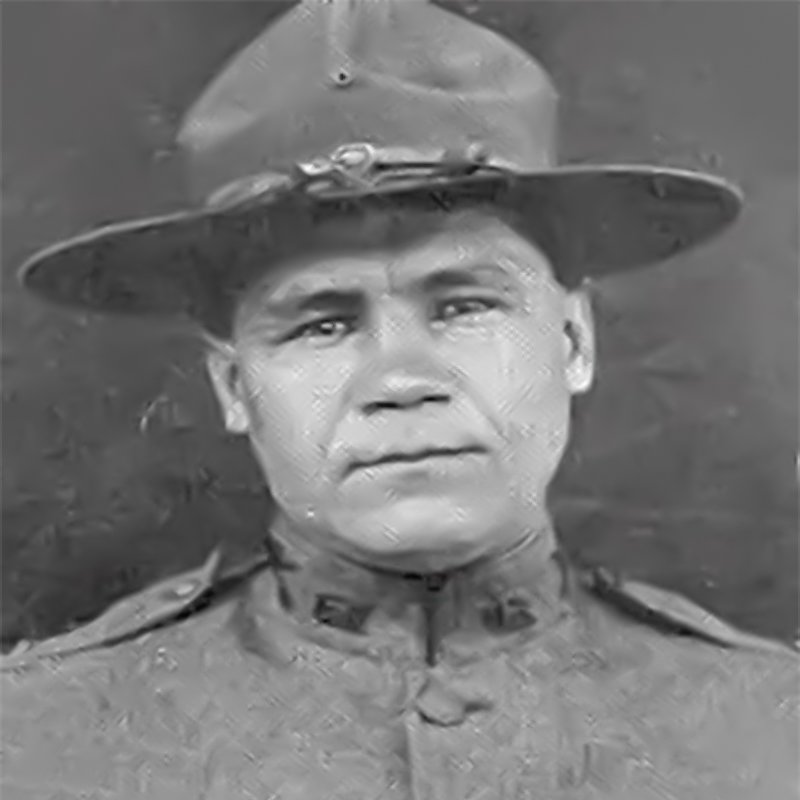 Ol' El-tee Turner was leading his men to the attack during an intense artillery and machine-gun barrage one night when they all of a sudden became separated from the rest of their company. Before they knew it, an enemy machine gun was trained on them and raining lead in a most inconvenient way. So Turner readjusted his massive brass balls, yelled out "Leroooooooooy Jeeeeeenkins!" and charged the machine gun nest by himself with nothing but a pistol. He killed them all. With prejudice.
There was blood in the water and he knew it, so he moved on to another machine gun post 25 yards away and killed one of the gunners before the rest of his detachment caught up and finished the job. With the gang back together, he and his men got vicious AF. They went over and through three lines of hostile trenches, killing everyone who dared stand in their way.
The fog of war gets a bit murky, but all told Turner was wounded three times, killed several enemy troops in hand-to-hand combat, and after his pistol ammo was spent, he "borrowed" a rifle from a dead soldier and "bayoneted several members of a machine gun crew and shot the other," according to his Medal of Honor citation. The citation goes on to say that "upon reaching the fourth line trench, which was his objective, Lieutenant Turner captured it with the nine men remaining in his group and resisted a hostile counterattack until he was finally surrounded and killed." It's heroes like 1LT Turner that American military might was built on, and we salute both his service and his sacrifice. Rest in peace, Lieutenant Turner.