Hailing from just outside Ishpeming, Michigan, a small town in the Upper Peninsula, Alyssa Maybe grew up with the odds stacked against her. Both Child Protective Services and the local circuit court removed her from her family multiple times; first at the age of 7 after her alcoholic mother punched a police officer, and again two years later.
Her father tried to gain permanent custody, but because of his active duty military status, she found herself returning to her mother's custody again and again. Maybe had no choice but to be her mother's caretaker until age 11, frequently dragging her to bed after she passed out in the hallway.
Despite all of the hardship, Maybe remembers her youth fondly because of the mechanical work she learned to do on cars and bikes — work she still does today.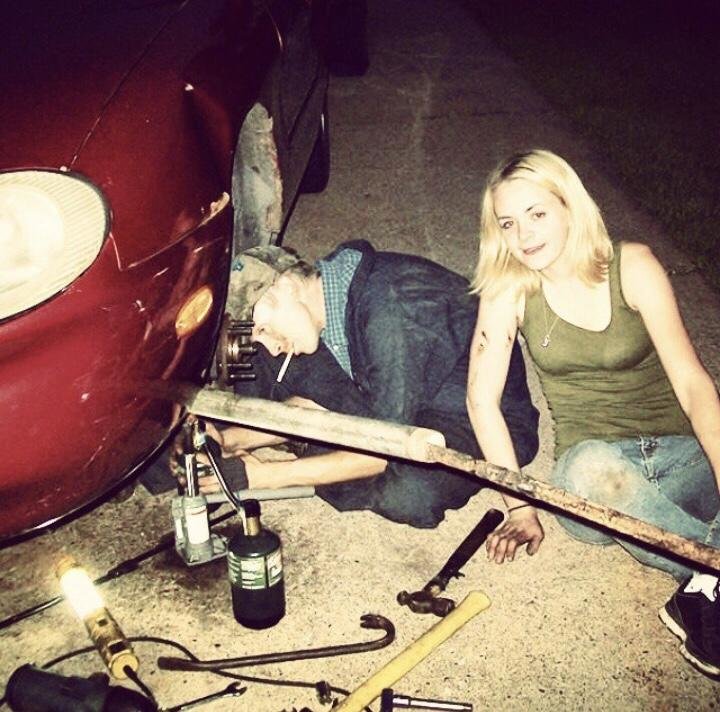 Her father was the head mechanic at the nearby National Guard armory. Before 9/11, he could bring his kids with him to work on tanks. Her father advised her against being a mechanic, despite her skills, because of the profession's low pay. In a place like Ishpeming, the starting salary would easily be less than $15 an hour.
Once she hit puberty, he put a stop to her visits to the armory all together. "I grew boobs, and people noticed," Maybe said.
Maybe grew up with aspirations of becoming a zoologist or a mortician. But after her brother returned from his first deployment as a US Marine in Iraq, he suffered a traumatic brain injury in a car accident. At age 15, Maybe put everything on hold to help take care of him — once again putting a family member in need before herself.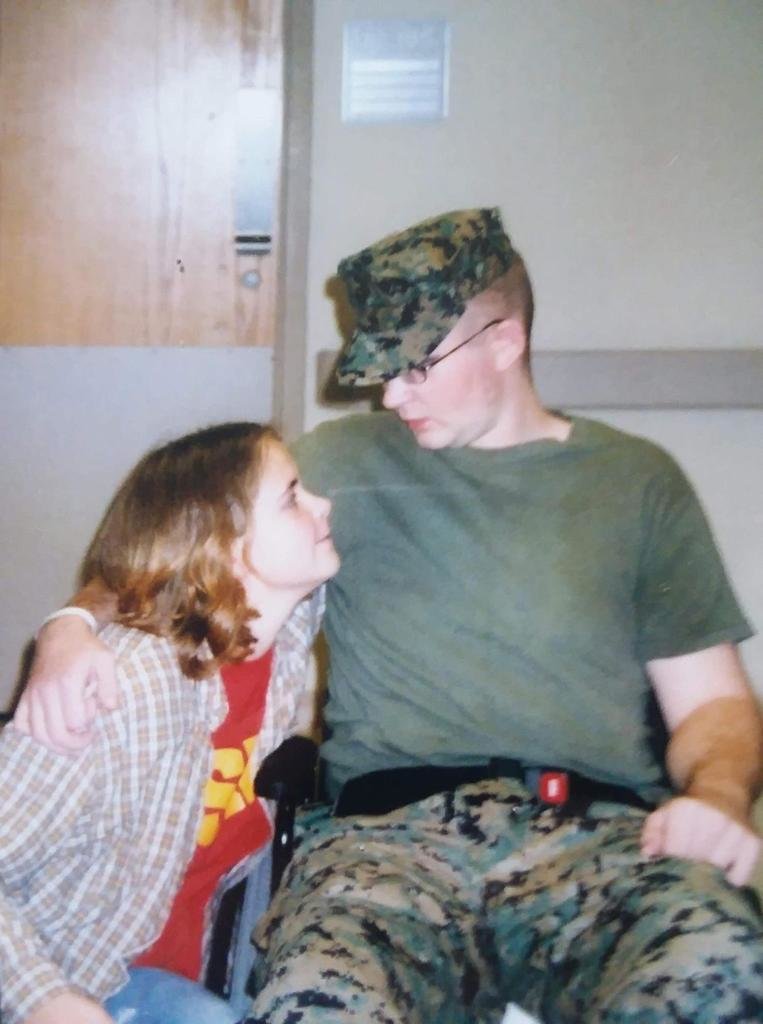 At the age of 21, she started a family with the birth of her son. After bouncing around at different jobs for a few years, she was offered a job at a local scrapyard as the inventory manager.
The scrapyard was Maybe's dream job. She got a heavy machine operator's license to drive a forklift, enjoying the thrill of lifting cars off the ground. Nothing about the work intimidated her.
"My first day there, they needed all the guys to go stack rims, so I'm throwing rims up, I'm busting my ass," Maybe explained. "And one of the guys looks at my boss and goes, 'Where the hell'd you find her?"
The answer: County Road 581, "basically where all the rednecks are from." It was a calling card that bought her respect immediately.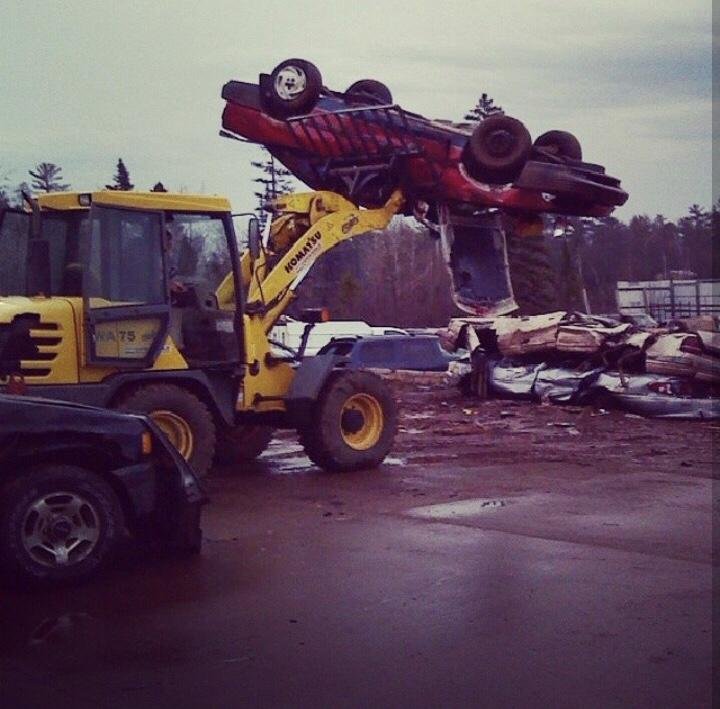 Despite his appreciation of her work ethic, Maybe quickly found that her boss saw her gender as a handicap. Less than 2 percent of auto mechanics are female, and he inherently doubted her ability to perform aspects of the job.
"It was a real eye-opener," Maybe said.
At first, he wouldn't let her do certain tasks because he didn't think it was work women should do — she could take the cars apart, but he didn't want her putting them together.
For two years, Maybe had no problem working with an all-male staff. She understood the work environment.
"Every place I've worked where you are in a traditionally male role, people will be able to give you shit and they expect you to give shit back. Otherwise you can look like a pushover," she said.
She was no pushover and had no problem with what was friendly banter — until her coworkers discovered that she was bisexual.
"Eventually, they figured out my girlfriend wasn't my roommate. After that, things went downhill really fast," Maybe said. That's when the sexual harassment from her co-workers started.
Her boss also pursued her sexually. "I thought I was friends with my boss. And then it was like a switch got flipped," she said.
Maybe tried to fend off his advances, but that made things more uncomfortable.
"Eventually, they figured out my girlfriend wasn't my roommate. After that, things went downhill really fast,"
"I said, 'You're my boss,' and he said, 'Well, what if I fired you?'" That was the last straw.
She gave two weeks' notice but the harassment increased — so she quit.
"I was flabbergasted at the end because in the beginning all I heard was how great I was doing. and as time wore on it was more and more disrespect for me as a human," Maybe said. "I was going home and crying every night. That's not who I am."
Maybe considered a lawsuit, but after speaking with a lawyer, the realities of living in small-town America set in.
"Everybody knows everybody here, and it wasn't really worth it in the end," she said. "Not to mention, if I did that, would any garage want to hire me after the fact?"
Working with heavy parts and vibrating tools her whole life took a physical toll. She had suffered a hernia, torn ligaments in her ankles, and carpal tunnel syndrome all by the age of 30. She had no insurance and had to live with the hernia for a year, to the point where it was physically visible when she was lifting transmissions. She took time off after leaving the scrapyard and underwent multiple surgeries.
Last year, she took a job working on Harley-Davidson motorcycles for six months.
"My boss was an old-fashioned redneck. He was very polite; he wouldn't even swear in front of me when I first started. It was the nicest place I've ever worked. I was like, Is this a joke?" Maybe laughed. She stayed there until business slowed due to Harley plants relocating overseas. Her boyfriend is the manager of the local Advance Auto Parts retail store, so she now helps in the garage there. It looks like Maybe's dream job might be back within reach, as the scrapyard has been sold to new management.
"I'm going to get my job back," she declared.
But Maybe's main job for the last eight months has been taking care of her 8-year-old son after winning full custody.
"This past year has been me trying to focus on getting my son back to where he was because it affects kids no matter what you do when one parent suddenly isn't around as much," Maybe said.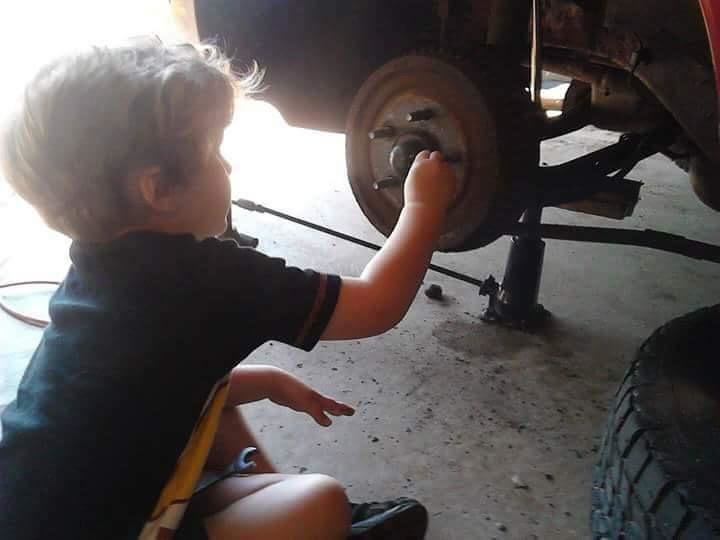 Maybe's son is already picking up on some of the ways his family defies societal expectations. His father works in restaurant kitchens, so the boy says when he grows up he wants to "work on cars like his mom and cook food like his dad."
Over the summer Maybe bought a welder and a plasma cutter and has been using her time off to teach her son to use them.
"It's a privilege, in my eyes, to be able to give your kid that. Not everybody grows up like that," she acknowledged. She also thinks that her career functions as a great metaphor for life that her son can learn from. "It's important to show a kid, 'Hey, here's a problem, you can fix it.' It's just really easy to relate 'This is a problem in a car' and 'This is a problem in your life.' You still have to fix it."
Despite setbacks, Maybe's love of automotive work continues to push her forward.