The night before 9/11, it rained. It rained for hours, from late afternoon until well after darkness had fallen. I remember this because I was at Yankee Stadium, hoping to see Roger Clemens notch his 20th win of the season against the Red Sox. The game was finally called at 8:57 p.m. We groaned and hung our heads in frustration once we discovered that we had waited so long in vain.
But the morning dawned with brilliant sunshine, and I breathed the crisp air deeply as I hurried down the subway steps on my way to the office. What a beautiful day, I thought. I'd been at Field & Stream magazine for a little over two years, and I usually arrived around half past nine or so. Little did I know that 6 miles to the south, two planes had already flown into the Twin Towers.
Underground, life was still normal. Commuters and kids on their way to school chattered, laughed, read newspapers, nodded off in their seats, held onto poles, and swayed to the movement of the train. For my 15-minute ride from the Upper East Side to 2 Park Avenue at 33rd Street, I thought I knew what the day held in store — manuscripts to read, copy to edit, small talk by the coffee machine. Not until I stepped out of the elevator onto the 10th floor did I find unusual commotion, people huddled in small groups, looks of concern on their faces.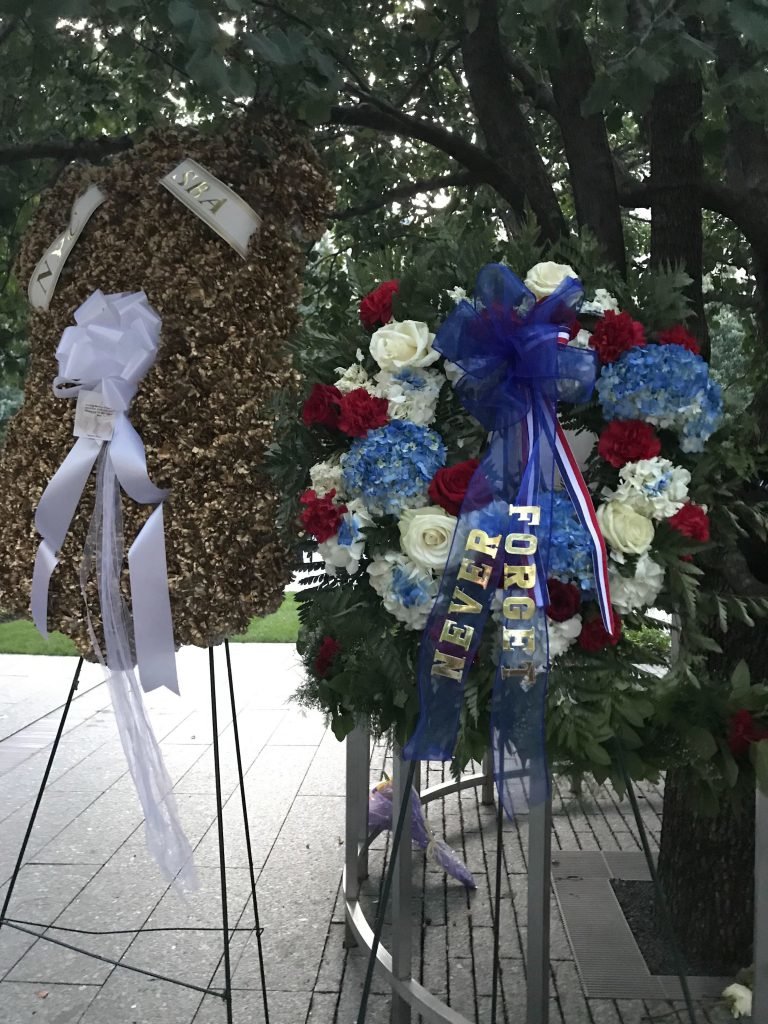 "What's going on?" I asked.
"A plane crashed into the World Trade Center," someone told me.
In the confusion of that morning, we still thought it was a small plane, a terrible accident. We did not yet realize that New York — America — was under attack. There were no smartphones with instant news alerts. I rushed to my desk to check the internet. Reports were trickling in. No, it wasn't a small plane, it was a passenger jet. Two. Both towers had been hit. Videos showed black smoke staining the blue sky, and replays of the second plane streaking through the air and into a ball of fire. There were photos of crowds of people in the streets, looking up, pointing, shock and horror on their faces. There was small comfort then knowing that the NYPD, New York's Finest, and the FDNY, New York's Bravest, were on it. First responders were rushing to the scene, and hundreds of firefighters were climbing flight after flight after flight of stairs, laden with gear.
I went in search of a television screen, without success, my stomach churning. Then, a colleague came up to me. It was just after 10 a.m. "The South Tower collapsed," he said. "It's gone. It's gone."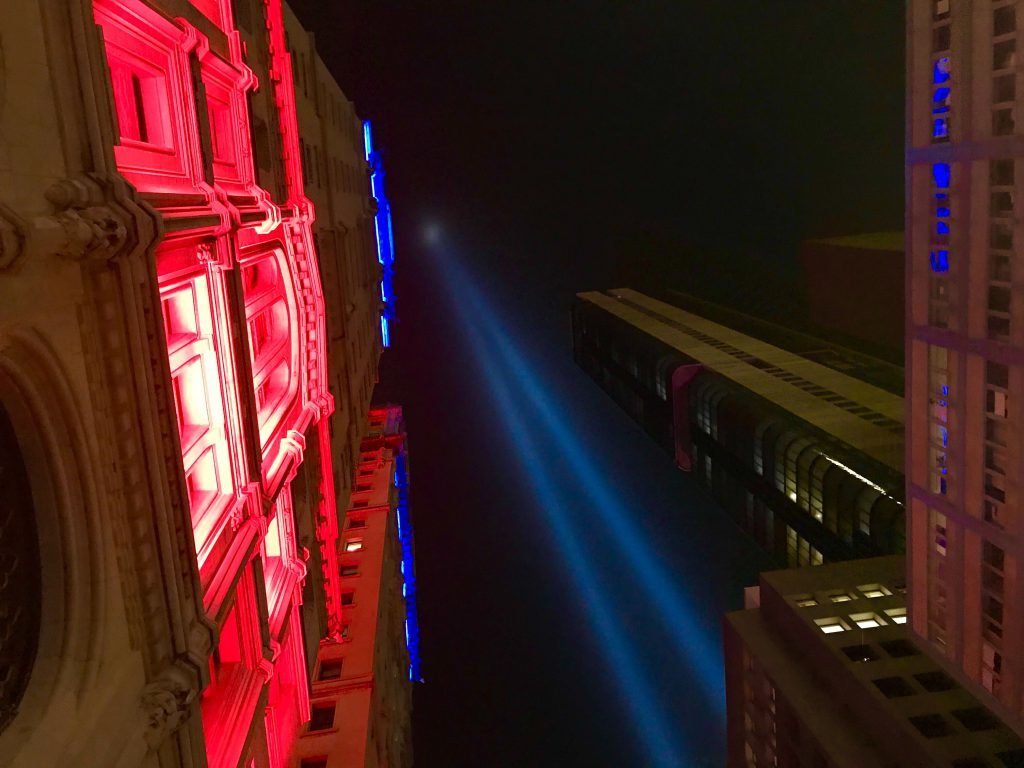 Like much of America, I watched the events unfold on screens, though they were a mere 3 miles away. I managed to reach my husband, Jock, on the phone at his job in Soho, and we arranged to meet in front of my building to walk home together. When he arrived, we held each other tight and cried. From the rooftop of his offices, he'd witnessed people jumping or falling from the burning towers. He'd seen the North Tower crumble. We joined the columns of people slowly trudging north. A few were covered in that eerie white dust. Home was also 3 miles away. We held hands for the entire walk.
For days — or was it weeks? months? — we were glued to the news. Sleep was hard to find but not tears. The city's pulse had stilled, and the mood was somber; we were all living under a pall. Jock got laid off from the job he'd started only weeks before. I rode the train to work and people's faces had turned to stone. One evening, on my way back home, a man got on in the rough garb of a construction worker, carrying a bucket of tools. His face, hands, and clothes were covered in gray dust, and an odor clung to him and permeated the entire subway car. I had never smelled it before, but I knew. It was the smell of death. He had been on the pile.
I never went to ground zero. I couldn't bear to. I had no skills to lend to the recovery efforts, nor any desire to rubberneck our national tragedy. For my whole life, the Twin Towers had been a lodestar. I have a terrible sense of direction, but if I could see even a portion of one or both towers scraping the sky, I knew instantly which way was south, which way was east, which north, which west. Now I was rudderless.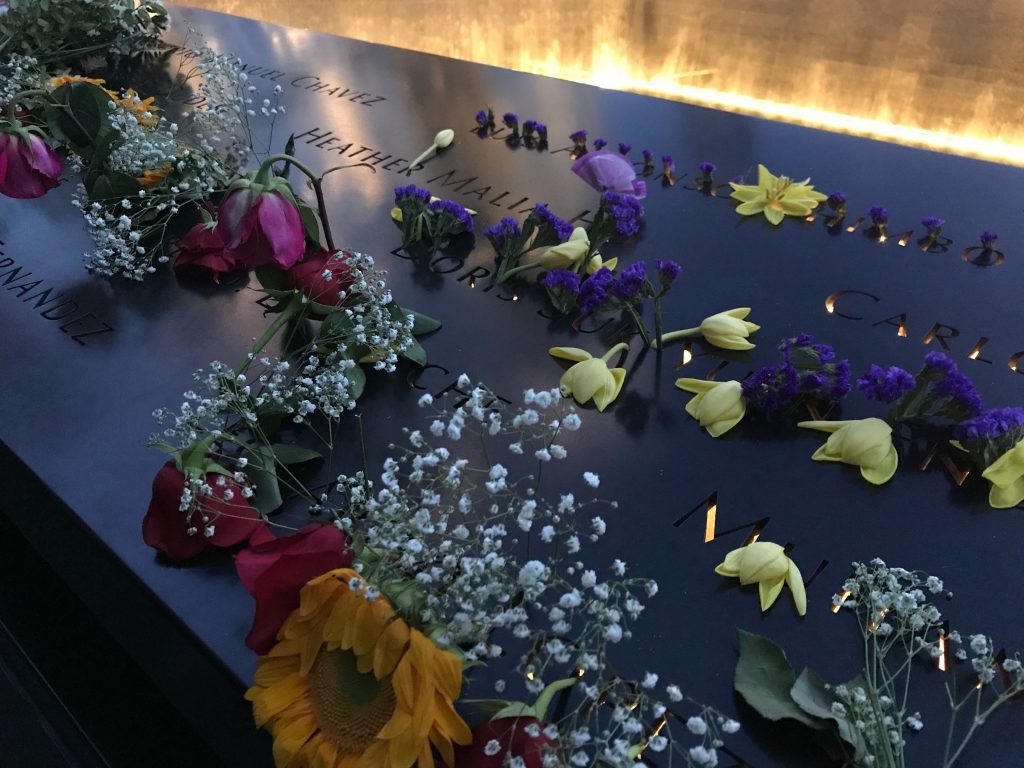 Even in a city of 8 million souls, you might think that everyone would know someone who perished on 9/11. I read every capsule obituary published to mourn the lives of those we'd lost. I only had a tenuous connection to one person: Heather Malia Ho, the pastry chef at Windows on the World, the restaurant at the top of the North Tower. A recent transplant to New York, she'd only worked there since June, and from her obituary, I learned that she had given her notice but was staying on until they hired her replacement. I'd met her once, at a small gathering for another chef friend's birthday on a Brooklyn stoop. She'd made him a Snickers pie. She was from Hawaii. She was beautiful. You can still find some of her recipes online — banana-bread-and-butter pudding, mocha brownies, lemon-caramel icebox cake.
Just four blocks north of the World Trade Center, my high school, Stuyvesant, was evacuated on 9/11. When I attended, the school was located on East 15th Street and First Avenue, but it had moved to its current Battery Park City campus in 1992. Stuyvesant was engulfed in the dust cloud from ground zero and later served as a command center for the rescue and recovery efforts, and as a morgue. Its students were eyewitnesses to the attacks; eight were profiled in the HBO documentary In the Shadow of the Towers, and like others who lived and worked in the vicinity, some have suffered or died from 9/11-related illnesses. Those students were just like me, traveling by bus or subway or ferry (or all of the above) to Stuyvesant from near and far, from one of the five boroughs that together make the Big Apple. I used to commute to school by bus and subway from Jackson Heights, Queens, one of the most culturally diverse neighborhoods in the world, where 167 languages, give or take, are spoken. In that way, Stuyvesant was much like the Twin Towers were themselves — a magnet for people from all over the city and beyond, of every background imaginable.
"This video was shot on Friday September 7, 2001." The message flashes in white lettering against a black background at the beginning of Ryan Adams' music video for New York, New York. In it, scenes of the city flicker by in fast motion, people going about their day, but time after time, it returns to Adams singing about his undying love for "New York" as a stand-in for an ex-lover. He is standing below the Brooklyn Bridge — the Twin Towers glistening tall and proud across the river behind him. The footage starts sometime in the morning in bright sunshine, and then gradually night draws in like a curtain, the lights of the skyscrapers twinkling through.
I wonder, when the hijackers chose the date of their attack, did they think of how the two towers resembled the number 11? It's heartbreaking to watch now, and yet I watch it every year on Sept. 11. When it ends, with a saxophone wailing and then fading away, the screen returns to black and flashes, "Dedicated to those who lost their lives September 11, 2001 … and those who worked to save them."
It's still raw. Jock and I can't bring ourselves to visit the 9/11 Museum. We do go to the memorial reflecting pools every year on the anniversary. We gaze at the tribute in lights probing the dark, and we think of the office workers, mailroom clerks, and executives, the chefs and busboys, the airplane passengers and crew, the police, the firefighters, the ironworkers, and all who were taken from us. We will never forget.