The bill to officially award the 5307th Composite Unit (Provisional), aka Merrill's Marauders, the Congressional Gold Medal was signed into law by President Donald Trump on Saturday, according to a White House press release.
In August 1943, the Allies agreed that they needed an American long-range penetration mission behind enemy lines in Burma, now called Myanmar, to disrupt and destroy the supplies and communication abilities of the veteran Japanese military in that area.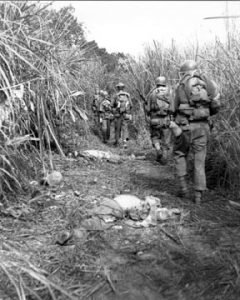 Merrill's Marauders marched thousands of miles over the Himalayan Mountains and through the dense jungles of Burma, considered by some a suicide mission. The unit, populated with battle-hardened soldiers as well as some who had never seen combat, persevered through disease, firefights with the overwhelming Japanese military force in the area, and a lack of supplies. They solidified themselves as legends in military history and are who the renowned 75th Ranger Regiment traces their lineage back to.
In March 2019, then-Sen. Johnny Isakson of Georgia introduced the bill into the US Senate, and it was unanimously passed on Dec. 5, 2019. The bill went unopposed in the House of Representatives and passed on Sept. 22, 2020. It then moved to the White House, where it awaited Trump's signature.
One of the key accomplishments of Merrill's Marauders was their seizure of the Myitkyina Airfield, a critical all-weather airstrip for the Japanese military. Robert Passanisi, 96, one of the nine known surviving members of the Merrill's Marauders, told AP News, "After many years, all the sacrifices, and the suffering, are now finally recognized. It makes you feel like it was all worthwhile."