Winter is hanging on across much of the United States, and it's cold outside. What better way to make you feel all warm inside than to take your palate to the southernmost part of North America? The flavor of this Mexican-inspired coffee meatball soup is as bold as your personality, and if your personality isn't bold, it will be after you make this recipe.
Sopa de albondigas, or meatball soup, is a hearty and simple Mexican comfort food. Coffee is not a typical ingredient, but it contributes a unique acidity that helps balance out the herbaceous flavors of the dish. Adding espresso turns the pedestrian meatball into a rock star of earthy, robust flavor that your mouth probably never expected. You don't taste coffee, but what happens is the espresso inputs a wonderful body that will leave everyone guessing what the magic ingredient is if they don't already know.
This recipe marries coffee's big-time flavor with the cozy taste of chocolate and spices. The chocolate — the word comes, via Spanish, from the Aztec Nahuatl word xocolātl — lends the soup a creamy, rich sweetness. And the mint, known as yerba buena, or "good herb" in Spanish, is another key ingredient.
Before you feel like this meal is meeting you with overwhelming force, know that even though the ingredients make for a long grocery list, this Mexican coffee meatball soup is actually a really easy dish to make.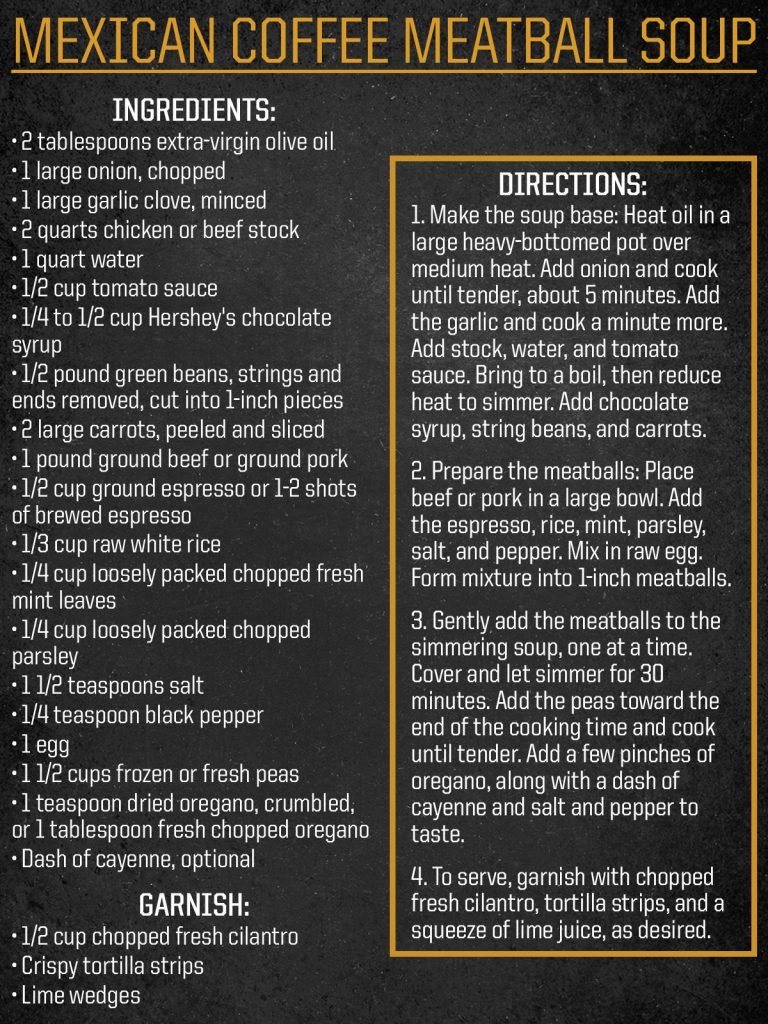 Read Next: