When US Drug Enforcement Administration Supervisory Special Agent Michael "Mike" Gale Garbo moved into his Arizona neighborhood in 2005, Lt. Col. Ken Hunter took one look at him and thought, "He's a cop."
"Us in the business, we're pretty good at picking each other out," Hunter, the deputy director of the Arizona Department of Public Safety, said during the Friday, Oct. 8, funeral for Garbo at Calvary Chapel in Tucson, Arizona.
Garbo, 51, died from gunshot wounds shortly after a Monday shootout on an Amtrak passenger train that had stopped in downtown Tucson. Monday's melee also sent a fellow DEA agent and a Tucson police officer to the Banner University Medical Center, where they are in stable condition.
Garbo's suspected shooter, Darrion Taylor, 26, died in the exchange of gunfire.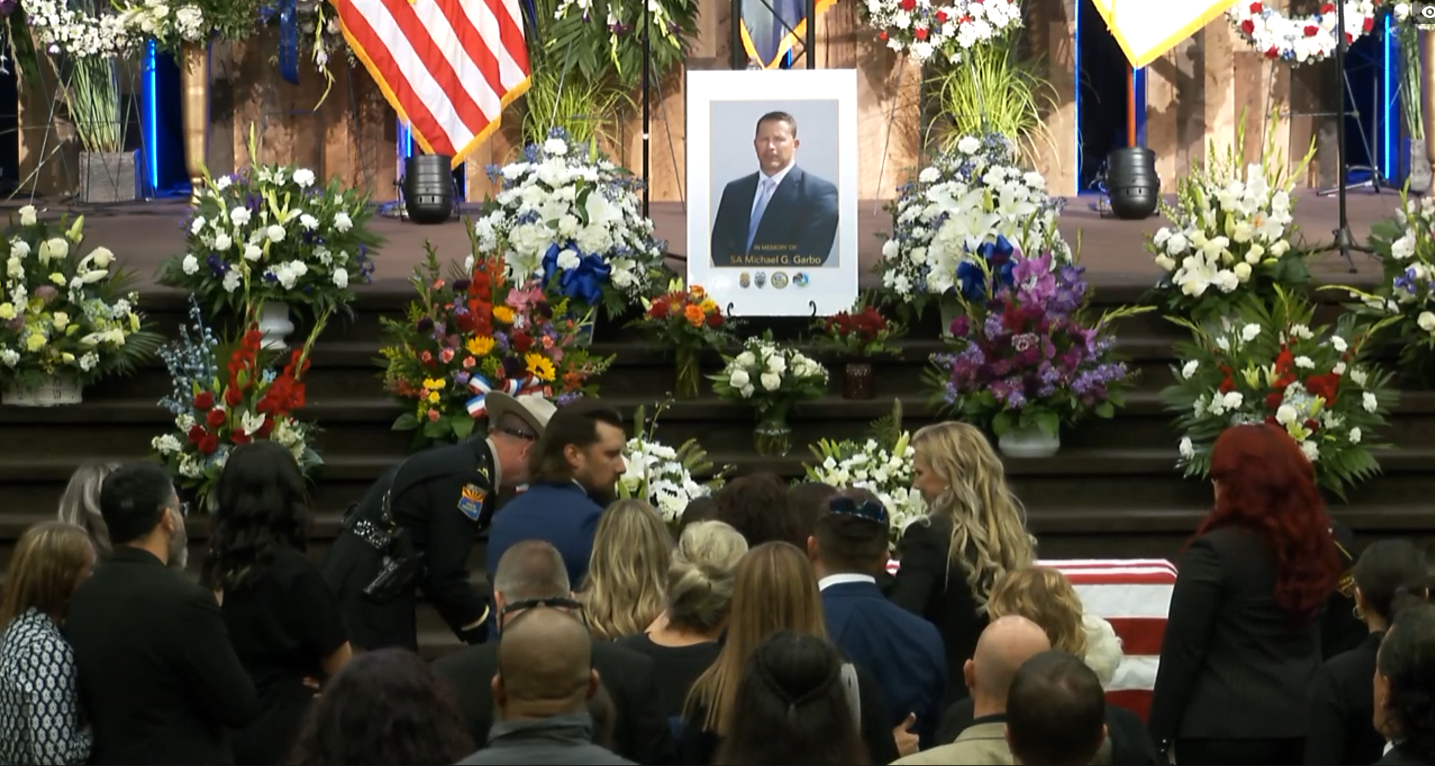 Hunter remembered Garbo for his two years of duty with the DEA in Afghanistan; Garbo was the sort of agent who led from the front and a man who struck everyone who met him as quiet, humble, no nonsense, hard-working, and squared away, "except for one thing."
"At one point, they decided to get a teacup Yorkie, and Mike would walk that dog around the neighborhood," Hunter said. "And those of you that know Mike are laughing, because that is quite the visual."
Gazing at the packed pews, Cheri Oz, the special agent in charge of DEA's Phoenix Field Division, remembered Garbo as "an amazing narcotics investigator, but I don't have to tell you that if you look at all the people in this room that are here to celebrate his life."
She said Garbo "laid down his sword in battle" on Monday, and now it's "our responsibility to pick up that sword and continue the fight."
Garbo was a 16-year veteran of the DEA who spent much of his career fighting narcotics traffickers in Afghanistan and the Nogales Corridor south of Tucson. A veteran of the Army National Guard, Garbo began his law enforcement career with the Metropolitan Nashville Police Department.
Garbo, of Sahuarita, Arizona, was born Feb. 10, 1970, in Grayville, Illinois, to Carol Ann Garbo, née Young, and Larry Garbo, an Illinois State Police captain.
He graduated from both Grayville High School and Eastern Illinois University before embarking on his career in law enforcement.
[ig_post url="https://twitter.com/ArizonaDOA/status/1446496939478949891 " /]
He was preceded in death by his parents. He's survived by his wife, Vida Mary Garbo; his daughter, Alexis Garbo; his niece and goddaughter Kennedy Valinevicius, of Fishers, Indiana; and his brother Terry Garbo of Selinsgrove, Pennsylvania.
"Vida, Alexis, and Terry, Mike was a beloved member of our DEA family," Oz said. "You will always, always be a part of our family."
A GoFundMe campaign started by his daughter had raised more than $143,343 in donations by Friday afternoon, with proceeds earmarked for the agent's family.
The nonprofit DEA Survivors Benefit Fund has pledged to help the family.
Supporters who wish to donate can mention Garbo in the comments section when clicking the donate button. This ensures all donated funds go directly to his family.
"Mike loved his job so much," Oz said. "I know that, if he had that day to do over, he wouldn't have wanted anyone to take his place."
Read Next: Medical Examiner Names Gunman Who Killed DEA Agent on Arizona Train