The Army joined the Air Force, Navy, and Marine Corps Tuesday, Sept. 14, with strict, midwinter vaccine deadlines for all troops.
According to an Army press release establishing deadlines for troops to get the COVID-19 shot, "Active duty units are expected to be fully vaccinated by Dec. 15, 2021 and Reserve and National Guard units are expected to be fully vaccinated by June 30, 2022."
The Air Force announced Sept. 3 that its airmen and members of the Space Force face an active-duty deadline of Nov. 2, while its Guard and Reserve troops must be vaccinated by Dec. 2.
The Navy and Marine Corps deadlines are Nov. 28 for active duty and Dec. 28 for Reservists.
The Army also spelled out allowable exemptions to the vaccine mandate, mirroring those of the other services, for service members who:



Have general medical exemptions, such as pregnancy and known allergies to vaccines.




Have an upcoming change of station within 90 days.




Are within 60 days of separating or 180 days of retirement.




Have religious exemptions.



Vaccinations can be delayed until a service member's exemption is approved or denied.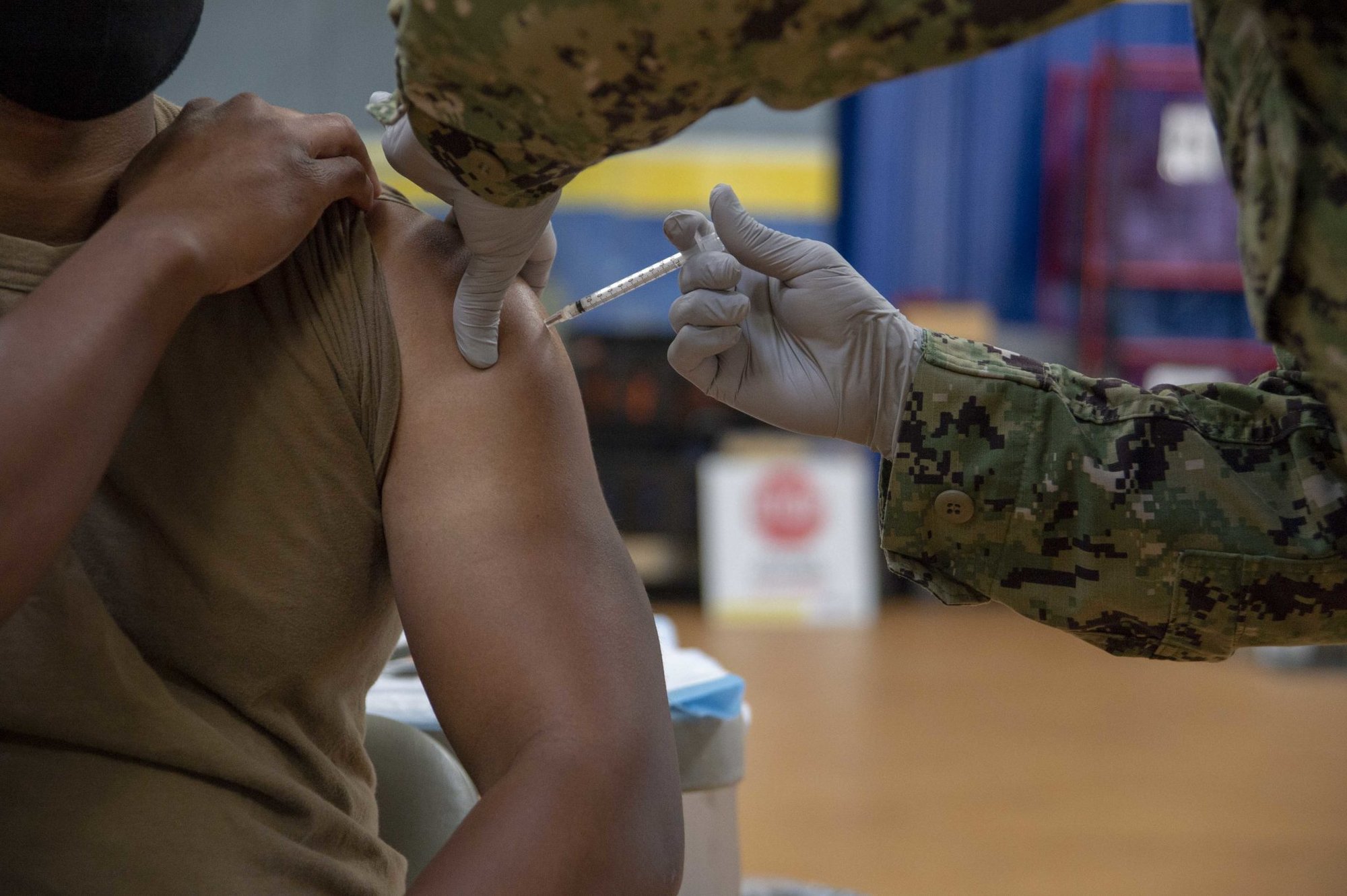 According to the Air Force, a religious exemption can be applied for if a member "belong[s] to or participate[s] with faith groups that have worship or religious observation requirements that conflict with some immunizations or components of immunizations."
Soldiers in the US Army can request medical exemptions, according to Army Regulation 600-20, which names the surgeon general as the decision-making authority for immunization exemptions and appeals. Officials with the Army, Air Force, and Navy did not return multiple calls and emails seeking fuller explanations. A Marine Corps spokesperson provided documents that mirrored the terms in the Army and Air Force documents.
The Department of Defense reported it had administered approximately 5.25 million doses of coronavirus vaccine between service members and DOD civilians as of Wednesday. The Navy has the highest number of partially and fully vaccinated members at 89%. The Air Force and Space Force have 77% of troops vaccinated, and Marines have 74% of their forces vaccinated. The Army is bringing up the rear with 63% of its soldiers vaccinated. Coffee or Die Magazine calculated the above percentages using total force data for all components from June 30, 2021.
Since the beginning of the pandemic, 361,216 COVID-19 cases have been reported within the DOD, including military members, DOD civilians, DOD dependents, and DOD contractors, with 473 deaths.
The Pfizer-produced vaccine is the only vaccine that has gained full FDA approval, though members of all the services can also meet the vaccination requirement by taking vaccines from Moderna or Johnson & Johnson, which are currently available under emergency approval status. Exemptions from the vaccine mandates appear to be few and far between.
All three vaccines have undergone wide, extensive trials and testing and have been found to be both highly effective and largely free of major side effects, though flu-like symptoms in the 24 to 48 hours after injection are common.
A vast network of false information about the vaccines has been propagated on social media in recent months, but no scientific data supports any of the vaccine-related conspiracy theories. The vaccines are proven to drastically reduce the odds of contracting the disease and to largely prevent serious illness and death, according to the Centers for Disease Control and Prevention.
Coronavirus cases across the US continue to climb, and hospitals are filling up. As of Wednesday, 96% of all the ICU beds in Texas were occupied, and 42% of those were occupied by COVID-19 patients. Because so many ICU beds are occupied, some otherwise healthy individuals have been unable to get needed surgeries and procedures, sometimes leading to avoidable deaths.
Daniel Wilkinson, an Army veteran and Purple Heart recipient with two Afghanistan deployments under his belt, died from a treatable illness after waiting seven hours for an ICU bed to open up, Houston's ABC7 reported. His mother, Michelle Puget, told reporters that calls were made to hospitals across Texas, Arkansas, Colorado, Kansas, and Oklahoma, but none of the hospitals had an opening for Wilkinson. A Veterans Affairs Hospital in Houston finally found a bed for Wilkinson, but by then, his condition had become too unstable, ABC7 reported, and the doctors were unable to perform the lifesaving surgery.
Read Next: