The death of George Floyd, an unarmed black man under police custody in Minneapolis, has spurred all corners of American society to address institutionalized bias against African Americans and other minorities. The U.S. military is no exception.
Secretary of Defense Mark Esper is consulting with senior military officials to look for solutions to racial inequality within America's military ranks, CNN reported Tuesday. This marks the latest effort by the Department of Defense to address racial inequalities within its ranks.
The U.S. armed forces is in the midst of a cultural self-appraisal, with leaders identifying ways to improve opportunities for minorities and reduce institutional bias. And a particularly contentious issue has been the enduring legacy of the Confederacy in some aspects of military culture.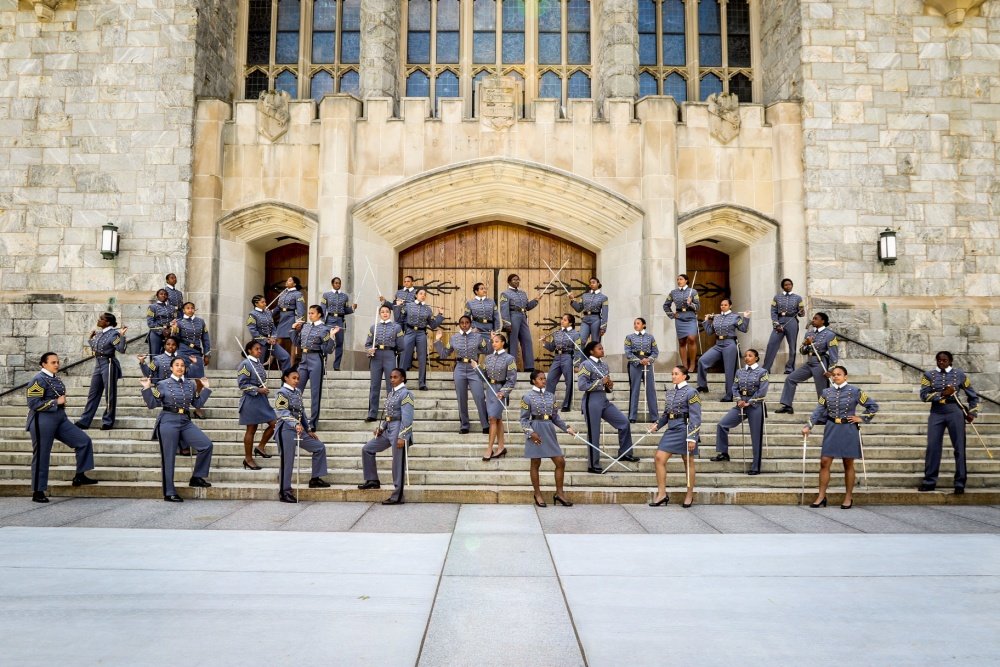 Lawmakers on Capitol Hill are currently debating whether to remove the names of Confederate leaders from U.S. military bases.
Bipartisan proposals in both chambers of Congress support the renaming proposal. In the House, Democratic Representative Anthony Brown of Maryland and Republican Representative Don Bacon of Nebraska suggested a commission to examine the change within a year.
"It matters to the black soldier serving at an installation honoring the name of a leader who fought to preserve slavery and oppression," said Brown, a retired U.S. Army Reserve colonel. "It matters to the culture of inclusivity and unity needed for our military to get the job done."
"As the most diverse and integrated part of American society, it is only right that our installations bear the names of military heroes who represent the best ideals of our Republic," said Bacon, a retired U.S. Air Force brigadier general.
Altogether, some 10 U.S. bases reportedly bear the names of Confederate leaders — including Fort Hood in Texas, Fort Bragg in North Carolina, and Fort Benning in Georgia. Esper and Army Secretary Ryan McCarthy have signaled that they're open to the renaming proposal, an Army spokesperson said in a June 8 statement, which was first reported by Politico.
In a June 9 op-ed for The Atlantic, David Petraeus, a retired U.S. Army general and former CIA director, also supported scrubbing U.S. bases of Confederate leaders' names.
"The irony of training at bases named for those who took up arms against the United States, and for the right to enslave others, is inescapable to anyone paying attention," Petraeus wrote.
Yet, a political fight is brewing over the issue.
President Donald Trump tweeted on June 10 that he "would not even consider" stripping Confederate leaders' names from U.S. bases. Those base names "have become part of a Great American heritage, a history of Winning, Victory and Freedom," Trump wrote in the tweet.
That same week, the U.S. Marine Corps instructed commanders to "identify and remove the display of the Confederate battle flag or its depiction within workplaces, common-access areas and public areas on their installations."
"The Confederate battle flag has all too often been co-opted by violent extremist and racist groups whose divisive beliefs have no place in our Corps," the Marine Corps said in a June 6 social media post.
The Army and Navy are also reportedly mulling a similar proposal. The display of the Confederate flag has also been banned at all U.S. military installations in Korea, and the U.S. Naval Academy is considering the removal of Confederate names from two buildings on its campus, The Associated Press reported.
"A long-standing maxim for those in uniform is that one should never begin a war without also knowing how to end it. And this is a kind of war — a war of memory," Petraeus wrote in The Atlantic.
Uneven Justice
On Tuesday, a panel of representatives from each military service is scheduled to testify about racial disparity in the military justice system before a hearing of the House Armed Services Committee's military personnel subcommittee.
Multiple reports over the past few years have highlighted racial inequalities within the military justice system. Consequently, the 2020 National Defense Authorization Act, which Trump signed into law in December 2019, requires military branches to track demographic information within the justice system to help identify problems with bias.
A 2019 Government Accountability Office investigation found racial bias in the military justice system. Protect Our Defenders, an independent watchdog, said in a report filed late last month that the U.S. Air Force has an "abysmal record" with racial disparities in its justice system.
According to the report, African American Air Force personnel were twice as likely as their white counterparts to be investigated under the branch's justice system.
"Four years after the Air Force admitted the need to examine racial disparities, no recommendations have been formally made nor have any changes been implemented," the report found, citing an earlier study that identified racial bias in the Air Force justice system.
In 2004, ethnic minorities comprised about 36 percent of the U.S. military ranks, according to data from the Pew Research Center. By 2014, that number had grown to 43 percent — although within that group the share of African American service members dropped from 51 percent in 2004 to 39 perent in 2017.
On June 9, the Senate confirmed Gen. Charles Q. Brown Jr. to be the 22nd Air Force chief of staff — making him the first African American to lead a U.S. military branch as its top officer. Brown, along with other military leaders, spoke out after Floyd's death, highlighting the problem of racial bias within the U.S. military's ranks — particularly the fact that African Americans remain underrepresented among senior leadership positions.
"I'm thinking about how to make improvements, personally, professionally, and institutionally so that all airmen, both today and tomorrow, appreciate the value of diversity and can serve in an environment where they can reach their full potential," Brown said in a YouTube video published on June 5, addressing Floyd's death.
A 2018 Defense Department demographics report reported that African Americans comprise about 19 percent of U.S. active duty enlisted personnel. Whereas that number for officers is less than 9 percent.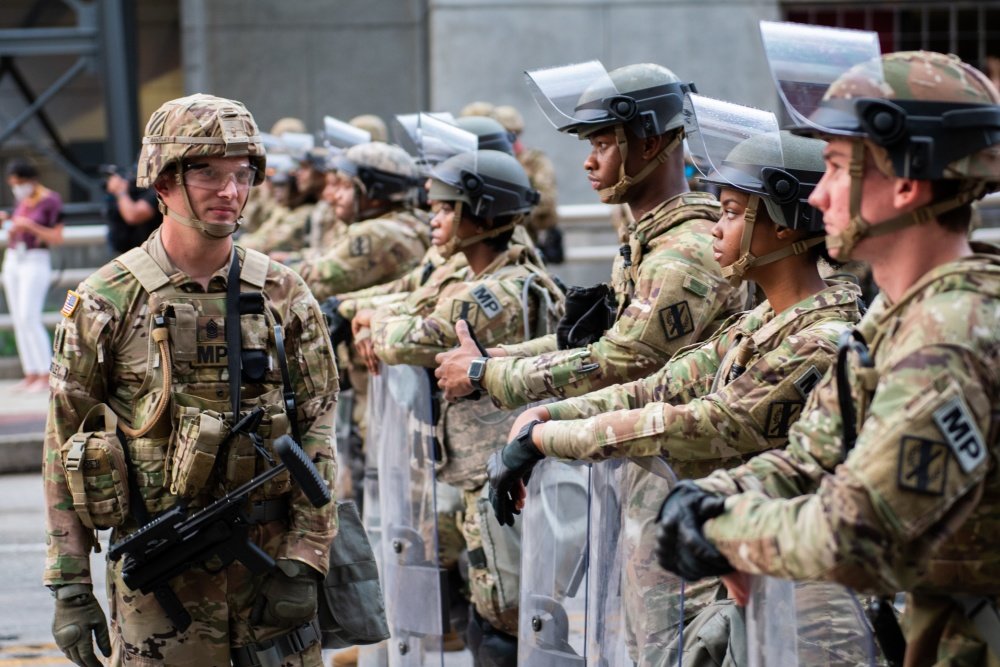 Foreign and Domestic
Protests over Floyd's death sparked a national wave of violent unrest, including vandalism, looting, and attacks on police and National Guard personnel.
Trump proposed to deploy active duty military forces to respond to the unrest under the auspices of the rarely used Insurrection Act of 1807, which allows a president to deploy active duty personnel for domestic law enforcement.
Trump's proposal kickstarted a national debate about the role of the military in assisting domestic law enforcement personnel in times of extraordinary civil unrest. Esper, for his part, later said the proposal to use active duty personnel to quell the unrest was inappropriate.
"The option to use active duty forces in a law enforcement role should only be used as a matter of last resort, and only in the most urgent and dire of situations," Esper said during a June 3 press conference. "We are not in one of those situations now. I do not support invoking the Insurrection Act."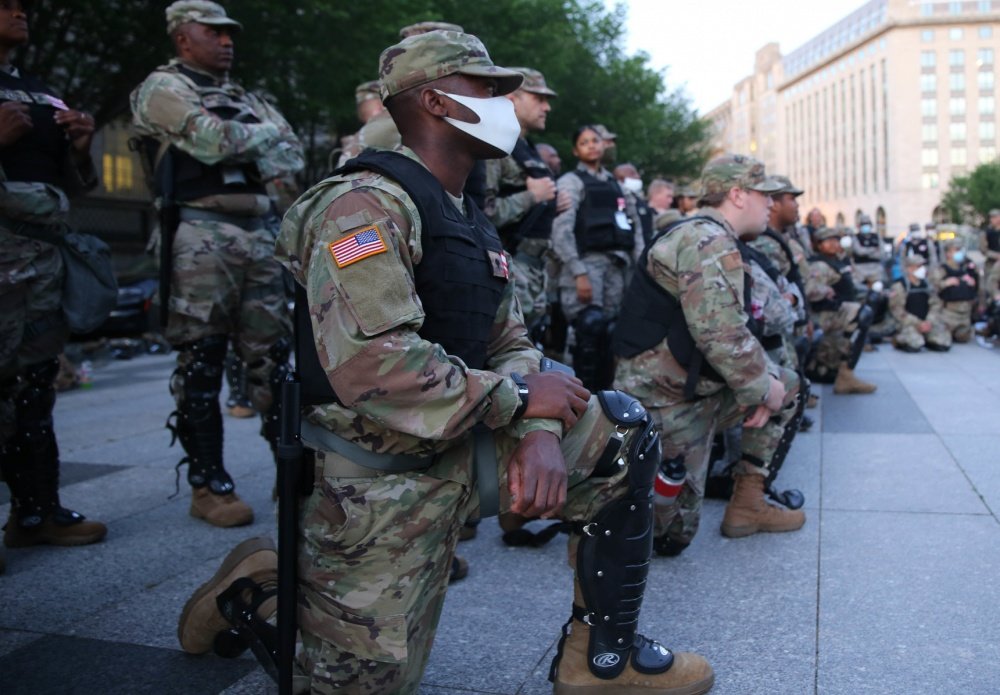 Esper's predecessor, U.S. Marine Corps veteran General James Mattis — who served as Secretary of Defense under Trump — issued a statement in which he rebuked the president for the heavy-handed force used against protesters in Lafayette Square outside the White House on June 1.
"Militarizing our response, as we witnessed in Washington, D.C., sets up a conflict — a false conflict — between the military and civilian society," Mattis wrote. "It erodes the moral ground that ensures a trusted bond between men and women in uniform and the society they are sworn to protect, and of which they themselves are a part."
Esper has reportedly ordered a review of the National Guard's actions in response to the unrest that swept the nation after Floyd's death.
"In recent weeks, the National Guard has performed professionally and capably in support of law enforcement in cities across the United States," Esper said in a Pentagon release last week.