President Donald Trump pledged to deploy active duty military forces to respond to the violent unrest that has swept across the United States after last week's death of George Floyd, an unarmed black man under police custody in Minneapolis.
"Today I have strongly recommended to every governor to deploy the National Guard in sufficient numbers that we dominate the streets," Trump said during a press conference Monday. "Mayors and governors must establish an overwhelming law enforcement presence until the violence has been quelled."
"If a city or state refuses to take the actions that are necessary to defend the life and property of their residents, then I will deploy the United States military and quickly solve the problem for them," Trump added.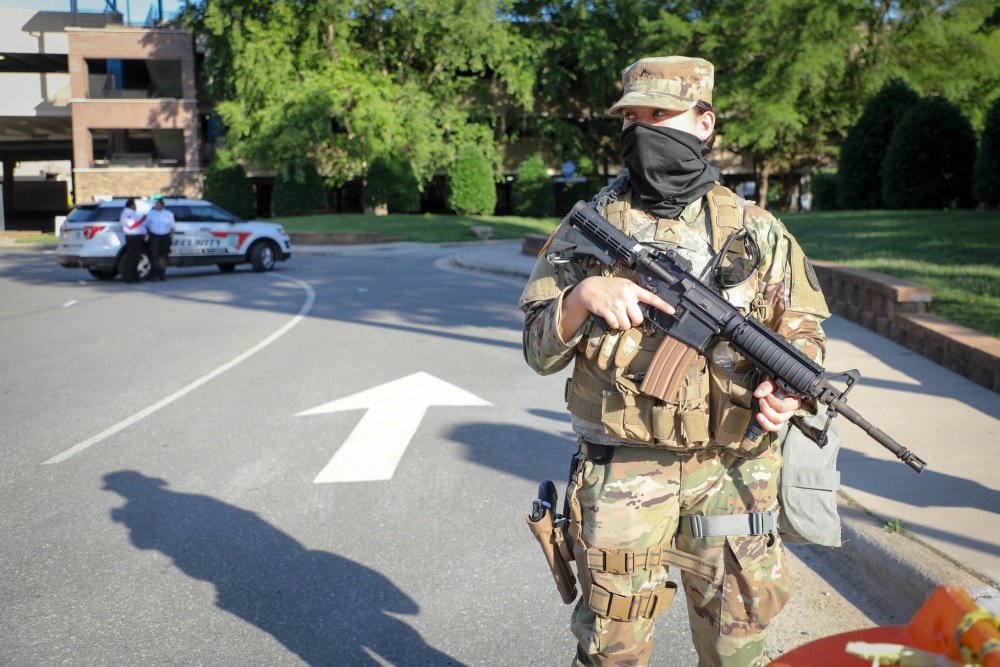 According to a post-mortem investigation by the Hennepin County Medical Examiner's office, 46-year-old George Floyd died on May 25 due to a cardiac arrest "while being restrained by a law enforcement officer." A separate, independent autopsy commissioned by the Floyd family determined the death was a homicide due to "asphyxiation from sustained pressure."
Protests over Floyd's death have sparked a national wave of violent unrest, including vandalism, looting, and attacks on police and National Guard personnel. On Sunday, some 40 cities had declared curfews due to the riots.
Protests over Floyd's death took a turn for the worse in Washington on Sunday. Mayor Muriel Bowser instituted a curfew, but by Monday the unrest had sparked citywide violence, which left the Lincoln and World War II memorials marred by vandalism.
"These are not acts of peaceful protests. These are acts of domestic terror," Trump said Monday from the White House Rose Garden with the sounds of protests audible in the background.
Trump added that he would be "dispatching thousands of heavily armed soldiers, military personnel, and law enforcement officers to stop the rioting, looting, vandalism, assault, and the wanton destruction of property."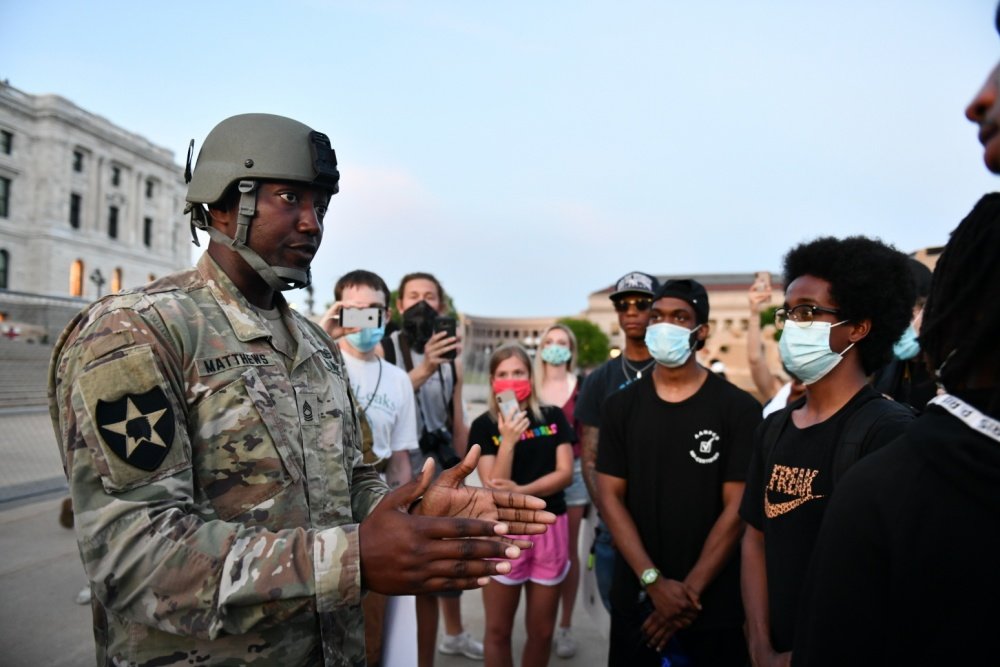 Some 600 to 800 National Guard members from five states have reportedly deployed to Washington to provide security assistance. As of this article's publication on Tuesday, the President had not ordered active duty troops to Washington. However, units from Fort Drum, New York, and Fort Bragg, North Carolina, are preparing for possible deployment to the capital city, defense officials said.
"It's an inappropriate use of our military," Bowser said Tuesday on CNN, referring to Trump's pledge to use the military against the riots. "Bringing in the military to do police work is inappropriate."
Early Tuesday morning, U.S. Army helicopters were observed flying low passes over crowds of protesters in Washington. Based on videos posted to social media, the helicopters appeared to be UH-72 Lakotas, as well as UH-60 Black Hawks.
"Army blackhawks are conducting 'show of force' passes on protestors. One flyover snapped a tree that nearly hit several people," Washington-based, New York Times reporter Thomas Gibbons-Neff tweeted Tuesday morning.
More than 17,000 National Guard soldiers have been activated in 23 states and the District of Columbia to help with security and crowd control related to the protests. That number is roughly equivalent to the total number of U.S. military personnel currently deployed to Afghanistan, Iraq, and Syria.
Some 46,000 guardsmen have already activated due to the coronavirus pandemic.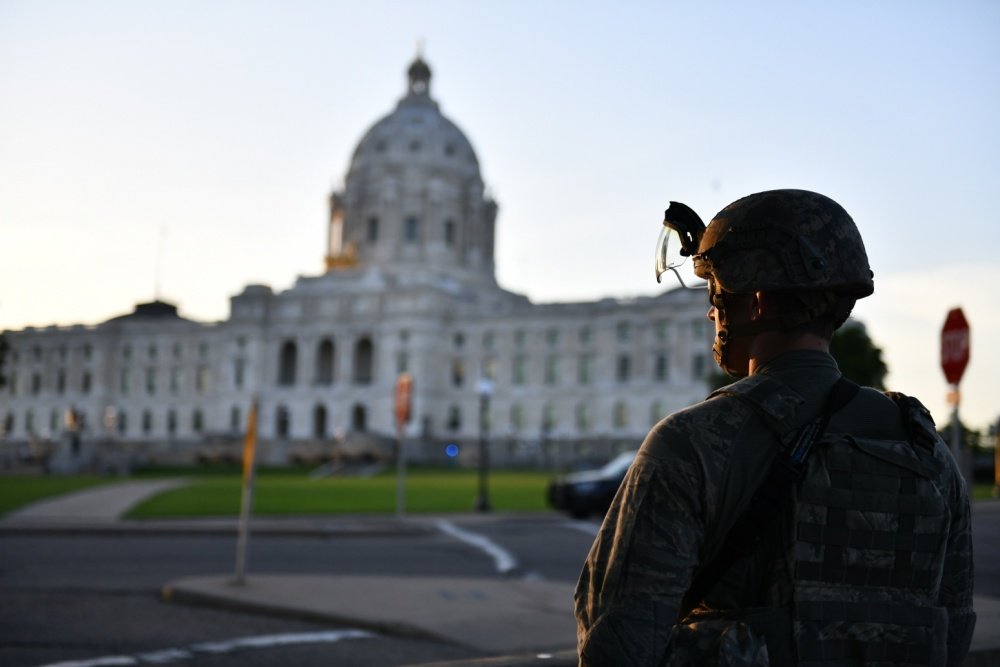 The 1878 Posse Comitatus Act restricts the use of federal troops in domestic law enforcement. In extreme cases, however, the rarely used Insurrection Act of 1807 allows a president to deploy active duty personnel for domestic law enforcement.
The Insurrection Act was last used by President George H.W. Bush in 1992 during riots in Los Angeles after the acquittal of Rodney King's assailants. The measure was also invoked in the 1950s and 1960s during the desegregation of schools, as well as in 1968 after the assassination of civil rights leader Martin Luther King Jr.
"[The federal government] will not simply unleash the military — they will provide manpower to augment the police and National Guard," Steven Bucci, a visiting fellow at The Heritage Foundation who served for three decades as a U.S. Army Special Forces officer, told Coffee or Die.
Amid the mounting national unrest, National Guard soldiers have become embroiled in several violent clashes.
Early Monday morning in Louisville, Kentucky, National Guard soldiers and the Louisville Metro Police came under fire while dispersing a crowd. Police and National Guard personnel returned fire and killed one individual, according to a statement by Gov. Andy Beshear.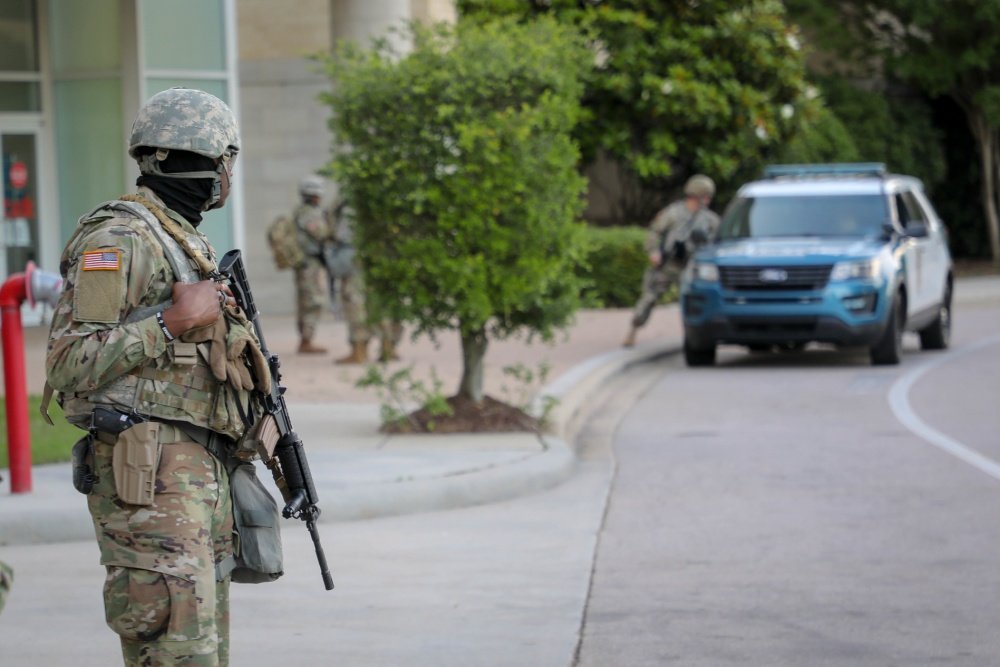 On Sunday, a Minnesota National Guard soldier fired three times at a vehicle approaching police barricades at high speed. The driver, who ignored orders to slow down, ultimately escaped. Officials reported no injuries.
"Our soldier fired three rounds from his rifle in response to a perceived and legitimate threat to him and the Minnesota police officers he was in direct support of," Minnesota National Guard commander Major General Jon Jensen said during a Monday press conference.
Some military experts and public officials have cautioned about the use of active duty military forces for so-called law and order operations on U.S. soil — especially in murky situations, in which violent rioters are intermixed among peaceful protesters, journalists, and innocent bystanders.
"Personally, I would prefer using the National Guard. They practice crowd control techniques more often and usually have more appropriate equipment sets," said Bucci, who served as deputy assistant secretary of defense, homeland defense, and defense support to civil authorities during the George W. Bush Administration.
"The active duty units can do it, but it's a bigger deal when we send them. It's a legitimate option, but one we have used infrequently," Bucci added.