What's the first thing that pops into your head when you hear the word cool? Explosions? Fighter jets? Ninjas? Magic? Catapults? Dungeons and Dragons? Throwing a paper ball into the trash on the first try? Everyone's answer will likely be a little different given their own unique tastes and experiences, but there is one thing out there that is universally, objectively cool: motorcycles.
There's just something innately badass about motorcycles, and adding one to any situation immediately makes it cooler. Think about it. Colonoscopies aren't cool, but they would sort of be if they were performed on motorcycles. Breakups suck, but they wouldn't suck as much if they happened while you were screaming down the highway on a Triumph Bonneville. No one looks cool crying, especially if you're an ugly crier, but imagine how cool you would look crying on the back of a Harley doing a wheelie? It's not sad at that point; it's poetic.
Motorcycles make everything cooler, even movies. For example, just imagine how boring The Great Escape would have been had Steve McQueen fled across Nazi-occupied Germany in a station wagon rather than on that sweet TR6R. Evel Knievel wouldn't be a household name had he jumped over all those school buses in a Honda Civic. And remember how sad it was in that movie Hot Rod when Rod traded his beloved motorcycle for his mom's minivan? How you wanted to reach through the screen and grab Rod by the throat and scream, "No! Don't do it, Rod! Don't give up on your dreams just yet!"
We can't quite put our finger on what makes motorcycles so damn cool. Their coolness is beyond description. Maybe it's the speed, or the rebelliousness, or the fact that catching a bump wrong will send you into partial orbit, or the incredible feeling you get while driving one 200 mph with your eyes closed down a narrow two-lane highway. Or perhaps it's simply that motorcycles represent freedom. Which is why they are especially popular here in the Land of the Free. And also why they have long been a favorite mode of transportation for the United States military. Sure, your Tesla can park itself, but will it do anything to help overthrow an evil dictator or kill terrorists? We doubt it.
In honor of their coolness and service to our country, we have compiled a list of the five most badass military motorcycles in American history in no particular order. Remember, you might be cool, but you'll never be quite as cool as these badass battlefield motorcycles.
Indian Powerplus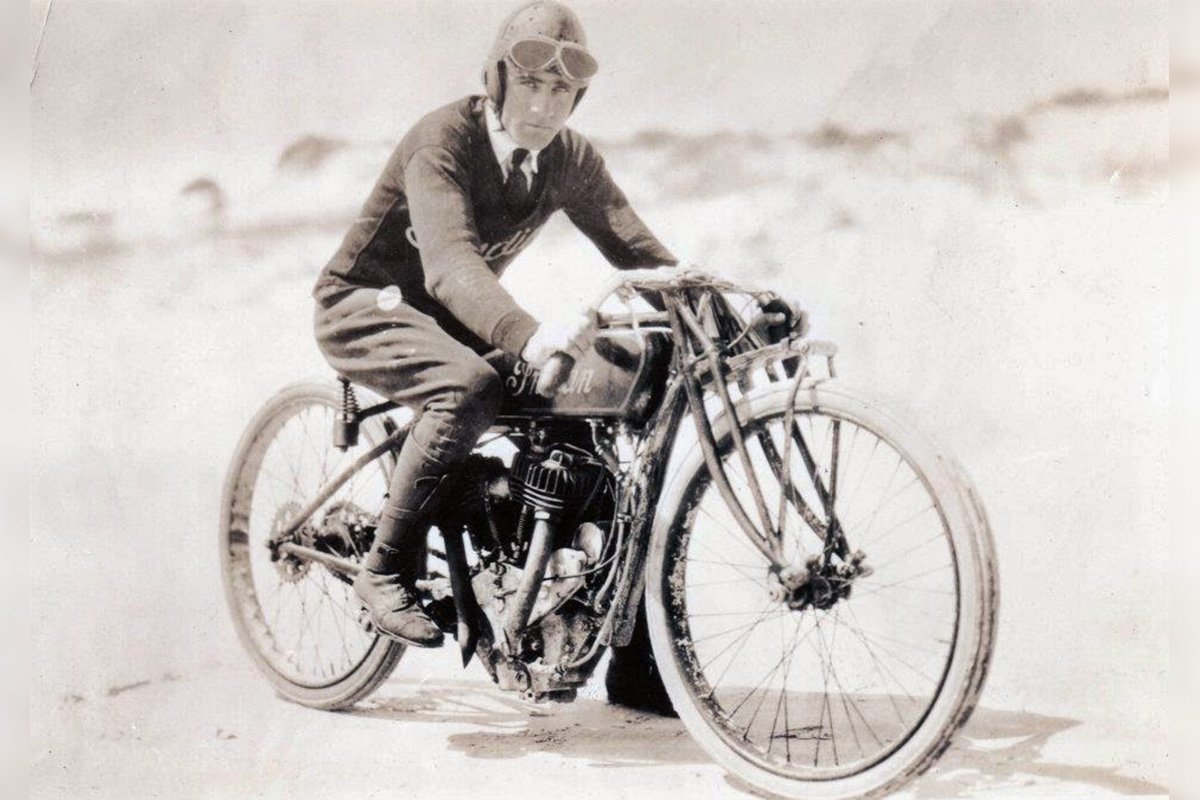 When the United States entered World War I, the Springfield-based Indian Motorcycle Co. (then called Hendee Manufacturing) answered the call to duty by supplying the US military with approximately 50,000 bikes between 1917 and 1919. The majority of those were militarized Powerplus models. The decision to commit nearly its entire production to the war effort dealt a major blow to the company, as it significantly decreased the availability of its motorcycles on the home front, which in turn led to many American vendors turning to other companies, like Harley Davidson, to fill their needs.
The Powerplus models purchased by Uncle Sam during WWI were modified for military service and proved popular with troops in Europe, who appreciated the bike's power, endurance, and reliability. Off the battlefield, the Powerplus was involved in a number of impressive feats. In 1915, American motorcycle racer Erwin Baker rode one from Vancouver to Tijuana in 3 days, 9 hours, and 15 minutes. A few years later, fellow racer Gene Walker, pictured above, set an official motorcycle land speed world record on a Powerplus, clocking in at 115 mph.
Harley-Davidson WLA
Did you know that Harley produced motorcycles for the American armed forces during both world wars and even built a custom motorcycle specifically for Gen. John J. Pershing to ride into battle against Pancho Villa's army? Harleys have long been a fixture on American battlefields — but by the time World War II rolled around, motorcycles were seeing less use in direct combat and more use in support tasks like police work, courier duties, and some scouting.
Harley-Davidson began producing the WLA in small numbers in 1940 and significantly increased production of the bike following America's entry into World War II. Nearly 90,000 WLAs were produced during the war. Nicknamed the "Liberator," the military model of the WLA was very similar to the civilian model save for a few key modifications, such as an OD green or black paint job, blackout lights, fenders to reduce clogging, and other utility-centric accessories like luggage racks, ammo boxes, and a scabbard for a Thompson machine gun.
WLAs were sold as surplus after the war and were popular among American veterans who missed the motorcycles they used to ride in the service. The desire for the WLA, combined with its low cost, contributed to the rise of biker culture and the post-war popularity of Harley-Davidson that persists to this day.
Indian 841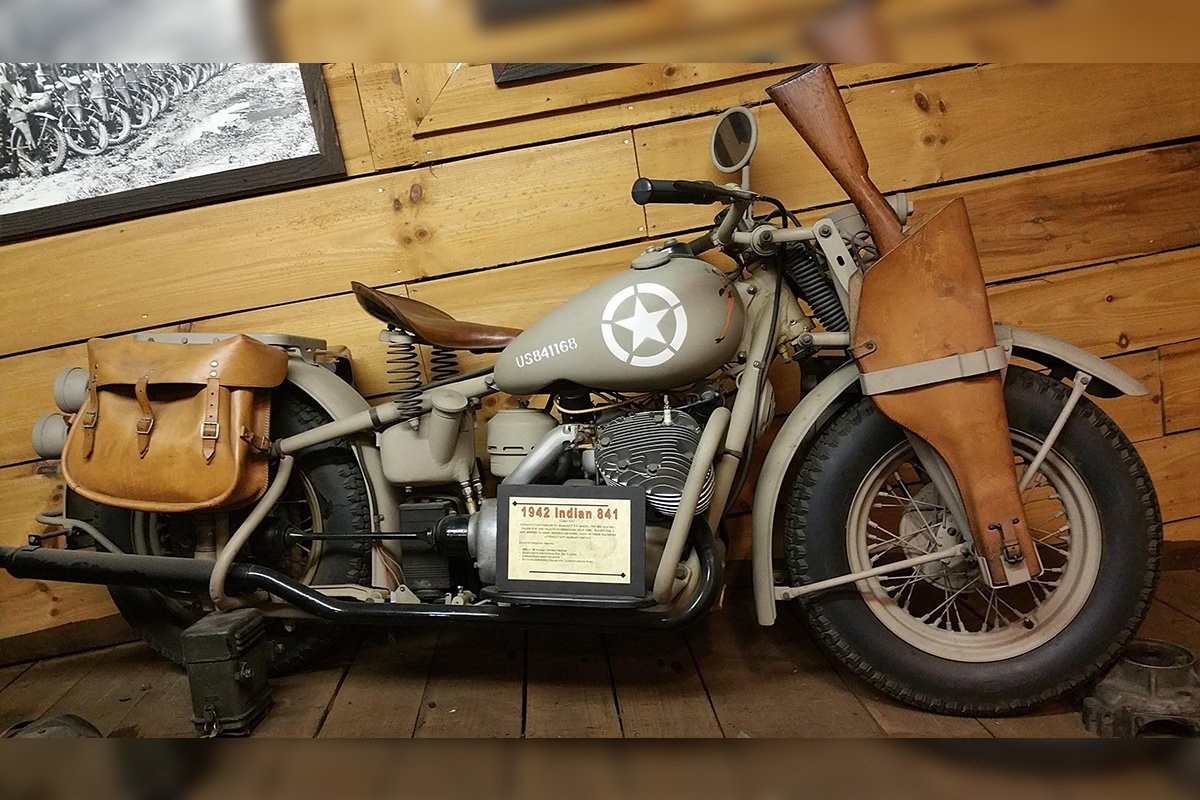 Yes, there is another Indian motorcycle on this list, and for good reason. Sacrifice is a necessary aspect of war, and it's hard to argue that any other motorcycle company sacrificed more for America's war efforts than Indian.
Despite never quite recovering from its contributions to the First World War, Indian answered the call yet again during World War II and provided Uncle Sam with a thousand Indian 841s — an experimental motorcycle purpose-built for desert warfare.
Heavily inspired by the BMW R71 motorcycle, the Indian 841 (8 for the new engine, 41 for the year) was a shaft-drive, side-valve, twin-cylinder test motorcycle. Despite sharing a similar frame, rear suspension, and four-speed transmission, the Indian 841 was not an exact copy of the BMW R71 , with several notable differences, including a 90-degree longitudinal-crankshaft V-twin engine and a girder fork.
Although tested by the Army, the Indian 841 was never officially adopted for service and was instead beat out by another classic military vehicle that the Army felt was better suited for desert warfare — the jeep. After the United States Army turned down the 841, Indian sold its remaining stock to civilians and called it a day.
Kawasaki KLX110 Mini Bike
The KLX110's decreased size and weight means that it is easier to transport and deploy via parachute. For this and other reasons, American special operations units often use these mini bikes. You can fit more KLX110s on a pallet than conventional bikes, and they are easily stowed on the backs of off-road vehicles like the GMV. Infrared-coating paint jobs, quiet mufflers, and heavier suspension components are added to mini bikes used by SOF units to adapt the machine to the specific needs of military service.
Furthermore, the KLX110 and other mini bikes tend to be cheaper, easier to fix, and easier to maneuver around rough terrain should the need arise to physically carry the bike around or over obstacles and rough terrain.
Zero MMX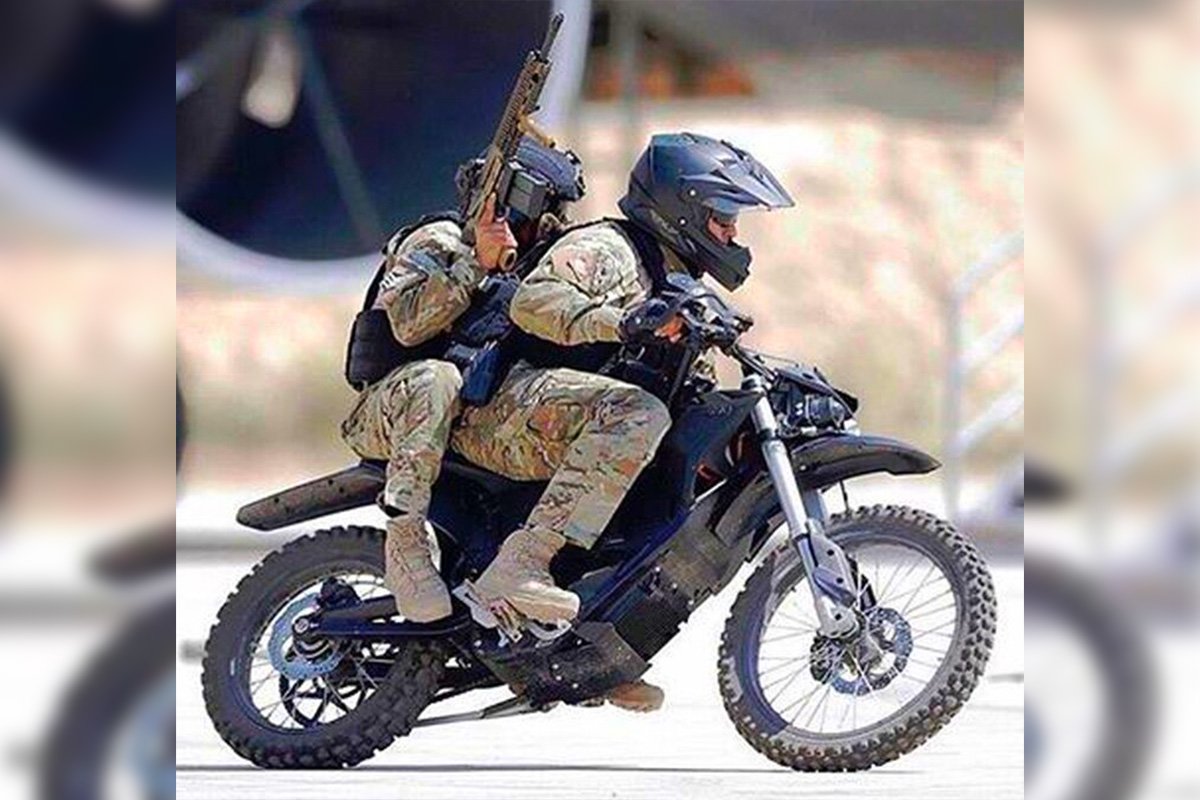 Did you ever think you'd see an electric motorcycle on this list? We didn't, but here we are.
For a motorcycle introduced in 2013, the Zero MMX was well ahead of its time. Developed by Zero Motorcycles exclusively for American SOF units to use on operations where stealth and mobility are critical, the MMX's electric powertrain lets it move with near silence and a minimal heat signature compared with a traditional combustion motorcycle, making it the stealthiest bike on this list.
Based off of the 2013 MX platform, the MMX is tough and lightweight, capable of operating in up to 1 meter of water. Featuring a 54-horsepower motor with 68 foot-pounds of torque, the MMX is surprisingly powerful for an electric motorcycle and also features regenerative braking that feeds power back into the battery. The performance characteristics of the MMX can be modified via smartphone app, and the modular power packs can be swapped out in less than a minute. Like many military vehicles, the MMX also features a keyless ignition for a faster start and easier theft by nearby National Guard units.
Read Next: