Here we are, five months into an involuntary bout of binge watching everything under the sun. With production stopped and many projects that were in post-production when the pandemic hit unwilling to take the risk of a streaming-only release, many of us have resorted to rewatching our old favorites. This week I watched an episode of Saved by the Bell. That's right — AC Slater, Zach Morris, Mr. Belding — because I've been going down some really weird rabbit holes looking for things to keep me entertained. I loved it when I was in 8th grade. Apparently my tastes have changed.
That's not the only thing that I thought was good in my youth only to find that it aged like an egg salad sandwich. But I've also found the reverse — by giving another shot to some older movies that I didn't like the first time I watched them, I've stumbled upon a few gems that you may have dismissed the first time around, too.
Taxi Driver
I usually gravitate toward military-based films, but that doesn't necessarily mean a war movie — or even one about the military. My first example is a movie you may very well have watched, but maybe you didn't "see" it. It was made and released in the mid 1970s, and it explores a number of issues we are seeing in the news today: post-traumatic stress, political divisiveness, and veterans fighting sex trafficking and pedophilia. This classic is Taxi Driver.
Directed by Martin Scorsese and starring the legendary Robert De Niro, it's famously where the classic quote "You talkin' to me?" is derived. If you haven't watched it in some time, take note of the nuanced details. Just as all the little mistakes you notice can amount to a movie being garbage, so, too, can the tiny, brilliant details add up to a movie being amazing. When you watch Taxi Driver through a different lens and see Travis Bickle not as a scumbag schizo cabbie but as a Vietnam veteran with untreated mental health issues, it takes on an entirely different air of realism and feels very close to home.
Bickle only mentions his service once throughout the film, but when you look at how he carries himself, his habits, and little details in his attire and around his apartment, they come off the screen and scream at you. We see a man who is struggling not only to find his way through symptoms he doesn't understand, but also a man who is yearning to find relevance in his new life — trying to find a way to continue to serve. This all manifests into the high-risk behaviors he indulges in as a taxi driver who will take fares "anywhere, any time" and, as the story builds, culminates into what you'll have to watch to find out.
The Last Detail
Another movie I rediscovered and fell in love with is The Last Detail. This 1973 film probably wouldn't make many people's lists of classics. Unless you're a huge fan of the genre or period, you probably haven't even heard of it. The first time I saw it, I remember being pretty indifferent. But now, watching it as a "lifer," I identified greatly with the protagonists — two career Navy men outstandingly played by a young Jack Nicholson and co-star Otis Young. As an older guy, I appreciate the fragility of the path I've taken and how so many times a stroke of luck or timing could have taken me down some very different roads, much like the swabbie portrayed by a baby-faced Randy Quaid.
The movie is basically a road trip story. Two senior NCOs are tasked with transporting a young sailor from Norfolk Naval Base to the brig at Portsmouth Naval Base. Fun fact, the year the film was released, Portsmouth closed and all naval prisoners were sent to the Correctional Barracks at Fort Leavenworth. Along the way, they go from seeing the detail as an easy way to break the monotony and squeeze out a little extra travel money to doing what all great senior NCOs do. They empathize with the young offender's plight and do everything they can to not only show him one last good time before his bid, but also set him up for success in his next undoubtedly rough chapter in life. While they coach him through how to be a man of the world, they're also forced to look back at their own ups and downs and admit to themselves that their lives are about to enter new chapters that they may not be ready for either.
A Bridge Too Far
For my last pick, I'll veer away from the heady, in-your-feels kind of movie to a good old-fashioned war movie — and not just any war movie, but one about killin' Nazis. Everyone, regardless of their political affiliation, background, or moral compass, LOVES to watch the Nazis getting their asses kicked. And although Operation Market Garden was a strategic failure, the accounts of bravery in A Bridge Too Far are without peer. Like Taxi Driver, I'd watched this film before but didn't love it until years later when I paid enough attention to really see it. And now I can't believe it isn't in every top 10 list of war films ever published. It saddens me to say it, but in today's day and age of filmmaking, a movie like A Bridge Too Far will probably never happen again.
First, let's talk cast. Sean Connery, Gene Hackman, Ryan O'Neal, Anthony Hopkins, James Caan, Elliot Gould, Laurence Olivier, John Ratzenberger, and Robert Redford — just to name a few. It seems like every few minutes you find yourself saying, "Holy shit, he's in this too?!" Not only is the cast filled with stars, but they're also all perfectly cast to the characters they portray.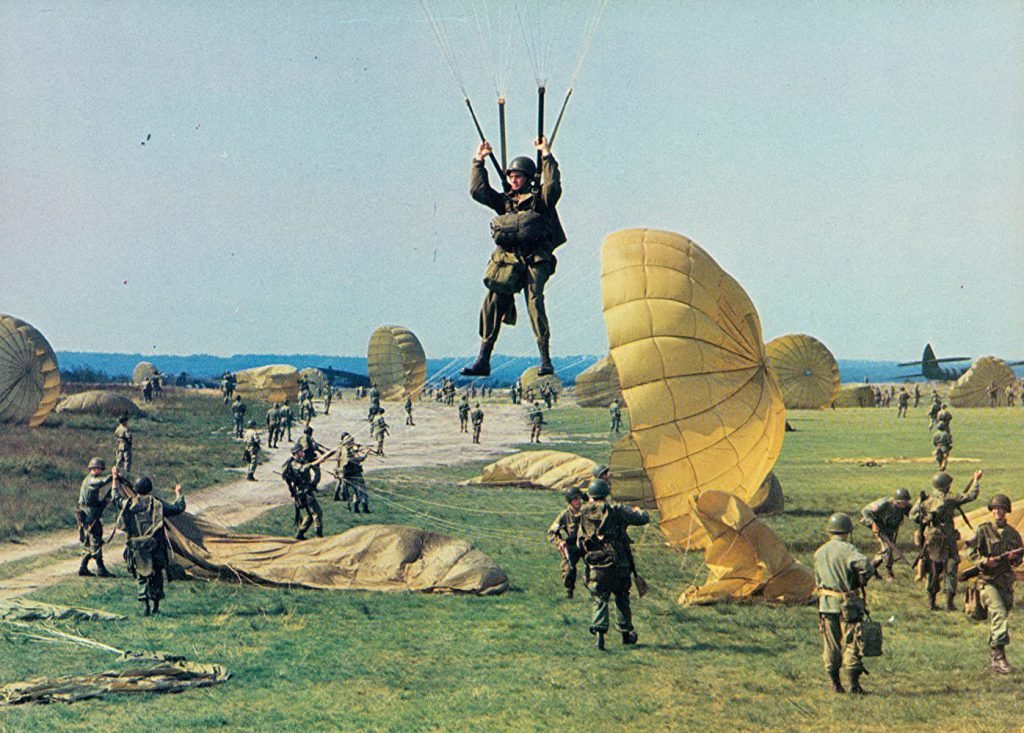 The other jaw-dropping thing about this movie is it's daunting technical undertaking. Released in 1977, VFX and CGI weren't really a thing yet. As a young, aspiring filmmaker, I've learned that "practical" special effects are almost always a better choice for a number of reasons, mainly that they carry the momentum of a scene for the actors. It's a lot easier to react to explosions and squib hits than it is to react to a cue — or simply nothing — that will be added in post production. The reason films shy away from practical effects now is simple: time. Set ups for long action sequences in war movies can take up to an entire day. So movies now tend to use a mix of practical and video effects to get the job done. Not the case in 1977. I can only imagine the logistical nightmare the director — legend Sir Richard Attenborough — and crew slogged through in order to get some of the action sequences.
The specific scenes of A Bridge Too Far that I can say without a doubt will never happen again were the airborne operations. There is a reason that it had the largest production budget of any movie in history at the time, aside from the special effects and casting. Not only did more than 1,000 men actually jump on film, but they begged for, borrowed, and bought more than 20 period-correct aircraft to drop paratroopers and supplies, going as far as Somalia to procure them, as well as borrowing a few from the Finnish and Danish air forces.
While the jumps depicted in Band of Brothers were great, nothing compares to the sheer scale of realism that we see in A Bridge Too Far. The performance of the amazing cast directed by Attenborough, coupled with the never before or since attempted feats of technical realism come together in telling the story of Operation Market Garden in what might be the most underrated war film of all time.