A vaccine mandate for US military and Department of Defense employees will go into effect "mid-September," according to a memo from Secretary of Defense Lloyd Austin that was obtained by Coffee or Die Magazine. The mandate could fall sooner if current vaccines gain full approval from the Food and Drug Administration beyond the emergency approvals in place now.
"By way of expectation, public reporting suggests the Pfizer-BioNTech vaccine could achieve full FDA licensure early next month," Lloyd wrote. "The intervening few weeks will be spent preparing for this transition."
Austin's order comes after President Joe Biden instructed the Pentagon last month to develop a full vaccine mandate after consulting with medical professionals and taking into account military readiness. Lloyd said he will seek Biden's approval for the vaccine mandate no later than mid-September, but that timeline could change.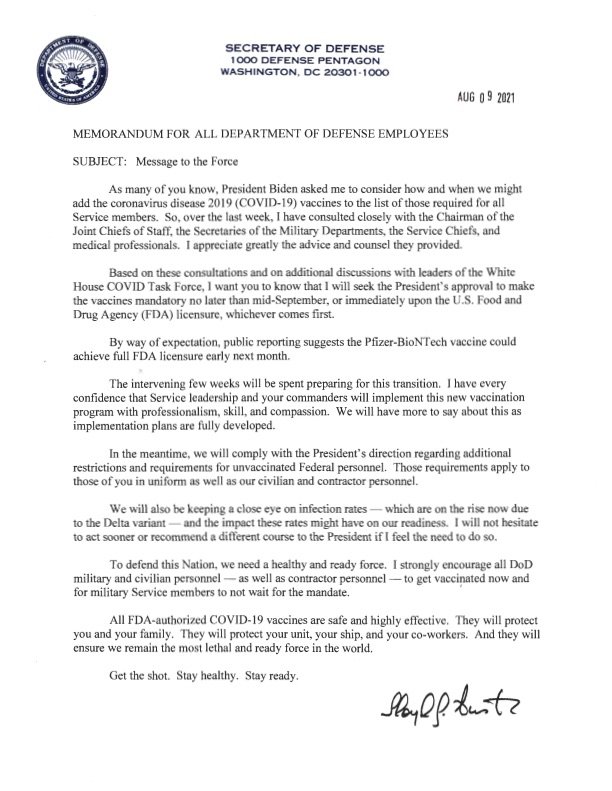 Every branch of the military has at least half of its forces at least partially vaccinated, according to numbers calculated by Coffee or Die Magazine, using DOD vaccination and workforce data. As of Monday, the US Navy is leading the charge with 75% of its forces partially or fully vaccinated. The Army is bringing up the rear with just over 54%. The Marine Corps sits at 57%, while the US Air Force and Space Force (whose numbers are combined in Pentagon data) has reached 60%.
The Pentagon has weathered the coronavirus pandemic better than most. To date, the DOD has reported just shy of 319,000 cases and only 385 deaths. That said, Lloyd will not be taking any chances with America's fighting force. DOD personnel will continue to follow protective measures, as well as restrictions for unvaccinated individuals, as directed by the president.
"We will also be keeping a close eye on infection rates — which are on the rise now due to the Delta variant — and the impact these rates might have on our readiness," Lloyd writes in the memo. "I will not hesitate to act sooner or recommend a different course to the President if I feel the need to do so."
Read Next: